Contract law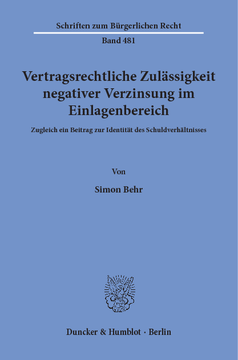 BOOK
Vertragsrechtliche Zulässigkeit negativer Verzinsung im Einlagenbereich
Zugleich ein Beitrag zur Identität des Schuldverhältnisses
Schriften zum Bürgerlichen Recht, Vol. 481
(2018)
Additional Information
Book Details
ISBN

978-3-428-55443-0
978-3-428-15443-2 (print edition)

DOI

https://doi.org/10.3790/978-3-428-55443-0

Edition

1

Language

German

Pages

258

Collections

Subjects
Pricing
Institution

€ 92.00 (incl. local VAT if applicable)

Individual

€ 71.90 (incl. local VAT if applicable)
About The Author
Simon Behr studierte Rechtswissenschaften, Psychologie, Pädagogik, Philosophie und Theologie in München, Augsburg und Hagen. 2018 wurde er von der Universität Augsburg mit einer bankrechtlichen Dissertation zum Dr. iur. promoviert. Während seiner Studien- und Promotionszeit erhielt er zahlreiche Stipendien zugesprochen, u.a. von der Studienstiftung des Deutschen Volkes und vom Max-Weber-Programm des Freistaates Bayern. Nach wissenschaftlichen Tätigkeiten an wirtschaftsrechtlich sowie rechtshistorisch ausgerichteten Lehrstühlen ist er seit Oktober 2019 Rechtsreferendar am OLG München und absolviert ein Aufbaustudium im Bereich außergerichtlicher Einigung.
Simon Behr studied law, psychology, pedagogy, philosophy and theology in Munich, Augsburg and Hagen. In 2018 he earned his PhD from the University of Augsburg with a dissertation about negative interest rates. During his studies he was awarded several scholarships from prestigious foundations, such as the Studienstiftung des Deutschen Volkes and the Max-Weber-Programm des Freistaates Bayern. After scientific activities at chairs of economic law and legal history, he is currently working as a trainee lawyer at the Federal Court of Munich and additionally completing a post-graduate course in mediation.
Abstract
Die Frage der vertragsrechtlichen Zulässigkeit des Übergangs von positiver zu negativer Verzinsung im Einlagenbereich der Banken erfordert zunächst das abstrakte Feststellen der Grenzen einseitiger Leistungsbestimmungsrechte, wobei der Autor zu dem Schluss kommt, dass einzig der Parteiwille identitätskonstituierender Parameter eines Schuldverhältnisses ist. Hiernach wird herausgearbeitet, dass der vertragsrechtliche Zins nicht als negativer denkbar ist. Eine negativ verzinste Termin- oder Spareinlage ist damit vertragstypologisch als ein zwischen Darlehens- und unregelmäßigem Verwahrungsvertrag oszillierender Typenmischvertrag zu qualifizieren. Der Autor postuliert, dass der Übergang von positivem zu negativem Zins bei Verträgen, die vor dem 11. Juni 2014 abgeschlossen wurden, nicht möglich ist. Bevor der Satz der Einlagefazilität des ESZB erstmals negativ wurde, konnten die Parteien nicht damit rechnen, dass der positive Zins im Einlagenbereich zu einem negativen werden könne. »Contractual Permissibility of Negative Interest Rates in Deposits«

To answer the question of whether positive interest rates in the deposit sector can possibly transit to negative ones requires that the limits of § 315 BGB, and thus the identity-constituting parameters of an obligation, be established. Hereafter, the question arises as to whether the BGB permits negative interest rates, how negative interest deposits are contractually classified and whether charging negative interest rates on deposits in old and new contracts is legally conceivable.
Table of Contents
Section Title
Page
Action
Price

Vorwort

7

Inhaltsübersicht

9

Inhaltsverzeichnis

11

§ 1: Einführung

19

A. Historische Präliminarien: Der Zins in seiner ambivalenten historischen und kulturgeschichtlichen Bedeutung

19

B. Wirtschaftliche Hinführung und Kernfrage der Arbeit

24

C. Stand der Forschung

25

D. Der Gang der Darstellung

26

Allgemeiner Teil: Einseitige Leistungsbestimmung und Identität des Schuldverhältnisses

29

§ 2: Dogmatische Einordnung und Abgrenzung der einseitigen Leistungsbestimmungsrechte

31

A. Entstehungsgeschichte: Einseitige Leistungsbestimmung im römischen Recht

31

B. Das einseitige Leistungsbestimmungsrecht als Gestaltungsrecht

33

I. Historische Definition des Gestaltungsrechts

34

II. Dogmatische Einordnung und subjektiv-rechtlicher Charakter

35

1. Gestaltungsrechte als subjektive Rechte

35

2. Kritik

36

III. Entstehung des Gestaltungsrechts

37

1. Einräumung der Rechtsmacht als Abweichung vom Vertragsprinzip

37

a) Gestaltungsrechte ohne Auswirkungen auf Dritte

38

b) Gestaltungsrechte mit Auswirkungen auf Dritte

38

aa) Differenzierung in positive und negative Gestaltungsrechte

39

bb) Sonderfall: Ausfüllende Gestaltungsrechte

40

2. Unterworfensein bzw. Gebundenheit des Erklärungsgegners

42

3. Rechtfertigung

43

a) Einräumung durch Gesetz

44

b) Einräumung durch Vertrag

45

IV. Ausübung des Gestaltungsrechts: Die Gestaltungserklärung

46

1. Abgrenzung zum Anspruch

46

2. Rechtsnatur der Gestaltungserklärung

47

3. Grenzen der Ausübung

48

a) Unwiderruflichkeit

48

b) Bedingung und Befristung

49

V. Auswirkungen der Gestaltungserklärung

50

1. Eintritt der Rechtswirkung

50

2. Konsumtion

50

3. Besonderheiten bei ausfüllenden Gestaltungsrechten

50

C. Vertragsrechtliche Einordnung der §§ 315 ff. BGB

51

I. Lockerung des Bestimmtheitsgrundsatzes

51

1. Der Bestimmtheitsgrundsatz des Vertragsrechts

51

2. Ausnahmen vom Bestimmtheitsgrundsatz und Abgrenzung

53

3. Grenzen der Möglichkeit der Lockerung des Bestimmtheitsgrundsatzes

55

a) AGB-Recht

55

b) Formvorschriften

56

II. Schutznormcharakter

57

D. Zusammenfassung

58

§ 3: Grenzen einseitiger Leistungsbestimmung und Identität des Schuldverhältnisses

60

A. Grundsatz: Änderung des Vertragsinhalts durch Änderungsvertrag

60

B. Änderung durch einseitige Leistungsbestimmung

60

C. Grenzen der Änderung durch spezialgesetzliche Bestimmungen

61

D. Grenzen der Änderung aus dem Rechtsgedanken des § 311 BGB

61

I. Die Rechtsnatur des § 311 BGB

61

II. Rechtsgeschichtliches Argument: Von der Novation zur identitätswahrenden Änderung

62

1. Vertragsänderung im römischen Recht

62

a) Vertragsänderung zwischen Novation und Vertragsidentität

62

b) Pomp. D. 18, 5, 2: Änderung des Kaufpreises

63

c) Ulp. D. 2, 14, 7, 6: Rücktritt und Teilaufhebung

64

d) Ulp. D. 18, 2, 6, 1: Befristeter Vorbehalt eines besseren Gebot

65

e) Novation als Regel

66

2. Vertragsänderung im Allgemeinen Landrecht für die Preußischen Staaten

66

3. Vertragsänderung im ius commune und in der Pandektistik

67

4. Regelung im BGB

67

III. Grenzen der Kontinuität – Die Identität des Schuldverhältnisses

68

1. Existenz von Grenzen – Der Begriff der Identität

68

2. Auslegung des § 311 BGB anhand der klassischen canones

69

a) Auslegung des Wortlauts

69

b) Rechtshistorische Auslegung

69

c) Systematische Auslegung

71

3. Objektive Parameter des Schuldverhältnisses

72

a) Änderung auf Subjektebene

72

aa) Zession

72

bb) Schuldübernahme

72

cc) Vertragsübernahme

73

b) Änderung auf Objektebene

73

aa) Ersetzung des Vertragsgegenstandes

73

bb) Rückgewährschuldverhältnis

75

cc) Kauf mit Umtauschvorbehalt

76

c) Änderung des Vertragstypus

77

aa) Der Begriff des Typus in der Wissenschaftsterminologie

78

bb) Juristische Abgrenzung des Typus vom Begriff

79

cc) Der Typusbegriff im Vertragsrecht

80

dd) Das Verhältnis von Vertragstypologie und Typenfreiheit vor Inkrafttreten des BGB

81

ee) Vertragstypologie und Vertragsfreiheit in den Entwürfen zum BGB

86

ff) Vertragstypologie und Vertragsfreiheit in der heutigen Zivilrechtsordnung

89

gg) Der Vertragstypus als identitätskonstituierendes Kriterium?

91

d) Die Änderung der rechtlichen Grundstrukturen

92

aa) Kausale und abstrakte Verbindlichkeiten

92

bb) Verpflichtungsgrade

92

(1) Terminologie und Problemstellung

92

(2) Stellungnahmen in der Literatur

93

(3) Stellungnahme: Die Eigenart des Verpflichtungsgrades

94

4. Subjektive Parameter des Schuldverhältnisses

95

a) Grundsätzliches zum Parteiwillen

95

b) Methodik: Stellungnahmen in Literatur und Rechtsprechung

96

c) Kriterien zur Konkretisierung des Parteiwillens

97

aa) Die wirtschaftliche Bedeutung und der wirtschaftliche Zweck

97

bb) Verkehrsauffassung

98

cc) Verpflichtungsgrad/Synallagma

98

dd) Vermutung zu identitätswahrender Änderung

99

E. Zusammenfassung

99

Besonderer Teil: Vertragsrechtliche Fragen negativer Verzinsung im Einlagenbereich

103

§ 4: "Negativzinsen" aus wirtschaftswissenschaftlicher Sicht

105

A. Nominalzins und Realzins

105

B. Das Kreditmarktmodell und der Gleichgewichtszins

106

C. Die Zeitpräferenztheorie und der negative natürliche Zins

107

I. Zeitpräferenz bei Ludwig von Mieses

107

II. Zeitpräferenz bei Eugen von Böhm-Bawerk

108

D. Natürlicher Negativzins und gehemmter Markt – Die Rolle der EZB

110

I. Recht und Verpflichtung zur Geldpolitik

110

II. Geldpolitisches Instrumentarium

112

III. Der geldpolitische Transmissionsmechanismus

113

IV. Änderungen durch die Wirtschaftskrise

114

1. Inanspruchnahme der Fazilitäten

114

2. Niedrig- und Negativzinsen

115

E. Konsequenzen für den Zinsbegriff

117

F. Zusammenfassung

117

§ 5: "Negativzinsen" aus rechtswissenschaftlicher Sicht

119

A. Formen und Definition des Zinses im BGB

119

B. Vereinbarkeit mit der Zinsdefinition des BGB als Ausgangspunkt

120

C. Erweiterung der Definition?

120

D. Die wirtschaftlichen Gegebenheiten – Begriffliches Argument

121

E. Die Einheit der Rechtsordnung – Materielles Argument

123

I. "Negative Zinsen" im europäischen Kontext

124

II. Die Leitlinie der EZB

125

1. Aussagen der Leitlinie

125

2. Rechtsnatur und Rechtsverbindlichkeit der Leitlinie

127

3. Auswirkungen auf das deutsche Recht

128

III. Die Erhebung negativer Leitzinssätze

130

1. Die Rechtsnatur der Leitzinsentscheidungen

130

2. Auswirkungen auf das deutsche Recht

131

IV. Der negative Basiszinssatz

132

1. Gesetzgebungsgeschichte

134

2. Erwartungen des Gesetzgebers

136

3. Der Abstand zum HRG-Satz

137

4. Der Basiszinssatz als kalkulatorische Größe

138

F. Bankpraktisches Argument: Aufrechterhaltung des Synallagma durch Erhaltung der Marge?

140

G. Die synallagmatische Konnotation des vertragsrechtlichen Zinsbegriffes

144

H. Zusammenfassung

146

§ 6: Das Einlagengeschäft der Banken und die Interessenlage im Niedrig- und Negativzinsumfeld

148

A. Das Einlagengeschäft der Banken im System der Bankgeschäfte

148

B. Die Einlagenarten

149

I. Termineinlagen

150

1. Terminologie

150

2. Rechtliche Qualifikation

150

3. Interessenlage

151

II. Die Spareinlagen

151

1. Terminologie

151

2. Rechtliche Qualifikation

153

3. Interessenlage

153

III. Die Sichteinlagen

153

1. Terminologie

153

2. Rechtliche Qualifikation

154

3. Interessenlage

154

C. Interessenlage im Niedrig- und Negativzinsumfeld

155

I. Interessen auf Einlegerseite

155

II. Interessen auf Bankenseite

156

III. Interessenausgleich durch negativen Zinssatz

157

D. Zusammenfassung

157

§ 7: Vertragliche Anpassungsprobleme bei negativer Verzinsung in bestehenden Einlagengeschäften

159

A. Zu Methodik und Terminologie

159

B. Anpassung bei Termineinlagen

159

I. Vertragstypologische Änderungen durch Null- und Negativzins

160

II. Nullverzinsung: Abdingbarkeit des § 488 Abs. 1 S. 2 BGB

160

III. Vertragstypenwechsel bei Negativzins?

160

1. Problemstellung und These: Änderung der Interessenlage und des Synallagma

160

2. Gegenargument I: Verschiebung des Synallagma

161

3. Gegenargument II: Dispositionsbefugnis über Entgeltlichkeitscharakter

163

4. Gegenargument III: Erhaltung des Synallagma durch Erhaltung der Marge

164

5. Gegenargument IV: Urteil des BGH

164

6. Alternative Lösungsmöglichkeit I: Der Vertrag sui generis

166

7. Alternative Lösungsmöglichkeit II: Der regelmäßige Verwahrungsvertrag

166

8. Alternative Lösungsmöglichkeit III: Der unregelmäßige Verwahrungsvertrag

167

a) Dogmatische Eigenart

167

b) Abgrenzung zum Darlehensvertrag – Meinungsstand

167

c) Abgrenzung zum Darlehensvertrag – Stellungnahme

168

d) Der Stellenwert der jederzeitigen Verfügungsmöglichkeit – § 695 BGB

170

aa) Problemstellung

170

bb) Abdingbarkeit im Rahmen der regelmäßigen Verwahrung

170

cc) Übertragung auf den unregelmäßigen Verwahrungsvertrag

172

e) Die Einordnung des Negativzinses als Entgelt

173

9. Ergebnis: Ein zwischen Vertragstypen oszillierender Typenmischvertrag

174

IV. Anpassung durch Zinsanpassungsklausel

175

1. Variable Vergütungsmechanismen im Bankengeschäft

175

2. Zinsanpassungsklauseln im Einlagengeschäft der Banken

175

a) Formen variabler Verzinsung

175

b) Rechtliche Einordnung der Zinsanpassungsklausel

177

3. Inhaltliche Grenzen der Anpassung

178

a) Grenzen bei der Vereinbarung

178

aa) Grundsätzliche Unüberprüfbarkeit der Preisabreden

178

bb) Gegenstand und Maßstab der AGB-rechtlichen Inhaltskontrolle

178

cc) Grundsätzliche Interessenlage

179

dd) Maßstäbe der Inhaltskontrolle anhand der Judikatur des BGH

180

(1) Anforderungen an den Referenzzins

180

(2) Anpassungsmechanismus

180

(3) Äquivalenzprinzip

181

(4) Ergebnis der Inhaltskontrolle bei Vereinbarung

181

b) Grenzen bei Ausübung

181

aa) Inhaltskontrolle der Ausübung

182

bb) Vereinbarkeit mit §§ 308 Nr. 4 und 307 Abs. 2 Nr. 1 BGB

182

cc) Systematische Bedenken

183

dd) Verstoß gegen das Transparenzgebot

183

(1) Verträge mit Vertragsschluss vor dem 11. Juni 2014

183

(2) Verträge mit Vertragsschluss nach dem 11. Juni 2014

187

ee) Grenzen aus § 315 BGB

187

(1) Schaffung vs. Konkretisierung einer Leistungsplicht

187

(2) Grenzen aus der Identität des Schuldverhältnisses

188

(3) Ausübung billigen Ermessens

191

c) Rechtsfolge: Ergänzende Vertragsauslegung

192

aa) Grundsätze

193

bb) Auslegung der unwirksamen Klausel

193

cc) Vereinbarkeit mit dem Äquivalenzprinzip

194

(1) Problemstellung

194

(2) Exkurs: Interessenlage bei Zinsgleitklauseln im Aktivgeschäft

194

(3) Auswirkungen auf das Äquivalenzverhältnis im Einlagenbereich

196

V. Anpassung durch Zinsgleitklauseln

197

1. Zinsgleitklauseln im Einlagengeschäft der Banken

197

2. Inhaltliche Grenzen der Anpassung

197

a) Grundsätzliche Unüberprüfbarkeit der Preisabreden

197

b) Vereinbarkeit mit dem Transparenzgebot

198

VI. Alternative Anpassungsmechanismen

199

1. Störung der Geschäftsgrundlage

199

2. Kündigung und Neuabschluss

200

a) Vertragliches Kündigungsrecht

200

b) Ordentliches gesetzliches Kündigungsrecht

201

aa) Kündigungsrecht aus § 488 Abs. 3 BGB

201

bb) Kündigungsrecht aus § 489 Abs. 1 Nr. 2 BGB

201

(1) Judikatur des BGH zu Bausparverträgen

201

(2) Übertragbarkeit auf Verträge ohne gebundenen Sollzinssatz

204

(3) Übertragbarkeit auf Verträge mit Zinsanpassungs- und periodisierten Zinsgleitklauseln

205

cc) Kündigungsrecht aus § 489 Abs. 1 Nr. 1 Hs. 2 BGB

206

dd) Kündigungsrecht aus § 489 Abs. 2 BGB

208

c) Außerordentliches gesetzliches Kündigungsrecht

209

aa) Kündigungsrecht aus §§ 490 Abs. 3, 314 BGB

209

bb) Kündigungsrecht aus §§ 490 Abs. 3, 313 Abs. 1, 3 S. 2 BGB

210

3. Änderungsvertrag

211

C. Anpassung bei Sichteinlagen

211

I. Vertragstypologische Änderungen

211

II. Anpassung durch Zinsanpassungsklausel

212

1. Ausübung

212

2. Inhaltliche Grenzen

212

a) Grenzen bei der Vereinbarung

212

b) Grenzen bei der Ausübung

213

aa) Inhaltskontrolle der Ausübung

213

bb) §§ 308 Nr. 4, 307 Abs. 2 Nr. 1 BGB

213

cc) Transparenzgebot

213

dd) Grenzen aus § 315 BGB

214

(1) Grenzen aus der Identität des Schuldverhältnisses

214

(2) Ausübung billigen Ermessens

215

c) Rechtsfolge: Ergänzende Vertragsauslegung

215

III. Änderung durch Zinsgleitklausel

215

IV. Alternative Anpassungsmechanismen

216

D. Zusammenfassung

216

§ 8: Vertragsgestaltung bei Negativzinsen in Neuverträgen

221

A. Individualvertragliche Vereinbarung

221

B. Vereinbarung in AGB

221

Schluss

225

§ 9: Ergebnisse

227

A. Zusammenfassung der Ergebnisse

227

I. Allgemeiner Teil

227

II. Besonderer Teil

228

B. Die drei Kernthesen der Arbeit

232

§ 10: Ausblick

234

Literaturverzeichnis

236

Sachwortverzeichnis

254