Constitution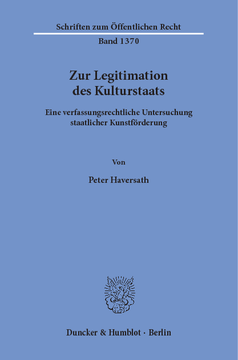 Additional Information
Book Details
ISBN

978-3-428-55015-9
978-3-428-15015-1 (print edition)

DOI

https://doi.org/10.3790/978-3-428-55015-9

Edition

1

Language

German

Pages

242

Collections

Subjects
Pricing
Institution

€ 86.00 (incl. local VAT if applicable)

Individual

€ 67.90 (incl. local VAT if applicable)
About The Author
Peter Haversath studierte Rechtswissenschaften in Jena, Göttingen, Córdoba, Lausanne und Berlin sowie Steuerwissenschaften in Münster. Nach dem ersten Staatsexamen war er wissenschaftlicher Mitarbeiter am Lehrstuhl von Prof. Christian Calliess – zunächst Universität Göttingen, dann Freie Universität Berlin. Sein Referendariat absolvierte er am Kammergericht. 2012 trug er auf der Assistententagung im Öffentlichen Recht in Hamburg vor. Im selben Jahr wurde er in Berlin als Rechtsanwalt zugelassen. Inzwischen arbeitet er als Richter beim Finanzgericht Münster. Im Jahr 2016 wurde er von der rechtswissenschaftlichen Fakultät der Freien Universität Berlin zum Dr. iur. promoviert.
Peter Haversath has studied law in Jena, Göttingen, Córdoba, Lausanne, and Berlin and taxation in Münster. He worked as a research assistant at the University of Göttingen and the Freie Universität Berlin while pursuing his doctorate. He completed his legal clerkship in Berlin and was admitted to the Bar in 2012. He is now working as a judge at the fiscal court in Münster.
Abstract
Nach vorherrschender Meinung ist staatliche Kulturförderung zwar legitimationsbedürftig, im Ergebnis aber gerechtfertigt. Beides wird mit Eigentümlichkeiten der Kunst und einem besonderen Verhältnis von Kunst und Staat begründet. Die Arbeit untersucht diese Postulate in verfassungsrechtlicher und rechtstatsächlicher Hinsicht. Im ersten Teil der Arbeit wird die Rechtfertigungsbedürftigkeit auf das Demokratieprinzip und das Gebot der Staatsfreiheit des öffentlichen Diskurses gestützt. Dieser Neuansatz führt zu einer veränderten verfassungsrechtlichen Bewertung der Wirkungen staatlicher Kunstförderung. Im zweiten Teil werden die bestehenden Rechtfertigungsansätze kritisch untersucht. Dabei wird gezeigt, dass der kulturverfassungsrechtliche Diskurs von einer gewissen dogmatischen Unbekümmertheit und einer Vielzahl rechtlich und tatsächlich zweifelhafter Annahmen über Kultur und Kulturstaat geprägt ist. Der Schlussteil enthält Überlegungen zu einem veränderten Verhältnis von Staat und Kunst. »On the Legitimacy of the ›Cultural State‹«

The work examines the constitutional legitimacy of public arts funding. It proposes to apply the principle of democracy as a central starting point. The application of this principle requires a constitutional re-evaluation of certain effects of art promotion. This leads to an increased need for justification. Against this background, the study analyzes the existing attempts to justify public funding for the arts.
Table of Contents
Section Title
Page
Action
Price

Vorwort

5

Inhaltsübersicht

7

Inhaltsverzeichnis

9

Einleitung: Das Wahre, Gute und Schöne

15

§ 1 Kulturstaat und Verfassungsrecht

15

§ 2 Annäherung an den Untersuchungsgegenstand

17

A. Der Begriff des Kulturstaats

17

I. Verwendung und Abgrenzung des Begriffs

17

II. Befugnisse und Grenzen des kunstfördernden Kulturstaats nach herrschendem Kulturverfassungsrecht

20

B. Stand der Forschung zur Legitimation des Kulturstaats

24

I. Die Bedeutung des Verfassungsrechts für die Legitimation

24

II. Die Bedeutung der tatsächlichen gesellschaftlichen Bedingungen der Kunst für die Legitimation

26

III. Defizite bei der Behandlung der Legitimationsbedürftigkeit

27

IV. Defizite bei der Behandlung der Legitimationsfähigkeit

29

C. Zwischenergebnis

30

D. Gang der Untersuchung

31

Erster Teil: Legitimationsbedürftigkeit staatlicher Kunstförderung

33

§ 3 Grundlagen der Legitimationsbedürftigkeit des Kulturstaats

33

A. Die Allzuständigkeit des Staates

33

B. Ansätze einer Rechtfertigungsbedürftigkeit im Schrifttum

34

I. Staatsfreiheitsgebot der Kunstfreiheit

34

II. Der Gleichheitssatz

39

III. Die Verwendung öffentlicher Mittel

40

C. Zwischenergebnis

41

§ 4 Kunstförderung und Demokratieprinzip

42

A. Die öffentliche Willensbildung als Schutzobjekt des Demokratieprinzips

42

I. Materielles oder formelles Verständnis des Demokratieprinzips?

42

II. Zur Reichweite des Begriffs der öffentlichen Meinung

45

B. Die Kunst als Teil der öffentlichen Meinung

47

I. Die These der (politischen) Funktionslosigkeit der Kunst

47

1. (Ideen-)‌Geschichtliche Entwicklung von Autonomie und Funktionslosigkeit der Kunst

48

2. Wandel des Kunstverständnisses in der Verfassungslehre

53

II. Besonderheiten und Normalität der Kunst im öffentlichen Diskurs

55

1. Besonderheiten

55

2. Normalität

57

C. Beeinträchtigung des Staatsfreiheitsgebots durch staatliche Kunstförderung

59

I. Inhalt des Staatsfreiheitsgebots

60

II. Wirkungen staatlicher Kunstförderung und Staatsfreiheitsgebot

61

1. Untersuchungsbedingungen und Normalfall

61

2. Die Folgen der Förderung im Verhältnis von Künstlern und Gesellschaft

63

a) Entfremdung von Künstler und Publikum

63

b) Verhinderung sozialer Gruppenbildung im Bereich der Kunst

66

3. Die Folgen der Förderung im Verhältnis von Künstler und Staat

67

a) Kulturelle Staatsleistungen als Geschenke

67

b) Folgen des Schenkungscharakters der Förderleistungen

70

(1) Geringere Bereitschaft zur Machtkritik

70

(2) Nähe zum Leistungsstaat

73

4. Gefahr bewusster Lenkung

75

a) Das Machtinteresse staatlicher Organe

76

b) Die Kulturpolitik als Instrument zur Verfolgung staatlicher Interessen

79

D. Zwischenergebnis

81

§ 5 Anforderungen des Demokratieprinzips an die Legitimation

83

A. Gegenstand der Rechtfertigungsbedürftigkeit

83

B. Einschränkbarkeit des Demokratieprinzips

84

C. Ungeeignetheit pauschaler Rechtfertigungsansätze

85

I. Demokratische Legitimation und staatlicher Gestaltungsspielraum

86

II. Kulturstaatlichkeit aus einer verfassungsrechtlichen Gesamtschau

87

III. Kultur als Staatszweck, Staatsziel oder Staatsaufgabe

89

1. Kultur als Staatszweck

89

2. Kultur als Staatsziel; Kulturförderung als Staatsaufgabe

91

D. Zwischenergebnis

91

Zweiter Teil: Legitimationsfähigkeit staatlicher Kunstförderung

93

§ 6 Angewiesenheit der Kunst auf den Staat

93

A. Freiheit der Kunst als Ziel der Kunstförderung

93

I. Förderauftrag aufgrund einer historischen Auslegung der Kunstfreiheit

94

1. Die Kunstfreiheit als Verkörperung einer Kulturstaatstradition

94

a) Kulturstaatliche Begriffstradition

95

b) Kulturstaatliche Ideentradition

95

c) Tradition kulturstaatlicher Praxis

98

2. Fortgeltung des Art. 142 Satz 2 WRV

100

II. Objektiv-rechtliche Gehalte der Kunstfreiheit

101

1. Das Grundrecht der Kunstfreiheit als Handlungsbefugnis des Staates

102

a) Grundrechtsspezifische Bedenken gegen die Kunstfreiheit als Befugnisnorm des Kulturstaats

103

b) Grundrechtstheoretische Bedenken gegen die Kunstfreiheit als Befugnisnorm des Kulturstaats

104

c) Die Rolle der Grundrechtsdogmatik

106

2. Kunstförderung als Erfüllung einer staatlichen Schutzpflicht

107

a) Freiheit von wirtschaftlicher Verwertung der Kunst als Schutzgut der Kunstfreiheit

107

(1) Schutz des Wirkbereichs

108

(2) Schutz des Werkbereichs

109

b) Vorliegen einer schutzpflichtenbegründenden Gefahr

112

(1) Der Markt als Gefahr für die Freiheit der Kunst

112

(2) Das Verhalten der Konsumenten als Gefahr für die Freiheit der Kunst

113

3. Die Kunstfreiheit als originäres Teilhaberecht

115

a) Ausmaß staatlicher und privater Finanzierung der Kunst

116

b) Staatliche Kunstförderung zur Kompensation früherer Mäzene

118

4. Die Kunstfreiheit als soziales Grundrecht

121

5. Die Kunstfreiheit als Staatszielbestimmung

125

a) Die Rechtsprechung des Bundesverfassungsgerichts

125

b) Grundrechtsdogmatische Anforderungen an eine kunstfreiheitliche Staatszielbestimmung

127

c) Freiheitsfördernde Eigenschaften staatlicher Kunstfinanzierung

129

(1) Das Kulturstaatskonzept Ernst Rudolf Hubers

130

(2) Kritik

131

d) Freiheitsgefährdende Eigenschaften staatlicher Kunstfinanzierung

134

III. Zwischenergebnis

136

B. Qualität der Kunst als Ziel der Kunstförderung

137

I. Institutioneller Schutz der Eigengesetzlichkeit

137

1. Enge institutionelle Deutung der Kunstfreiheit

137

2. Institutionelle Deutung der Kunstfreiheit als Gewährleistung der Autonomie der Kunst

138

II. Kunst als meritorisches Gut

142

III. Hochwertige Kunst als öffentliches Gut

144

1. Voraussetzungen der Theorie der öffentlichen Güter als Rechtfertigung der Kulturförderung

144

2. Kunst als öffentliches Gut; externe Effekte der Kunst

145

a) Der Gütercharakter des einzelnen Kunstwerks

145

b) Externe Effekte der Hochkultur

146

(1) Innovativität als Definiens der Hochkultur

146

(2) Die Rolle des Konsumenten für die Entstehung externer Effekte

147

(3) Externe Effekte geförderter Kultur als stillschweigende Prämisse

149

3. Erforderlichkeit staatlicher Kunstförderung

149

a) Mangelnde Innovativität nicht geförderter Kunst

149

(1) Das Publikum als Hemmnis der Innovation

150

(2) Tatsächliche Gleichförmigkeit nicht geförderter Kunst

153

(3) Mangelnde Innovationskraft der Kunst durch kulturindustrielle Strukturen der Gegenwart

156

b) Gezielte Förderung innovativer Kunst

159

(1) Feststellung innovativer Kunst

160

(2) Strukturelle Grenzen des Staates bei der Förderung innovativer Kunst

160

(3) Innovative Kunst und nationale Kunst

164

4. Nutzungsvorteil der Konsumenten von Populärkultur

164

5. Bereitstellung innovativer Kunst als verfassungsrechtliches Gebot der Menschenwürde

166

a) Bereitstellung von Kultur zur Sicherung des kulturellen Existenzminimums

166

b) Bereitstellung von Kultur zur Ermöglichung der individuellen Entfaltung

168

IV. Zwischenergebnis

170

§ 7 Angewiesenheit des Staates auf die Kunst

171

A. Kultureller Zusammenhalt als Voraussetzung des (demokratischen) Staates

172

I. Staatstheoretische Plausibilität

173

II. Demokratietheoretische Plausibilität

175

1. Die Akzeptanz von Mehrheitsentscheidungen

176

2. Homogenität als Diskursbedingung

178

B. Verfassungsrechtliche Geltung eines unterstellten Homogenitätserfordernisses

180

I. Grundgesetzliche Integrationsklausel

181

II. Identitätsstiftung, Demokratie und Menschenwürde

183

III. Kultur als "Gelingensvoraussetzung" der Verfassung

185

C. Kunstförderung als Mittel einer staatlichen Integrationsaufgabe

188

D. Kulturelle und politische Integration

191

E. Zwischenergebnis

193

§ 8 Legitimation durch Einfügung einer Kulturklausel in das Grundgesetz?

194

A. Politische Vorstöße in der Vergangenheit

194

B. Stellungnahmen in der Verfassungslehre

196

C. Bewertung im Licht der Ergebnisse dieser Untersuchung

197

Schluss: Vom Kulturstaat zum Kulturstaatsdiskurs

199

§ 9 Reflexion

199

§ 10 Perspektiven

201

A. Perspektiven für eine Kunst ohne Kulturstaat

201

B. Perspektiven für eine Kunstpolitik ohne Kulturstaat

202

Zusammenfassung in Thesen

205

Literaturverzeichnis

212

Sachwortverzeichnis

234