Legal systems: civil procedure, litigation & dispute resolution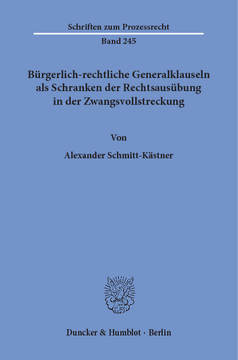 BOOK
Bürgerlich-rechtliche Generalklauseln als Schranken der Rechtsausübung in der Zwangsvollstreckung
Schriften zum Prozessrecht, Vol. 245
(2018)
Additional Information
Book Details
ISBN

978-3-428-55344-0
978-3-428-15344-2 (print edition)

DOI

https://doi.org/10.3790/978-3-428-55344-0

Edition

1

Language

German

Pages

296

Collections

Subjects
Pricing
Institution

€ 104.00 (incl. local VAT if applicable)

Individual

€ 79.90 (incl. local VAT if applicable)
About The Author
Alexander Schmitt-Kästner studierte Rechtswissenschaften an der Albert-Ludwigs-Universität Freiburg und legte 2010 seine erste juristische Prüfung ab. Im Anschluss daran leistete er das Rechtsreferendariat mit Stationen in Wiesbaden, Frankfurt am Main und Shanghai ab. Nach der zweiten juristischen Staatsprüfung war er in den Jahren 2012 bis 2017 als wissenschaftlicher Mitarbeiter bei Prof. Dr. Wolf-Dietrich Walker an der Professur für Bürgerliches Recht, Arbeitsrecht und Zivilprozessrecht der Justus-Liebig-Universität Gießen tätig. Im Sommer 2017 wurde er dort promoviert. Seit August 2017 ist Alexander Schmitt-Kästner Richter am Landgericht Gießen.
Alexander Schmitt-Kästner studied law at the Albert-Ludwigs-Universität Freiburg and passed the first state examination in 2010. Afterwards he fulfilled the legal clerkship with stages in Wiesbaden, Franfurt am Main and Shanghai. After the second state examination in 2012 he worked as a postgraduate at the professorship of civil law, labour law and civil procedure law (Prof. Dr. Wolf-Dietrich Walker) at the Justus-Liebig-Universität Gießen. In 2017 he received the doctor's degree. Since August 2017 Alexander Schmitt-Kästner is a judge at the district court of Gießen.
Abstract
Das Vollstreckungsverfahren ist für die Verfahrensbeteiligten von großer wirtschaftlicher Bedeutung. Daneben kollidieren sehr unterschiedliche Interessen miteinander, weshalb die den Beteiligten des Verfahrens eingeräumten Rechte missbrauchsanfällig sind. Eine Rechtsausübung, die gegen die guten Sitten verstößt, dem Grundsatz von Treu und Glauben zuwiderläuft oder sogar als Schikane anzusehen ist, unterliegt der Begrenzung durch die bürgerlich-rechtlichen Generalklauseln. Die Arbeit setzt sich mit der Frage der Anwendbarkeit der Generalklauseln im Vollstreckungsrecht auseinander und nimmt Kollisionsprobleme mit verfahrensrechtlichen Prinzipien und vollstreckungsrechtlichen Spezialnormen wie der vollstreckungsrechtlichen Generalklausel des § 765a ZPO in den Blick. Zudem erfolgt eine nähere Untersuchung, wie es sich mit der Kompetenz der Vollstreckungsorgane zur Prüfung materiell-rechtlicher Normen verhält. Der Verfasser entwickelt sodann verschiedene Fallgruppen unzulässiger Rechtsausübung in der Zwangsvollstreckung und zieht eine Bilanz im Hinblick auf die Bedeutung der bürgerlich-rechtlichen Generalklauseln zur Begrenzung der Rechtsausübung in der Zwangsvollstreckung. »Blanket Clauses of the Civil Law as a Restraint of the Exercise of Rights in the Civil Enforcement Law«

The thesis discusses the relevance of blanket clauses of the civil law as a restraint of the exercise of rights in the civil enforcement law. The issue of the application of the blanket clauses and the compatibility with specific rules and priciples of the civil enforcement law are analysed. In addition, the author discusses the authority of the official organs for enforcement to deal with blanket clauses of the civil law. The thesis has its focus on the development of case groups of the abuse of rights in the civil enforcement law.
Table of Contents
Section Title
Page
Action
Price

Vorwort

7

Inhaltsverzeichnis

9

Erster Teil: Einführung

21

§ 1 Einleitung

21

§ 2 Hinweis auf den Gegenstand und Gang der Untersuchung

23

Zweiter Teil: Grundlagen

24

§ 3 Generalklauseln als Schranken der Rechtsausübung

24

A. Begriff und Hintergrund der Generalklauseln

24

B. Anwendungsdirektiven und Konkretisierungsbedürfnis

25

I. Anwendungsdirektiven

26

1. Subsidiaritätsprinzip

26

2. Verbot einer reinen Billigkeitsrechtsprechung

26

3. Besonderes Begründungserfordernis

27

II. Konkretisierungsbedürfnis und Fallgruppenbildung

27

C. Wirkungsweise als Rechtsausübungsschranken

28

I. Begriff der Rechtsausübung

29

II. Begrenzung der Rechtsausübung

30

1. Das Schikaneverbot (§ 226 BGB)

30

2. Das Verbot sittenwidriger Rechtsausübung (§§ 138, 826 BGB)

31

a) Das sittenwidrige Rechtsgeschäft (§ 138 BGB)

31

b) Die sittenwidrige vorsätzliche Schädigung (§ 826 BGB)

33

c) Das allgemeine Verbot sittenwidriger Rechtsausübung

34

3. Das Verbot treuwidriger Rechtsausübung (§ 242 BGB)

34

4. Abgrenzung der einzelnen Schranken voneinander und ihr Verhältnis zueinander

36

§ 4 Die Geltung der Rechtsausübungsschranken im Zwangsvollstreckungsrecht

37

A. Anwendbarkeit der Missbrauchsschranken im Vollstreckungsrecht

38

I. Das Schikaneverbot (§ 226 BGB)

38

II. Das Verbot sittenwidriger Rechtsausübung (§§ 138, 826 BGB)

39

1. Das sittenwidrige Rechtsgeschäft (§ 138 BGB)

39

2. Die sittenwidrige vorsätzliche Schädigung (§ 826 BGB)

40

III. Das Verbot treuwidriger Rechtsausübung (§ 242 BGB)

42

1. Wortlaut und Systematik

43

a) Geschriebener Tatbestand

43

b) Erfordernis einer Sonderverbindung als ungeschriebenes Tatbestandsmerkmal

43

aa) Meinungsstand

43

bb) Erheblichkeit der Kontroverse

44

(1) Antragsverhältnis

44

(2) Eingriffsverhältnis

44

(3) Vollstreckungsverhältnis

45

(4) Verhältnis zu Dritten

46

cc) Stellungnahme zum Erfordernis einer Sonderverbindung

46

2. Historische Betrachtung

47

3. Teleologische Auslegung

47

B. Konkurrenzverhältnis zu speziellen vollstreckungsrechtlichen Vorschriften und Kollision mit verfahrensrechtlichen Prinzipien

48

I. Generalklausel des § 765a ZPO

49

1. Schutz des Gläubigers oder anderer Verfahrensbeteiligter

50

2. Schuldnerschutz

51

a) Bedeutungsgehalt des § 765a ZPO

51

b) Konkurrenzverhältnis zu den bürgerlich-rechtlichen Generalklauseln

52

aa) Meinungsstand

52

bb) Stellungnahme

53

II. Rechtsschutzbedürfnis

55

1. Anwendungsbereich

55

2. Bedeutungsgehalt

56

3. Konkurrenzverhältnis zum Rechtsmissbrauchsverbot

57

III. Grundsatz der Formalisierung im Vollstreckungsrecht

59

IV. Institut der Rechtskraft

60

V. Verhältnismäßigkeitsgrundsatz

61

C. Zusammenfassung

63

§ 5 Die Prüfungskompetenz der Vollstreckungsorgane

64

A. Formalisierungsgrundsatz

64

I. Keine inhaltliche Prüfung des Vollstreckungstitels

64

II. Keine Prüfung der dinglichen Zuordnung des Vollstreckungsobjekts

65

B. Hintergrund des Formalisierungsprinzips

66

C. Aufweichungen des Grundsatzes

67

I. Evidenzkontrolle der dinglichen Zuordnung des Vollstreckungsobjekts

67

II. Ausnahmsweise inhaltliche Prüfung des Vollstreckungstitels bei der Vollstreckung nach § 887 ZPO

67

III. Prüfung materiell-rechtlicher Voraussetzungen bei der Anwendung vollstreckungsrechtlicher Vorschriften

68

1. Vollstreckung einer Zug um Zug zu bewirkenden Leistung (§ 756 ZPO)

68

2. Pfändung körperlicher Sachen bei Gewahrsam eines Dritten (§ 809 ZPO)

69

3. Unpfändbarkeit von Zubehör (§ 865 Abs. 2 S. 1 ZPO)

69

4. Unpfändbarkeit mangels Übertragbarkeit (§ 851 ZPO)

70

5. Vollstreckungsschutzanträge (§ 765a ZPO)

70

D. Konsequenzen für die Kompetenz zur Prüfung der bürgerlich-rechtlichen Generalklauseln

71

I. Kein Absehen vom Vorliegen eines Vollstreckungstitels

71

II. Ausnahmsweise inhaltliche Korrektur des Titels?

72

III. Prüfungskompetenz bei der missbräuchlichen Ausübung vollstreckungsrechtlicher Verfahrensrechte

73

1. Grundsatz

73

2. Differenzierung zwischen Gerichtsvollzieher und Vollstreckungsgericht?

74

3. Einschränkung

76

E. Zusammenfassung

77

§ 6 Die Interessenverteilung im Vollstreckungsverfahren

78

A. Interessen des Gläubigers

78

B. Interessen des Schuldners

79

C. Interessen Dritter

80

I. Eingriffe in die Rechtsstellung eines Dritten

80

II. Schutz der an einem Grundstück Berechtigten im Zwangsversteigerungsverfahren

81

III. Schutz des Drittschuldners bei der Forderungspfändung

81

D. Öffentliche Interessen

81

E. Ausgleich der verschiedenen Interessen

82

Dritter Teil: Fallgestaltungen unzulässiger Rechtsausübung

83

§ 7 Vollstreckungsmaßnahmen ohne berechtigtes Interesse

83

A. Schikanöse Teilvollstreckungen

84

I. Erhebliche Differenz zwischen Gesamtforderung und Teilbetrag

84

II. Mehrfache Wiederholung von Teilvollstreckungen

85

B. Wiederholte Vorpfändungen

86

C. Mutwillige Teilungsversteigerung

87

I. Fallgestaltungen

87

II. Bezugspunkt des Rechtsmissbrauchsverbots als Differenzierungskriterium

88

1. Missbrauchseinwand gegen Verfahren der Teilungsversteigerung

89

2. Missbrauchseinwand gegen Aufhebungsanspruch

90

D. Überflüssiges Vermögensauskunftsverfahren

90

E. Schikanöses Nachbesserungsverlangen zur Vermögensauskunft

92

F. Zwecklose Immobiliarvollstreckung

93

G. Nutzlosigkeit der Vollstreckung

94

I. Erlöschen des Rechts bei Pfändung

94

II. Aussichtslose Verwertung für nachrangigen Gläubiger

95

H. Zusammenfassende Betrachtung

96

§ 8 Einsatz der Zwangsvollstreckung als unzulässiges Druckmittel

97

A. Verfahren auf Abgabe der Vermögensauskunft und Erzwingungshaft als Druckmittel zur Forderungseintreibung

97

I. Antrag auf Abgabe der Vermögensauskunft

98

1. Meinungsstand zum Offenbarungsverfahren

98

2. Rechtslage seit Einführung des Vermögensauskunftsverfahrens

98

II. Erzwingungshaft

100

1. Missbrauch befürwortende Ansicht

100

2. Gegenposition

101

B. Wiederholte Anberaumung von Versteigerungsterminen als Druckmittel zur Forderungseintreibung

103

C. Einsatz eines Herausgabetitels zur Beitreibung einer auf Zahlung gerichteten Forderung

104

I. Nicht titulierte Zahlungsforderung

105

1. Grundsatz

105

2. Verknüpfung von Herausgabeanspruch und Zahlungsforderung durch Parteivereinbarung

106

II. Titulierte Zahlungsforderung

107

III. Reaktion des Gerichtsvollziehers auf missbräuchliche Anträge

108

IV. Behandlung beschränkter Vollstreckungsanträge auf Herausgabe

110

D. Einleitung des Zwangsversteigerungsverfahrens als Druckmittel zur Forderungseintreibung

110

E. Zahlungsdruck durch wiederholte Einstellungsbewilligungen in mehreren Einzelzwangsversteigerungsverfahren

111

F. Zusammenfassende Betrachtung

113

§ 9 Vollstreckungsmaßnahmen mit untergeordnetem Interesse

114

A. Vollstreckung von Bagatellforderungen

115

I. Vollstreckung in bewegliches Vermögen

116

1. Zulässigkeit der Vollstreckung als solcher

116

2. Erfordernis vorheriger Androhung?

117

3. Zulässigkeit bestimmter Vollstreckungsmaßnahmen

117

4. Auswirkungen auf die Notwendigkeit der anfallenden Vollstreckungskosten

119

II. Vollstreckung in unbewegliches Vermögen

120

B. Vollstreckung zur Unzeit

122

I. Taschenpfändung während der Hochzeitsfeierlichkeiten

122

II. Vollstreckung eines Haftbefehls an Feiertagen

122

C. Berufen auf geringfügigen Fehlbetrag bei der Drittablösung in der Zwangsversteigerung

123

D. Vermögensauskunft im Rahmen der Sicherungsvollstreckung trotz ausreichender Sicherung

124

E. Zusammenfassende Betrachtung

126

§ 10 Widersprüchliche Vollstreckungsmaßnahmen

127

A. Widersprüchliches Verhalten im Zusammenhang mit einer Zahlungsvereinbarung

128

I. Fortsetzung der Vollstreckung trotz widerspruchsloser Entgegennahme von Teilzahlungen

128

II. Fortsetzung der Vollstreckung trotz längerer Hinnahme eines Zahlungsrückstands

129

B. Widersprüchliches Verlangen nach Abgabe der Vermögensauskunft

130

C. Beitreibung von Verzugszinsen nach Zurückweisung einer zur Abwendung der Zwangsvollstreckung geleisteten Zahlung

131

D. Zusammenfassende Betrachtung

133

§ 11 Vorteilsverschaffung auf Kosten anderer Verfahrensbeteiligter

133

A. Gläubiger

134

I. Erschleichen eines Pfändungsvorrangs

134

1. Anfängliche Unpfändbarkeit

134

2. Erschlichene öffentliche Zustellung

136

II. Ausforschungspfändung

138

1. Linie der Rechtsprechung

138

2. Ansicht des Schrifttums

139

3. Stellungnahme

140

III. Zwangsversteigerungsgebote ohne Erwerbswillen

141

1. Problemlage

141

2. Eigengebote durch Gläubigervertreter

142

a) Rechtsprechung des BGH

142

b) Kritik des Schrifttums

143

c) Stellungnahme

144

3. Gebote durch auf Veranlassung des Gläubigers handelnde Dritte

146

4. Rechtliche Konsequenzen eines wegen Rechtsmissbrauchs unwirksamen Gebots

147

IV. Pfändung von Entschädigungsansprüchen wegen menschenunwürdiger Haftbedingungen

147

1. Rechtsprechung des BGH

147

2. Stellungnahme

148

V. Negative Bietabkommen und Zuzahlungsvereinbarungen in der Zwangsversteigerung

150

1. Negative Bietabkommen

150

a) Abgrenzung zu Ausbietungsgarantien und -verträgen

150

b) Sittenwidrigkeit negativer Bietabreden

151

2. Zuzahlungsvereinbarungen

152

3. Konsequenzen sittenwidriger Bietabreden und Zuzahlungsvereinbarungen für die Versteigerung

153

a) Wirksamkeit des Meistgebots

153

aa) Negative Bietabkommen

153

bb) Zuzahlungsvereinbarungen

154

b) Eingreifen eines Zuschlagsversagungsgrundes

154

VI. Schlechtmachen des Versteigerungsobjekts

156

VII. Titelmissbrauch

157

1. Vollstreckung aus unrichtigen Urteilen und Vollstreckungsbescheiden

158

a) Problemlage

158

b) Die Klage nach § 826 BGB zur Durchbrechung der Rechtskraft

160

c) Konkurrenzverhältnis zu den §§ 580 ff. ZPO

162

d) Voraussetzungen der Klage nach § 826 BGB

163

aa) Unrichtigkeit des Titels

163

bb) Kenntnis des Gläubigers

164

cc) Vorliegen besonderer Umstände

164

(1) Vollstreckung aus Urteilen

164

(2) Besonderheiten bei Vollstreckungsbescheiden

166

e) Anwendbarkeit der Regelungen des Restitutionsrechts auf die Klage nach § 826 BGB

167

aa) Erfordernis strafgerichtlicher Verurteilung (§ 581 ZPO) und Anwendbarkeit der Fristenregelungen (§ 586 ZPO)?

167

bb) Versäumte Verteidigung gegen Verurteilung im Vorprozess (§ 582 ZPO)

168

(1) Rechtskräftige Urteile

168

(2) Rechtskräftige Vollstreckungsbescheide

169

2. Andere Vollstreckungstitel

170

a) Prozessvergleich

171

b) Vollstreckbare Urkunde

171

c) Zuschlagsbeschluss

172

VIII. Pfändung eines Regressanspruchs wegen anwaltlicher Pflichtverletzung bei Vollstreckung aus einem unrichtigen Titel

172

IX. Einstellungsbewilligung zur Ausschaltung konkurrierender Bieter

173

1. Meinungsstand

174

2. Stellungnahme

174

X. Vollstreckung unter Ausnutzung einer durch Bruch des Bankgeheimnisses in Erfahrung gebrachten Pfändungsmöglichkeit

175

XI. Doppelbefriedigung

177

1. Entscheidung des LAG Nürnberg vom 23.2.2005

177

2. Entscheidung des OLG Hamm vom 29.11.2011

177

XII. Fortsetzung der Vollstreckung ohne vorherige Abrechnung

179

XIII. Verlangen einer symbolischen Sicherheitsleistung in der Zwangsversteigerung

180

B. Dritte

182

I. Erwerb schuldnerfremder Sachen in der Versteigerung

183

1. Problemlage

183

2. Lösungsansätze

183

a) Analogie zu § 1244 BGB?

183

b) Rechtsmissbrauch

184

aa) Versagung des Eigentumserwerbs?

184

bb) Rückübereignungsanspruch nach § 826 BGB

185

c) Sonderfall: Gläubiger als Ersteher

186

II. Berufung auf Berechtigung am Grundstück erst im Beschwerdeverfahren gegen Zuschlagsversagung

186

III. Umgehung der Pflicht zur erhöhten Sicherheitsleistung bei Abtretung der Rechte aus dem Meistgebot an den Schuldner

189

C. Zusammenfassende Betrachtung

190

§ 12 Verschleppung oder Vereitelung der Vollstreckung

192

A. Schuldner

192

I. Vereitelung oder Verzögerung der Zustellung

192

1. Zustellung des Vollstreckungstitels

192

a) Verfahrensrechtliche Regelung der Zustellung

193

b) Verbleibende Fälle missbräuchlicher Zustellungsverzögerung bzw. -vereitelung

194

aa) Annahmeverweigerung bei Zustellung nach § 175 ZPO

194

bb) Verhinderung der Zustellungsfiktion bei verweigerter Annahme

195

cc) Anschein des Vorhandenseins einer Wohnung oder eines Geschäftsraums bei der Ersatzzustellung nach § 178 ZPO

195

dd) Missbräuchliches Berufen auf Nichtvorliegen der Voraussetzungen der öffentlichen Zustellung

196

ee) Missbräuchliche Vereitelung der Heilung eines Zustellungsmangels

197

c) Kriterien für die Lösung offener Fälle über § 242 BGB

197

aa) Heranziehung der im materiellen Recht entwickelten Grundsätze zur Zugangsvereitelung von Willenserklärungen?

197

bb) Missbräuchliche Aushebelung der prozessualen Zustellungsformen

198

2. Weitere Fälle vereitelter oder verschleppter Zustellung

199

a) Zustellung des Pfändungs- und Überweisungsbeschlusses

199

b) Zustellungserfordernisse im Rahmen der Immobiliarvollstreckung

200

II. Amtsniederlegung vor der Vermögensauskunft

201

III. Missbräuchliche Berufung auf Einwendungen gegen die Vollstreckung mit der Klage nach § 767 ZPO (analog)

203

1. Verwirkung der Einwendung

203

2. Rein formal bestehende Einwendung

203

a) Verpflichtung des Schuldners zur Neubegründung einer erloschenen Verbindlichkeit

203

b) Berufung auf Unwirksamkeit der Unterwerfungserklärung trotz vertraglicher Verpflichtung zur Unterwerfung

205

c) Offenkundiges Redaktionsversehen bei Vergleichsprotokollierung

207

d) Schikanöses Berufen auf Unmöglichkeit der Gegenleistung bei Zug-um-Zug-Verurteilung?

208

e) Zusammenfassung

210

IV. Unbillige Inanspruchnahme des pauschalierten Pfändungsfreibetrags

210

V. Verzögernde Anträge im Zwangsversteigerungsverfahren

211

1. Missbräuchliche Befangenheitsanträge

211

2. Missbräuchliche Vollstreckungsschutzanträge

213

VI. Vollstreckungsabwehrklage wegen im Titel enthaltener verjährter Grundschuldzinsen

213

1. Problemlage

213

2. Anforderungen an das Vorliegen eines Rechtsschutzbedürfnisses

214

3. Übertragung der Rechtsprechung zu wiederkehrenden Unterhaltsleistungen auf die Vollstreckung aus Grundschuldurkunden mit teilweise verjährten Zinsansprüchen

215

4. Urteil des BGH vom 21.10.2016

217

VII. Verzögerte Ausübung eines Gestaltungsrechts

218

VIII. Verschleppung des Ordnungsmittelverfahrens zur Herbeiführung des Verjährungseintritts

219

IX. Nachträgliches Herbeiführen der Unpfändbarkeit

221

1. Maßgeblicher Zeitpunkt für die Beurteilung der Pfändbarkeit

221

2. Arglisteinwand bei missbräuchlichem Verhalten

223

3. Beweislastumkehr zu Lasten des Schuldners

223

4. Einschränkungen wegen der sozialpolitischen Dimension des § 811 ZPO

224

X. Vollstreckungsvereitelnde Gewahrsamsverschiebung

225

1. Meinungsstand

226

2. Gewahrsam des Dritten

226

a) "Scheingewahrsam"

227

b) Besitzdienerschaft

227

3. Verbot missbräuchlicher Rechtsausübung

229

a) Formalisierung der Zwangsvollstreckung

230

b) Verbot titelloser Inanspruchnahme

230

4. Anderweitige Vollstreckungsmöglichkeiten für den Gläubiger

231

XI. Vereitelung der Räumungsvollstreckung

232

1. Ausgangslage

232

2. Reaktion des Gesetzgebers

233

3. Kritik an der Neuregelung

234

a) Beschränkter Anwendungsbereich

234

b) Fortlaufende Besitzeinräumungen

234

c) Unbekannte Dritte

235

d) Verfahrensverzögernde Rechtsbehelfe gegen die einstweilige Räumungsverfügung

235

4. Lösungsmöglichkeiten de lege lata und de lege ferenda

236

a) Besitzrechtlicher Lösungsansatz

236

b) Heranziehung von § 242 BGB

237

aa) Generell titellose Vollstreckung in Missbrauchsfällen

237

bb) Titellose Vollstreckung bei nicht ermöglichter Identitätsfeststellung

239

c) Wohnungsbezogener Titel

240

d) Räumungstitel gegen "Unbekannt"

241

e) Streichung des Anhörungserfordernisses in § 940a Abs. 4 ZPO

243

f) Unterlassungsverfügung gegen den Schuldner

243

g) Einstweilige Verfügung auf Auskunftserteilung

245

h) Erweiterung des Anwendungsbereichs von § 940a Abs. 2 ZPO

245

5. Zusammenfassung

245

XII. Widerruf der Einwilligung in die Wohnungsdurchsuchung aus Gründen der Verfahrensverzögerung

246

1. Problemlage

246

2. Lösungsmöglichkeiten

247

a) Vorsorgliche Durchsuchungsanordnung?

247

b) Annahme von Gefahr im Verzug?

248

c) Unbeachtlichkeit des Widerrufs wegen Missbräuchlichkeit?

248

XIII. Antrag auf Einstellung der Versteigerung wegen Übererlöses bei vorheriger Bereitschaft zur Verwertung sämtlicher Gegenstände

249

1. Problemlage und Ansicht des BGH

249

2. Stellungnahme

250

a) Teilweise Vollstreckungsvereitelung?

250

b) Verzicht auf den Schutz des § 818 ZPO?

250

c) Widersprüchliches Verhalten?

250

XIV. Verweigerung des Verzichts auf Einzelausgebote

251

B. Gläubiger

253

I. Einstellungsbewilligung zur Verfahrensverzögerung

253

1. Wiederholte Einstellungsbewilligung im Zwangsversteigerungsverfahren

253

2. Wiederholte Einstellungsbewilligung im Teilungsversteigerungsverfahren

255

II. Missbräuchliches Verlangen nach Feststellung abweichender Versteigerungsbedingungen

256

III. Selektive Grundpfandrechtsablösung zur Verhinderung der Zwangsversteigerung

257

C. Dritte

258

I. Missbräuchliche Drittwiderspruchsklage

258

1. Ausnutzen einer rein formalen Rechtsposition

258

2. Berufen auf durch unerlaubte Handlung erworbenes Interventionsrecht

259

3. Gegenständliche Haftung des Vollstreckungsgegenstands oder persönliche Mithaftung des Dritten für die Vollstreckungsforderung

260

a) Fallgestaltungen

260

aa) Bessere Rechtsstellung des Gläubigers am Vollstreckungsobjekt

260

bb) Mithaftung des Dritten

261

cc) Wirtschaftliche Identität?

261

b) Problem der titellosen Inanspruchnahme

262

c) Grenzen der berechtigten Inanspruchnahme des Dritten

263

II. Meistgebote in der Zwangsversteigerung ohne Zahlungswillen oder Zahlungsfähigkeit

264

1. Verfahrensverschleppung

264

2. Vorteilsverschaffung

265

a) Urteil des OLG Celle vom 30.11.2011

265

b) Urteil des OLG Naumburg vom 16.1.2002

266

D. Zusammenfassende Betrachtung

267

Vierter Teil: Zusammenfassung der Ergebnisse

271

Literaturverzeichnis

278

Sachverzeichnis

294