Constitutional law & human rights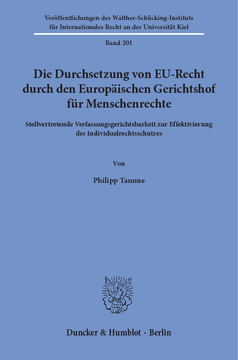 Additional Information
Book Details
ISBN

978-3-428-54799-9
978-3-428-14799-1 (print edition)

DOI

https://doi.org/10.3790/978-3-428-54799-9

Edition

1

Language

German

Pages

690

Collections

Subjects
Pricing
Institution

€ 150.00 (incl. local VAT if applicable)

Individual

€ 116.90 (incl. local VAT if applicable)
About The Author
Philipp Tamme studierte Rechtswissenschaften an den Universitäten Kiel und Straßburg und wurde dabei von der Studienstiftung des deutschen Volkes gefördert. Anschließend war er als wissenschaftlicher Mitarbeiter am Kieler Walther-Schücking-Institut für Internationales Recht tätig, wo er auch seine Dissertation verfasste. Während des Rechtsreferendariats absolvierte er u.a. Stationen im Ministerium für Justiz, Kultur und Europa des Landes Schleswig-Holstein sowie in der Europaabteilung des Bundesministeriums für Wirtschaft und Energie in Berlin. Nach Ablegung der Zweiten Staatsprüfung für Juristen trat er in den Dienst des Landes Schleswig-Holstein ein.
Abstract
Individualrechte aus dem EU-Recht müssen gerade gegenüber den Mitgliedstaaten der EU wirksam durchsetzbar sein. Philipp Tamme untersucht, inwieweit der Europäische Gerichtshof für Menschenrechte hierzu beitragen kann. Anhand der in Straßburg bislang entschiedenen Fälle werden die Ursachen für Rechtsschutzdefizite auf nationaler und europäischer Ebene analysiert sowie die formellen und materiellen Voraussetzungen für eine erfolgreiche konventionsrechtliche Sanktionierung von Unionsrechtsverstößen herausgearbeitet. Ausgehend von den allgemeinen Grundlagen wird im Einzelnen die Durchsetzung von Verfahrensrechten, Rechten aus EU-Richtlinien, Freizügigkeitsrechten und politischen Rechten behandelt. Hieran knüpfen jeweils weitergehende Vorschläge an, die auf eine rechtsstaatsorientierte Optimierung des Individualrechtsschutzes im europäischen Mehrebenenverbund abzielen.

Die Arbeit wurde als hervorragende Promotionsleistung mit dem Förderpreis des Kieler Doctores Iuris e.V. ausgezeichnet. »The Enforcement of EU Law by the European Court of Human Rights«

Philipp Tamme examines to what extent the European Court of Human Rights can enforce individual rights from European Union law against EU Member States. Analysing the cases decided in Strasbourg, the author illustrates the causes of existing deficiencies in legal protection and identifies the conditions for an implementation of EU law via the Convention. Based on the rule of law, further proposals for a better protection of individual rights in the European multi-level system are developed.
Table of Contents
Section Title
Page
Action
Price

Vorwort

7

Inhaltsverzeichnis

9

Abkürzungsverzeichnis

22

Teil 1: Grundlagen

33

A. Einführung

33

I. Kontext und Aufriss des Themas

33

II. Zielsetzung und Schwerpunkte der Arbeit

37

III. Gang der Untersuchung

38

B. Zuständigkeit und Prüfungsparameter des EGMR

39

I. Vorgaben in Art. 19, 32 und 53 EMRK

39

II. Auslegung der EMRK nach Art. 31 WVK

42

1. Grundlinien des Art. 31 WVK und gemeinsame Standards der Vertragsstaaten

43

2. Systemische Integration gemäß Art. 31 Abs. 3 lit. c WVK

44

a) Europarechtsnormen als Völkerrechtssätze

45

b) Vertragsauslegung zwischen Homogenität und Differenzierung

46

aa) Problemstellung und Lösungsansätze

46

bb) Vertragsspezifische Beurteilung

49

c) Zur Auslegungspraxis des EGMR

51

III. Verweis der EMRK auf konventionsfremdes Recht

54

C. Zulässigkeitsvoraussetzungen der Individualbeschwerde, Art. 34 f. EMRK

57

I. Partei-, Prozess- und Postulationsfähigkeit

57

II. Opfereigenschaft

59

III. Erschöpfung des innerstaatlichen Rechtswegs

61

IV. Beschwerdefrist

63

V. Unzulässigkeitsgründe des Art. 35 Abs. 2, 3 EMRK

65

D. Ausbau des Rechtsschutzes durch einen Beitritt der EU zur EMRK

68

I. Ausgangslage

68

II. Beitrittsvoraussetzungen

72

III. Konkrete Ausgestaltung und Auswirkungen eines Beitritts

75

1. Externe konventionsrechtliche Vollkontrolle durch den EGMR

75

2. Wirkung in der Unionsrechtsordnung

78

3. Mitbeschwerdegegner-Mechanismus

80

4. Vorabbefassung des EuGH

83

5. Strukturelle Anpassung des EGMR

88

Teil 2: Verfahrensrechte

91

A. Vorlagepflicht im Vorabentscheidungsverfahren gemäß Art. 267 AEUV

91

I. Das Vorabentscheidungsverfahren als Schlüsselelement des EU-Rechtsschutzsystems

91

1. Funktion und Bedeutung

91

2. Vorlagegegenstände

95

a) Auslegungsfragen

95

b) Gültigkeitsfragen

98

c) Sonderregeln

100

3. Vorlageberechtigung

101

II. Reichweite und Rechtscharakter der europarechtlichen Vorlagepflicht

104

1. Vorlagepflicht letztinstanzlicher Gerichte bei Auslegungsfragen

104

a) Letztinstanzlichkeit

104

b) Ausnahmen von der Vorlagepflicht

106

2. Vorlagepflicht aller mitgliedstaatlichen Gerichte bei Gültigkeitsfragen

108

3. Der subjektiv-rechtliche Gehalt von Art. 267 AEUV

112

III. Die Sanktionierbarkeit von Verstößen gegen die Vorlagepflicht nach Europarecht und nationalem Verfassungsrecht

113

1. Praktischer Sanktionierungsbedarf

113

2. Europarechtliche Ebene

115

a) Vertragsverletzungsverfahren

115

b) Staatshaftung für judikatives Unrecht

118

3. Mitgliedstaatliches Verfassungsrecht

119

a) Deutschland

119

aa) Das Recht auf den gesetzlichen Richter, Art. 101 Abs. 1 S. 2 GG

119

(1) Prüfungsmodalitäten des BVerfG

120

(2) Analyse im Vergleich mit der Rechtsprechung des EuGH

123

(3) Europarechtliche Anforderungen

125

(4) Grundgesetzliche Anforderungen

128

bb) Materielle Grundrechte

131

cc) Zwischenergebnis

135

b) Österreich

136

c) Spanien

137

d) Tschechische Republik

138

e) Slowakei

139

f) Slowenien

140

g) Sonstige Mitgliedstaaten

141

4. Zwischenergebnis zu III.

142

IV. Die Beachtung der Vorlagepflicht als Erfordernis eines fairen Verfahrens, Art. 6 Abs. 1 S. 1 EMRK

143

1. Anwendungsbereich von Art. 6 Abs. 1 EMRK

143

a) Verfahren über zivilrechtliche Ansprüche und Verpflichtungen

143

b) Verfahren über strafrechtliche Anklagen

145

c) Zuordnungsgrundsätze

146

2. Die Praxis der EKMR

147

a) Züchner ./. Deutschland (1987)

147

aa) Sachverhalt und nationales Verfahren

147

bb) Entscheidung der EKMR

148

cc) Bewertung

148

b) Brighina ./. Deutschland (1990)

149

aa) Sachverhalt und nationales Verfahren

149

bb) Entscheidung der EKMR

150

cc) Bewertung

151

c) Société Divagsa ./. Spanien (1993)

153

aa) Sachverhalt und nationales Verfahren

153

bb) Entscheidung der EKMR

153

cc) Bewertung

154

d) F. S. und N. S. ./. Frankreich (1993)

155

aa) Sachverhalt und nationales Verfahren

155

bb) Entscheidung der EKMR

156

cc) Bewertung

157

e) Spiele ./. Niederlande (1997)

158

aa) Sachverhalt und nationales Verfahren

158

bb) Entscheidung der EKMR

158

cc) Bewertung

159

f) Skandinavisk Metallförmedling AB ./. Schweden (1998)

161

aa) Sachverhalt und nationales Verfahren

161

bb) Entscheidung der EKMR

161

cc) Bewertung

162

3. Die Fälle vor dem EGMR

163

a) Desmots ./. Frankreich (1999)

163

aa) Sachverhalt und nationales Verfahren

163

bb) Verfahren vor dem EGMR

164

cc) Bewertung

165

b) Schweighofer et al. ./. Österreich (1999)

166

aa) Sachverhalt und nationales Verfahren

166

bb) Verfahren vor dem EGMR

167

cc) Bewertung

168

c) Dotta ./. Italien (1999)

169

aa) Sachverhalt und nationales Verfahren

169

bb) Verfahren vor dem EGMR

169

cc) Bewertung

170

d) Moosbrugger ./. Österreich (2000)

171

aa) Sachverhalt und nationales Verfahren

171

bb) Verfahren vor dem EGMR

172

cc) Bewertung

172

e) Canela Santiago ./. Spanien (2001)

173

aa) Sachverhalt und nationales Verfahren

173

bb) Verfahren vor dem EGMR

174

cc) Bewertung

174

f) Bakker ./. Österreich (2002)

175

aa) Sachverhalt und nationales Verfahren

175

bb) Verfahren vor dem EGMR

176

cc) Bewertung

178

g) Pedersen und Pedersen ./. Dänemark (2003)

181

aa) Sachverhalt und nationales Verfahren

181

bb) Verfahren vor dem EGMR

182

cc) Bewertung

183

h) Junnila ./. Finnland (2004)

186

aa) Sachverhalt und nationales Verfahren

186

bb) Verfahren vor dem EGMR

187

cc) Bewertung

188

i) Matheis ./. Deutschland (2005)

188

aa) Sachverhalt und nationales Verfahren

188

bb) Verfahren vor dem EGMR

189

cc) Bewertung

190

j) Kefalas et al. ./. Griechenland (2005)

193

aa) Sachverhalt

193

bb) Ausgangsverfahren

193

cc) Verfahren vor dem EGMR

195

dd) Bewertung

196

k) John ./. Deutschland (2007)

200

aa) Sachverhalt und nationales Verfahren

200

bb) Verfahren vor dem EGMR

201

cc) Bewertung

202

l) Herma ./. Deutschland (2009)

207

aa) Sachverhalt

207

bb) Ausgangslage im deutschen Recht

207

cc) Nationales Verfahren

208

dd) Verfahren vor dem EGMR

209

ee) Bewertung

210

m) Ullens de Schooten und Rezabek ./. Belgien (2011)

213

aa) Ausgangslage

213

bb) Nationale Verfahren

214

(1) Straf- und Zivilverfahren

214

(2) Verwaltungs- und verfassungsgerichtliches Verfahren

215

cc) Verfahren vor dem EGMR

215

(1) Rügen

215

(2) Urteil des EGMR

216

dd) Bewertung

219

n) Dhahbi ./. Italien (2014)

224

aa) Sachverhalt und nationales Verfahren

224

bb) Verfahren vor dem EGMR

225

cc) Bewertung

226

o) Schipani et al. ./. Italien (2015)

228

aa) Sachverhalt und nationales Verfahren

228

bb) Verfahren vor dem EGMR

229

cc) Bewertung

231

4. Bestandsaufnahme

234

a) Langjährige Ineffektivität des konventionsrechtlichen Rechtsschutzes

234

b) Leitlinien der konventionsrechtlichen Beurteilung

234

c) Die Entwicklungen bei der Ausgestaltung der Willkürprüfung

235

d) Die begrenzte Wirkung der Urteile des EGMR

238

e) Der Einfluss weiterer Verfahrensgarantien: Art. 7 Abs. 1 und Art. 13 EMRK

240

V. Möglichkeiten zur Verbesserung des Rechtsschutzes

243

1. Mitgliedstaatliche Ebene

243

2. Konventionsrechtliche Ebene

244

a) Verschärfung der Willkürkontrolle

245

b) Sonstige Anpassungen

247

3. Unionsrechtliche Ebene

249

4. Fazit

256

B. Effektive Urteilsdurchsetzung: Hornsby ./. Griechenland (1997)

257

I. Sachverhalt und Ausgangsverfahren

257

II. Verfahren vor der EKMR

259

1. Zulässigkeit

259

2. Bericht gemäß Art. 31 EMRK a.F.

260

III. Urteile des EGMR

261

1. Verfahren und Zulässigkeit

261

2. Verletzung von Art. 6 Abs. 1 EMRK

261

3. Sondervoten

263

4. Entschädigung

264

5. Urteilsfolgen

265

IV. Bewertung und Konsequenzen

266

1. Europarechtliche Rechtslage und Implementierungsproblematik

266

2. Der EGMR als Katalysator für die Urteilsdurchsetzung

268

a) Konventionsrechtliche Anforderungen gemäß Art. 6 Abs. 1 EMRK

268

b) Nationale und europäische Urteile als potentielle Vollzugsgegenstände

270

c) Mögliche Schiedsrichterfunktion des EGMR zwischen EuGH und nationalen Höchstgerichten

272

V. Fazit

276

Teil 3: Rechte aus europäischen Richtlinien

278

A. Steuerrecht

279

I. S. A. Dangeville ./. Frankreich (2002)

279

1. Sachverhalt

279

2. Verfahren und Rechtslage in Frankreich

280

a) Der Primärrechtsweg vor dem Conseil d'État

280

b) Hintergrund: Die Entwicklung der französischen Rechtsprechung hinsichtlich der innerstaatlichen Durchsetzung des Europarechts

281

aa) Die Cohn-Bendit-Rechtsprechung und ihre Folgen

281

bb) Das frühere Kontrolldefizit gegenüber Parlamentsgesetzen und nachrangigem Recht

284

cc) Die Wende zur Europarechtsfreundlichkeit seit dem Nicolo-Urteil

285

c) Konsequenzen für den Primärrechtsschutz in der Ausgangssituation

288

d) Die Unzulässigkeit des Staatshaftungsbegehrens

289

aa) Ablauf des Verfahrens

289

bb) Begründung des Regierungskommissars

291

3. Rechtslage nach Europarecht

294

a) Unmittelbare Wirkung von Richtlinien

294

aa) Grundsätze

294

bb) Anwendung im Ausgangsfall

296

b) Ansprüche aus Staatshaftung

298

aa) Grundlagen und Anwendbarkeit

298

bb) Anspruchsbegründung

300

(1) Legislatives Unrecht

301

(2) Administratives Unrecht

302

(3) Judikatives Unrecht

303

(a) Urteil des Conseil d'État von 1986

304

(b) Urteil des Conseil d'État von 1996

305

cc) Ergebnis zu b)

310

4. Das Verfahren vor den Konventionsorganen

310

a) Zulässigkeit

310

b) Verstoß gegen Art. 1 ZP 1

311

aa) Schutzbereich

311

bb) Eingriff

315

cc) Rechtfertigung

316

(1) Gesetzliche Grundlage und Vorliegen von Allgemeininteresse

318

(2) Gerechter Interessenausgleich

320

c) Verstoß gegen Art. 14 EMRK i.V.m. Art. 1 ZP 1

321

d) Entschädigung und Urteilsfolgen

322

5. Analyse, Reaktionen, Bewertung und Auswirkungen

324

a) Identifizierung der Eigentumsposition

324

b) Ausrichtung der Rechtfertigungsprüfung

327

c) Indirekte Sanktionierung der Verstöße gegen die Vorlagepflicht

329

d) Kompetenzabgrenzung zum EuGH

331

e) Vorreiterrolle des EGMR bei der Ahndung judikativen Unrechts?

334

f) Fazit

336

II. S. A. Cabinet Diot und S. A. Gras Savoye ./. Frankreich (2003)

337

1. Sachverhalt und Besonderheiten im Verfahren

338

2. Verfahren vor dem EGMR

339

a) Zulässigkeit

339

b) Begründetheit

341

c) Urteilsfolgen

342

3. Europarechtliche Rechtslage

342

a) Allgemeine Vereinbarkeit von Art. L. 190 LPF mit dem Europarecht

343

b) Vorliegendes Verfahren

345

4. Bewertung des Urteils des EGMR

347

III. Aon Conseil et Courtage S. A. et al. ./. Frankreich (2007)

348

1. Sachverhalt und nationales Verfahren

348

2. Verfahren vor dem EGMR

349

a) Zulässigkeit

349

b) Begründetheit

350

c) Urteilsfolgen

351

d) Sondervotum

352

3. Europarechtliche Rechtslage

353

4. Bewertung des Urteils des EGMR

356

IV. Exkurs: Iovit¸oni et al. ./. Rumänien (2012)

359

1. Sachverhalt und innerstaatliche Verfahren

359

2. Europarechtliche Rechtslage und nationale Reform

360

3. Verfahren vor dem EGMR

362

4. Bewertung

363

B. Umweltrecht

366

I. Umweltinformationen: Guerra et al. ./. Italien (1998)

366

1. Sachverhalt und umweltrechtliche Grundlagen

366

2. Verfahren vor der EKMR

369

a) Zulässigkeitsentscheidung

369

b) Bericht gemäß Art. 31 EMRK a.F.

369

c) Sondervoten zum Bericht

371

3. Urteil des EGMR

372

a) Zuständigkeit und Verfahren

372

b) Materielle Konventionsgarantien

372

c) Sondervoten

373

d) Urteilsfolgen

374

4. Analyse und Bedeutung des Falles

375

a) Informationsgewährleistungen und weitere individualschützende Normen in europäischen Umweltrichtlinien

375

b) Umweltrechtliche Vollzugsproblematik

378

c) Abhilfeoptionen auf europäischer und mitgliedstaatlicher Ebene

380

d) Subsidiärer Umweltrechtsschutz nach Maßgabe der EMRK

384

aa) Potential und Grenzen konventionsrechtlicher (Vollzugs-)Kontrolle

384

bb) Rolle von Umweltrechten bei Auslegung und Anwendung der EMRK

386

5. Fazit zu I.

390

II. Umweltverträglichkeitsprüfung: Giacomelli ./. Italien (2006)

391

1. Sachverhalt und innerstaatliches Verfahren

391

2. Einschlägige europäische und italienische UVP-Vorschriften

393

a) Inhalt

393

b) Anwendung

395

3. Der Fall vor den Konventionsorganen

396

a) Verfahren und Parteivorbringen

396

b) Materielle Ausführungen des EGMR

397

c) Urteilsfolgen

399

4. Bewertung

400

C. Ergebnis zu Teil 3

403

Teil 4: Freizügigkeitsrechte

405

A. Europarechtliche Freizügigkeitsrechte im Überblick

405

I. Ökonomischer Ursprung und anschließende Generalisierung

405

II. Unionsbürgerschaftliches allgemeines Freizügigkeitsrecht (Art. 21 Abs. 1 AEUV)

408

III. Zum freizügigkeitsrechtlichen Status von Drittstaatsangehörigen

411

IV. Das Regime der Freizügigkeitsrichtlinie 2004/38/EG

414

B. Konventionsrechtliche Durchsetzungsmöglichkeiten

416

I. Schutz vor aufenthaltsbeendenden Maßnahmen

416

1. Assoziationsrechtliche Ausgangsfälle

417

a) Yildiz ./. Österreich (2002)

417

aa) Sachverhalt und nationales Verfahren

417

bb) Verfahren vor dem EGMR

418

b) Yagiz ./. Österreich (1999)

419

aa) Sachverhalt und nationales Verfahren

419

bb) Verfahren vor dem EGMR

420

c) Caglar ./. Deutschland (2000)

421

aa) Sachverhalt und nationales Verfahren

421

bb) Verfahren vor dem EGMR

422

2. Rechtslage und Bewertung nach europäischem Assoziationsrecht

423

a) Existenz einer assoziationsrechtlichen Rechtsposition

423

b) Anforderungen an die Entziehung des Aufenthaltsrechts

424

3. Schutzwirkung von Art. 8 EMRK und Folgen für die Durchsetzbarkeit des Europarechts

427

a) Grundlinien des Schutzbereichs des Rechts auf Achtung des Privat- und Familienlebens

428

b) Rechtfertigung von Eingriffen

430

aa) Allgemeine Voraussetzungen

430

bb) Einbeziehung des Europarechts

433

(1) Zugrundeliegende Tatsachen

433

(2) Maßgeblicher Anknüpfungspunkt

434

(3) Konvergenz- und Divergenzfaktoren

436

c) Zwischenergebnis

438

4. Weitere konventionsrechtliche Garantien in ZP 4 und ZP 7

439

a) Verbot der Ausweisung eigener Staatsangehöriger, Art. 3 Abs. 1 ZP 4

439

b) Verbot der Kollektivausweisung von Ausländern, Art. 4 ZP 4

440

c) Verfahrensrechtliche Schutzvorschriften, Art. 1 ZP 7

441

II. Anspruch auf Erteilung einer Aufenthaltserlaubnis – Aristimuño Mendizabal ./. Frankreich (2006)

442

1. Sachverhalt und nationales Verfahren

442

2. Einschlägige europarechtliche und französische Vorschriften

443

3. Prüfung durch den EGMR

445

a) Zulässigkeit

445

b) Begründetheit

446

aa) Art. 8 EMRK

446

bb) Art. 13 EMRK

448

cc) Sondervotum

449

c) Urteilsfolgen

449

4. Bewertung und Konsequenzen

450

III. Sonstige Freizügigkeitskomponenten

453

1. Interne Freizügigkeit, Art. 2 Abs. 1 ZP 4

453

2. Ausreisefreiheit, Art. 2 Abs. 2 ZP 4

454

3. Einreisefreiheit: Rückkehr- und Nachzugsrechte

455

a) Art. 3 Abs. 2 ZP 4

455

b) Art. 8 EMRK

456

4. Gleichbehandlung: Art. 14 EMRK und Art. 1 ZP 12

458

C. Ergebnis zu Teil 4

459

Teil 5: Politische Rechte

462

A. Wahlrecht zum Europäischen Parlament und Art. 3 ZP 1

462

I. Die historische Genese des Europawahlrechts

463

1. Die Anfänge des gemeinschaftlichen Parlamentarismus

463

2. Die Einführung der Direktwahl

465

3. Vom Maastrichter Vertrag zum Wahlverfahren nach gemeinsamen Grundsätzen

468

II. Die gegenwärtige Ausgestaltung des unionsrechtlichen Wahlgrundrechts

470

1. Grundrechtscharakter

470

2. Einzelne Wahlrechtsgrundsätze

473

a) Allgemeine Wahl

473

b) Unmittelbare Wahl

477

c) Freie und geheime Wahl

479

d) Gleiche Wahl

480

aa) Geschriebenes Unionsrecht

480

bb) Die Gleichheit der Wahl als allgemeiner Rechtsgrundsatz

484

3. Das Europawahlrecht im Wohnsitzmitgliedstaat, Art. 22 Abs. 2 AEUV

488

III. Allgemeine Gewährleistungen durch Art. 3 ZP 1

492

IV. Matthews ./. Vereinigtes Königreich (1999)

497

1. Hintergrund und Sachverhalt

498

2. Verfahren vor der EKMR

500

3. Urteil des EGMR

501

a) Konventionsrechtliche Verantwortlichkeit des Vereinigten Königreichs

501

b) Anwendbarkeit von Art. 3 ZP 1 auf das Europäische Parlament

504

c) Art. 56 Abs. 3 EMRK

506

d) Konventionsrechtliche Prüfung des Ausschlusses Gibraltars von der Europawahl

507

e) Sondervotum

508

4. Bewertung und allgemeine Auswirkungen

509

V. Folgeentwicklungen: Der schwierige Umgang mit dem Matthews-Urteil

513

1. Erste Reaktionen

513

2. Das neue britische Wahlrecht für Gibraltar

514

3. Der spanisch-britische Streit im Vertragsverletzungsverfahren vor dem EuGH

516

a) Zuerkennung des Europawahlrechts an QCC

516

b) Anschluss des Gebietes von Gibraltar an einen britischen Wahlbezirk

517

4. Analyse des Verhältnisses von europäischem Wahlgrundrecht und Anhang I DWA

518

a) Konventionskonforme Auslegung

519

b) Rein nationale Wahlrechtsgrundlage?

520

c) Primärrechtliche Normenkollision

521

d) Europäisches Wahlgrundrecht als vorrangige lex posterior

522

e) Die Anwendbarkeit von Anhang I DWA in Bezug auf Drittstaatsangehörige

523

5. Fazit

524

VI. Die Anknüpfung der Wahlberechtigung nach dem Lissabon-Vertrag

525

1. Änderungen des Primärrechts

525

2. Mitgliedstaatliche Erklärungen

526

3. Wandel der EuGH-Rechtsprechung?

527

4. Mitgliedstaatlicher Spielraum bei Ein- und Ausbürgerung

528

VII. Durchsetzung des Europawahlrechts zugunsten mobiler Unionsbürger

530

1. Konventionsrechtsschutz gegen Eingriffe im Wohnsitzmitgliedstaat

530

a) Der staatsangehörigkeitsbasierte Volksbegriff des Art. 3 ZP 1

531

b) Die europarechtsgeprägte Modifikation des Volksbegriffs

532

2. Konventionsrechtsschutz bei Rückkehr in den Herkunftsmitgliedstaat

535

VIII. Ergebnis zu A.

536

B. Politische Betätigungsrechte und Art. 10 EMRK: Piermont ./. Frankreich (1995)

537

I. Sachverhalt und nationale Verfahren

537

II. Verfahren vor den Konventionsorganen

539

1. Grundlagen

539

2. Bericht der EKMR und Sondervoten

539

3. Urteil des EGMR

541

a) Freizügigkeit gemäß Art. 2 ZP 4

541

b) Freiheit der Meinungsäußerung gemäß Art. 10 Abs. 1 EMRK

542

c) Sondervotum

544

d) Urteilsfolgen

545

III. Europarechtliche Rechtslage

545

IV. Konventionsrechtliche Bewertung

548

1. Allgemeines

548

2. Restriktive Handhabung der Ausnahmeklauseln

549

3. Schlussfolgerungen

551

C. Parlamentarische Immunität und Art. 8 EMRK: Marchiani ./. Frankreich (2008)

553

I. Sachverhalt und Ausgangsverfahren

553

II. Ablauf des Verfahrens vor dem EGMR

555

III. Europarechtliche Dimension

556

1. Grundlagen und Problemstellung

556

2. Positionen der Verfahrensbeteiligten

557

3. Unklarheit der Europarechtslage

558

IV. Prüfung durch den EGMR anhand von Art. 8 EMRK

559

V. Konventionsrechtliche Bewertung und Folgen

561

1. Gesetzesqualität der Eingriffsgrundlage

561

2. Insbesondere: Sanktionierbarkeit des Verstoßes gegen die Vorlagepflicht

563

3. Implikationen für den Konventionsrechtsschutz der Europaabgeordneten gegen freiheitsentziehende Maßnahmen

565

D. Grenzüberschreitende Parteienfinanzierung und Art. 11 EMRK: Parti nationaliste basque – Organisation régionale d'Iparralde ./. Frankreich (2007)

567

I. Sachverhalt, französisches Recht und innerstaatliches Verfahren

568

II. Grundlagen des Verfahrens vor dem EGMR

569

1. Zulässigkeit

569

2. Parteivorbringen

570

3. Positionen anderer Institutionen des Europarates

571

III. Europarechtliche Dimension

573

1. Recht europäischer politischer Parteien

573

2. Kapitalverkehrsfreiheit, Art. 63 ff. AEUV (Art. 56 ff. EGV)

574

a) Anwendbarkeit und Schutzbereich

575

b) Eingriff

576

c) Rechtfertigung

576

3. Ergebnis zu III.

579

IV. Materielle Beurteilung durch den EGMR

580

1. Anwendbare Konventionsrechte und Eingriffsqualität

580

2. Rechtfertigung nach Art. 11 Abs. 2 EMRK

581

3. Sondervotum

583

V. Kritische Würdigung

584

1. Schwächen der konventionsrechtlichen Prüfung des EGMR

584

2. Unterlassene Einbeziehung des Europarechts

585

3. Selbstbeschränkung des EGMR als Rechtsschutzhindernis

587

E. Ergebnis zu Teil 5

589

Teil 6: Zusammenfassung der Ergebnisse

591

I. Grundlagen

591

II. Verfahrensrechte

593

III. Rechte aus europäischen Richtlinien

597

IV. Freizügigkeitsrechte

600

V. Politische Rechte

602

VI. (Gesamt-)Fazit

605

Literaturverzeichnis

607

Stichwortverzeichnis

676