Idealism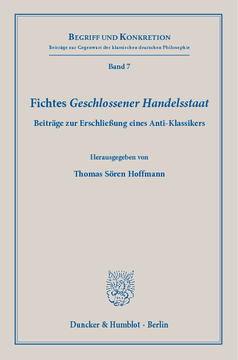 Additional Information
Book Details
ISBN

978-3-428-55363-1
978-3-428-15363-3 (print edition)

DOI

https://doi.org/10.3790/978-3-428-55363-1

Edition

1

Language

German

Pages

220

Collections

Subjects
Pricing
Institution

€ 92.00 (incl. local VAT if applicable)

Individual

€ 71.90 (incl. local VAT if applicable)
About The Author
Thomas Sören Hoffmann has been teaching philosophy at the University of Bonn, the Ruhr-Universität Bochum and also as invited professor in Mendoza (Argentina) and Linz (Austria). Since 2009, he holds the chair of practical philosophy at the FernUniversität in Hagen. Hoffmann has published widely on Kant, Fichte, and Hegel, but also in philosophy of law, philosophy of economics, and bioethics, e.g. »Die absolute Form. Modalität, Individualität und das Prinzip der Philosophie nach Kant und Hegel« (Berlin / New York 1991), »Philosophische Physiologie« (Stuttgart-Bad Cannstatt 2003), »Wirtschaftsphilosophie« (Wiesbaden 2009), »Georg Wilhelm Friedrich Hegel. A Propaedeutic« (Leiden / Boston 2015).
Abstract
Fichtes im Jahre 1800 veröffentlichte Schrift »Der geschlossene Handelsstaat« gehört zu den provokantesten Werken des Philosophen. Fichte versucht in ihr, eine rechtsphilosophisch verankerte Alternative zu jener »Anarchie des Handels« aufzuzeigen, die er in der europäischen Wirklichkeit am Werke und durch Denker wie Adam Smith begünstigt sieht. Mit seinem Gegenmodell entwickelt Fichte ein antiliberal wirkendes, auf planwirtschaftliche Strukturen zurückgreifendes Konzept einer Rechtsordnung, die sich gegen ökonomisch induzierte Rechtserosionen schützen können, aber auch einem Handelskrieg aller gegen alle oder dem Kolonialismus vorbeugen soll.

Der Band bietet mit Beiträgen von Fichte-Experten aus fünf Ländern eine umfassende historische und systematische Erschließung eines Textes, der immer wieder missverstanden und ideologisch vereinnahmt wurde. Die sich dabei ergebenden neuen Perspektiven regen zusammen mit der beigegebenen Forschungsbibliographie zu einer erneuten, konstruktiven Beschäftigung mit Fichtes »Handelsstaat« an. »Fichte's ›Closed Commercial State‹«

Fichte's »Closed Commercial State« happens to be one of the most provocative writings of a philosopher who claimed to advocate nothing as much as freedom but whose key political option seems to be a state controlling all economic activities of his citizens. In this book experts from five countries show what Fichte's main concerns were: the question of how to safeguard the rule of law, the question of avoiding commercial war, the question of ending colonialism ecc. The book wants to invite to a non-prejudiced new reading of Fichte.
Table of Contents
Section Title
Page
Action
Price

Vorwort des Herausgebers

5

Inhaltsverzeichnis

11

Jacinto Rivera de Rosales: Der geschlossene Handelsstaat im Kontext der praktischen Philosophie Fichtes

13

I. Die Stellung des Werks

13

II. Die Freiheit und der Vertrag

18

III. Die transzendental notwendige Materialität

28

IV. Das Eigentum

34

Literatur

41

Jürgen Stahl: Erfahrungen und Theorien wirtschaftlichen Handelns um 1800 in Deutschland oder die Abwesenheit "marktwirtschaftlicher" Begrifflichkeit

43

I.

43

II.

44

III.

47

IV.

53

V.

55

VI.

61

VII.

67

Literatur

70

Douglas Moggach: Freiheit und Vollkommenheit: Fichtes Position in den Kontroversen über Begrenzung und Begründung von staatlichem Handeln

77

I. Metaphysischer Perfektionismus: Leibniz und das Naturgesetz

78

II. Wolffische Ausarbeitungen

80

III. Zwang, Wohlergehen und Vervollkommnung: Kantische Antworten

86

IV. Die Grenzen des staatlichen Handelns

92

V. Fichtes Geschlossener Handelsstaat und die Freiheit

94

Literatur

100

Marco Ivaldo: Ideen zu einer spekulativen Politik. Aus der Einleitung und dem Ersten Buch ("Philosophie") des Fichteschen Geschlossenen Handelsstaates

103

I. Vorwort

103

II. Übersicht

105

III. Politikbegriff

106

IV. Wissenschaft (und Kunst) der Anwendung

109

V. Recht und Staat

112

VI. Die Aufgabe des Staates

114

VII. Staat und Wirtschaft

119

VIII. Schlußbemerkung

124

Literatur

125

Klaus Honrath: Der geschlossene Handelsstaat. Zweites Buch: Zeitgeschichte

127

I.

127

II.

139

Literatur

148

Günter Zöller: Von der Nationalökonomie zum ökonomischen Nationalismus. Fichtes Politikkonzeption im Geschlossenen Handelsstaat

151

I. Recht und Geschichte

151

II. Patriotismus und Republikanismus

157

III. Politik und Metapolitik

162

Literatur

166

David James: Der geschlossene Handelsstaat als Theorie der distributiven Gerechtigkeit mit Blick auf Fichtes Begriff der Politik

169

I. Einleitung

169

II. Der geschlossene Handelsstaat als Theorie der distributiven Gerechtigkeit

170

III. Fichtes Begriff der Politik

178

Literatur

184

Thomas Sören Hoffmann: Wirtschaft als System? Fichtes rechtsphilosophische Alternative zu einem neuzeitlichen Dogma

185

I. Wirtschaftsphilosophie im Zeichen des Rechts

185

II. Politischer Rationalismus und Exorzismus der Kontingenz

188

III. Zwischen Sozialismus, Planwirtschaft und juridischer Einsetzung des Individuums in seinen Selbstbesitz

191

IV. Individuum und Gemeinschaft bei Fichte

196

V. Allgemeinheit und Besonderung des Rechts

198

VI. Das Geld und die Entdinglichung der Dinge im geschlossenen Handelsstaat

201

VII. Kritischer Ausblick

203

Literatur

205

Gesamtbibliographie

207

Personenregister

212

Sachregister

215