European history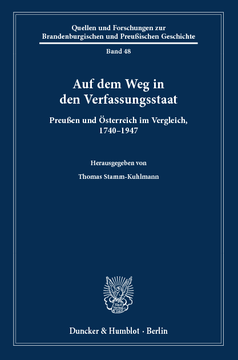 Additional Information
Book Details
ISBN

978-3-428-55346-4
978-3-428-15346-6 (print edition)

DOI

https://doi.org/10.3790/978-3-428-55346-4

Edition

1

Language

German

Pages

256

Collections

Subjects
Pricing
Institution

€ 104.00 (incl. local VAT if applicable)

Individual

€ 79.90 (incl. local VAT if applicable)
About The Author
Thomas Stamm-Kuhlmann promovierte an der Universität Bonn. Nach Stationen in Bielefeld, Kiel und München ist er seit 1996 Professor für Allgemeine Geschichte der Neuesten Zeit an der Universität Greifswald. 1992 erschien seine Biografie des preußischen Königs Friedrich Wilhelm III., die erste wissenschaftliche Biografie dieses Monarchen überhaupt. 1995 erschien »Die Hohenzollern«, 2000 veröffentlichte er die kommentierte Ausgabe der Tagebücher des Reformkanzlers Karl August von Hardenberg. Mehrere Jahre leitete er die Arbeitsgemeinschaft zur preußischen Geschichte, aus deren Tagungen der vorliegende Band entstanden ist.
Thomas Stamm-Kuhlmann studied at the University of Bonn, Germany, and Kalamazoo College, Michigan. After receiving his doctoral degree from the University of Bonn, he has lectured at the Universities of Bielefeld, Kiel and Munich and is currently professor of contemporary and modern history at the University of Greifswald. His publications include books on the Prussian monarchy in the 19th century.
Abstract
Preußen und Österreich werden in diesem Buch im Systemvergleich vorgestellt. Zwölf Autoren aus Deutschland, Österreich und Italien untersuchen, auf welchen Wegen die beiden Staaten in die Moderne gelangten und tasten dabei Religionspolitik, Kommunalverwaltung, Staatsfinanzen, amtliche Statistik, Parlamentarismus, Forschungsförderung und Handelspolitik ab. Auch die Positionierung der beiden Staaten im Prozess der Zolleinigung, die Rolle Preußens als Modernisierungsmodell für manche Österreicher und die Werdegänge maßgeblicher Entscheidungsträger mit ihren Ähnlichkeiten und ihren Unterschieden werden beleuchtet. Dynastische Gesichtspunkte sind ausgeblendet, die republikanische Phase der beiden Staatswesen wird hingegen ausführlich gewürdigt. Dass das maßgeblich durch Preußen geprägte Deutschland einerseits und Österreich andererseits heute zwei sehr erfolgreiche Mitglieder der Europäischen Union sind, wird durch diese Geschichte ihres inneren Ausbaus verständlicher. How did Prussia and Austria reach modernity? Twelve historians from Germany, Austria and Italy present the two largest states of 18th and 19th century Germany with decisive aspects of their internal development: religion policies, municipal government, public finance, official statistics, parliamentary government and party politics, scientific research, trade, shipping and customs. While Prussia perished in the turmoil of Nazi imperialism, Austria survived to become a respected member of the international community.
Table of Contents
Section Title
Page
Action
Price

Inhaltsverzeichnis

5

Thomas Stamm-Kuhlmann: Einleitung

7

Lothar Höbelt: Protestanten in Österreich – Katholiken in Preußen

11

I. Das Erbe der Ahnen

11

II. Aufgeklärter Absolutismus?

16

III. Ideologie oder Primat der Außenpolitik?

18

IV. Ausklang

25

Esther Beate Körber: Städtische Gestaltungsmöglichkeiten zur Zeit Maria Theresias und Friedrichs des Großen

29

Marion Koschier: Zur prekären Lage der Staatsfinanzen in Preußen und Österreich rund um den Wiener Kongress

43

I. Innere Voraussetzungen und externe Faktoren der Finanzkrise‌(n)

45

II. Währungssanierung und Staatsanleihe – Beispiele konkreter Strategien zur Bewältigung der Haushaltskrise

52

III. Die Steuerreform: Vademecum der Finanzpolitik?

56

IV. Conclusio

60

Oliver Werner: Misstrauen, Kommunikation und Diplomatie. Preußen und Österreich im Gründungsprozess des Deutschen Zollvereins 1828 bis 1834

63

I. Die handelspolitische Ausgangslage 1828

64

II. Die Anbahnung neuer Optionen

66

III. Preußische Befürchtungen

69

IV. Die Bildung des Mitteldeutschen Handelsvereins

71

V. Preußisch-bayerische Gemeinsamkeiten

72

VI. Österreichische Zurückhaltung

75

VII. Der Zerfall des Mitteldeutschen Handelsvereins

77

VIII. Preußisch-sächsische Gemeinsamkeiten

79

IX. Preußens Werk und Österreichs Anteil

81

Giulia La Mattina: Die Bewegung "Jung Österreich" und Preußen: Aspekte eines widersprüchlichen Verhältnisses zwischen Vormärz und Revolution 1848.

85

Michael C. Schneider: Amtliche Statistik in Preußen und Österreich im 19. Jahrhundert im Spannungsfeld zwischen staatlichen Eigeninteressen und internationaler Konvergenz

95

Einleitung

95

I. Konvergenz in Organisation und Aufbau?

97

II. Methodische und organisatorische Innovationen

105

III. Konvergenz in der Bevölkerungsstatistik?

108

IV. Schluss

116

Frank Möller: Eine zweite Chance des Konstitutionalismus von 1848. Die Regierungen Auerswald und Schmerling im Vergleich

119

I. Persönlicher und politischer Hintergrund 1848

120

II. Ende der Reaktion und Regierungsantritt

123

III. Ausbau der konstitutionellen Verfassung

126

IV. Entscheidende Probleme und Scheitern

132

V. Fazit

136

Jürgen Angelow: Benedek und Moltke. Parallele Biografien

139

I.

142

II.

144

III.

147

IV.

152

Ingo Löppenberg: Aus dem Dschungel um die Welt zum Nordpol – Preußens und Österreichs wissenschaftlicher Wettkampf um Prestige anhand von Forschungsexpeditionen im 19. Jahrhundert

155

Aus dem Dschungel …

158

… um die Welt …

161

… zum Nordpol

164

Christoph Stamm: Karl Renner und Otto Braun – zwei republikanische Regierungschefs aus der Arbeiterbewegung

169

Kurt Düwell: Preußische Seehandlung und Österreichischer Lloyd. Zwei Varianten von "Staatsnähe" (1772–1947)

189

Vorbemerkung

189

I. Die Preußische Seehandlung

189

II. Österreichischer Lloyd

209

III. Resümee

226

Thomas Stamm-Kuhlmann: Preußens Untergang und Österreichs Überleben

231

Einleitung

231

I.

232

II.

235

III.

237

IV.

242

Verzeichnis der Autoren

247

Personenverzeichnis

249