Constitution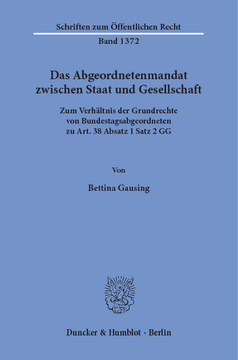 BOOK
Das Abgeordnetenmandat zwischen Staat und Gesellschaft
Zum Verhältnis der Grundrechte von Bundestagsabgeordneten zu Art. 38 Absatz 1 Satz 2 GG
Schriften zum Öffentlichen Recht, Vol. 1372
(2018)
Additional Information
Book Details
ISBN

978-3-428-55355-6
978-3-428-15355-8 (print edition)

DOI

https://doi.org/10.3790/978-3-428-55355-6

Edition

1

Language

German

Pages

264

Collections

Subjects
Pricing
Institution

€ 80.00 (incl. local VAT if applicable)

Individual

€ 62.90 (incl. local VAT if applicable)
About The Author
Bettina Gausing studierte Rechtswissenschaften an der Westfälischen Wilhelms-Universität Münster sowie an der Université Panthéon-Assas, Paris II. Parallel absolvierte sie die fachspezifische Fremdsprachenausbildung im Französischen Recht. Im Jahr 2014 legte sie die Erste Juristische Staatsprüfung ab. Anschließend war sie bis 2017 an der Universität Münster wissenschaftliche Mitarbeiterin am Institut für Internationales Wirtschaftsrecht, Abt. I (Prof. Dr. Gerald Mäsch), und promovierte im Öffentlichen Recht bei Prof. Dr. Fabian Wittreck. Seit 2017 ist sie Rechtsreferendarin am Landgericht Münster mit Stationen unter anderem an der Deutschen Botschaft in Washington D.C.
Bettina Gausing studied law at the Westfälische Wilhelms-Universität in Münster and at the Université Panthéon-Assas, Paris II. She is specialised in French Law. After finishing law school, she wrote her PhD in the field of public law, supervised by Prof. Dr. Fabian Wittreck, and worked as a research assistant at the University of Münster's Institute for International Commercial Law, chaired by Prof. Dr. Gerald Mäsch. Since 2017, she is court trainee at the District Court of Münster.
Abstract
Immer wieder berufen sich Abgeordnete bei der Frage nach der Rechtmäßigkeit von Maßnahmen mit Mandatsbezug auch auf Rechte, die ihnen nach verfassungsrechtlichem Duktus nur als natürlichen Personen zustehen – auf ihre (deutschen wie europäischen) Grundrechte. Während diese individualgerichtet sind, stellt das freie Mandat eine fremdnützig wahrzunehmende Rechtszuweisung des Abgeordneten dar. Als Ausdruck seiner Mittlerrolle zwischen Staat und Gesellschaft liegt das freie Mandat quer zur gängigen (beamtenrechtlichen) Differenzierung zwischen individueller und »amtlicher« Betroffenheit. Das Verhältnis beider Normkomplexe stellt Literatur und Rechtsprechung seit jeher vor Einordnungsprobleme. Die Arbeit unterbreitet einen Lösungsvorschlag für die bereichsdifferenzierte Zuordnung von Grundrechten und freiem Mandat. Dieser basiert auf dem verfassungsrechtlichen Repräsentationsverständnis und trägt der Inhärenz von Person und Funktion in der Abgeordnetenrechtsstellung Rechnung.
Table of Contents
Section Title
Page
Action
Price

Vorwort

5

Inhaltsverzeichnis

7

Einleitung

15

A. Problemstellung

15

B. Stand der Forschung und Themeneingrenzung

16

C. Gang der Untersuchung

18

D. Begriffsklärungen

20

1. Kapitel: Funktionale Anwendbarkeit der Grundrechte und ihr Verhältnis zur Mandatswahrnehmung in der Rechtsprechung

22

A. Prozessualer Hintergrund

23

I. Statthaftes Verfahren im Falle der Rechtsverletzung von Bundestagsabgeordneten

23

II. Statthaftes Verfahren im Falle der Rechtsverletzung von Landtagsabgeordneten

26

III. Statthaftes Verfahren im Falle der Rechtsverletzung von kommunalen Mandatsträgern

27

IV. Erste Weichenstellungen zur Einordnung der Rechtsprechungsansätze

28

B. Der innerparlamentarische Raum: Ausgewählte Fallgruppen

30

I. Rauchverbote im kommunalen Sitzungssaal

30

II. Religiöse Symbole im kommunalen Sitzungssaal

32

III. Meinungsäußerungen der Mandatsträger

34

1. Grundsatzbeschluss des Bundesverwaltungsgerichts zum Tragen des Aufklebers "L./Atomwaffenfreie Stadt"

34

2. Meinungsäußerung durch Bekleidung

36

3. Verbale Meinungsäußerung im Spannungsverhältnis zwischen Meinungsfreiheit und Rederecht

37

IV. Tonaufzeichnungen im kommunalen Sitzungssaal

38

C. Der außerparlamentarische Raum: Entscheidung des Bundesverfassungsgerichts zur Mittelpunktregelung und Offenlegung von Nebeneinkünften von Bundestagsabgeordneten

40

I. Urteilsbegründung zur Mittelpunktregelung

41

1. Das Leitbild der Entscheidungsträger: Umfangreiche Pflichtenstellung des Abgeordneten

42

2. Die Auffassung der Dissenter: Leitbild der Freiheit

43

II. Urteilsbegründung zu den Offenlegungspflichten

43

1. Die Auffassung der Entscheidungsträger: Amtsträger vor Staatsbürger

44

2. Die Auffassung der Dissenter: Staatsbürger im Amt

44

III. Ergebnis

45

D. Ableitung der bisherigen verfassungsrechtsdogmatischen Ansätze

46

I. Ansätze für die Reglementierung innerparlamentarischer Verhaltensweisen

46

1. Tendenz der Verwaltungsgerichte: Anwendbarkeit der Grundrechte und des freien Mandats

46

2. Vorherrschender verfassungsrechtsdogmatischer Ansatz in der Literatur: Übernahme der beamtenrechtlichen Lösung

47

II. Ansätze für die Reglementierung außerparlamentarischer Verhaltensweisen

48

1. Verschmelzung von Grundrechten und Freiheit des Mandats

49

2. Keinerlei Grundrechtsgeltung für mandatsbezogene Maßnahmen

50

2. Kapitel: Die Rolle des Bundestagsabgeordneten im staatlichen Organisationsgefüge

52

A. Die Unterscheidung von Staat und Gesellschaft

52

I. Vom ursprünglichen Dualismus hin zur rollenmäßigen Unterscheidung von Staat und Gesellschaft

52

II. Unterschiedliche Ausrichtung von freiem Mandat und grundrechtlicher Freiheit

57

III. "Die parlamentarische Demokratie fordert […] den Abgeordneten als ganzen Menschen" (BVerfGE 134, 141 [174]) – Vorgaben des Bundesverfassungsgerichts für die hiesige Problematik

58

B. Eingliederung des Bundestagsabgeordneten in die institutionalisierte Staatlichkeit

61

I. Abgeordneter als Organwalter

62

II. Abgeordneter als Amtsträger sui generis?

63

1. Streitstand: Abstandsgebot zum Beamten

64

2. Relevanz der Einordnung und verbleibende Bedeutung des Amtsbegriffs

68

III. Bindung des Abgeordneten an Verfassung und Gesetz

70

IV. Verfassungsrechtliche Rechtsstellung resp. verfassungsrechtlicher "Status" des Abgeordneten

72

C. Ergebnis: Art. 38 Abs. 1 S. 2 GG als Hybrid zwischen Staat und Gesellschaft

73

3. Kapitel: Das "Ob" der Grundrechtsberechtigung des Abgeordneten bei mandatsbezogenen Maßnahmen – Grundrechtsimpermeabler Abgeordnetenstatus?

74

A. Rechts- und Pflichtenstellung des Abgeordneten

75

I. Amtsbereich: Apersonal anknüpfende Rechte und Pflichten

75

II. Außerparlamentarischer Rechts- und Pflichtenkreis: Anknüpfung an die Abgeordnetenperson

78

III. Die Verbindung von Amt und Person durch Art. 38 Abs. 1 S. 2 GG

81

1. Die parlamentarischen Mitgliedschaftsrechte: Teilhabedimension des Art. 38 Abs. 1 S. 2 GG

81

2. Freiheit und Unabhängigkeit der Mandatswahrnehmung im inner- wie im außerparlamentarischen Bereich

82

3. Ergebnis

85

B. Begrifflicher Mythos vom "Abgeordnetenstatus": Synonym für die Rechtsstellung des Abgeordneten oder eine Begrenzung grundrechtlicher Schutzbereiche?

86

I. Variierendes Begriffsverständnis in Rechtsprechung und Literatur

87

1. Uneinigkeit über die Reichweite des sog. Abgeordnetenstatus

87

2. Dogmatische Verquickungen mit dem Begriff des Abgeordnetenstatus

88

a) Das Statusverständnis des Bundesverfassungsgerichts

90

b) Der rigide Trennungsgedanke von Grundrechten und staatsorganisatorischem Abgeordnetenstatus in Teilen der Literatur

91

II. Dogmatische Einordnungsversuche für ein solches Statusverständnis

93

1. Art. 38 Abs. 1 S. 2 GG als lex specialis zu den Grundrechten

93

a) Anwendung des lex-specialis-Gedankens in der Literatur

94

b) Haltbarkeit dieses Ansatzes

95

2. Verfassungsimmanente Grundrechtsbegrenzung durch Art. 38 GG

97

a) Explizite verfassungsimmanente Grundrechtsbegrenzung durch den Anwendungsbereich des Art. 38 Abs. 1 S. 2 GG?

98

b) Verfassungsimmanente Grundrechtsbegrenzung durch Ermächtigung an den Gesetzgeber zur Ausgestaltung der Abgeordnetenrechtsstellung "von innen heraus", Art. 38 Abs. 3, Art. 48 Abs. 3 S. 3 GG?

101

aa) Insbesondere: Der Status der Öffentlichkeit als immanenter Aspekt der Abgeordnetenrechtsstellung

103

bb) Haltbarkeit dieses Ansatzes

104

c) Ungeschriebene verfassungsimmanente Grundrechtsbegrenzung zugunsten der Verfassungsorganisation?

105

3. Grundrechtsbegrenzung durch verfassungsrechtlichen Sonderstatus des Abgeordneten?

107

a) Die ehemalige verfassungsrechtliche Kategorie des "besonderen Gewaltverhältnisses"

107

b) Besonderes Gewaltverhältnis und Rechtsstellung des Abgeordneten – Getrennte Entwicklung trotz gemeinsamer Wurzeln

110

c) Verfassungsrechtliche Institutionalisierung und strukturelle Grundrechtsparallelen des Abgeordnetenmandats: Eigener verfassungsrechtlicher Sonderstatus des Abgeordneten?

112

d) Vorläufiges Fazit: Art. 1 Abs. 3 GG als einzige funktionale Begrenzung der Grundrechte

114

4. Freiwilligkeit der Mandatsannahme als letzter Anker: Grundrechtsverzicht?

119

III. Ergebnis zum Statusbegriff

121

4. Kapitel: Das "Wie" der Grundrechtsberechtigung des Abgeordneten – Der Bundestagsabgeordnete als (partiell) andersartiger Amtsträger

123

A. Bereichsdifferenzierte Grundrechtsgeltung anderer staatlicher Akteure: Korrelation von Weisungsgebundenheit und wehrfähiger Rechtsposition mit der jeweiligen Grundrechtsberechtigung des Amtsträgers

123

I. Grundrechtsberechtigung des Beamten

124

1. Erörterung der anzulegenden Vergleichskriterien

124

a) Wesensunterschiede des Abgeordneten und des Beamten in Rechtsprechung und Literatur

124

b) Wesensunterschiede von Amts- und Parlamentsrecht

126

c) Bilanz: Weisungsgebundenheit und innerorganisatorische Rechtszuweisung als Vergleichsmerkmale

126

2. Anwendung der maßgeblichen Vergleichskriterien auf das Beamtenverhältnis

127

a) Weisungsgebundenheit

127

b) Grundsätzlich keine (ab)wehrfähige Rechtszuweisung im Amt

128

3. Konkrete Bereichsdifferenzierung der Grundrechtsgeltung beim Beamten

129

a) "Amtsbereich" – Tätigwerden in Vertretung für den Staat

130

aa) (Grund)recht auf Nichtvornahme der Amtshandlung?

131

bb) Bestehenbleiben von Integritätsrechten resp. negativen Handlungsfreiheiten im Amtsbereich

133

b) "Dienstverhältnis" – Amtsträger steht dem Staat als Person gegenüber

135

aa) Verfassungsimmanente Grundrechtsbegrenzung durch Sachnotwendigkeiten des Beamtenverhältnisses? Die Kopftuchentscheidungen des Bundesverfassungsgerichts

136

bb) Eigene Stellungnahme

138

c) "Privatbereich"

139

4. Ergebnis

140

II. Grundrechtsberechtigung des Richters

140

1. Anwendung der maßgeblichen Vergleichskriterien auf den Richter

141

a) Richterliche Unabhängigkeit als Bereich der Weisungsfreiheit

141

b) Art. 97 Abs. 1 GG als (ab)wehrfähige Rechtszuweisung zur Verteidigung der Weisungsfreiheit

145

2. Konkrete Bereichsdifferenzierung der Grundrechtsgeltung beim Richter

146

a) Spannungsverhältnis zwischen Dienstaufsicht und richterlicher Unabhängigkeit innerhalb der richterlichen Tätigkeit

147

aa) "Kernbereich" richterlicher Tätigkeit

148

bb) "Äußerer Ordnungsbereich" der richterlichen Tätigkeit

148

cc) Auswirkungen auf die dem Beamtenrecht entlehnte Differenzierung zwischen "Amtsbereich" und "Dienstverhältnis"

149

(1) Automatische Gesprächsdatenerfassung durch das richterliche Diensttelefon

150

(2) Richteramt und Meinungsäußerungsfreiheit in der mündlichen Verhandlung

152

(3) Richterliche Pflicht zum Tragen der Amtstracht

153

(4) Weiterführende Überlegungen: Zusammenspiel aus richterlicher Unabhängigkeit und den Grundrechten des Richters

154

dd) Kritik an der Rechtsprechung des Bundesgerichtshofs: Die richterliche Unabhängigkeit als "funktionales Äquivalent der allgemeinen Handlungsfreiheit"?

156

b) Ergebnis

159

III. Fazit zur Korrelation zwischen den Wesensunterschieden der Amtsträger und deren Grundrechtsberechtigung

160

1. Fehlende Auswirkungen der Weisungsgebundenheit auf die Grundrechtsberechtigung des jeweiligen Amtsträgers

161

2. Fehlende Auswirkungen der amtlichen (ab)wehrfähigen Rechtszuweisung auf die Grundrechtsberechtigung des jeweiligen Amtsträgers

162

3. Aufnahme persönlichkeitsbezogener Elemente durch das Richteramt

162

B. Die echte Eigenart der Abgeordnetenrechtsstellung – die Inhärenz der Person in der Funktion

163

I. "Scharnierfunktion" des Abgeordneten – Eine formale wie materielle Repräsentationsaufgabe

164

II. Die Prägung der Mandatskompetenzen durch die Abgeordnetenperson – formale Repräsentation

168

1. Kommunikative Züge der parlamentarischen Mitbestimmungsrechte

168

2. Keine Geltung des staatlichen Neutralitätsgebots für die amtlichen Äußerungen des Bundestagsabgeordneten

170

3. Orientierung am eigenen Gewissen

175

4. Ergebnis: Aufnahme persönlichkeitsbezogener Elemente durch das Abgeordnetenamt

177

III. Transformationsfunktion durch politische Betätigung – materielle Repräsentation

178

IV. Die "gesellschaftliche Verwurzelung" des Abgeordneten im Privatbereich

180

V. Ergebnis: Personale Prägung der Abgeordnetenrechtsstellung

184

5. Kapitel: Bereichsdifferenzierte Zuordnung von freiem Mandat und Grundrechten

186

A. Bestimmung der funktional nicht anwendbaren Grundrechte: Übernahme der Amtsträgerlösung, Art. 1 Abs. 3 GG

186

I. Funktionale Nichtanwendbarkeit der Grundrechte im Bereich der Grundrechtsbindung, Art. 1 Abs. 3 GG

186

1. Erste Stufe: Zuordnung zum Staatsbereich, Art. 1 Abs. 3 GG (sphärische Zuordnung)

188

2. Zweite Stufe: Inhaltliche Einflussnahme auf die Amtsausübung (funktionale Zuordnung)

191

3. Zwischenergebnis

191

II. Gegenposition: Die Usurpationsgrenze

192

B. Konturierung des Verhältnisses von freiem Mandat und Grundrechten: Raum für gleichzeitigen Schutz für die personal anknüpfenden Inhalte des Art. 38 Abs. 1 S. 2 GG

194

C. Lösungsvorschlag zur Zuordnung von Grundrechten und freiem Mandat unter Berücksichtigung der "Scharnierfunktion" des Bundestagsabgeordneten

197

I. Betroffenheit des Mandatsträgers bei politischem Handeln

198

1. Betroffenheit bei der Ausübung von parlamentarischen Befugnissen

198

a) Rechtsbindung: kein Raum für Grundrechte im Rahmen formaler Repräsentation

198

aa) Funktionale Nichtanwendbarkeit von (bestimmten) Grundrechten

198

(1) Kommunikationsgrundrechte

199

(2) Allgemeine Handlungsfreiheit

200

(3) Informationsfreiheit

200

(4) Gewissensfreiheit

201

(5) Gleichheitsgrundrechte

201

(6) Ergebnis

201

bb) Bestehenbleiben von negativen Handlungsfreiheiten sowie Integritätsrechten bei der Amtswahrnehmung

202

(1) Sonderfall im Rahmen der negativen Handlungsfreiheiten: "Sprechendes" Nichthandeln

202

(2) Sonderfall im Rahmen der Integritätsrechte: Das allgemeine Persönlichkeitsrecht

202

b) Gleichzeitiger Schutz durch Art. 38 Abs. 1 S. 2 GG und die positiven Handlungsfreiheiten: Mitgliedschaftsrecht auf ungestörte Amtsausübung?

204

2. Politische Aktivität im außerparlamentarischen Bereich

207

a) Funktionale Nichtanwendbarkeit der Grundrechte bei Inanspruchnahme von Amtsautorität

207

b) Zusätzlicher Schutz durch Art. 38 Abs. 1 S. 2 GG für die gesamte politische Betätigung im Sinne materieller Repräsentation

209

II. Ausgestaltung der persönlichen Rechtsstellung des Mandatsträgers im Übrigen – Berücksichtigung der gesellschaftlichen Verwurzelung

212

III. Sonderproblem: Beschränkung der Grundrechte einzig durch formelles Gesetz oder auch durch Geschäftsordnung?

213

1. Innerparlamentarisches, potentiell grundrechtsrelevantes Verhalten

215

2. Außerparlamentarisches, potentiell grundrechtsrelevantes Verhalten

218

3. Differenzierte Lösung

219

IV. Zusammenfassung der denkbaren Fallkonstellationen

222

1. Kollision zwischen grundrechtlichen Gewährleistungen und staatsorganisationsrechtlichen Anforderungen

222

2. Gleichlauf von grundrechtlichen Gewährleistungen und staatsorganisationsrechtlichen Anforderungen

224

6. Kapitel: Einfluss der Europäischen Menschenrechtskonvention

226

A. Die Quadratur des Kreises? – Konfusion von grundrechtlicher Freiheit und staatsorganisatorischer Befugnis auf Konventionsebene

226

I. Besonderer Schutz des freedom of expression i. S. d. Art. 10 Abs. 1 S. 1 EMRK für das parlamentarische Rederecht

227

II. Konfliktpotential der Konzeptionsunterschiede

228

1. Gemengelage von Staat und Gesellschaft auf Schutzbereichsebene?

229

2. Die GOBT als gesetzlich vorgesehene Einschränkung i. S. d. Art. 10 Abs. 2 EMRK

232

B. Ergebnis

234

Zusammenfassung der Ergebnisse in Thesen

235

Literaturverzeichnis

239

Sachverzeichnis

259