Contract law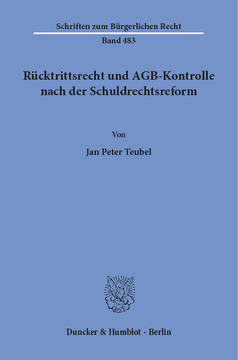 Additional Information
Book Details
ISBN

978-3-428-54678-7
978-3-428-14678-9 (print edition)

DOI

https://doi.org/10.3790/978-3-428-54678-7

Edition

1

Language

German

Pages

351

Collections

Subjects
Pricing
Institution

€ 116.00 (incl. local VAT if applicable)

Individual

€ 89.90 (incl. local VAT if applicable)
About The Author
Jan Peter Teubel studierte Rechtswissenschaft in Passau und Würzburg. Nach dem Ersten Staatsexamen war er Wissenschaftlicher Mitarbeiter am Lehrstuhl für Deutsches und Europäisches Privatrecht sowie Internationales Privatrecht der Julius-Maximilians-Universität Würzburg. Dort absolvierte er das Referendariat und trat anschließend in den Dienst der bayerischen Justiz.
Jan Peter Teubel studied law at the universities of Passau and Würzburg. After passing the First State Exam he worked as a research assistant at the chair of German and European Private law and Private International law of Julius-Maximilians-Universität Würzburg. He completed his legal traineeship there and afterwards joined the judiciary in Bavaria.
Abstract
Jan Peter Teubel untersucht am Beispiel der Änderungen des Rücktrittsrechts durch die Schuldrechtsreform die Auswirkungen von Gesetzesänderungen auf die Inhaltskontrolle Allgemeiner Geschäftsbedingungen. Nach einer Darstellung der maßgeblichen Kontrollvorschriften und ihrer Dogmatik behandelt er die Wiedereinführung eines Verschuldenserfordernisses und der Ablehnungsandrohung, wobei er Ersteres im Gegensatz zu Letzterem in AGB für grundsätzlich möglich hält. Sodann stellt er Möglichkeiten dar, dem Schwebezustand nach Ablauf der Nachfrist zu begegnen, und diskutiert, ob beim Eigentumsvorbehalt wie im alten Recht ein Rücktrittsrecht ohne Fristsetzung oder ein einstweiliges Rücknahmerecht formularmäßig ausbedungen werden kann. Die Arbeit kommt dabei zu differenzierten Lösungen und präsentiert Klauselvorschläge. Die Untersuchung liefert auch einen Beitrag zur Diskussion um die Inhaltskontrolle im unternehmerischen Geschäftsverkehr. »Right to Rescind and Test of Unfair Contract Terms under New German Law of Obligations«

The study examines how changes of the law affect the review of standard contract terms using the example of the right of rescission and its alteration in the reform of the German law of obligations 2002. It asks whether standard contract terms allow a return to the legal situation before the changes. Differentiated results are presented in combination with proposals of feasible contract terms. The study pays special attention to the unfairness test in business-to-business contracts.
Table of Contents
Section Title
Page
Action
Price

Vorwort

5

Inhaltsübersicht

7

Inhaltsverzeichnis

9

Abkürzungsverzeichnis

17

Einleitung

21

A.  Grundlagen der Klauselkontrolle

23

I.  Einbeziehungs- und Inhaltskontrolle

23

II. Inhaltskontrolle nach § 307 BGB

24

1.  Generalklausel des § 307 Abs. 1 BGB

25

2.  Die Bedeutung des § 307 Abs. 2 BGB

29

a)  Umfang der Bezugnahme

30

b)  Deutung als Beweislastregelung und Unwirksamkeitsvermutung

30

c)  Deutung als Regelbeispiel oder Argumentationslastregel

32

d)  Deutung als abschließende Spezialtatbestände

33

e)  Folgerungen

34

3.  Die Merkmale des § 307 Abs. 2 Nr. 1 BGB

36

a)  Abweichung von der gesetzlichen Regelung

38

b)  Wesentliche Grundgedanken der gesetzlichen Regelung

38

aa)  Gesetzliche Regelung

38

bb)  Wesentliche Grundgedanken

40

(1)\tGerechtigkeitsgebot und Zweckmäßigkeit

40

(2)\tAnsätze im Schrifttum

41

(3)\tGrad des Gerechtigkeitsgehalts

44

(4)\tBestimmung des Gerechtigkeitsgehalts

45

c)  Unvereinbarkeit mit wesentlichen Grundgedanken

50

d)  Ergebnis

52

4.  Bedeutung von § 307 Abs. 2 Nr. 2 BGB

53

5.  Kontrolle im unternehmerischen Verkehr

54

a)  Ausgangspunkt

54

b)  Forderung nach weniger Kontrolle

56

c)  Bewertung

59

aa)  Schutzzweck der AGB-Kontrolle

59

bb)  Bedeutung von § 310 Abs. 1 BGB

60

cc)  Indizwirkung der Klauselkataloge

62

dd)  Auswirkungen auf § 307 Abs. 2 Nr. 1 BGB

65

ee)  Ergebnis

66

6.  Einfluss der Klauselrichtlinie

67

a)  Allgemeines

67

b)  Auslegung des Art. 3 RL 93/13 durch den EuGH

68

c)  Missbräuchlichkeit einer Klausel

70

aa)  Erhebliches und ungerechtfertigtes Missverhältnis

71

bb)  Entgegen dem Gebot von Treu und Glauben

72

cc)  Ergebnis

75

d)  Vorschlag für eine Richtlinie über Rechte der Verbraucher

75

aa)  Ursprünglicher Entwurf

76

bb)  Abschwächung

77

cc)  Umsetzung

77

B.  Regelung des Rücktrittsrechts vor und nach der Schuldrechtsreform

79

I.  Rechtslage vor der Schuldrechtsreform

79

1.  Gesetzliche Regelung

79

2.  Veränderungen durch Allgemeine Geschäftsbedingungen

81

a)  Einschränkungen des Rücktrittsrechts

81

aa)  § 11 Nr. 8a AGBG

81

bb)  Weitere Einschränkungen

84

b)  Erleichterungen in Allgemeinen Geschäftsbedingungen

85

II.  Das Rücktrittsrecht nach der Schuldrechtsreform

86

1.  Gesetzliche Lage

86

a)  Regelung des § 323 BGB

86

b)  Situation nach Fristablauf

87

c)  Eigentumsvorbehalt

87

2.  Regelung der AGB-Kontrolle

88

a)  Übernahme des AGB-Rechts bei der Schuldrechtsreform

88

aa)  Allgemeines

88

bb)  Von § 11 Nr. 8a AGBG zu § 309 Nr. 8a BGB

88

(1)\tGesetzgebungsgeschichte

89

(2)\tVeränderung des Klauselverbots

90

b)  Modifikationen des Rücktrittsrechts in Allgemeinen Geschäftsbedingungen

91

aa)  § 309 Nr. 8a BGB

91

bb)  Übertragbarkeit auf den unternehmerischen Geschäftsverkehr

92

(1)\tRechtsprechung des BGH

92

(2)\tKeine Indizwirkung des Einschränkungsverbots

93

3.  Änderungen aufgrund der Richtlinie über Rechte der Verbraucher

94

C.  Verschulden als Rücktrittsvoraussetzung

98

I.  Bedeutung des verschuldensunabhängigen Rücktrittsrechts

99

1.  Rücktrittsrecht bei einstweiliger Unmöglichkeit

101

a)  Suspendierung der Leistungspflicht

102

b)  Anwendung des § 323 Abs. 1 BGB

103

c)  Andere Lösungen

104

d)  Ergebnis

106

2.  Die angemessene Nachfrist

106

3.  Wirkung einer abweichenden Vereinbarung

108

II.  Inhaltskontrolle

109

1.  Vereinbarkeit mit wesentlichen Grundgedanken

110

a)  Gerechtigkeitsgehalt des verschuldensunabhängigen Rücktrittsrechts

110

b)  Sinn und Zweck

111

c)  Rechtsvergleichung

113

d)  Wesentlicher Grundgedanke

114

e)  Gegen eine Unvereinbarkeit sprechende Gesichtspunkte

115

2.  Umkehrschluss aus § 309 Nr. 8a BGB für § 307 BGB

115

a)  Bedeutung des § 309 BGB für die Auslegung des § 307 BGB

116

aa)  Umkehrschluss

116

bb)  Differenzierte Betrachtung

119

cc)  Kein Rückschluss aus Klauselverboten

120

dd)  Ergebnis

121

b)  Bedeutung des § 309 Nr. 8a BGB für § 307 BGB

122

aa)  Anwendungsbereich

123

bb)  Beweggründe des Gesetzgebers

125

c)  Ergebnis

126

3.  Abwägung nach § 307 Abs. 1 BGB

126

a)  Widerstreitende Interessen

127

b)  Häufigkeit des Rücktritts ohne Verschulden \nals Abwägungsgesichtspunkt

128

c)  Ergebnis

128

4.  Auswirkungen der Klauselrichtlinie

129

a)  Nr. 1b des Anhangs

129

aa)  Ausschluss oder Einschränkung

130

bb)  Bezugspunkt des Wortes "ungebührlich"

131

cc)  Ungebührlicher Ausschluss oder Einschränkung

133

b)  Nr. 1o des Anhangs

134

c)  Generalklausel des Art. 3 RL 93/13

136

aa)  Übereinstimmung mit früherem Recht

137

bb)  Missbräuchlichkeit

138

d)  Ergebnis

140

5.  Weitere zu berücksichtigende Umstände

140

a)  Fixgeschäft

141

aa)  Allgemeines

141

bb)  Keine Bindung an Verschulden

143

b)  Beweislast für das Vertretenmüssen

144

aa)  Beweislast des Verwenders

144

(1)\t§ 309 Nr. 12 BGB

144

(2)\tKontrolle nach § 307 Abs. 1 BGB

145

bb)  Klauselgestaltung

146

(1)\tFeststellung der Beweislastverteilung

146

(2)\tAnwendung auf eine konkrete Klausel

148

cc)  Ergebnis

150

c)  Benachrichtigungspflicht

150

d)  Dauer des Ausschlusses des Rücktrittsrechts

152

aa)  Vorübergehendes und endgültiges Leistungshindernis

152

bb)  Auswirkung auf Klauselgestaltung

153

cc)  Angabe einer festen Zeitspanne in der Klausel

154

dd)  Ergebnis

156

6.  Verhältnis zu § 308 Nr. 1 BGB

156

a)  Unmittelbarer Ausschluss des Rücktrittsrechts

157

b)  Verlängerung der Leistungsfrist

157

aa)  Verbraucherverkehr

159

bb)  Unternehmerischer Verkehr

161

c)  Ergebnis

164

7.  Verschulden beim Rücktrittsrecht nach § 324 BGB

164

8.  Ergebnis

164

D.  Ablehnungsandrohung

166

I.  Ausgangspunkt

166

II.  Inhaltskontrolle

168

1.  Urteil des BGH vom 27.  9.  2000

168

2.  Einfache Nachfrist als wesentlicher Grundgedanke

169

a)  Gründe für die Abschaffung der Ablehnungsandrohung

170

b)  Zweckmäßigkeit oder Gerechtigkeit

171

c)  Ablehnungsandrohung in anderen Normen

173

d)  Ablehnungsandrohung als formales Erfordernis

175

e)  Ergebnis

176

3.  Vereinbarkeit mit den wesentlichen Grundgedanken

176

a)  Interessen des Schuldners

177

aa)  Warnung

177

bb)  Klarheit

177

cc)  Erschwerung des Rücktritts

178

b)  Gegenargumente

178

aa)  Kompliziertheit

178

bb)  Warnung

180

cc)  Ungewissheit

181

c)  Interessenbewertung

182

d)  Ergebnis

184

4.  Ausnahme von der Unwirksamkeit

184

a)  Greifbares Bedürfnis für Ablehnungsandrohung

184

aa)  Schnelligkeit der Vertragsabwicklung

185

bb)  Umfangreiche Vorarbeiten

187

cc)  Ergebnis

188

b)  Besonderheiten des Bauvertrags

188

aa)  Die Regelung der VOB/B

188

bb)  Interessenabwägung

190

cc)  Ergebnis

193

III.  Ähnliche Regelungen

193

1.  Entscheidung über das weitere Vorgehen bei Fristsetzung

193

2.  Ablehnungsandrohung ohne Erlöschen \nder Leistungspflichten

194

3.  Vorbehalt des Rücktritts

195

IV.  Verbindlichkeit einer Ablehnungsandrohung

197

1.  Kontrollfähigkeit

198

a)  Antizipierter Rücktritt oder Schadensersatzverlangen

198

b)  Ablehnungserklärung

199

2.  Inhaltskontrolle

202

3.  Ergebnis

203

V.  Ergebnis

203

E.  Frist für Erklärung des Rücktritts

205

I.  Problematik der Schwebelage

205

II.  Gesetzeslage nach Ablauf der Nachfrist

207

1.  Keine Befristung des Rücktrittsrechts

207

a)  Analogie zu § 314 Abs. 3 BGB

208

b)  Gegenargumente

209

c)  Ergebnis

210

2.  Keine Fristsetzung durch den Schuldner zur Ausübung des Rücktrittsrecht

210

a)  Keine Übernahme von § 323 Abs. 5 BGB-KE

210

b)  Beschränkung des § 350 BGB auf vertragliche Rücktrittsrechte

211

c)  Analogie zu § 350 BGB

212

d)  Anwendung des § 264 Abs. 2 BGB

213

aa)  Wahlschuld oder elektive Konkurrenz

214

bb)  Ergebnis

218

e)  Entsprechende Anwendung des § 264 Abs. 2 BGB

218

f)  Ergebnis

220

3.  Entscheidungs- und Mitteilungspflichten mit Schadensersatzfolge

220

4.  Ankündigung der Leistungsvorbereitung

221

a)  Informationspflicht

222

b)  Suspendierung des Rücktrittsrechts nach Treu und Glauben

222

c)  Bewertung

223

d)  Ergebnis

224

5.  Verwirkung des Rücktrittsrechts

224

a)  Voraussetzungen der Verwirkung

225

b)  Ergebnis

227

6.  Erlöschen des Rücktrittsrechts durch Angebot oder Nachholen der Leistung

227

a)  Kein Ausschluss des Rücktritts durch Leistungsangebot

228

aa)  Entscheidungsfreiheit des Gläubigers

229

bb)  Möglichkeit eines Deckungsgeschäfts

230

cc)  Gesetzesbegründung

231

dd)  Rechtsprechung zum Werkvertrag

232

ee)  Andere Regelungswerke

233

ff)  Gegenargumente

233

b)  Leistungserbringung oder -angebot beseitigt Rücktrittsrecht

234

aa)  Annahmeverzug und Ende des Schuldnerverzugs

235

bb)  Weitere Argumente

236

cc)  Situation bei anderen Regelungen

236

dd)  Europarechtliche Vorgaben

237

c)  Einschränkungen

238

aa)  Leistungserbringung nach Ankündigung

238

bb)  Einschränkung unmittelbar nach Ablauf der Nachfrist

239

d)  Ergebnis

240

7.  Ergebnis

240

III.  Wirksamkeit eines formularmäßigen Fristsetzungsrechts

241

1.  Vereinbarkeit mit wesentlichen Grundgedanken der gesetzlichen Regelung

242

a)  Erwägungen des Gesetzgebers

243

b)  Gerechtigkeits- und Zweckmäßigkeitserwägungen

243

c)  Ausübungsmodalität

245

d)  Weitere Erwägungen

246

e)  Ergebnis

248

2.  Interessenabwägung nach § 307 Abs. 1 BGB

248

a)  Interessen des Verwenders

248

b)  Interessen des Gläubigers

250

c)  Abwägung

250

d)  Rechtsfolge

252

e)  Ergebnis

253

3.  Weitere Rechtsfolgen der versäumten Erklärungsfrist

253

a)  Schadensersatzbewehrte Entscheidungspflicht

255

aa)  Funktionsweise

256

bb)  Bewertung

257

cc)  Andere Formulierungen

259

dd)  Ergebnis

260

b)  Fiktion des Rücktritts

261

aa)  Berücksichtigung von § 308 Nr. 5 BGB

261

bb)  Kontrolle nach § 307 BGB

263

cc)  Ergebnis

264

c)  Übergang des Rücktrittsrechts auf den Schuldner

264

d)  Ergebnis

267

4.  Erstreckung des Fristsetzungsrechts \nauf den Schadensersatzanspruch

267

a)  Differenzierung nach Grad der Fahrlässigkeit

268

b)  Inhaltskontrolle nach § 307 Abs. 2 Nr. 2 BGB

269

c)  Bewertung

270

d)  Erklärungspflicht

272

5.  Länge der Entscheidungsfrist

273

6.  Ergebnis

274

IV.  Formularmäßige Befristung des Rücktrittsrechts

274

1.  Vereinbarkeit mit wesentlichen Grundgedanken der gesetzlichen Regelung

275

2.  Interessenabwägung nach § 307 Abs. 1 BGB

277

3.  Sonderfälle

278

4.  Ergebnis

279

V.  Leistungserbringung nach Ablauf der Nachfrist

280

VI.  Ergebnis

282

F.  Abweichungen beim Eigentumsvorbehalt

283

I.  Rücktritt ohne Fristsetzung

283

1.  Gesetzliche Regelung

283

2.  Formularmäßiges sofortiges Rücktrittsrecht

284

a)  Inhaltskontrolle nach §§ 309 Nr. 4, 307 BGB

285

aa)  Das Sicherungsinteresse des Verkäufers

285

bb)  Wertverlust durch weitere Nutzung

286

cc)  Gefahr der Veräußerung

288

dd)  Weitere Argumente

289

b)  Ergebnis

291

3.  Mahnung statt Fristsetzung

292

II.  Rücknahmerecht ohne Rücktritt

293

1.  Gesetzliche Regelung des § 449 Abs. 2 BGB

293

2.  Formularmäßiges Rücknahmerecht

294

a)  Wesentlicher Grundgedanke der gesetzlichen Regelung

295

aa)  Gesetzgebungsgeschichte

295

bb)  Bewertung

296

cc)  Unternehmerischer Geschäftsverkehr

297

dd)  Ergebnis

298

b)  Interessenabwägung bei Zahlungsverzug

298

aa)  Interessen des Verkäufers

299

bb)  Interessen des Käufers

300

cc)  Abwägung

301

c)  Ausgestaltung des Rücknahmerechts

304

aa)  Sofortiges Rücknahmerecht

305

bb)  Rücknahmerecht nach Fristsetzung

307

(1)\tVergleich mit Lage bei Rücktritt und Schadensersatzanspruch

308

(2)\tAnrechnung des Werts der Sache

310

(3)\tErgebnis

311

cc)  Transportkosten und Gefahrtragung

311

dd)  Endgültige Vertragsabwicklung ohne Rücktritt

313

ee)  Ergebnis

315

d)  Rücknahmerecht bei sonstigen Pflichtverletzungen des Käufers

315

aa)  Gesetzeslage

316

bb)  Interessenabwägung

318

(1)\tBezeichnung der Pflichtverletzung

320

(2)\tWiedereinräumung des Besitzes

321

(3)\tErgebnis

323

e)  Ergebnis

323

III.  Ergebnis

324

G.  Zusammenfassung der Ergebnisse

325

Literaturverzeichnis

329

Sachwortregister

348