Constitution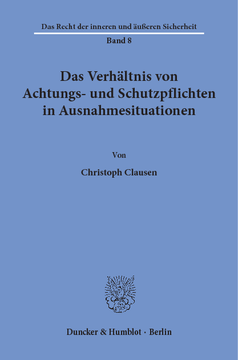 Additional Information
Book Details
ISBN

978-3-428-55226-9
978-3-428-15226-1 (print edition)

DOI

https://doi.org/10.3790/978-3-428-55226-9

Edition

1

Language

German

Pages

259

Collections

Subjects
Pricing
Institution

€ 92.00 (incl. local VAT if applicable)

Individual

€ 71.90 (incl. local VAT if applicable)
About The Author
Christoph Nicolaus Clausen studierte ab 2008 Rechtswissenschaften an der Ruprecht-Karls-Universität Heidelberg, der Université de Lausanne in der Schweiz und der Westfälischen Wilhelms-Universität Münster. Im Jahr 2013 legte er die Erste Juristische Prüfung ab. Anschließend war er als wissenschaftlicher Mitarbeiter promotionsbegleitend bei einer amerikanischen Kanzlei in Berlin tätig. Anfang 2018 absolvierte er das Referendariat beim Kammergericht Berlin mit Stationen unter anderem beim Bundesministerium für Wirtschaft und Energie, einer deutschen Großkanzlei und einer südafrikanischen Kanzlei in Kapstadt.
Christoph Nicolaus Clausen studied law at the University of Heidelberg, the Université de Lausanne in Switzerland and the University of Münster. In 2013 he passed the First Legal State Exam. Subsequently he worked at an American law firm in Berlin as a research assistant while writing his doctoral thesis. In February 2018 he completed his legal clerkship at the Higher Regional Court of Berlin with stations at the Federal Ministry for Economic Affairs and Energy, a German law firm and a South African law firm based in Cape Town..
Abstract
Das Verhältnis von Achtungs- und Schutzpflichten ist die grundrechtsdogmatische Übersetzung der Frage nach dem Verhältnis von Freiheit und Sicherheit. Sie stellt sich in mehrpoligen Verfassungsrechtsverhältnissen, in denen ein Bürger die Freiheit eines anderen verletzt, und ist demnach maßgeblich für die Koordination von Freiheitssphären durch den Staat. Die Arbeit widmet sich zunächst dem Verhältnis der beiden Pflichtenarten zueinander und analysiert dieses aus diversen Blickwinkeln. Es wird festgestellt, dass kein Primat der Achtungspflicht besteht, sondern die Pflichten grundsätzlich gleichwertig sind. Im Anschluss wird dieser Befund zur Auflösung von Ausnahmesituationen angewendet, in denen sich essenzielle Rechtsgüter wie Menschenwürde und Leben gegenüberstehen. Es stellt sich heraus, dass nur bei Pflichtenkollisionen im Bereich der Menschenwürde ein bereichsspezifischer Vorrang der Achtungspflicht besteht. In allen anderen Konstellationen sind die Pflichten gleichwertig. »On the Relationship between the State's Obligations to Respect and to Protect the Fundamental Rights in Exceptional Situations«

The relationship between the state's obligations to respect and to protect the fundamental rights becomes relevant in situations in which one person violates the freedom of another person forcing the state to intervene and to coordinate the opposing positions. The thesis analyzes the relationship between the two obligations in general and declares them to be equal. Following this, it focuses on exceptional situations and comes to the conclusion that the obligation to respect prevails if the human dignity is involved.
Table of Contents
Section Title
Page
Action
Price

Vorwort

7

Inhaltsverzeichnis

9

Abkürzungsverzeichnis

15

Einleitung

17

A. Problemaufriss

17

B. Ausnahmesituationen

20

C. Gang der Untersuchung

21

1. Kapitel: Grundrechtsdogmatische Einordung des Themas

24

A. Verortung der Pflichten im Grundrechtssystem

24

B. Die Achtungspflichten – das Spiegelbild der Abwehrrechte

26

I. Achtungspflicht hinsichtlich der Menschenwürde aus Art. 1 Abs. 1 S. 2 1. Alt. GG

28

1. Die Menschenwürde: Ein Unikum

28

a) Strukturelle Einzigartigkeit

29

b) Normative Einzigartigkeit

29

2. Der Mensch als Berechtigter der Achtungspflicht

30

3. Inhalt der Achtungspflicht aus Art. 1 Abs. 1 S. 2 1. Alt. GG

31

a) Achtungspflicht trotz Unantastbarkeit?

31

b) Schwierigkeit der Bestimmung des Schutzgutes

32

c) Konsens im Dissens

36

4. Wirkung der Achtungspflicht aus Art. 1 Abs. 1 S. 2 1. Alt. GG

37

II. Achtungspflicht hinsichtlich des Lebens aus Art. 2 Abs. 2 S. 1 GG

38

1. Inhalt der Achtungspflicht aus Art. 2 Abs. 2 S. 1 Alt. 1 GG

39

a) Der relativ(e) starke Schutz des Lebens

40

b) Keine Identität der Achtungspflichten

42

2. Wirkung der Achtungspflicht zugunsten des Lebens

44

3. Der Staat als Verpflichteter der Achtungspflichten

44

C. Die grundrechtlichen Schutzpflichten

45

I. Begründung der grundrechtlichen Schutzpflichten

46

1. Schutzpflicht zugunsten der Menschenwürde

46

2. Schutzpflicht zugunsten des Lebens

47

a) Herleitung des Bundesverfassungsgerichts

48

b) Positive Rezeption der Rechtsprechung im Schrifttum

52

c) Weitere Begründungsversuche der Schutzpflicht

54

aa) Staatszweck Sicherheit

54

bb) Die Menschenwürde als Ursprung der Schutzpflicht

55

cc) Sozialstaatsprinzip

57

dd) Die abwehrrechtliche Lösung

59

d) Zwischenfazit

61

II. Tatbestand der grundrechtlichen Schutzpflichten

61

1. Objekt der Gefährdung – grundrechtliche Schutzgüter

62

2. Gefahr

62

a) Gefahrenquelle – "von Seiten anderer"

63

b) Art der Gefahr – "rechtswidriger Eingriff"

63

aa) Unerheblichkeit der "Rechtswidrigkeit" des Übergriffs

63

bb) Gefahrenbegriff und Gefahrenschwelle

64

cc) Verursachung

65

III. Der Staat als Verpflichteter der grundrechtlichen Schutzpflichten

66

IV. Rechtsfolge der Schutzpflichten

66

1. Umfang und Grenzen des Schutzes

67

2. Art und Weise des Schutzes

70

a) Legislative

71

b) Exekutive

72

c) Judikative

73

V. Fazit zu den grundrechtlichen Schutzpflichten

74

D. Das mehrpolige Verfassungsrechtsverhältnis

74

I. Entstehung mehrpoliger Verfassungsrechtsverhältnisse

75

II. Die Rolle des Staates im mehrpoligen Verfassungsrechtsverhältnis

76

III. Auflösung mehrpoliger Verfassungsrechtsverhältnisse

77

2. Kapitel: Primat der Achtungspflicht?

80

A. Staatstheoretische Betrachtung

84

I. Thomas Hobbes – Sicherheit als Staatslegitimation

85

II. John Locke – Sicherheit vor dem Staat

86

III. Gegenwartsbedeutung

87

B. Abwehrrechtliche Formulierung des Grundrechtsabschnitts

88

I. Textbefund

89

II. Bewertung

90

C. Größere Schwere der Verletzung der Achtungspflicht?

91

I. Art der Verletzungshandlung

92

1. Strafrechtliche Argumentation nach Saliger

92

2. Verfassungsrechtliche Betrachtung

93

3. Zwischenergebnis

96

II. Art des Verletzungserfolgs

97

III. Zwischenergebnis

98

D. Spielraum bei Erfüllung der Schutzpflichten

99

I. Unbestimmtheit der grundrechtlichen Schutzpflichten

99

II. Nur retardierender Effekt des Spielraums

100

III. Bestimmtheit als Kriterium der Geltungskraft

101

IV. Stellungnahme

101

E. Vorrang der Achtungspflicht wegen Eingriffsschwelle

103

F. Manko der Mediatisierungsbedürftigkeit

103

I. Ausnahmen vom Dogma der Mediatisierungsbedürftigkeit

104

II. Fortgeschrittener Stand der Mediatisierung

106

III. Zwischenfazit

107

G. Subjektiv-rechtliche Dimension versus objektiv-rechtliche Dimension

108

I. Objektives und subjektives Recht in der Rechtslehre

109

II. Inkongruenz der überkommenen Bezeichnungen

110

III. Zwischenfazit

112

H. Keine reine Verstärkungsfunktion objektiver Gehalte

113

I. Reine Verstärkungsfunktion

114

II. Umkehrung der abwehrrechtlichen Funktion

115

III. Determinierungshoheit

118

IV. Zwischenfazit

119

I. Historische Betrachtung

119

I. Historische Auslegung

120

1. Grundrechtsfunktionen im deutschen Konstitutionalismus

120

a) Süddeutsche Verfassungen

120

b) Paulskirchenverfassung

122

c) Verfassungsurkunde für den Preußischen Staat

122

d) Reichsverfassung

123

e) Zwischenfazit

124

2. Weimarer Reichsverfassung

125

3. Zwischenfazit

126

II. Genese des Grundgesetzes

127

III. Zwischenfazit

129

J. Liberale Grundrechtstheorie: in dubio pro libertate?

131

I. Liberale Grundrechtstheorie

132

II. Veränderung des Grundrechtsverständnisses

133

III. Zwischenfazit

136

K. Kein Primat der Achtungspflicht im Dreiecksverhältnis

138

3. Kapitel: Auflösung der Ausnahmesituationen

143

A. Leben gegen Leben

145

I. Ausgangsposition

145

II. Der Staat darf töten

146

1. Tötungsverbot des Art. 102 GG

147

2. Recht auf Leben aus Art. 2 EMRK

149

3. Verbot der Antastung des Wesensgehalts gemäß Art. 19 Abs. 2 GG

149

4. Ewigkeitsgarantie des Art. 79 Abs. 3 GG

150

5. Grundrecht auf Leben unter Gesetzesvorbehalt

150

6. Zwischenfazit

151

III. Pflichtenfortfall

151

1. Fortfall der Achtungspflicht

152

a) Rechtsverlust

152

b) Verwirkung

153

c) Grundrechtsverzicht

153

aa) Grundsätzliche Zulässigkeit des Grundrechtsverzichts

153

bb) Dispositionsbefugnis über das Leben

154

cc) Zwischenergebnis

155

d) Zwischenfazit

157

2. Fortfall der Schutzpflicht

157

a) Subsidiarität staatlichen Schutzes

157

b) Faktische Unmöglichkeit

157

c) Verzicht auf Schutz

158

d) Abwehrrechtliche Kautelen

160

e) Vorbehalt des rechtlich Möglichen

161

3. Zwischenergebnis

162

IV. Auflösung durch Abwägung

162

1. Absolutes Wertungsverbot von Leben

163

2. Zulässige Abwägungskriterien

165

a) Gefahrverantwortlichkeit des Übergriffigen

165

b) Wahrscheinlichkeit der Pflichterfüllung

167

c) Existenzbedrohung des Staates

169

3. Zwischenergebnis

169

V. Zwischenfazit

169

B. Menschenwürde gegen Leben

171

I. Ausgangsposition(en)

171

II. Pflichtenfortfall im Würdebereich

172

III. Unabwägbarkeit der Menschenwürde

173

IV. Das Verhältnis von Achtungs- und Schutzpflicht

174

V. Weitere Lösungsansätze

175

1. Kloepfers These vom Leben als Höchstwert des Grundgesetzes

175

2. Aufwertung des Lebensschutzes durch Gleichordnung

176

3. Koppelung von Menschenwürde und Leben

177

4. Bewertung der alternativen Deutungen

177

VI. Zwischenfazit

181

C. Menschenwürde gegen Menschenwürde

181

I. Existenz der Würdekollision

182

1. Keine Kollision im Würdebereich

183

a) Faktische Unmöglichkeit der Pflichtenkollision

183

b) Rechtliche Unmöglichkeit der Pflichtenkollision

184

c) Alternative Konzepte von Art. 1 Abs. 1 GG

184

2. Pro Pflichtenkollision

188

a) Lebenswirklichkeit der Menschenwürdekollision

188

b) Rechtliche Möglichkeit

189

c) Kollisionsfähigkeit der Menschenwürde

191

3. Zwischenergebnis

195

II. Modi der Auflösung

196

1. Einzelfallabhängige Abwägung

197

2. Unbedingte Vorrangkonstruktion

200

3. Unauflösbarkeit

202

4. Bewertung

203

III. Verhältnis von Achtungs- und Schutzpflicht im Würdebereich

208

1. Auslegung

209

a) Grammatische Auslegung

209

b) Systematische Auslegung

210

c) Historisch genetische Auslegung

212

d) Teleologische Auslegung

213

aa) Schutz der Menschenwürde

213

bb) Menschenwürde als Legitimationsgrundlage des Staates

215

cc) Rechtsstaatlichkeit als Gebot der Menschenwürde

218

dd) Individuum vor Gemeinschaft

221

2. Zwischenfazit

223

IV. Grundrechtstheoretische Ausgestaltung des Vorrangs der Achtungspflicht

224

D. Fazit

227

E. Auswirkung auf die Konstellation Leben gegen Leben

228

Schluss

232

A. Die Gleichwertigkeit von Achtungs- und Schutzpflichten

232

I. Keine Veränderung des grundrechtlichen Freiheitsverständnisses

232

II. Kein Jurisdiktionsstaat

234

B. Bewältigung von Ausnahmesituationen

235

I. Leben gegen Leben

235

II. Leben gegen Menschenwürde

235

III. Menschenwürde gegen Menschenwürde

236

C. Ausblick

237

Literaturverzeichnis

239

Stichwortverzeichnis

257