Economic theory & philosophy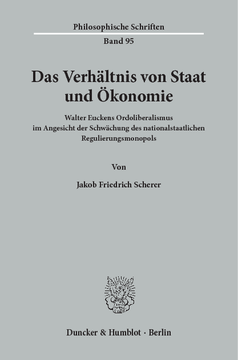 BOOK
Das Verhältnis von Staat und Ökonomie
Walter Euckens Ordoliberalismus im Angesicht der Schwächung des nationalstaatlichen Regulierungsmonopols
Philosophische Schriften, Vol. 95
(2018)
Additional Information
Book Details
ISBN

978-3-428-55411-9
978-3-428-15411-1 (print edition)

DOI

https://doi.org/10.3790/978-3-428-55411-9

Edition

1

Language

German

Pages

190

Collections

Subjects
Pricing
Institution

€ 80.00 (incl. local VAT if applicable)

Individual

€ 62.90 (incl. local VAT if applicable)
About The Author
Jakob Friedrich Scherer wurde in Berlin geboren und wuchs sowohl dort als auch in Hong Kong auf. Er studierte Philosophie und Volkswirtschaftslehre an der Freien Universität Berlin sowie Philosophie an der University of Pennsylvania. Nach Beendigung seiner Promotion begann er als Strategieberater in einem großen internationalen Beratungsunternehmen zu arbeiten.
Jakob Friedrich Scherer was born in in Berlin and grew up there as well as in Hong Kong. He studied Philosophy and Economics at the Freie Universität Berlin as well as Philosophy at the University of Pennsylvania. After finishing his Ph.D., he began working as a Strategy Consultant for a major international consulting firm.
Abstract
Ausgehend von den zentralen Argumenten der Ordnungstheorie und -politik Walter Euckens widmet sich die vorliegende Arbeit der Frage nach der Zukunftsfähigkeit des Nationalstaates im Angesicht sich global integrierender Güter- und Finanzmärkte. Mithilfe argumentationsstruktureller Referenzierungen auf Thomas von Aquin, Immanuel Kant und Carl Schmitt wird dargelegt, warum Eucken gleichermaßen als Naturrechtler und als Staatspositivist gelesen werden sollte. Mit Blick auf den Weltmarkt münden Euckens Begrifflichkeiten damit in einer Aporie: Zwar erstreckt sich die normative Bindung eines ordoliberal konfigurierten Staates auf alle Akteure des Weltmarktes – also auch auf diejenigen jenseits der eigenen Grenzen. Um diesem Anspruch jedoch gerecht zu werden, müsste ein Staat jene Privatrechtsgesellschaft, durch welche er im ordoliberalen Denken Legitimation und vor allem Limitation erfährt, auf transnationaler Ebene erst noch hervorbringen. »The Relation between State and Economy«

Based on Walter Eucken's key arguments on »Ordnungstheorie und -politik (theory and politics of economic systems)«, the book explores the viability of the nation state in the context of increasingly integrated global markets. The author argues that Eucken's expositions draw upon elements from both Natural Law and Positivism and that, consequently, his concepts lead to an aporia when applied to the challenges of a global economic order.
Table of Contents
Section Title
Page
Action
Price

Vorwort

7

Inhaltsverzeichnis

9

Einleitung

11

1. Teil: Euckens Ordoliberalismus zwischen Theorie und Politik

16

§ 1 Das Primat der Ökonomie und die Ordnung der Wirtschaft

18

I. Die wissenschaftliche Verankerung als argumentative Meta-Struktur

19

1. Euckens Suche nach "Evidenten Vernunftwahrheiten"

20

2. Der "Idealtypus" als methodologischer Weg zur "Wahrheit"

22

3. "Wissenschaft" als Grundlage für Euckens politische Ökonomie?

25

II. Plan und Ordnung: über die Handlungsstruktur in der Gemeinschaft

29

1. Der Wirtschaftsplan und der Beginn aller Ökonomie

30

2. Die "idealtypischen Formelemente"

31

III. Freiheit, Macht und das Primat der Ökonomie

33

1. Das "wirtschaftliche Prinzip" als Prinzip allen Handelns

34

2. Wirtschaftliche Macht als Verhinderung sozialer Freiheit

37

3. Preise und Ordo: Wettbewerbsordnung und das Primat der Ökonomie

40

IV. Fazit

45

§ 2 Das Primat der Ökonomie in den Begriffen der thomistischen Rechtslehre

46

I. "Ordo" zwischen Naturrecht und einer "wertefreien Wissenschaft"

48

II. Thomas von Aquins Rechtslehre: eine liberale Annäherung

52

1. Ewige Ordnung, Einsicht und praktische Vernunft

52

2. Die lex humana als formale Regulierung äußerer Freiheiten

60

III. Die thomistische Struktur des ordoliberalen Naturrechts

66

1. Euckens Einsichten in die lex aeterna

66

2. Der "Wirtschaftsplan" als Ausdruck menschlicher Zweckgerichtetheit

69

3. Der Preis als formale "Realisierungsbedingung" des guten Lebens

74

IV. Fazit

77

2. Teil: Der "starke Staat" zwischen Liberalismus und "Liberalismuskritik"

79

§ 3 Die Wettbewerbsordnung in den Begriffen des Vernunftrechtes

83

I. Kants "Pflichten des Rechts"

83

II. Machtfreiheit als Bedingung für ein "würdevolles" Leben

86

III. Euckens radikale Verpflichtung staatlicher Autorität

91

IV. Fazit

96

§ 4 Der Staat als Entscheider: Euckens "ordoliberaler Dezisionismus"

96

I. Die Entscheidung als politische Dimension der "Großen Antinomie"

97

II. Macht, Normalität und Ordnung

100

III. Staatlichkeit und "Pluralismus"

104

IV. Der "starker Staat" als ordoliberale Einheit

109

1. Ordnungspolitik zwischen Naturrecht und Staatspositivismus

110

2. Euckens Überwindung des Politischen

115

3. "Ordo" und die Bedingungen der freiheitlichen Gesellschaft

123

V. Fazit

127

3. Teil: "Ordo" und Weltwirtschaft: globale Freiheit und starker Staat

129

§ 5 Euckens Ordoliberalismus und die Schwächung des nationalstaatlichen Regulierungsmonopols

131

I. Mangelnde Regulierung im "Raum der Ströme"

131

1. Vermeidung von Sozial- und Umweltstandards und Steuerwettbewerb

134

2. Hyperglobalization und "Ordo"

140

II. Ordo in globaler Perspektive

146

1. Die ordoliberale Globalisierungsbedingung

147

2. Globales Laissez-faire gegen nationalstaatliches Ordo

153

a) Über das Spannungsverhältnis von Nationalstaat und Globalisierung

153

b) Das Verhältnis von Zweck und Mittel

155

c) Zwischen globalem Laissez-faire und nationaler Regulierung

157

III. Weltmarkt und Souveränität

158

1. Wider die einzelstaatliche Isolation und die hegemoniale Expansion

161

a) Einzelstaatliche Isolation

161

b) Hegemoniale Expansion

162

2. Die Aporien des globalen Ordo: Das Ende der Nationalstaatlichkeit

164

IV. Fazit

169

Gesamtfazit / Ausblick

171

Literaturverzeichnis

174

Stichwortverzeichnis

187