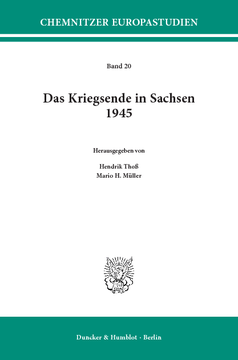 BOOK
Cite BOOK
Style
---
Thoß, H., Müller, M. (Eds.) (2018). Das Kriegsende in Sachsen 1945. Duncker & Humblot. https://doi.org/10.3790/978-3-428-55361-7
Thoß, Hendrik and Müller, Mario H.. Das Kriegsende in Sachsen 1945. Duncker & Humblot, 2018. Book. https://doi.org/10.3790/978-3-428-55361-7
Thoß, H, Müller, M (eds.) (2018): Das Kriegsende in Sachsen 1945, Duncker & Humblot, [online] https://doi.org/10.3790/978-3-428-55361-7
---
Format
---
Das Kriegsende in Sachsen 1945
Editors: Thoß, Hendrik | Müller, Mario H.
Chemnitzer Europastudien, Vol. 20
(2018)
Additional Information
Book Details
Publisher Name

Duncker & Humblot

ISBN

978-3-428-55361-7
978-3-428-15361-9 (print edition)

DOI

https://doi.org/10.3790/978-3-428-55361-7

Edition

1

Language

German

Pages

116

Collections

Subjects
Pricing
Institution

€ 92.00 (incl. local VAT if applicable)

Individual

€ 69.90 (incl. local VAT if applicable)
About The Author
Mario H. Müller, geboren 1989; Studium der Europäischen Geschichte in Chemnitz; Lehrer an der Oberschule in Penig; Promotionsstipendiat des Dorothee-Fliess-Fonds; u.a. Mitglied der Forschungsgemeinschaft 20. Juli 1944, der Prinz-Albert-Gesellschaft und des Volksbunds Deutsche Kriegsgräberfürsorge.
Abstract
Der Sammelband vereint sechs Beiträge, die sich mit Aspekten des Kriegsendes 1945 in Sachsen auseinandersetzen. Hierzu zählen völkerrechtliche, politische, ökonomische sowie erinnerungskulturelle Facetten ebenso wie operationsgeschichtliche Fragen der Endphase des Krieges unter besonderer Berücksichtigung der höchst unterschiedlichen Kriegführung der Wehrmacht gegen US-Militär und gegen die Rote Armee auf sächsischem Territorium bzw. eine eingehende Diskussion der Frage, inwiefern es sich bei der militärischen Besetzung / der Eroberung Sachsens durch alliiertes Militär 1945 um einen Akt der Befreiung gehandelt hat. Hinzu treten eine Detailstudie zum Luftkriegsgeschehen, sowie – am Beispiel Plauens und des Vogtlandes – eine Analyse der regionalen / lokalen Dimension des Kriegsendes 1945 im Spannungsfeld zwischen amerikanischer und sowjetischer Besatzung. Den Abschluss bildet ein Beitrag, der sich mit dem Schicksal deutscher Heimatvertriebener beschäftigt, die in Sachsen eine neue Heimat fanden.»End of World War II in Saxony«The volume shows six essays dealing with aspects of the end of war in 1945 in Saxony. They include political and cultural aspects, they discuss questions of the military history and the topos »liberation«. Additionally the volume contains a detailed study on air warfare as well as an analysis of the regional / local dimension of the end of war. The last essay deals with the fate of German expellees, who found a new home in Saxony.
Table of Contents
Section Title
Page
Action
Price

Vorwort

5

Inhaltsverzeichnis

7

Hendrik Thoß: Das Kriegsende in Sachsen 1945

9

I. Bündnispolitische und völkerrechtliche Aspekte

11

II. Politische Aspekte

19

III. Ökonomische Fragen

24

IV. Formen der Erinnerungskultur

27

V. Zusammenfassung

34

Dirk Reitz: Sachsen als nachrangiger Kriegsschauplatz im Jahre 1945 unter operationsgeschichtlichen Gesichtspunkten

37

I. Der Zusammenbruch der militärischen Verteidigung

38

II. Der Krieg auf Reichsgebiet

44

III. Sachsen als operativ nachrangiger Raum zwischen dem Stoß auf Berlin und den Operationen südlich des böhmischen Raums

50

1. Zweierlei Kriegsende

50

2. Die Einnahme der Ortschaft Schwepnitz bei Königsbrück – ein Beispiel

52

IV. Fazit

55

Mario H. Müller: Die territoriale Besetzung Sachsens 1945

57

I.

59

II.

63

III.

68

IV.

72

Fazit

76

Uwe Fiedler: Luftkriegsopfer Kind – eine Chemnitzer Fallstudie

79

Gerd Naumann: Finale fern der Metropolen

89

I. Der Preis der Niederlage

89

II. Bombenkrieg gegen Plauen in der Schlussphase des Zweiten Weltkrieges

90

III. Plauen, 10. April 1945

91

IV. Die militärischen Vorgänge im Vogtland

94

V. Die Besetzung Plauens am 16. April 1945

94

VI. Schicksale zwischen Gehorsam und Überlebenswillen

97

Greiz: Der Fall des Hauptmanns Kurt von Westernhagen

97

Oelsnitz i. V.: Der Fall des Oberstleutnant Kurt Hönnicke und des Hauptmann Albert Frotscher

99

Reichenbach: Der Fall des OB Dr. Otto Scheiber

99

Besetzt und doch nicht besetzt – Dramen fünf vor zwölf

99

Die Brandschatzung von Raasdorf am 21. April 1945

100

Letzte Kämpfe im Vogtland

101

Selbstjustiz – Der Tod des NSDAP-Ortsgruppenleiters von Thiergarten, Karl Willy Trillitzsch

101

Uta Bretschneider: Zufallsheimat Sachsen

103

Zahlen/Wege

103

Ankunft/Unterbringung

105

Kontakte/Konflikte

107

Staatliche Hilfsmaßnahmen/forcierte Assimilation

108

Wahrnehmungen/Akzeptanzen

110

Integrationsebenen/Erinnerungsräume

112

Die Autoren des Bandes

115