Constitution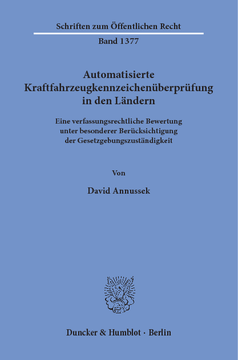 BOOK
Automatisierte Kraftfahrzeugkennzeichenüberprüfung in den Ländern
Eine verfassungsrechtliche Bewertung unter besonderer Berücksichtigung der Gesetzgebungszuständigkeit
Schriften zum Öffentlichen Recht, Vol. 1377
(2018)
Additional Information
Book Details
ISBN

978-3-428-55421-8
978-3-428-15421-0 (print edition)

DOI

https://doi.org/10.3790/978-3-428-55421-8

Edition

1

Language

German

Pages

296

Collections

Subjects
Pricing
Institution

€ 92.00 (incl. local VAT if applicable)

Individual

€ 71.90 (incl. local VAT if applicable)
About The Author
David Annussek studierte Rechtswissenschaften an der Westfälischen Wilhelms-Universität Münster (WWU) und an der Université de Poitiers in Frankreich. Nach dem Studium arbeitete er als wissenschaftliche Hilfskraft am Institut für Öffentliches Recht und Politik sowie als wissenschaftlicher Mitarbeiter bei der JurGrad School of Tax and Business Law der WWU. Zudem war er als Lehrbeauftragter für Staatsrecht an der Fachhochschule für öffentliche Verwaltung NRW tätig. Das Rechtsreferendariat absolvierte er am OLG Hamm mit Stationen in Düsseldorf und London. Er promovierte bei Prof. Dr. Bodo Pieroth an der Universität Münster und ist derzeit als Rechtsanwalt im Düsseldorfer Büro der Sozietät Hengeler Mueller tätig.
David Annussek studied law at the University of Münster, Germany, and at the University of Poitiers, France. Following the First State Examination in Law, he worked as a research assistant at the Institute for Public Law and Politics and subsequently as a research assistant at the JurGrad School of Tax and Business Law (both at Münster University). Additionally, he was a lecturer in German Constitutional Law at the University of Applied Sciences for Public Administration North Rhine-Westphalia. During his Legal Traineeship (Rechtsreferandariat) at the Higher Regional Court Hamm, he worked, inter alia, for prominent law firms in Düsseldorf (Hengeler Mueller) and London (Allen & Overy LLP). David obtained his Doctorate in Law at Münster University under Prof. Dr. Bodo Pieroth and works as an associate in the Düsseldorf office of Hengeler Mueller.
Abstract
Die Verfassungsmäßigkeit landesrechtlicher Ermächtigungsgrundlagen zur automatisierten Kraftfahrzeugkennzeichenüberprüfung ist stark umstritten. Die Arbeit untersucht die insoweit offenen Fragestellungen, wobei die Frage der Gesetzgebungszuständigkeit der Länder den Schwerpunkt bildet. Im ersten Teil der Arbeit werden zunächst die Funktionsweise und der technische Ablauf der automatisierten Kraftfahrzeugkennzeichenüberprüfung, polizeiliche Einsatzmöglichkeiten sowie die Entwicklung der Rechtslage und der Einsatzpraxis in den Ländern und im Bund detailliert dargestellt. Im zweiten Teil erfolgt eine ausführliche verfassungsrechtliche Bewertung. Deren zentrales Ergebnis ist, dass die Länder unter dem Gesichtspunkt der Gesetzgebungszuständigkeit über einen weiten Gestaltungsspielraum beim Erlass von Regelungen zur automatisierten Kraftfahrzeugkennzeichenüberprüfung verfügen, da die meisten Argumente gegen eine kompetenzrechtliche Zuordnung zum Bereich der allgemeinen Gefahrenabwehr nicht überzeugen und überdies auf dem Gebiet der konkurrierenden Gesetzgebung keine Sperrwirkung zulasten der Länder besteht. »Automatic Number Plate Recognition in the German Federal States«

This doctoral thesis assesses the constitutionality of German Federal States' provisions providing the legal basis for automatic number plate recognition (ANPR), focussing on the States' legislative power. After a presentation of the relevant facts (ANPR operating principles and technology, possible fields of application by the police, legal situation and practical application at federal and state level), the legal assessment shows that, from the point of view of legislative power, the German Federal States have considerable leeway in enacting said provisions.
Table of Contents
Section Title
Page
Action
Price

Vorwort

7

Inhaltsübersicht

9

Inhaltsverzeichnis

11

Abkürzungsverzeichnis

17

Einleitung

21

Erster Teil: Automatisierte Kraftfahrzeugkennzeichenüberprüfung

28

A. Terminologie

28

I. Automatisches Kennzeichenlesesystem

29

II. Automatisierte Kraftfahrzeugkennzeichenüberprüfung

30

B. Funktionsweise und technischer Ablauf

35

I. Funktionsweise

36

II. Technischer Ablauf

37

1. Erfassung durch Kamera

37

2. Auslesen des Kennzeichens

38

3. Abgleich mit Datenbankeinträgen

39

4. Nichttreffer

41

5. Treffermeldung

42

6. Fehltreffer

43

7. Echttreffer

44

C. Polizeiliche Einsatzmöglichkeiten

45

I. Vorteile der polizeilichen Nutzbarmachung von Kraftfahrzeugkennzeichen

45

1. Prädestination von Kraftfahrzeugkennzeichen als Anknüpfungspunkt polizeilicher Maßnahmen

46

2. Hohe praktische Relevanz des Kraftfahrzeugverkehrs

47

II. Potentielle Einsatzszenarien

47

D. Rechtslage und Einsatzpraxis in den Ländern

50

I. Urteil des Bundesverfassungsgerichts vom 11. März 2008

51

II. Systematische Länderübersicht

52

1. Verzicht auf Einführung bzw. auf Wiedereinführung einer speziellen Ermächtigungsgrundlage

52

a) Nordrhein-Westfalen

52

b) Sachsen-Anhalt

53

c) Schleswig-Holstein

54

2. Abschaffung der bestehenden Ermächtigungsgrundlage nach dem Urteil des Bundesverfassungsgerichts

55

a) Bremen

55

b) Rheinland-Pfalz

56

c) Saarland

56

3. Erstmalige Einführung einer Ermächtigungsgrundlage nach dem Urteil des Bundesverfassungsgerichts

58

a) Thüringen

58

b) Baden-Württemberg

59

c) Sachsen

60

d) Berlin

62

4. Überarbeitung der bestehenden Ermächtigungsgrundlage nach dem Urteil des Bundesverfassungsgerichts

64

a) Hamburg

64

b) Bayern

65

c) Hessen

67

d) Mecklenburg-Vorpommern

69

e) Niedersachsen

70

f) Brandenburg

72

III. Zusammenfassung

74

E. Rechtslage und Einsatzpraxis auf Bundesebene

76

Zweiter Teil: Verfassungsrechtliche Bewertung

78

A. Betroffene Grundrechte

78

I. Menschenwürde

78

II. Recht auf informationelle Selbstbestimmung

79

1. Schutzbereich

80

2. Eingriff

84

a) Duldungsverpflichtung

84

b) Bagatellvorbehalt

85

c) Grundrechtsverzicht

86

d) Gesamtbetrachtung des Bundesverfassungsgerichts

89

aa) Nichttreffer

90

bb) Echttreffer

95

cc) Fehltreffer

96

(1) "Treffer"-Begriff des Bundesverfassungsgerichts

96

(2) Argumente gegen die Eingriffsqualität

97

(3) Stellungnahme

97

(4) Ergebnis

102

dd) Anschlussmaßnahmen

102

e) Kritik am Eingriffsverständnis des Bundesverfassungsgerichts

102

f) Stellungnahme

105

g) Ergebnis

110

III. Ergebnis

111

B. Verfassungsrechtliche Rechtfertigung eines Eingriffs in das Recht auf informationelle Selbstbestimmung

111

I. Schranken

112

II. Schranken-Schranken

113

1. Insbesondere: Gesetzgebungszuständigkeit

113

a) Kompetenzverteilung des Grundgesetzes

114

b) Gesetzgebungszuständigkeit der Länder als ungeklärte Fragestellung

114

aa) Meinungsstand

114

bb) Keine abschließende Prüfung der Gesetzgebungszuständigkeit im Urteil vom 11. März 2008

116

cc) Konkrete Fragestellungen

117

c) Prüfungsmaßstab

118

aa) Kompetenzrechtliche Zuordnung von Gesetzesregelungen in der Rechtsprechung des Bundesverfassungsgerichts

118

bb) Zur Kritik an den Zuordnungskriterien des Bundesverfassungsgerichts

119

cc) Systematisierung der Zuordnungskriterien des Bundesverfassungsgerichts

120

dd) Verwendungszweck als maßgebliches Zuordnungskriterium bei der automatisierten Kraftfahrzeugkennzeichenüberprüfung

121

ee) Ermittlung des Verwendungszwecks anhand des objektiven Willens des Gesetzes

123

ff) Zusammenfassung

124

d) Konkurrierende Gesetzgebungszuständigkeit des Bundes gemäß Art. 74 Abs. 1 Nr. 1 GG

124

aa) Einschlägigkeit des Art. 74 Abs. 1 Nr. 1 GG für die vorbeugende Bekämpfung von Straftaten

125

(1) Meinungsstand in der Literatur

125

(2) Stellungnahme

127

(3) Differenzierende Ansicht des Bundesverfassungsgerichts

131

(4) Kritikpunkte gegenüber der Ansicht des Bundesverfassungsgerichts

132

(5) Ergebnis

133

bb) Repressive oder präventive Zwecksetzung der automatisierten Kraftfahrzeugkennzeichenüberprüfung?

133

(1) Anwendbarkeit des Schwerpunktkriteriums bei Regelungen zur automatisierten Kraftfahrzeugkennzeichenüberprüfung

134

(2) Bewertung der Argumente für und gegen eine präventive bzw. repressive Zwecksetzung von Ermächtigungen zur automatisierten Kraftfahrzeugkennzeichenüberprüfung

139

(a) Wortlautargumente

140

(aa) Vorbeugende Bekämpfung von Straftaten als ausdrücklich benannter Zweck

140

(bb) Regelung erlaubt Speicherung oder Nutzung von Treffern "für Zwecke, zu denen die Fahndungsbestände erstellt oder die Dateien errichtet wurden"

142

(cc) Keine Löschungspflicht, soweit Daten "zur Verfolgung von Straftaten" erforderlich sind

142

(dd) Ausdrückliche Beschränkung auf Zwecke der Gefahrenabwehr bzw. Straftatenverhütung

146

(ee) Zusammenfassung

149

(b) Entstehungsgeschichtliche Argumente

150

(aa) "Effektivierung der Fahndung" als benanntes Ziel

151

(bb) In den Gesetzesbegründungen benannte Anwendungsbeispiele

153

(α) Rückgabe gestohlener Fahrzeuge an den Eigentümer oder rechtmäßigen Besitzer

153

(β) Verhinderung von Anschlussstraftaten oder sonstigen weiteren Straftaten

157

(γ) Identifizierung von polizeibekannten Störern und potentiellen Straftätern auf dem Weg zu einer Veranstaltung bzw. Versammlung

159

(δ) Verhinderung der Weiterfahrt von Kraftfahrzeugen ohne ausreichenden Pflichtversicherungsschutz

160

(ε) Unterbindung des unerlaubten Aufenthalts

164

(ζ) Vorbeugende Bekämpfung der grenzüberschreitenden Kriminalität

165

(η) Eigensicherung der kontrollierenden Beamten bei einer Kontrollstelle

166

(θ) Schutz an gefährlichen Orten oder Objekten

166

(ι) Schutz gefährdeter Objekte

167

(κ) Unterstützung polizeilicher Sofortfahndungen nach flüchtigen Gewaltverbrechern

168

(cc) Zusammenfassung

168

(c) Systematische Argumente

169

(aa) Aufgbenzuweisungsnorm

170

(bb) Präventive Dateien als Abgleichsdatenbestand

171

(cc) Mischdateien als Abgleichsdatenbestand

172

(α) Der "Fahndungsbestand"

173

(β) Die INPOL-Datei "Sachfahndung"

175

(γ) Die Sachfahndungsdatei im Schengener Informationssystem

176

(δ) Anders konkretisierte Dateien

179

(ε) Meinungsstand

179

(ζ) Stellungnahme: Abgleich mit allen enthaltenen Daten

181

(η) Stellungnahme: Überwiegen der repressiven Ausschreibungen

182

(θ) Stellungnahme: Gleichlauf von Ausschreibungs- und Abgleichszweck

185

(ι) Stellungnahme: Aussagekraft der praktischen Ergebnisse

193

(κ) Stellungnahme: gewollter Zufallsfund

195

(λ) Zusammenfassung

199

(dd) Repressive Dateien als Abgleichsdatenbestand

199

(α) Rechtliche Zulässigkeit eines Abgleichs zu präventiven Zwecken

200

(β) Plausible (subjektiv) präventive Zwecksetzung des Abgleichs

202

(γ) Tatbestandlich hinreichend objektivierte präventive Zweckbestimmung der Ermächtigung

202

(δ) Zusammenfassung

203

(ee) Zusammenfassung zum Abgleichsdatenbestand

203

(ff) Eingriffsvoraussetzungen

204

(α) Anknüpfen an die im jeweiligen Polizeigesetz enthaltene Befugnis zur Identitätsfeststellung

205

(β) Normierung des Erfordernisses des Vorliegens bestimmter Lageerkenntnisse

215

(γ) Vorschreiben einer Anhaltemöglichkeit

216

(gg) Zusammenfassung zu den systematischen Argumenten

217

(d) Zusammenfassung und Ergebnis der Bewertung der Argumente für und gegen eine präventive bzw. repressive Zwecksetzung

219

cc) Ergebnis

220

e) Konkurrierende Gesetzgebungszuständigkeit des Bundes gemäß Art. 74 Abs. 1 Nr. 4 GG

221

f) Konkurrierende Gesetzgebungszuständigkeit des Bundes gemäß Art. 74 Abs. 1 Nr. 22 GG

225

g) Sperrwirkung im Bereich der konkurrierenden Gesetzgebung

228

aa) Gebrauchmachen durch den Bund

228

bb) Sperrwirkung bei unterstellter Einschlägigkeit des Art. 74 Abs. 1 Nr. 1 GG

231

(1) Abschließende Regelung durch § 27b BPolG n. F.

232

(2) Abschließende Regelung durch § 100h StPO

238

(3) Abschließende Regelung durch § 111 StPO

241

(4) Abschließende Regelung durch § 6 Abs. 1 Satz 1 EGStPO

246

(5) Abschließende Regelung durch § 4 Abs. 3 Satz 4 und 5, § 7 Abs. 2 Satz 2 und 3 BFStrMG

247

(6) Abschließende Regelung durch § 6 Abs. 10 InfrAG

249

(7) Anderweitiges absichtsvolles Unterlassen

250

(8) Ergebnis

251

cc) Sperrwirkung bei unterstellter Einschlägigkeit des Art. 74 Abs. 1 Nr. 4 GG

252

dd) Sperrwirkung bei unterstellter Einschlägigkeit des Art. 74 Abs. 1 Nr. 22 GG

254

ee) Ergebnis

256

h) Zusammenfassung zur Gesetzgebungszuständigkeit

256

i) Ergebnis

258

2. Weitere Schranken-Schranken

258

a) Gebot der Normenklarheit und -bestimmtheit

259

aa) Allgemeines

259

bb) Konkretisierungen im Urteil vom 11. März 2008

260

b) Grundsatz der Verhältnismäßigkeit

262

aa) Allgemeines

263

bb) Konkretisierungen im Urteil vom 11. März 2008

264

Dritter Teil: Zusammenfassung der wesentlichen Untersuchungsergebnisse in Thesen

267

A. Eingriff in das Recht auf informationelle Selbstbestimmung

267

B. Gesetzgebungszuständigkeit

268

Literaturverzeichnis

271

Sachwortverzeichnis

291