Biography: historical, political & military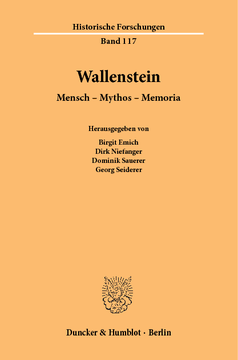 Additional Information
Book Details
ISBN

978-3-428-55428-7
978-3-428-15428-9 (print edition)

DOI

https://doi.org/10.3790/978-3-428-55428-7

Edition

1

Language

German

Pages

580

Collections

Subjects
Pricing
Institution

€ 80.00 (incl. local VAT if applicable)

Individual

€ 62.90 (incl. local VAT if applicable)
About The Author
Birgit Emich studierte Geschichte und Politikwissenschaft in Freiburg, wurde mit einer Studie zur päpstlichen Behördenorganisation zwischen Bürokratie und Klientelismus promoviert und befasste sich in ihrer mit dem Heidelberger Akademiepreis ausgezeichneten Habilitationsschrift am Beispiel des Kirchenstaates mit dem Problem territorialer Integration in der Frühen Neuzeit. Nach Lehrstuhlvertretungen in Münster, Dresden und Freiburg war sie von 2010 bis 2016 Inhaberin des Lehrstuhls für die Geschichte der Frühen Neuzeit an der Friedrich-Alexander-Universität Erlangen-Nürnberg. Seit 2017 hat sie diese Funktion an der Goethe-Universität in Frankfurt am Main inne.

Dirk Niefanger wurde an der Universität Tübingen promoviert; er habilitierte sich an der Universität Göttingen mit einer Studie zum »Geschichtsdrama der Frühen Neuzeit. 1495–1773«. Nach Lehr- und Forschungstätigkeiten in Berlin und Braunschweig hat er seit 2003 den Lehrstuhl für Neuere deutsche Literatur an der Universität Erlangen-Nürnberg inne. Seine wichtigsten Forschungsgebiete sind die Kultur der Frühen Neuzeit und die Literatur der Wiener Moderne. Zu seinen wichtigsten Publikationen zählen das Lehrbuch »Barock« (2012) und die Neuedition von Grimmelshausens »Simplicissimus« (2017).

Dominik Sauerer studierte Deutsch, Geschichte und Sozialkunde in Erlangen. Nach Betätigung als studentische und wissenschaftliche Hilfskraft begann er 2016 an der FAU im Rahmen eines DFG-Projekts seine Promotion »Territorialisierung von unten? Zugehörigkeit und Staatsbildung in Leipzig 1485–1806«. Seit März 2017 ist er Wissenschaftlicher Mitarbeiter bei Frau Prof. Dr. Birgit Emich an der Goethe-Universität Frankfurt. Seine Schwerpunkte in Forschung und Lehre sind Staatsbildungprozesse, die Kulturgeschichte der Verwaltung, Zugehörigkeit und Identität sowie Raum, Raumwahrnehmung und Territorialität.

Georg Seiderer studierte Geschichte und Philosophie in Heidelberg und Erlangen. Er wurde mit einer Arbeit über die Aufklärung in den fränkischen Städten und Territorien Ansbach, Bamberg und Nürnberg promoviert und habilitierte sich in München mit einer Untersuchung über Verfassungspolitik und Verwaltungsreform im österreichischen Neoabsolutismus unter Alexander Bach 1848–1859. Nach einer Lehrstuhlvertretung in Augsburg lehrt er seit 2008 als Professor für Neuere Bayerische und Fränkische Landesgeschichte und Volkskunde an der Friedrich-Alexander-Universität Erlangen-Nürnberg.
Birgit Emich studied History and Political Sciences in Freiburg. She received her PhD with a thesis on the administrative system of the Early Modern Roman Curia between bureaucratization and nepotism. Her habilitation treatise, which was awarded with the Prize of the Heidelberg Akademie der Wissenschaften, discussed problems of territorial integration in the Early Modern period. She has held a DFG-Heisenberg Fellowship and was interim professor in Münster, Dresden, and Freiburg. She held the chair of Early Modern History at the University of Erlangen-Nuremberg from 2010 until she transferred to Goethe University (Frankfurt am Main) at the beginning of 2017.

Dirk Niefanger received his PhD from the University of Tübingen and his habilitation qualification from University of Goettingen with his thesis »Historical Drama in the Early Modern Age 1495–1773«. Following research and teaching posts in Berlin and Brunswick, he took up the Chair in Literary Studies at the University of Erlangen-Nuremberg in 2003. His main fields of research are early modern culture and the literature of Viennese modern age. Among his recent publications are an introduction in the literature of »Barock« (2012) and an edition of Grimmelshausen's »Simplicissimus« (2017).

Dominik Sauerer graduated from the University of Erlangen-Nuremberg with a degree in German Language and Literature Studies, Social Studies, and History. After having worked as a student research assistant and graduate research assistant, he started his DFG-funded PhD project »Territorialization from below? Belonging and state-building in Leipzig (1485–1806)« at the University of Erlangen-Nuremberg in 2016. Since March 2017, he is a research associate to Prof. Dr. Birgit Emich at the Goethe-University in Frankfurt. His research focuses on state-building processes, the cultural history of administration, belonging and identity as well as space, spatial cognition, and territorialization.

Georg Seiderer studied History and Philosophy in Heidelberg and Erlangen. He received his PhD with a thesis on enlightenment in the Franconian cities and territories Ansbach, Bamberg and Nuremberg. His habilitation thesis examines constitutional politics and administrative reform in the Habsburg Empire during the ministry of Alexander Bach 1848–1859. After an interim professorship in Augsburg, he is since 2008 a Professor for Modern Bavarian and Franconian History and Folkloristics at the Friedrich-Alexander University of Erlangen-Nuremberg.
Abstract
Albrecht von Wallenstein gilt als eine der faszinierendsten Figuren des Dreißigjährigen Krieges. In einem interdisziplinären Zugriff widmen sich die 28 Beiträge des aus dem internationalen Nürnberger Symposium »Wallenstein. Mensch. Mythos. Memoria.« hervorgegangenen Sammelbandes seiner Persönlichkeit und seinem Mythos im Wandel der Zeiten. Sie gelten dem Alltag des Krieges ebenso wie dem Wirken eines zentralen Akteurs als Kriegsunternehmer und Landesherr. Zugleich erschließen sie die Bilder, die von Wallenstein seit dem 17. Jahrhundert in der Literatur, Kunst und Musik, im Film und in der aktuellen Vermarktung verbreitet werden. In der Verknüpfung von Fragestellungen und Erkenntnissen verschiedener nationaler und disziplinärer Wissenschaftskulturen werden auf dem aktuellen Stand der Forschung Desiderate ebenso sichtbar wie die methodischen Schwierigkeiten des Zugangs zu einer Zentralgestalt der europäischen Geschichte und ihrer Rezeption, die sie als schillerndes Diskursphänomen zeigt. »Wallenstein. Life, Legend and Legacy«

Following an interdisciplinary approach, the 28 essays in this volume focus on one of the most fascinating figures of the Thirty Years' War: Albrecht von Wallenstein. The everyday life during war and Wallenstein's role as a military contractor become as visible as the myth that the visual and performative arts, literature, music, film and contemporary marketing are continuously producing since the 17th century, forming this key figure of European history into an opalescent discourse phenomenon.
Table of Contents
Section Title
Page
Action
Price

Inhalt

V

Birgit Emich et al.: Einführung

1

1. Kriegsalltag

1

2. Wallenstein-Bilder im 17. Jahrhundert

2

3. Wallenstein – Persönlichkeit und Selbstverständnis

3

4. Wallenstein-Rezeption

5

5. Erinnerungskultur und Marketing

6

Geoff Mortimer: Die Suche nach Wallenstein – Mensch oder Mythos?

11

Kriegsalltag

29

Horst Carl: Logistik in Zeiten des Krieges: Der Kriegsunternehmer Wallenstein und das Geschäft der Heeresversorgung

31

1. Obsessionen – Wallenstein als Kriegsunternehmer und die militärgeschichtliche Forschung

31

2. Brot – Pulver – Waffen – Transport

35

3. Kontributionen – Heeresversorgung aus der Logik der Winterquartiere

42

4. Alte Veste 1632 – Krieg als logistische Auseinandersetzung

45

Jan Kilián: Militärische Gewalt in böhmischen Städten zur Zeit des Dreißigjährigen Krieges

49

Arne Homann: Trümmer, Gräber, Schlachtfelder – Ein Blick auf die Archäologie des Dreißigjährigen Krieges

67

1. Einleitung

67

2. Zur Archäologie des Dreißigjährigen Krieges

68

3. Der Krieg und die Stadt

71

4. Der Krieg auf dem Land

78

5. Verborgene Dinge – Schätze und Depots

79

6. Feldlager und Feldbefestigungen

81

7. Orte des Todes – Schlachtfelder

85

a) Das einsame Grab – Schlachtfeldbestattungen

86

b) Streuungen von Schlachtrelikten – Fingerabdrücke des Kampfgeschehens

91

c) Das Projekt Lutter am Barenberge (1626)

93

8. Abschließende Betrachtung

94

Marian Füssel: Kommentar

97

Wallenstein Bilder

101

Silvia Serena Tschopp: Albrecht von Wallenstein in der zeitgenössischen Publizistik. Zu den Rahmenbedingungen und Konjunkturen medialer Kommunikation im Kontext des Dreißigjährigen Krieges

103

1.

105

2.

116

3.

120

Hans Medick: Wallensteins Tod. Zeitgenössische Wahrnehmungen in Medien und Selbstzeugnissen

131

Arne Karsten: "Gut römisch und ein Mameluck": Das Wallenstein-Bild in der konfessionellen Auseinandersetzung

149

Bernhard Jahn: Wallenstein oder die Grenzen des allegorischen Theaters – Zur Figur des Friedländers im Drama der 1630er Jahre (Johann Rudolph Fischer und Johann Micraelius)

157

1.

159

2.

163

Christoph Kampmann: Kommentar

171

Wallenstein – Persönlichkeit und Selbstverständnis

177

Wolfgang Mährle: Der gewalttätige Student. Wallenstein an der Hohen Schule in Altdorf

179

1. Wallenstein in Altdorf 1599 / 1600 – Chronologie der Ereignisse

180

2. Wallensteins Studienaufenthalt in Altdorf im bildungshistorischen Kontext

189

3. Der Nürnberger Rat, die Altdorfer Hohe Schule und die studentische Gewalt im Dezember 1599 und Januar 1600

194

4. Was blieb von Altdorf? Der Studienaufenthalt an der Academia Norica als Lebensstation Wallensteins

202

5. Fazit

208

Robert Rebitsch: Wallenstein als Politiker und Diplomat

211

1. Politiker und Diplomat?

211

2. Aktionsfeld I: Die Verhandlungen zum Lübecker Frieden

212

3. Aktionsfeld II: Die Verhandlungen mit Kursachsen

225

4. Schlussbemerkungen

237

Ronald G. Asch: Albrecht von Wallenstein: Der letzte der großen Kriegsunternehmer?

239

Fritz Dross: Wallensteins Zipperlein

253

1. Keplers Horoskop und Wallensteins Krankheiten

254

2. Die Ungarische Krankheit

259

3. Wallensteins Zipperlein

264

Petr Fidler: Waldstein als Bauherr, Mäzen und "Hausvater"

271

Martin Holý: Wallenstein als Bildungsmäzen des 17. Jahrhunderts

289

Anuschka Tischer: Kommentar

297

Wallenstein-Rezeption

301

Daniele Vecchiato: Wallenstein vor Schiller. Die literarische Darstellung des Generalissimus im späten 18. Jahrhundert

303

1. Vom "unentwickelten Charakter" zum populären literarischen Helden

303

2. Die Rezeption des Dreißigjährigen Kriegs und Wallensteins Charakterbild im ausgehenden 18. Jahrhundert

304

3. Die Rehabilitierung des historischen Wallenstein in der Literatur

307

a) Psychologisierung und Vermenschlichung des 'Verräters'

307

b) Wallenstein als politischer Märtyrer

310

c) Wallenstein als Aufklärer ante litteram

311

d) Wallenstein und die Jesuiten

313

4. Schillers Konturierung des Generals vor dem Hintergrund der zeitgenössischen Wallenstein-Literatur

316

Peter-André Alt: Die dunkle Seite. Zur Psychologie des Okkulten und Astrologischen in Schillers "Wallenstein"

321

1. Motivierung durch astrologisches Wissen. Wallensteins Porträt in der Geschichtsschrift

321

2. Verblendung durch Prophezeiung. Astrologische Deutungsspiele in der Trilogie

324

3. Psychologische Hintergründe einer Fehlsteuerung. Wallensteins Sturz und Ende

332

4. Dramentheoretisches Resümee

335

Jörg Krämer: Klassikerkult. Wallenstein in der Musik

339

1. Schauspielmusiken und Lieder

342

2. Oper

346

a) Wallenstein in der italienischen Oper

346

b) Jaromír Weinbergers tschechischer Valdštejn

352

c) Wallensteins Lager bei Meyerbeer und Verdi

357

3. Sinfonische Dichtung

357

a) Bedřich Smetanas Valdštýnův tábor op. 14

357

b) Josef Gabriel Rheinbergers Wallenstein op. 10

359

c) Vincent d'Indys Wallenstein. Trilogie symphonique op. 12

361

d) Sonstige Orchestermusik

364

4. Wallenstein jenseits von Schiller: Hindemiths Die Harmonie der Welt

365

5. Fazit

371

Ursula Kocher: Ganz und gar real. Alfred Döblins Roman Wallenstein

373

1. Das bezwingende Bild

373

2. "[W]en kümmert der Dreißigjährige Krieg?" – Die Überrealität des Epischen

375

3. "ganz und gar kein Schillerscher 'Held' "

378

a) Wallenstein, "ein Raffke"

379

b) Wallenstein, Fürst und Naturgewalt

381

c) Wallenstein – Satanas, Drache, Drachentöter

385

4. Ein Ende?

388

Bettina Brandl-Risi: Von der Kraft der Geschichte auf dem Theater – Überlegungen zu Wallenstein im Theater der Gegenwart

391

Peter Burschel: Kommentar

405

Erinnerungskultur und Marketing

409

Jiří Hrbek: Die Erinnerung an Wallenstein in der Familie Waldstein im 17. und 18. Jahrhundert

411

Victoria Gutsche: Wallenstein auf der Leinwand – Stratege, Politiker, Egomane, Bürgerlicher

431

1. Die ersten Wallenstein-Filme – Ansichten von Festspielen und Aufführungen

433

2. Wallenstein 1925 – Der Feldherr Wallenstein und die Liebe

439

3. Wallenstein im Fernsehen – Drei Versuche: Zweimal Schiller, einmal Mann

448

4. Resümee

457

Jörg Wesche: Living and Playing History – Wallenstein in der populären Event- und Medienkultur

459

1. Grundmodi der Verlebendigung von Geschichte

460

2. Mythomotorische Multimodalität historischer Verlebendigung und populäre Dokumentation von Event-Kultur am Beispiel der Memminger Wallensteinwoche

462

3. Umgang mit historischen Dyschronie-Effekten

465

4. Spielfigur Wallenstein. Zur Kommerzialisierung des Mythos

467

5. Geschichte als Spielsystem

469

Ulrike Ludwig: Kommentar

473

Kulinarische Kultur im Krieg

479

Josef Matzerath: Kulinarisches aus dem Krieg. Zur Ästhetik der exquisiten Kochkunst des frühen 17. Jahrhunderts

481

Quellenverzeichnis

495

Literaturverzeichnis

505

Personenregister

559

Ortsregister

569