Criminal law: offences against the person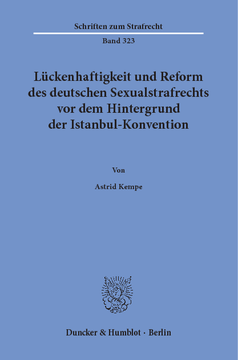 BOOK
Lückenhaftigkeit und Reform des deutschen Sexualstrafrechts vor dem Hintergrund der Istanbul-Konvention
Schriften zum Strafrecht, Vol. 323
(2018)
Additional Information
Book Details
ISBN

978-3-428-55496-6
978-3-428-15496-8 (print edition)

DOI

https://doi.org/10.3790/978-3-428-55496-6

Edition

1

Language

German

Pages

338

Collections

Subjects
Pricing
Institution

€ 104.00 (incl. local VAT if applicable)

Individual

€ 79.90 (incl. local VAT if applicable)
About The Author
Astrid Kempe studierte 2006 bis 2011 Jura an der Martin-Luther-Universität Halle/Wittenberg, wo sie das Studium mit dem 1. juristischen Staatsexamen abgeschlossen hat. Von 2011 bis 2013 erfolgte die Referendarausbildung in Sachsen-Anhalt und das 2. juristische Staatsexamen. Von 2013 bis 2015 arbeitete sie als Lehrkraft am Lehrstuhl für Sexualstrafrecht/Rechtsphilosophie von Prof. Renzikowski und von 2015 bis 2017 als wissenschaftliche Mitarbeiterin am Lehrstuhl für Arbeits- und Sozialrecht von Prof. Nebe – MLU.
Abstract
Am 11.05.2011 hat Deutschland die Istanbul-Konvention unterzeichnet. Artikel 36 des Übereinkommens verpflichtet die Vertragsstaaten, alle nicht einverständlichen Sexualkontakte unter Strafe zu stellen. Daraus ergab sich ein Reformbedarf für das vormals geltende deutsche Sexualstrafrecht, das gemäß § 177 StGB a.F. den Einsatz von Zwang voraussetzte. Es genügte nicht, dass das Opfer seinen Gegenwillen zum Ausdruck brachte. Zu befürworten war eine Reform nach dem sogenannten »Nur ein Ja ist ein Ja«-Modell nach dem Vorbild des Common Law. Es setzt die Vornahme einer sexuellen Handlung ohne Einverständnis des Opfers voraus. Resultat wäre ein übersichtlicher Grundtatbestand von einfacher Lesart, der sämtliche Strafbarkeitslücken schließen würde. Der Gesetzgeber hat sich mit der Reform durch das 50 StrÄndG für einen punktuell kasuistischen Ansatz entschieden. Die reformierte Vorschrift des § 177 StGB verbessert den Schutz der sexuellen Selbstbestimmung, wirft aber dogmatische Fragen auf. »Incompleteness and Reform of the German Law Governing Sexual Offences against the Background of the Istanbul Convention«

Section 36 of the Istanbul Convention obligates the member states and consequently even Germany to sentence all forms of nonconsensual sexual contacts. This led to a Need for reform of the former German law governing sexual offences, which expected the use of force. A reform in accordance with the concept »just yes means yes« conforming to the common law appeared to be preferable. With the last amending law the legislator has implemented it just partially.
Table of Contents
Section Title
Page
Action
Price

Danksagung

5

Inhaltsverzeichnis

7

Einführung

13

Kapitel 1: Völkerrechtliche Verpflichtungen zum Schutz des Rechts auf sexuelle Selbstbestimmung

20

A. Der Schutz des Rechts auf sexuelle Selbstbestimmung durch die Europäische Menschenrechtskonvention

22

B. Das Urteil M. C. gegen Bulgarien

25

C. Das Übereinkommen des Europarates zur Verhütung und Bekämpfung von Gewalt gegen Frauen einschließlich häuslicher Gewalt – Istanbul-Konvention

31

I. Historischer Abriss

33

II. Die Istanbul-Konvention im Überblick

39

III. Sexuelle Gewalt und Vergewaltigung – Art. 36 IK

41

D. Zusammenfassung

45

Kapitel 2: Lückenhaftigkeit des deutschen Sexualstrafrechts vor dem Hintergrund der Istanbul-Konvention

46

A. Historischer Abriss

46

I. Die germanischen Volksrechte – 500 n.Chr.

48

II. Die Straftatbestände der Notzucht und der Gewaltunzucht i.d.F. des Reichsstrafgesetzbuchs und des Strafgesetzbuchs nach Inkrafttreten des 1. StrRG vom 25.06.1969

49

III. Die Straftatbestände der Vergewaltigung und der sexuellen Nötigung i.d.F. des Strafgesetzbuches nach Inkrafttreten des 4. StrRG vom 28.11.1973

51

1. Das Rechtsgut der sexuellen Selbstbestimmung

51

2. Das Festhalten am Merkmal der Außerehelichkeit

53

3. Straftatbestand und Strafzumessung

54

IV. Übersicht über die Gesetzesreform durch das 33. StrÄndG und das 6. StrRG

58

1. Das 33. StrÄndG vom 05.07.1997

58

2. Das 6. StrRG vom 01.04.1998

60

B. Lückenhaftigkeit des Straftatbestandes der sexuellen Nötigung/Vergewaltigung i.d.F. des 6. StrRG und des 33. StrÄndG

61

I. Rechtsanwendungs- und Regelungslücken

61

II. Die Nötigungsmittel des § 177 Abs. 1 StGB i.d.F. des 33. StrÄndG und des 6. StrRG

64

1. Die Überwindung körperlichen Widerstandes durch Gewalt

67

a) Problemdarstellung

67

b) Die rechtliche Würdigung der subjektiven Tatseite durch die Tatgerichte

76

c) Das Eingreifen einer anderen Tatalternative des § 177 Abs. 1 StGB a.F. oder eines Auffangtatbestandes

78

aa) § 177 Abs. 1 Nr. 3 StGB a.F.

78

bb) § 240 Abs. 4 Nr. 1 StGB a.F.

82

2. Die Zweiaktigkeit der sexuellen Nötigung

84

a) Anforderungen an die Willensbeugung

84

b) Das Eingreifen eines Auffangtatbestandes

86

3. Gewalt gegen Sachen

90

Fazit

94

4. Die subjektiv-finale Verknüpfung

94

a) Die Zweck-Mittel Verknüpfung zwischen Gewalt und sexueller Handlung

96

aa) Der zur Lustbefriedigung handelnde Täter

99

bb) Das Abschließen der Tür aus sonstigen Gründen

101

cc) Das Eingreifen eines Auffangtatbestandes

102

dd) Überblick über die Schutzlosigkeit

105

b) Das Fortwirken früherer Gewalt

113

aa) Die zeitliche Zäsur

113

bb) Gewalt gegen Dritte

115

cc) Der subjektive Tatbestand

120

dd) Sexuelle Serienstraftaten zwischen denselben Personen

122

c) Der überraschende Sexualangriff

132

5. Drohen mit einer gegenwärtigen Gefahr für Leib oder Leben

138

a) Die unbestimmte Drohung

139

b) Die Unerheblichkeit der Leibesgefahr

140

c) Die Bedrohung Dritter

144

d) Die Bedrohung sonstiger Güter

145

6. Die Abgrenzung zwischen Widerstandsunfähigkeit und Schutzlosigkeit

149

a) Das absolut widerstandsunfähige Opfer

149

b) Das relativ widerstandsunfähige Opfer

151

c) Das körperlich widerstandsunfähige Opfer

154

d) Die Diskriminierung von Menschen mit Behinderungen

157

7. Der Irrtum des Opfers über die eigene Schutzlosigkeit

159

Fazit

164

Kapitel 3: Das Sexualstrafrecht des common law

166

A. Vergleich der Rechtssysteme

166

I. The judicial law making process

167

II. Das deutsche Richterrecht

169

III. The binding precedents

170

IV. Die Bindungswirkung deutscher Rechtsprechung

172

V. The statute law

174

VI. Die Voraussetzungen der Strafbarkeit

176

1. The offence

176

2. The defence

178

Fazit

179

B. Das englische Sexualstrafrecht

180

I. Sexual Assault – Sec. 3 SOA 2003

183

II. Consent and reasonable belief

186

1. Consent – Sec. 74 SOA 2003

186

2. Das tatbestandsausschließende Einverständnis und die rechtfertigende Einwilligung im deutschen Recht

189

3. The reasonable belief

194

4. Der Irrtum des Täters im deutschen Recht

195

III. Beweisregeln im englischen und deutschen Recht

200

1. The conclusive presumptions about consent – Sec. 76 SOA 2003

200

2. Die Einführung unwiderlegbarer Beweisregeln in das deutsche Strafrecht

203

3. Der Irrtum des Opfers im deutschen Strafrecht

207

IV. Aspekte der Willensfreiheit im englischen und deutschen Recht

209

1. The evidential presumptions about consent – Sec. 75 (1) SOA 2003

209

2. Widerlegliche Vermutungsklauseln im deutschen Recht

209

3. The requirements of the evidential presumptions about consent – Sec. 75 (2) SOA 2003

211

4. Aspekte der Willensfreiheit im deutschen Strafrecht

214

Fazit

217

Kapitel 4: Die Reform des deutschen Sexualstrafrechts – Vorschläge und Novellierung

219

A. Nein heißt Nein

220

I. Gegen den erklärten Willen oder unter Umständen, in denen das Fehlen der Zustimmung offensichtlich ist

220

II. Das Handeln gegen den Willen des Opfers

224

III. Das offensichtliche Fehlen der Zustimmung

225

IV. Der subjektive Tatbestand

229

B. Nur ein Ja ist ein Ja

230

I. Bestimmtheitsgrundsatz und Gebot der Rechtsstaatlichkeit

233

II. Der Grundsatz der Verhältnismäßigkeit und das Schuldprinzip

241

Fazit

245

C. Die Reformdiskussion im deutschen Bundestag

245

I. Gesetzentwurf der Abgeordneten Halina Wawzyniak, Cornelia Möhring, Frank Tempel, Dr. André Hahn, Ulla Jelpke, Jan Korte, Petra Pau, Martina Renner, Kersten Steinke und der Fraktion Die Linke vom 25.02.2016

246

1. § 174 StGB e.F. – Nicht einvernehmliche sexuelle Handlungen, Vergewaltigung

247

2. § 175 StGB e.F. – Sexuelle Nötigung

251

3. § 177 StGB e.F. – Sexuelle Handlungen unter Ausnutzung besonderer Umstände

253

II. Gesetzentwurf der Abgeordneten Katja Keul, Ulle Schauws, Renate Künast, Luise Amtsberg, Volker Beck, Monika Lazar, Irene Mihalic, Özcan Mutlu, Dr. Konstantin von Notz, Hans-Christian Ströbele und der Fraktion Bündnis 90/Die Grünen vom 01.07.2015

255

III. Gesetzentwurf der Bundesregierung vom 25.04.2016: Entwurf eines Gesetzes zur Änderung des Strafgesetzbuches – Verbesserung des Schutzes der sexuellen Selbstbestimmung

260

IV. Stellungnahme des Bundesrates zum Entwurf eines Gesetzes zur Änderung des Strafgesetzbuches – Verbesserung des Schutzes der sexuellen Selbstbestimmung vom 13.05.2016

264

D. Das 50. Gesetz zur Änderung des Strafrechts zur Verbesserung des Schutzes der sexuellen Selbstbestimmung

267

I. Der Grundtatbestand des sexuellen Übergriffs

272

1. Die Vornahme sexueller Handlungen des Täters am Opfer

273

2. Die sexuelle Handlung, die der Täter an sich vornehmen lässt

278

3. Die sexuelle Handlung von oder an einem Dritten

279

II. Das Ausnutzen besonderer Umstände

281

1. Die fehlende Fähigkeit zur Willensbildung oder Äußerung

281

2. Die relative Unfähigkeit zur Bildung oder Äußerung eines entgegenstehenden Willens

286

3. Der überraschende sexuelle Übergriff

293

4. Das Drohen eines empfindlichen Übels

294

5. Die Drohung mit einem empfindlichen Übel

298

III. Der Versuch

299

IV. Die Qualifikationstatbestände

300

1. Der sexuelle Übergriff auf behinderte oder erkrankte Personen

300

2. Der Einsatz eines klassischen Zwangsmittels

301

3. Die Qualifikationstatbestände des § 177 Abs. 7 und 8 StGB n.F.

305

V. Der besonders schwere Fall

305

VI. Der Straftatbestand der sexuellen Belästigung

307

VII. Straftaten aus Gruppen

310

E. Fazit

315

Zusammenfassung

317

Literaturverzeichnis

319

Sachwortverzeichnis

335