Modern philosophy: since c 1800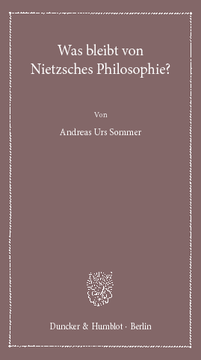 BOOK
Cite BOOK
Style
---
Sommer, A. (2018). Was bleibt von Nietzsches Philosophie?. Duncker & Humblot. https://doi.org/10.3790/978-3-428-55429-4
Sommer, Andreas Urs. Was bleibt von Nietzsches Philosophie?. Duncker & Humblot, 2018. Book. https://doi.org/10.3790/978-3-428-55429-4
Sommer, A (2018): Was bleibt von Nietzsches Philosophie?, Duncker & Humblot, [online] https://doi.org/10.3790/978-3-428-55429-4
---
Format
---
Was bleibt von Nietzsches Philosophie?
Lectiones Inaugurales, Vol. 19
(2018)
Additional Information
Book Details
ISBN

978-3-428-55429-4
978-3-428-15429-6 (print edition)

DOI

https://doi.org/10.3790/978-3-428-55429-4

Edition

1

Language

German

Pages

94

Collections

Subjects
Pricing
Institution

€ 26.00 (incl. local VAT if applicable)

Individual

€ 19.90 (incl. local VAT if applicable)
About The Author
Andreas Urs Sommer ist Inhaber der Professur für Philosophie mit Schwerpunkt Kulturphilosophie an der Albert-Ludwigs-Universität Freiburg sowie Akademieprofessor in Kooperation mit der Heidelberger Akademie der Wissenschaften und leitet deren Forschungsstelle »Nietzsche-Kommentar«. Er hat Gastprofessuren im In- und Ausland wahrgenommen, ist Fellow der Carl Friedrich von Siemens Stiftung 2017/18 und Direktor der Friedrich-Nietzsche-Stiftung in Naumburg/Saale. Die jüngsten seiner zahlreichen Buchpublikationen: »Werte – warum man sie braucht, obwohl es sie nicht gibt« (2016); »Kommentar zu Friedrich Nietzsches ›Jenseits von Gut und Böse‹« (2016) und »Nietzsche und die Folgen« (2017).
Abstract
So geschäftig die internationale Nietzsche-Forschung auch ist, bleibt doch weithin unklar, was eigentlich gemeint ist, wenn wir von »Nietzsches Philosophie« sprechen. Handelt es sich um ein Gefüge von Lehrsätzen – Wille zur Macht, Ewige Wiederkunft des Gleichen, Übermensch? Wie sollen philosophisch interessierte Leserinnen und Leser damit umgehen, dass Nietzsche sich offensichtlich unentwegt selbst ins Wort fällt und jede doktrinale Festlegung verweigert? Ist das nur eine billige literarische Strategie, um das eigene Gefüge von Lehrsätzen interessanter zu machen? Oder handelt es sich vielmehr um den Versuch, den Glauben an Philosophie als Gefüge von Lehrsätzen grundsätzlich zu problematisieren? Vielleicht ist Nietzsches Philosophie etwas völlig Anderes: eine andere Praxis.Der bekannte Nietzsche-Forscher Andreas Urs Sommer stellt und beantwortet in diesem Band grundlegende Fragen zum Umgang mit Nietzsches Texten, die so ganz anders zu funktionieren scheinen als landläufige philosophische Texte. Die dafür erforderliche philosophische Hermeneutik muss auf einem sicheren philologisch-historischen Fundament stehen.»What Does Nietzsche's Philosophy Mean?«What is meant when we speak about »Nietzsche's philosophy«? Is it a set of doctrines – will to power, eternal recurrence of the same, overman? But how should we deal with the fact that Nietzsche constantly interrupts himself and constantly refuses all doctrinal fixings? Is this an attempt to fundamentally problematize the belief in philosophy as a set of doctrines? Maybe philosophy – as this book shows – is something completely different: another kind of practice.
Table of Contents
Section Title
Page
Action
Price

Anstelle einer Vorrede

9

Inhaltsverzeichnis

17

Was bleibt von Nietzsches Philosophie?

19

1. Nietzsches Freiburg

19

2. Freiburgs Nietzsche

21

3. Was bleibt von Nietzsches Philosophie?

28

4. Was bleibt von Nietzsches Philosophie?

41

5. Ein Schild

45

Nietzsche, kulturphilosophisch

48

1. Nietzsche und die Entstehung der Kulturphilosophie

50

2. Kultur bei Nietzsche

58

3. Nietzsche, kulturphilosophisch, für die Gegenwart

66

Philosophie als Wagnis

70

Personenregister

91

Zum Autor

93