Contract law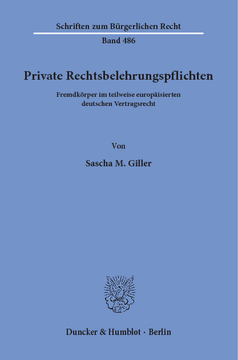 Additional Information
Book Details
ISBN

978-3-428-55467-6
978-3-428-15467-8 (print edition)

DOI

https://doi.org/10.3790/978-3-428-55467-6

Edition

1

Language

German

Pages

319

Collections

Subjects
Pricing
Institution

€ 104.00 (incl. local VAT if applicable)

Individual

€ 79.90 (incl. local VAT if applicable)
About The Author
Sascha Giller ist seit Oktober 2017 Rechtsreferendar am Oberlandesgericht Bamberg. Seine Dissertation entstand während seiner Tätigkeit als wissenschaftlicher Mitarbeiter am Lehrstuhl für Bürgerliches Recht, Deutsche und Europäische Rechtsgeschichte bei Professor Dr. Bernd Mertens an der Juristischen Fakultät der Universität Erlangen-Nürnberg nach dem ersten Staatsexamen. Von Oktober 2009 bis Juli 2015 absolvierte der Autor einen deutsch-französischen Doppelstudiengang der Rechtswissenschaften an den Universitäten Erlangen-Nürnberg und Rennes I.
Sascha Giller, who currently serves his legal traineeship (Rechtsreferendariat) at the Higher Regional Court of Bamberg, wrote this dissertation during his profession as a reserach assistant to Professor Bernd Mertens (Chair of Civil Law, German and European Legal History, University of Erlangen-Nuremberg). He graduated from the double degree programme »Deutsch-Französisches Recht« (French and German Law) at the universities of Erlangen-Nuremberg and Rennes prior to this research project.
Abstract
Dass der Gesetzgeber eine Vertragspartei verpflichtet, die andere Vertragspartei über ihr zustehende Rechte oder Obliegenheiten aufzuklären, ist ein relativ neues Phänomen unserer Zivilrechtsordnung. Es verbreitet sich vorwiegend durch EU-Richtlinienvorgaben in weiten Bereichen des deutschen Vertragsrechts, insbesondere im Verbraucherschutzrecht. Mit der Arbeit wird erstmals der Versuch unternommen, eine systematische Zusammenschau der mittlerweile vorhandenen privaten Rechtsbelehrungspflichten vorzunehmen, deren Entwicklungsgang und die hierbei vom Gesetzgeber verfolgten Ziele zu klären. Dabei ist insbesondere der Frage nachzugehen, inwieweit die verstreuten Tatbestände und Rechtsfolgen solcher privater Rechtsbelehrungspflichten sich zu einem stringenten und sinnvollen System zusammenfügen. Der Autor kommt im Ergebnis zum Eindruck einer widersprüchlichen und inkonsequenten Gesetzgebung. Die Untersuchung wird durch das Aufzeigen von Reform- und Alternativvorschlägen komplettiert. »Information Requirements Concerning Contractual Rights in Private-Law Contracts«

This thesis scrutinizes the information requirements that relate to the contractual rights of the contracting parties to a private-law contract. It critically analyses the relevant statutory provisions and the legal consequences in cases of failure to provide the relevant information. The author concludes that these information requirements should be adjusted due to systematic inaccuracies/deficiencies and therefore submits proposals for reform.
Table of Contents
Section Title
Page
Action
Price

Vorwort

5

Inhaltsübersicht

7

Inhaltsverzeichnis

9

Abkürzungsverzeichnis

20

Einführung

25

§ 1 Problemstellung

25

§ 2 Terminologische Ein- und Abgrenzung des Untersuchungsgegenstandes

27

I. Der Forschungsrahmen

27

II. Begriffsdefinition der privaten Rechtsbelehrungspflicht

29

III. Die Rechtsbelehrungspflicht als spezielle Informationspflicht

30

IV. Die Rechtsaufklärungspflicht als spezielle Aufklärungspflicht

31

V. Zusammenfassung

32

§ 3 Gang der Untersuchung und Forschungsfragen

33

§ 4 Ein historisch unbekanntes Rechtsinstrument im Lichte der Irrtumsdogmatik

34

I. Der Begriff des Rechtsirrtums

35

1. Die Unterscheidung von Tatsachen- und Rechtsirrtum

35

2. Die Unkenntnis im Rahmen der Irrtumslehre

36

a) In tatsächlicher Hinsicht

36

b) In juristischer Hinsicht

36

II. Zur Behandlung des Rechtsirrtums

37

1. Von der römischrechtlichen Nachteilszuweisung bei Rechtsirrtümern

37

a) Ignorantia iuris nocet

38

b) Ius civile scriptum est vigilantibus

38

c) Synthese

39

2. Zu einer Verpflichtung zur Gesetzeskenntnis in verschiedenen Kodifikationen

39

a) Allgemeines Landrecht für die Preußischen Staaten von 1794

40

b) Badisches Landrecht von 1809

40

c) Österreichisches ABGB von 1811

40

d) Sächsisches BGB von 1863

40

e) Zusammenfassung

41

3. Die aktuelle Lage

41

a) Die Konzeption des BGB

41

b) Die Nichtnormierung von Restitutionsmöglichkeiten für Rechtsirrende

43

c) Gegenläufige Entwicklung einer Rechtspolitik der privaten Rechtsbelehrung

45

III. Stellungnahme

46

Teil 1

48

Die Entwicklung privater Rechtsbelehrungspflichten bis ins geltende Recht

48

§ 1 Identifikation, Darstellung und Analyse einschlägiger Gesetzgebungen

48

I. Soziales Mietrecht

48

1. Hinweis auf das Widerspruchsrecht bei Kündigung

48

a) Das dritte Mietrechtsänderungsgesetz von 1967

48

b) Hintergrund

49

c) Das Mietrechtsreformgesetz von 2001

50

2. Hinweis auf den Härteeinwand bei Modernisierungsmaßnahmen

50

a) Das Mietrechtsänderungsgesetz von 2013

50

b) Hintergrund

51

3. Stellungnahme

51

II. Investmentrecht

53

1. Gesetz über Kapitalanlagegesellschaften und Auslandsinvestmentgesetz

53

a) Regelung

53

b) Hintergrund

53

2. Investmentgesetz

54

3. Kapitalanlagengesetzbuch

54

4. Stellungnahme

55

III. Kreditrecht

56

1. Abzahlungsgesetz samt Novellierungen

56

a) Regelung

56

b) Hintergrund

56

2. Verbraucherkreditgesetz

57

a) Regelung

57

b) Hintergrund

58

3. Die zunehmende Integration des VerbrKrG in das BGB

59

a) Allgemeine Vereinheitlichungstendenzen des deutschen Gesetzgebers

59

b) Die Schuldrechtsreform von 2002

59

c) Reparaturnovelle

59

4. Die Einführung einer deutschen Muster-Widerrufsbelehrung

60

a) Anlage 2 zu § 14 BGB-InfoV a. F.

60

aa) Eine Gesetzgebung im vermeintlichen Interesse des Belehrungspflichtigen

60

bb) Zur Funktionsweise des Musters

61

b) Ein misslungener Versuch aus der ex-post-Betrachtung

61

aa) Kritik an der Muster-Widerrufsbelehrung

61

(1)\tMangelnde Handhabbarkeit

62

(2)\tGesetzliche Nonkonformität

62

bb) Der gewählte Normtypus als Schwachpunkt

63

(1)\tDie BGB-InfoV als Rechtsverordnung

63

(2)\tKeine andere Beurteilung durch nachträgliche legislative Änderungen

64

c) Zur Fortentwicklung des Musters

65

aa) Abänderungen in Reaktion auf die Kritik aus Rechtsprechung und Literatur

65

bb) Fortbestehende Wirksamkeitszweifel

66

d) Vertrauensschutz der Verwender?

66

aa) Ein Machtwort des BGH zur Gesetzlichkeitsfiktion

66

bb) Die engen Voraussetzungen des Vertrauensschutzes

67

cc) Auswirkungen und Weiterentwicklung der Rechtsprechung

68

dd) Stellungnahme

69

e) Zwischenergebnis

70

5. Die neue Verbraucherkreditrichtlinie

71

a) Regelung

71

b) Europarechtlicher Hintergrund

72

c) Die deutsche Umsetzung

73

aa) Regelung

73

bb) Probleme einer Rückverweisung aus § 506 BGB

74

cc) Die Verleihung von Gesetzesrang als legislative Antwort auf frühere Probleme

76

6. Richtlinie über Wohnimmobilienkreditverträge

77

a) Regelung

77

b) Europarechtlicher Hintergrund

78

c) Umsetzung

78

d) Nationaler Hintergrund

80

7. Stellungnahme

81

IV. Arbeitsrecht

83

1. Bekanntmachungspflicht zur Gleichbehandlung am Arbeitsplatz

83

a) Erste Regelungen

83

b) Hintergrund

84

c) Umsetzung

84

d) Werdegang der Bekanntmachungspflicht

85

2. Unterrichtungspflicht bei Betriebsübergang

86

a) Regelung

86

b) Hintergrund

87

c) Umsetzung

88

3. Stellungnahme

89

V. Fernunterrichtsschutzrecht

91

1. Das ursprünglich autonome Fernunterrichtsschutzgesetz

91

a) Regelung

91

b) Hintergrund

91

2. Sukzessive Annäherung an das BGB seit der Jahrtausendwende

92

a) Anbindung

92

b) Folgeanpassungen

92

3. Stellungnahme

94

VI. Recht der besonderen Vertriebsformen und Verbraucherverträge im Allgemeinen

95

1. Haustürwiderrufsgesetz

95

a) Regelung

95

b) Hintergrund

95

2. Haustürwiderrufsrichtlinie

96

a) Regelung

96

b) Hintergrund

97

3. Fernabsatzrichtlinie

98

a) Regelung

98

b) Europarechtlicher Hintergrund

98

c) Umsetzung

99

d) Nationaler Hintergrund und Folgeentwicklung

100

4. Fernabsatzrichtlinie für Finanzdienstleistungen

101

a) Regelung

101

b) Hintergrund

101

c) Umsetzung

102

5. Verbraucherrechterichtlinie

103

a) Regelung

103

b) Hintergrund

104

c) Umsetzung

105

aa) Die Belehrung über das Widerrufsrecht

105

(1)\tStationärer Handel

105

(2)\tFernabsatzverträge und außerhalb von Geschäftsräumen geschlossene Verträge

106

bb) Die Belehrung über das gesetzliche Gewährleistungsrecht

109

(1)\tSchaffung einer neuen privaten Rechtsbelehrungspflicht?

109

(2)\tBelehrungsform und Belehrungsinhalt

111

6. Stellungnahme

113

VII. Reisevertragsrecht

114

1. Erste Pauschalreiserichtlinie

114

a) Regelung

114

b) Hintergrund

115

c) Umsetzung

116

2. Zweite Pauschalreiserichtlinie

116

3. Stellungnahme

118

VIII. Versicherungsvertragsrecht

119

1. Zur ersten Widerrufsbelehrung im VVG

119

a) Regelung

119

b) Hintergrund

120

2. Zentrale Folgeänderungen

120

a) Vorgaben der Lebensversicherungsrichtlinien

120

aa) Regelung

120

bb) Hintergrund

121

b) Das Dritte Gesetz zur Durchführung versicherungsrechtlicher Richtlinien

122

c) Fortführung der Zersplitterungspolitik

123

3. Die VVG-Reform von 2008

123

4. Stellungnahme

125

IX. Teilzeitnutzungsrecht

126

1. Erste Teilzeitnutzungsrechterichtlinie

126

a) Regelung

126

b) Hintergrund

127

c) Umsetzung und zentrale Folgeentwicklungen

128

2. Zweite Teilzeitnutzungsrechterichtlinie

129

a) Regelung

129

b) Hintergrund

129

c) Umsetzung

130

3. Stellungnahme

131

X. Verbrauchsgüterkaufrecht

132

1. Verbrauchsgüterkaufrichtlinie

132

a) Regelung

132

b) Hintergrund

133

c) Umsetzung

134

2. Stellungnahme

135

XI. Zahlungsverzugsrecht

136

1. Zahlungsverzugsrichtlinien

136

2. Nationale Sonderregelung für Verbraucher im Verzugsrecht

136

a) Regelung

136

b) Hintergrund

137

3. Stellungnahme

137

XII. Zahlungsdiensterecht

139

1. Erste Zahlungsdiensterichtlinie

139

a) Regelung

139

b) Hintergrund

140

c) Umsetzung

141

2. Zweite Zahlungsdiensterichtlinie

142

3. Stellungnahme

143

XIII. Werk- und Bauvertragsrecht

144

1. Regelung

144

2. Hintergrund

145

3. Stellungnahme

145

§ 2 Übergreifende Beobachtungen, basierend auf der Entwicklung

146

I. Die Entstehung eines komplexen Normengeflechts aus nationalen und europäischen Regelungen

146

1. Originär nationale Vorstöße als Ausgangspunkt privater Rechtsbelehrung

146

a) Nationale Gesetzgebung ohne europäischen Einfluss

146

b) Das Schutzbedürfnis der rechtsunkundigen Partei als auffindbare Begründung des Gesetzgebers

147

c) Ein teilweises Eingeständnis der Unmöglichkeit einer allumfassenden Rechtskenntnis

148

aa) Rechtsfülle als bekanntes Problem der Rechtssetzung

148

bb) Daten zur Belegung der unbändigen Gesetzesproduktion

149

cc) Einschränkung

150

dd) Empirische Erkenntnisse zur Rechts(un)kenntnis am Beispiel der Widerrufsrechte

150

2. Europa als Motor einer Weiterentwicklung

152

a) Der wachsende Einfluss Europas auf die Rechtsbelehrungspolitik mittels Richtlinien

152

b) Fragwürdige Trendwende im Harmonisierungsgrad

152

c) Zur fehlenden Darlegung der Motivation europarechtlich veranlasster Rechtsbelehrungen

155

aa) Vereinbarkeit mit der Begründungspflicht nach Art. 296 Abs. 2 AEUV

155

bb) Unbefriedigende Lage aus rechtstheoretischer Sicht

156

3. Synthese

157

II. Spezielle Anknüpfungspunkte einer Legitimation privater Rechtsbelehrungen

158

1. Belehrungsempfänger

158

a) Die Verbraucher als zentrale Zielgruppe

158

aa) Von einem speziellen zu einem allgemeinen Verbraucherschutz

158

bb) Das Verbraucherleitbild

159

b) Keine verbraucherschutzspezifische Rechtspolitik

160

c) Der Ausgleich gestörter Vertragsparität

161

aa) Ungleichgewichte durch Informationsasymmetrien

161

bb) Informationsasymmetrie auch im Rahmen von Rechten?

162

d) Fazit

164

2. Belehrungsgegenstand

164

a) Die vergleichsweise kurze Bedenkzeit von Widerrufsrechten

164

b) Drohende Verwirrung

167

c) Existenzielle Bedeutung

169

d) Komplexität der Rechtslage

170

e) Fazit

172

III. Rechtssetzungsfragen und Entwicklungstendenzen in der Ausgestaltung

173

1. Rechtsunkenntnis als zwingende Voraussetzung einer Belehrung?

173

2. Unterschiede in der inhaltlichen Art und Weise der Information über das Recht

174

3. Gesonderte Bestätigung einer Rechtsbelehrung?

176

4. Formale Auffälligkeiten

177

a) Anpassungen an den modernen Rechtsgeschäftsverkehr

177

b) Spezielle Belehrungsformen

181

5. Kritische Entfernung von dem bloßen Hinweis auf das Recht

182

6. Die Integration von Rechtsbelehrungen in Informationspflichtenkataloge und ihre Folgen

183

a) Das Ergebnis europäischer Verbraucherschutzpolitik durch Information

183

b) "Information overload" als Ausgestaltungsproblem

185

c) Teilweise Einschränkungen im Bereich der rechtlichen Information

186

7. Der moderne Trend hin zu Mustern als "Unternehmerschutzpolitik"

188

a) Die gesetzgeberische Intention hinter der Schaffung von Mustern

189

b) Muster sind keine Allheilmittel

190

aa) Fehlerhaftigkeit von Mustern und ihre Folgen

190

bb) Verwendungsschwierigkeiten im Umgang mit Mustern

192

c) Vereinheitlichungstendenzen und fehlende Kohärenz

195

§ 3 Zusammenfassende Übersicht

196

Teil 2

198

Die Rechtsfolgen bei der Verletzung privater Rechtsbelehrungspflichten

198

§ 1 Einführung

198

§ 2 Belehrungsspezifisch geregelte Rechtsfolgen

199

I. Auswirkungen auf die Frist im Mietrecht

199

1. Verstoß gegen § 568 Abs. 2 BGB

199

2. Verstoß gegen § 555c Abs. 2 BGB

199

II. Auswirkungen auf die Frist für Verbraucherverträge mit Widerrufsrecht

200

1. Grundsätzliches zur Funktionsweise

200

2. Modalitäten der jeweiligen Vertragstypen

200

a) Europäischer Rahmen

200

aa) Regelungen

201

bb) Analyse

201

b) Nationale Umsetzung

203

aa) Regelungen

203

bb) Analyse

204

(1)\tDas Problem der Verknüpfung von Belehrung mit Fristbeginn

204

(2)\tDas Problem der Verweisungen mit Blick auf die formalen Belehrungsanforderungen

206

(3)\tDas Problem der Auswirkung einer Nichtbeifügung des Muster-Widerrufsformulars

207

3. Die systemfremde Sanktion der ewigen Ausübbarkeit des Widerrufsrechts

210

a) Zur Einführung des ewigen Widerrufsrechts

211

aa) Die Rechtssache Heininger

211

bb) Eine überobligatorische Reaktion des deutschen Gesetzgebers und deren Auswirkungen

212

b) Die teilweise Wiederabschaffung des ewigen Widerrufsrechts

213

aa) Die Verbraucherrechterichtlinie und ihre Umsetzung

213

(1)\tEU-Ebene

213

(2)\tNationale Ebene

214

(3)\tStellungnahme

216

bb) Die Wohnimmobilienkreditrichtlinie und ihre Umsetzung

216

(1)\tEU-Ebene

216

(2)\tNationale Ebene

216

(3)\tEuroparechtliche Zulässigkeit einer nationalen Erlöschensregelung

218

(4)\tStellungnahme

220

cc) Verfassungsrechtliche Bedenken rückwirkender Erlöschensregelungen

221

(1)\tEchte oder unechte Rückwirkung

221

(2)\tZulässigkeitsvoraussetzungen

222

c) Alternative Lösungsmodelle

223

aa) Verwirkung

224

(1)\tUmstandsmoment

224

(2)\tZeitmoment

225

(3)\tFazit

225

bb) Rechtsmissbräuchliche Ausübung

226

cc) Nachbelehrung

226

d) Fazit

227

III. Auswirkungen auf die Frist im Arbeitsrecht

228

1. Verstoß gegen § 613a Abs. 5 BGB

228

2. Fazit

229

IV. Auswirkungen auf die Frist im Versicherungsvertragsrecht

230

1. Nachwirkungen des europarechtswidrigen § 5a Abs. 2 S. 4 VVG a. F.

230

2. Die generelle ewige Widerrufbarkeit nach § 8 Abs. 2 VVG

231

3. Verwirkung als mögliche Grenze?

232

4. Stellungnahme

233

V. Zum diesbezüglichen Modellcharakter staatlicher Rechtsbelehrungspflichten

233

1. Verwaltungsverfahren

234

2. Strafverfahren

235

3. Zivilverfahren

236

4. Stellungnahme

237

VI. Spezielle Befreiungsregeln

238

VII. Das teilweise Nichtvorliegen ausdrücklich geregelter Sanktionen

239

VIII. Fazit

240

§ 3 Rechtsfolgen über allgemeine Rechtsinstitute

241

I. Vorfrage: Rechtsbelehrung als bloße Obliegenheit oder als echte Rechtspflicht?

241

1. Begriffsbestimmungen

241

2. Einordnung der privaten Rechtsbelehrungspflichten

242

a) Mietrechtliche Belehrungspflichten

242

b) Widerrufsbelehrungspflichten

243

c) Belehrungspflichten über gesetzliche Gewährleistungsrechte

245

d) Arbeitsrechtliche Belehrungspflichten

245

e) Belehrungspflichten im Zahlungsverzugs- und Werkvertragsrecht

246

f) Sonstige europarechtliche Belehrungspflichten

247

3. Stellungnahme

247

II. Erfüllungsanspruch auf Belehrung

248

III. Vertragsnichtigkeit

248

IV. Schadensersatz

249

1. (Vor-)Vertraglich

249

a) Haftungsgrundlage

249

b) Problematik des durch die Verletzung der Belehrungspflicht kausal verursachten Schadens

250

c) Rechtsfolgen und Anwendbarkeitsfragen

252

2. Deliktisch

254

3. Fazit

255

V. Rücktritt

256

VI. Anfechtung

256

§ 4 Kollektivrechtliche Absicherungsmechanismen

257

I. UKlaG

257

1. Die Nicht-/Fehlbelehrung als verbraucherschutzgesetzwidrige Praktik

257

2. Ansprüche bei Vorliegen einer verbraucherschutzgesetzwidrigen Praktik

258

II. UWG

260

1. Die Nicht-/Fehlbelehrung als unlautere geschäftliche Handlung

260

a) § 3a UWG

260

b) § 5 Abs. 1 S. 2 Nr. 2 und Nr. 7 UWG

261

c) § 5a Abs. 3 Nr. 5 und Abs. 4 UWG

262

2. Ansprüche bei Vorliegen einer unlauteren geschäftlichen Handlung

263

III. AGG

264

1. Klagerecht von Gewerkschaften und Betriebsrat zur Verwirklichung der Ziele des AGG

264

2. Voraussetzungen des Klagerechts

264

IV. Stellungnahme

265

Teil 3

266

Alternativvorschläge für eine Revision privater Rechtsbelehrungspflichten

266

§ 1 Alternativen in der Gesetzgebung

266

I. Heranziehung externer Muster

266

II. Reduktion der Komplexität der Rechtslage

267

1. Plädoyer gegen eine Reduktion der Gesetzeskomplexität

267

2. Plädoyer für eine Reduktion der Belehrungskomplexität

269

III. Schaffung eines widerspruchsfreien Systems

271

IV. Kritische Hinterfragung der Erforderlichkeit von privater Rechtsbelehrung

273

§ 2 Alternativen zu der Gesetzgebung

275

I. Geschickter Einsatz von Massenkommunikationsmitteln

276

1. Massenmedien als potenziell geeignete Kenntnisquellen

276

2. Zukunftsträchtige Formen von Rechtsbelehrung im Internet

277

II. Etablierung eines flächendeckenden obligatorischen Rechtskundeunterrichts

279

III. Zurverfügungstellung von Sonderveröffentlichungen

281

IV. Individuell zugeschnittene Rechtsberatungstätigkeit von Verbänden

281

1. Grundlegendes zu Verbraucherzentralen

282

2. Überlegenheit einer Rechtsbelehrung durch Verbraucherzentralen

283

V. Regelungsvorschlag zur Komplettierung alternativer Rechtsbelehrungsformen

284

1. Zur Idee einer "Wiedereinsetzung materiell-rechtlicher Art" de lege ferenda

284

2. Detailerläuterungen

285

VI. Fazit

286

Schlussbetrachtung

288

Literaturverzeichnis

294

Stichwortverzeichnis

316