Legal systems: civil procedure, litigation & dispute resolution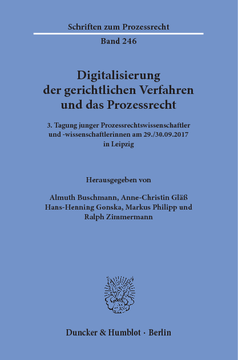 Additional Information
Book Details
ISBN

978-3-428-55369-3
978-3-428-15369-5 (print edition)

DOI

https://doi.org/10.3790/978-3-428-55369-3

Edition

1

Language

German

Pages

221

Collections

Subjects
Pricing
Institution

€ 92.00 (incl. local VAT if applicable)

Individual

€ 71.90 (incl. local VAT if applicable)
About The Author
Hans-Henning Gonska studierte Rechtswissenschaften mit Schwerpunkt Kriminologie und Strafrechtspflege an den Universitäten Greifswald und Kopenhagen. Seit August 2014 ist er als wissenschaftlicher Mitarbeiter am Lehrstuhl von Prof. Dr. Schneider, Universität Leipzig, beschäftigt. Er promoviert zu einem Thema an der Schnittstelle von Strafprozessrecht und Kriminologie. Ann-Christin Gläß studierte Rechtswissenschaften an der Juristenfakultät der Universität Leipzig. Im Anschluss an das Erste Juristische Staatsexamen absolvierte sie den Aufbaustudiengang »Recht der Europäischen Integration« an der Universität Leipzig mit einem Auslandsaufenthalt an der Rijksuniversiteit Groningen. Seit 2009 ist sie am Institut für Umwelt- und Planungsrecht der Universität Leipzig / Lehrstuhl für Öffentliches Recht, insbesondere Umwelt- und Planungsrecht (Prof. Dr. K. Faßbender), beschäftigt. Sie promovierte zum Thema »Rechtsfragen des kommunalen Anschluss- und Benutzungszwangs in Zeiten von Klimawandel und Energiewende«. Dr. Ralph Zimmermann studierte Rechtswissenschaften an der Juristenfakultät der Universität Leipzig. Nach seiner Ersten Juristischen Prüfung 2009 nahm er dort eine Tätigkeit als Wissenschaftlicher Mitarbeiter am Lehrstuhl für Staats- und Verwaltungsrecht, Verfassungsgeschichte und Staatskirchenrecht (Professor Dr. Rozek) und zugleich ein Promotionsstudium auf, das er 2012 mit einer Arbeit zu »Hochschulrundfunk – Funktionale Selbstverwaltung und das Gebot der Staatsfreiheit des Rundfunks«abschloss. Im November 2013 legte Dr. Ralph Zimmermann erfolgreich die Zweite Juristische Staatsprüfung vor dem Landesjustizprüfungsamt bei dem Sächsischen Staatsministerium der Justiz und für Europa ab. Seit Januar 2014 ist er am oben genannten Lehrstuhl als Akademischer Assistent beschäftigt. Markus Philipp studierte von 2005 bis 2010 an der Juristenfakultät der Universität Leipzig Rechtswissenschaften. Seit 2011 ist er dort wissenschaftlicher Mitarbeiter am Lehrstuhl für Bürgerliches Recht und Zivilprozessrecht von Prof. Dr. Becker-Eberhard. Im Jahr 2010 begann er in Sachsen den juristischen Vorbereitungsdienst und legte, nach Stationen in Leipzig und am Hanseatischen Oberlandesgericht Hamburg, im November 2012 die Zweite Juristische Staatsprüfung ab. Seit Mai 2013 ist Markus Philipp Rechtsanwalt in Leipzig. 2017 wurde er von der Juristenfakultät der Universität Leipzig mit einer Arbeit zur Verjährungshemmung durch Rechtsverfolgung nach § 204 Abs. 1 BGB promoviert.
Abstract
Der Band enthält die Ergebnisse der 3. Tagung junger Prozessrechtswissenschaftler und -wissenschaftlerinnen, die am 29. und 30.09.2017 in Leipzig unter dem Generalthema »Digitalisierung der gerichtlichen Verfahren und das Prozessrecht« stattfand. Die einzelnen Beiträge umspannen ein breites Spektrum gegenwärtiger und bereits absehbarer künftiger Fragestellungen, die sich unter dem Begriff Digitalisierung für das Prozessrecht, die Funktionsabläufe in der Justiz, deren Kommunikation mit Externen und nicht zuletzt für das einzelne gerichtliche Verfahren sammeln lassen. Dementsprechend werden Gelingensbedingungen einer Digitalisierung der Zivil- und Strafjustiz sowie der Verwaltungsprozesse ebenso behandelt wie Rechtsfragen der digitalen Akten- und Beweisführung, die Einsatzmöglichkeiten der Blockchain-Technologie im Prozessrecht, die digitale Erschließung und Verarbeitung von Schriftsätzen, der digitale Zugang zu Gerichtsentscheidungen sowie die Erweiterung der Gerichtsöffentlichkeit durch Medienvertreter. »Digitising Judicial Procedures and the Procedural Law«

This publication contains the results of the 3rd Convention of Junior Researchers in Procedural Law, which followed the general theme of »Digitising Judicial Procedures and the Procedural Law«. The academic lectures comprised herein address a wide range of questions concerning the digitisation of procedural law and legal procedure, ranging from issues of digital judicial communication and file management to digital reasoning and the practical significance of digitisation for individual proceedings.
Table of Contents
Section Title
Page
Action
Price

Vorwort

5

Almuth Buschmann/Anne-Christin Gläß/Hans-Henning Gonska/Markus Philipp/Ralph Zimmermann: Die Digitalisierung im Fokus – eine Einleitung in den Tagungsband

7

I. Zum Generalthema der Tagung und des Tagungsbands

7

II. Herausforderungen des Prozessrechts durch die Digitalisierung

8

III. Themen der Tagung und des Tagungsbands

9

1.

10

2.

10

3.

11

IV. Fazit

12

Inhaltsverzeichnis

15

Michael Zwanzger: Grußwort

17

Wilfried Bernhardt, Schlüsselelemente einer erfolgreichen Digitalisierung der Justiz

21

I.

21

II.

29

1. Gleichklang E-Justice/E-Government

30

2. Ausbau elektronischer Postfächer

30

3. Entwicklung elektronischer Formulare

31

4. Die Lücken bei der elektronischen Verfahrensgestaltung sind zu schließen

31

5. Open Justice

32

6. Europa

35

7. Datenschutz

35

8. Mobile Justiz

36

9. Technische Fortentwicklungen und ihr Einfluss auf E-Justice

37

10. Ausbildung und Fortbildung in der Justiz

39

III. Fazit

39

Robert Korves: Die Zukunft und die Zeit danach – Gedanken zu elektronischem Rechtsverkehr und elektronischer Akte

41

I. Verfahrenskommunikation als prozessrechtliche Grundfrage

41

II. Künftige Ausgestaltung

42

1. Elektronischer Rechtsverkehr

43

2. Elektronische Akte und ergonomischer elektronischer Arbeitsplatz (e²A)

43

III. Zwang zur Standardisierung

45

IV. Hang zur Schematisierung

46

V. Vollständige Ablösung der klassischen Kommunikationsmittel?

48

1. Kein Nutzungszwang für Bürger

49

2. Analoges "Back-up"

50

3. Papierne Hand- und Schattenakten

52

VI. Fazit – eine vorläufige Einschätzung

52

Alexander Stöhr: Die elektronische Akte im Zivilprozess

55

I. Einführung

55

II. Begriffsbestimmung, Funktion und Rechtsgrundlage

56

III. Ökonomische Würdigung

58

1. Vorteile der elektronischen Akte

58

2. Nachteile der elektronischen Akte

59

3. Einschätzungen und Erfahrungen aus der Praxis

61

4. Ergebnis

62

IV. Pflicht zur elektronischen Aktenführung

63

1. Gegenwärtige und zukünftige Rechtslage

63

2. Vereinbarkeit mit der richterlichen Unabhängigkeit

64

V. Elektronische Akteneinsicht

68

VI. Zusammenfassung in Thesen

69

Laura Iva Savić: Beweisführung mit digitalen Medien im Strafprozess

71

I. Einführung

71

II. Arbeitsdefinition

72

III. Charakteristika digitaler Beweismittel

74

IV. Beweisführung mit digitalen Medien

75

1. Bestehende Rechtsnormen

76

2. Rechtliche Einordnung digitaler Beweismittel in das System strafprozessualer Beweismittel

79

a) Derzeitige Situation

79

b) Ausblick

81

V. Fazit

82

Dominik Brodowski: Die Beweisführung mit digitalen Spuren und das Unmittelbarkeitsprinzip

83

I. Die Beweisführung mit digitalen Spuren – zwei zentrale Problemlagen und unzureichende Remeduren de lege lata

83

1. Begrenzung des Urkundenbeweises auf Schriftstücke

84

a) Problemdarstellung

84

b) § 249 StPO n.F.

84

2. Automatisierbarkeit informationstechnischer Systeme und Multiplikatoreffekte

85

a) Problemdarstellung

85

b) Lösungs- und Ausweichstrategien

85

II. Zum Unmittelbarkeitsprinzip im Umgang mit digitalen Spuren

87

1. Ein strukturelles Defizit der Unmittelbarkeit bei digitalen Spuren

87

2. Einfach- und verfassungsrechtliche Lozierung des Unmittelbarkeitsprinzips

87

a) Formelle Unmittelbarkeit

88

b) Transferverbot

88

c) Materielle Unmittelbarkeit

90

d) Rückführung auf Wertungs- und Verfassungsfragen

91

3. Anwendung auf digitale Spuren und die vorgenannten Problemlagen

92

III. Schluss

93

Benedikt Beckermann: Spezifische Gelingensbedingungen und Chancen der Digitalisierung im Verwaltungsprozess

95

I. Einleitung

95

II. Die Nahtstelle von Verwaltungsverfahren und Verwaltungsprozess

96

III. Die Rolle der Verwaltungsbehörde für die elektronische Akte im Verwaltungsprozesses

98

1. Die Vorlage der Verwaltungsvorgänge

98

2. Stand und Perspektiven der E-Akte

100

a) Elektronische Gerichtsakte

100

b) Elektronische Verwaltungsakte

101

aa) Bundesrechtslage

101

bb) Landesrechtslage

102

3. Effizienzvorteile der elektronischen Verwaltungsakte im Verwaltungsprozess

104

a) Verzicht auf Aktendoppel

104

b) Abgrenzung relevanter Aktenteile

104

c) Beschleunigung

105

d) Zwischenergebnis

105

IV. Chancen der Schnittstelle zwischen Behörde und Gericht für die Digitalisierung abseits der Aktenführung

106

V. Schluss

107

Nicolas Baum: Die elektronische Akte im Strafverfahren: Chancen und Risiken aus Sicht der Verteidigung

109

I. Einleitung

109

II. Die Funktion der Akte im Strafverfahren

110

III. Das Gesetz/Kritik

111

1. Übertragung von Ausgangsdokumenten

111

2. Aufbewahrung von Ausgangsdokumenten

112

3. Ausgangsdokumente und Beweisaufnahme

114

IV. Schluss

116

Manuel Ladiges: Durchsuchungen in der Cloud – Ist die Freiheit der Ermittler in der "Datenwolke" grenzenlos?

117

I. Einleitung und Problemstellung

117

II. Der Zugriff auf die Cloud

119

1. Durchsicht gem. § 110 Abs. 3 StPO

119

2. Zugriff auf Zugangsdaten gem. § 100j Abs. 1 S. 1, 2 StPO?

121

III. "Auflösung" des Durchsuchungsortes – Verstoß gegen das Territorialitätsprinzip?

123

1. Die Cybercrime Convention des Europarats

125

2. Die Diskussion in Deutschland

127

a) Datenzugriff bleibt inländische Maßnahme

127

b) Eigene vorläufige Datensicherung

129

c) "Lösung" durch Ablehnung eines Beweisverwertungsverbots

130

IV. Eigene Auffassung

130

1. Irrelevanz des grenzüberschreitenden Datenzugriffs?

130

2. Beweisverwertungsverbot bei völkerrechtswidrigem Datenzugriff?

133

a) Grundsätzliches

133

b) Anwendung bei grenzüberschreitendem Datenzugriff

134

V. Ergebnis und Ausblick

136

Martin Lutschounig: Bereitstellung von Zivilurteilen im Internet

139

I. Einleitung

139

II. Gerichtsöffentlichkeit und Entscheidungsveröffentlichung

140

1. "Vorbehaltenes" Urteil versus Verkündungstagsatzung

140

2. Die EGMR-Judikatur als "Messlatte"

142

3. Verletzung der EMRK?

143

III. Transparenzgebot und Urteilsveröffentlichung

146

1. Die Situation in Deutschland

146

2. Die Rechtslage in Österreich

148

IV. Öffentliches Interesse und Zugang zu Gerichtsentscheidungen

151

1. Die europäische Rechtslage: Existiert ein allgemeines Recht auf Zugang zu (öffentlichen) Informationen?

151

2. Österreich: Ein verwaltungsrechtlicher Anspruch auf Entscheidungsabschriften

153

a) Zur (Un-)‌Anwendbarkeit von § 219 öZPO

153

b) Das österreichische Informationsfreiheitsgesetz (IFG)

155

3. Deutschland: Herausgabepflicht für Entscheidungsabschriften

156

a) Das Urteil als Informationsquelle

156

b) Der Anspruch als "Auskunftsbitte eigener Art"

157

V. Schlussfolgerungen

158

Felix Krupar: Die Blockchain im Prozessrecht – Möglichkeiten und Grenzen

161

I. Einleitung

161

II. Funktionsweise und Anwendungsbereiche

162

1. Grundlagen

163

2. Vertrauen durch Dezentralisierung

164

3. Aktuelle Anwendungsbereiche

165

a) Als Währungsersatz

165

b) Smart Contracts und dApps

166

c) In der öffentlichen Verwaltung

167

4. Technische Risiken

167

5. Andere Risiken

168

III. Umgang mit der Blockchain im Ausland

169

1. Rechtlicher Status in ausgewählten Ländern

169

a) China

169

b) Russland

170

c) Japan

170

d) Estland

171

2. Andere Länder und Projekte

171

IV. Situation in Deutschland

172

1. Mögliche Nutzung

172

2. Rechtliche Einordnung in Deutschland

173

a) Urkunde

174

b) Sachverständiger

175

c) Augenschein

175

3. Andere Anwendungsmöglichkeiten

176

V. Fazit

176

Martin Zwickel: Die digitale Strukturierung und inhaltliche Erschließung zivilprozessualer Schriftsätze im Spannungsfeld zwischen Parteiherrschaft und Richtermacht

179

I. Einführung in die Thematik und Begriffsbestimmungen

181

1. Einführung

181

a) Aufbau der Schriftsätze

181

b) Prozessablauf

181

c) Inhalte der Schriftsätze

182

2. Begriffsbestimmungen und Voraussetzungen

182

3. Spannungsfeld zwischen Parteiherrschaft und Richtermacht

183

II. Möglichkeiten der Strukturierung und inhaltlichen Erschließung zivilprozessualer Schriftsätze

184

1. Strukturierung

185

a) Vertikale Strukturierung (Abschichtung)

185

aa) Auslagerung der Sachaufklärung

185

bb) Online-Schlichtung als Vorschaltverfahren

186

cc) Abschichtung der Inhalte

187

dd) Partei- und Richterrolle bei vertikaler Strukturierung

187

b) Horizontale Strukturierung

187

aa) Formale Strukturierung

187

(1) Strenge Aufbauregeln

187

(2) Schriftsatzbeschränkungen

188

(3) Eingabeformulare

189

(4) Strukturmerkmale in Freitextschriftsätzen

190

(5) Zwischenergebnis

190

bb) Inhaltliche Strukturierung

190

(1) Zur Verfügung gestellte Prüfungsschemata und Strukturformulare

191

(2) Auslagerung der Strukturierungsaufgabe auf die Parteien

192

(3) Gemeinsames Verfahrensdokument

194

2. Inhaltliche Erschließung

195

a) Manuelle Unterstützung durch Fallbearbeitungssoftware und Texthandling

196

b) Einsatz von AI in der richterlichen Entscheidungsvorbereitung

196

aa) Automatisierte juristische Textanalyse

196

bb) Nachvollziehen von Pfadlogiken über die Anknüpfung von Expertensystemen

197

cc) Entscheidungsprognosen

197

dd) Automatisierte Schlüssigkeitsprüfung und deren Verlässlichkeit

198

3. Sanktionen

199

III. Grundmodell einer digitalen Strukturierung und Inhaltserschließung für den deutschen Zivilprozess

199

1. Anknüpfungspunkte und Grundlagen einer Strukturierung von Schriftsätzen

200

a) Anknüpfungspunkte für ein System der Schriftsatzstrukturierung und Schriftsatzerschließung

200

aa) Strukturierung im regulären Verfahren oder Sonderverfahren?

200

bb) Wie sollte die Strukturierung erfolgen?

200

cc) An welcher Stelle sollten Strukturierung und Inhaltserschließung erfolgen?

200

b) Grundlagen des gewählten Modells

201

2. Gestaltungsvorschlag für Elemente einer Schriftsatzstrukturierung im deutschen Zivilprozess

202

a) Horizontal strukturierte Klageschrift

202

b) Horizontal strukturierte Klageerwiderung

203

c) Automatisch erstellter Aktenspiegel und inhaltliche Erschließung im Rahmen der Verhandlungsvorbereitung

203

d) Zu jedem Schritt: Prozessleitende Maßnahmen des Gerichts

204

e) Ggf. vertikale Strukturierung und Sanktionen

204

IV. Fazit

204

Robert Magnus: Bild- und Tonaufnahmen von Gerichtsverfahren im digitalen Zeitalter

205

I. Einführung

205

II. Tonübertragungen in einen Arbeitsraum für Pressevertreter

208

III. Aufnahmen für wissenschaftliche und historische Zwecke

211

IV. Urteilsverkündungen der Bundesgerichte

214

V. Weitere Fragen der Digitalisierung

216

VI. Fazit

217

Autorenverzeichnis

219