Company & business offences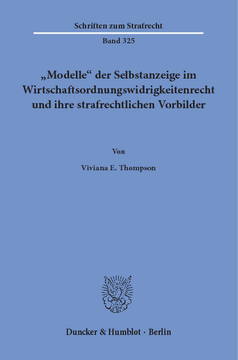 BOOK
»Modelle« der Selbstanzeige im Wirtschaftsordnungswidrigkeitenrecht und ihre strafrechtlichen Vorbilder
Schriften zum Strafrecht, Vol. 325
(2018)
Additional Information
Book Details
ISBN

978-3-428-55482-9
978-3-428-15482-1 (print edition)

DOI

https://doi.org/10.3790/978-3-428-55482-9

Edition

1

Language

German

Pages

267

Collections

Subjects
Pricing
Institution

€ 92.00 (incl. local VAT if applicable)

Individual

€ 71.90 (incl. local VAT if applicable)
About The Author
Viviana Thompson hat ihr Studium der Rechtswissenschaften an der Johannes Gutenberg-Universität Mainz und in Bristol (England) absolviert, in dessen Rahmen sie neben dem ersten Staatsexamen einen Magister des deutschen und englischen Rechts erwarb. Nach ihrem Referendariat in Mainz und Frankfurt a.M. war sie promotionsbegleitend als wissenschaftliche Mitarbeiterin am Lehrstuhl für Internationales Strafrecht der Julius-Maximilians-Universität Würzburg tätig. Im Anschluss nahm sie eine Tätigkeit als Rechtsanwältin in einer internationalen Großkanzlei in Frankfurt a.M im Bereich Wirtschaftsstrafrecht auf. Seit August 2018 ist sie Syndikusanwältin bei einer deutschen Förderbank.
Viviana Thompson studied law at the Johannes Gutenberg University in Mainz and in Bristol (England). In addition to her first state exam she also obtained a master's degree (Magister iuris) of German and English law. After her legal clerkship in Mainz and Frankfurt a.M., and whilst writing her doctoral thesis she worked as a research assistant at the Chair for International Criminal Law at the Julius-Maximilians-University in Würzburg. Thereafter she worked as a lawyer at an international law firm in Frankfurt a.M. in the white collar department. Since August 2018 she is an in-house lawyer at a German promotional bank.
Abstract
Mit § 22 Absatz 4 Außenwirtschaftsgesetz hat der Gesetzgeber im Jahr 2013 für bestimmte Ordnungswidrigkeiten des Außenwirtschaftsrechts eine neue Selbstanzeigemöglichkeit geschaffen. Aufgrund der überraschenden Einführung der Vorschrift und der damit aufgeworfenen Fragen besteht Anlass zu einer Betrachtung der Vorschrift im Einzelnen und einem Vergleich mit bisher bestehenden Selbstanzeigeregelungen, der Selbstanzeige für leichtfertige Steuerverkürzungen nach § 378 Absatz 3 Abgabenordnung und der Bonusregelung im Bereich des Kartellrechts. Dabei werden die Regelungen in einen Zusammenhang mit den Vorschriften tätiger Reue aus dem Strafrecht gesetzt. Die Autorin kommt zu dem Ergebnis, dass es sich bei den Selbstanzeigeregelungen des Wirtschaftsordnungswidrigkeitenrechts zwar um unterschiedliche Modelle von Selbstanzeigen handelt, sich diese jedoch strukturell aufgrund wesentlich gleicher Elemente in ein Gesamtsystem tätiger Reue einordnen lassen. »›Models‹ of Self-Disclosures in Administrative Offences Law and their Guiding Examples in Criminal Law«

The author examines the existing German legal provisions for self-disclosures of administrative offences in tax, antitrust and foreign trade law. The focus of the analysis lies on section 22 pargraph 4 of the German Foreign Trade Law (Außenwirtschaftsgesetz) introduced in 2013. Against the background of the existing regulations in German criminal law, the author incorporates the legal provisions into a system of active repentence (tätige Reue) and analysis their divergences.
Table of Contents
Section Title
Page
Action
Price

Vorwort

7

Inhaltsverzeichnis

9

Einleitung

15

I. Klarstellende Begriffsbestimmungen

17

II. Zum Verhältnis von Strafrecht und Ordnungswidrigkeitenrecht

20

III. Gang der Untersuchung

25

1. Teil: Vorbilder aus dem Strafrecht – Ein Überblick über die Rechtsinstitute der tätigen Reue im weiteren Sinn

27

A. Rücktritt vom Versuch nach § 24 StGB

27

I. Ratio legis des Rücktritts

28

II. Voraussetzungen des Rücktritts

30

1. Kein Fehlschlag

31

2. Anforderungen an die Rücktrittshandlung

31

3. Freiwilligkeit

33

a) Frank'sche Formel

34

b) Normative Lehren

34

c) "Psychologisierender Ansatz" der Rechtsprechung und einem Teil der Literatur

35

d) Zum Ausschluss der Freiwilligkeit durch Tatentdeckung

36

e) Schlussfolgerung

37

III. Rechtsnatur und Rechtsfolgen

37

IV. Abschließende Betrachtung

38

B. Die gesetzgeberische Ausgestaltung der Tätigen Reue im Strafgesetzbuch

39

I. Die einzelnen Regelungen zur Tätigen Reue \nim Strafgesetzbuch

40

II. Ratio legis der tätigen Reue im engeren Sinn

41

III. Wesentliche Voraussetzungen einer tätigen Reue im engeren Sinn

43

IV. Rechtsnatur und Rechtsfolgen der tätigen Reue im engeren Sinn

44

V. Abschließende Betrachtung

45

C. Selbstanzeigen im Strafrecht

46

I. Die steuerstrafrechtliche Selbstanzeige

46

1. Ratio legis der Selbstanzeige im Steuerrecht

48

2. Tatbestand des § 371 AO und des § 398a AO

50

a) Anwendungsbereich

51

aa) Steuerstraftat im Sinne von § 370 Abs. 1 AO

51

bb) Vorsätzliche Begehung

54

b) Wirksamkeitsvoraussetzungen der Selbstanzeige nach § 371 AO

54

aa) Berichtigungserklärung

55

(1) Anzeigeerstatter

55

(2) Adressat der Selbstanzeige

55

(3) Frist und Form der Selbstanzeige

56

(4) Inhalt der Selbstanzeige

57

(5) Kein Erfordernis der Freiwilligkeit

59

bb) Nachentrichtung

59

c) Ausschlussgründe der Selbstanzeige nach § 371 AO

61

aa) Bekanntgabe einer Prüfungsanordnung

61

bb) Bekanntgabe der Einleitung des Straf- oder Bußgeldverfahrens

62

cc) Erscheinen eines Amtsträgers

62

dd) Entdeckung einer der Steuerstraftaten

63

ee) Überschreiten der € 25.000-Grenze

66

ff) Vorliegen eines besonders schweren Falls der Steuerhinterziehung

67

d) Weitere Voraussetzung nach 398a AO bei Überschreiten der € 25.000-Grenze und bei Vorliegen eines besonders schweren Falls

67

3. Rechtsfolgen des § 371 AO und des § 398a AO

69

4. Abschließende Betrachtung

71

II. Die Selbstanzeige bei der Geldwäsche und der Verschleierung unrechtmäßig erlangter Vermögenswerte

72

1. Ratio legis der Selbstanzeige nach § 261 Abs. 9 S. 1 StGB

72

2. Voraussetzungen der Selbstanzeige nach § 261 Abs. 9 S. 1 StGB

73

3. Rechtsfolgen einer Selbstanzeige nach § 261 Abs. 9 S. 1 StGB

77

4. Abschließende Betrachtung

77

III. Die Selbstanzeige im Beitragsstrafrecht

77

1. Ratio legis der Selbstanzeige nach § 266a Abs. 6 StGB

78

2. Voraussetzungen der Selbstanzeige nach § 266a Abs. 6 StGB

79

3. Rechtsfolgen einer Selbstanzeige nach § 266a Abs. 6 StGB

82

4. Abschließende Betrachtung

84

IV. Die Selbstanzeige im Parteienstrafrecht

84

D. Weitere Regelungen zur Berücksichtigung tätiger Reue

86

I. Kronzeugenregelungen

86

1. Strafmilderung oder Absehen von Strafe nach § 31 BtMG

86

2. Hilfe zur Aufklärung / Verhinderung von schweren Straftaten nach § 46b StGB

87

3. § 153e StPO

88

II. Andere Strafzumessungsvorschriften zum Nachtatverhaltens des Täters

89

1. § 46 Abs. 2 S. 2 StGB

89

2. § 46a StGB und der Gedanke der Schadenswiedergutmachung

89

III. Regelungen tätiger Reue außerhalb des Strafgesetzbuches

90

1. § 22b Abs. 2 StVG

90

2. Absehen von einer Verbandssanktion nach § 5 des Entwurfs eines Verbandsstrafgesetzbuches

91

E. Conclusio: System und übergreifende Elemente der Rechtsfiguren der tätigen Reue

92

I. Zu Sinn und Zweck der Vorschriften

92

II. Die tatbestandlichen Elemente

93

III. Rechtliche Wirkungen

95

IV. Ergebnis

97

2. Teil: Selbstanzeigevorschriften im Wirtschaftsordnungswidrigkeitenrecht

98

A. Die Selbstanzeige im Steuerordnungswidrigkeitenrecht

99

I. Ratio legis

101

II. Der Tatbestand des § 378 Abs. 3 AO

101

1. Anwendungsbereich

102

a) Ordnungswidrigkeiten im Sinne von § 378 Abs. 1 AO i. V. m. § 370 Abs. 1 AO

103

b) Leichtfertige Begehung

105

2. Wirksamkeitsvoraussetzungen der Selbstanzeige

109

a) Berichtigungserklärung

109

aa) Geringerer Berichtigungsumfang

109

bb) Teilselbstanzeige

109

cc) Erstattung der Selbstanzeige durch Dritte

110

dd) Selbstanzeige während der Betriebsprüfung

110

b) Nachentrichtung

114

3. Ausschlussgrund

114

III. Rechtsfolgen

117

IV. Abschließende Betrachtung

118

B. Die Bonusregelungen des Kartellordnungswidrigkeitenrechts

119

I. Ratio legis der Kronzeugenprogramme und Rechtsnatur der Bonusregelung im Kartellrecht

122

1. Ratio legis

122

2. Rechtsnatur und Regelungscharakter

126

II. Die "Tatbestände" der Bonusregelung des Bundeskartellamts

128

1. Anwendungsbereich

129

2. Anwendungsvoraussetzungen

131

a) Bonusregelung nach Randnummer 3 der Bekanntmachung Nr. 9 / 2006

131

aa) Bonusantrag

131

bb) Erfüllung von Kooperationspflichten

138

cc) Kein Ausschlussgrund

140

b) Bonusregelung nach Randnummer 4 der Bekanntmachung Nr. 9 / 2006

142

aa) Unterschiedlicher Zeitpunkt

142

bb) Unterschiedliche Qualität der vorzulegenden Beweismittel

143

cc) Zusätzlicher Ausschlussgrund für die Gewährung des Bußgelderlasses

144

c) Bonusregelung nach Randnummer 5 der Bekanntmachung Nr. 9 / 2006

145

III. Die Rechtsfolgen

147

1. Die Rechtsfolgen der jeweiligen Bonusregelungen im Einzelnen

147

2. Hinweis auf sonstige Auswirkungen

149

IV. Abschließende Betrachtung

151

C. Die "Selbstanzeige" im Außenwirtschaftsrecht

152

I. Ratio legis des § 22 Abs. 4 AWG

154

II. Tatbestandliche Voraussetzungen des § 22 Abs. 4 AWG

156

1. Verstoß im Sinne des § 19 Abs. 2 bis 5 AWG

156

a) Zum System der neustrukturierten Straf- und Bußgeldvorschriften

157

b) § 19 Abs. 2 bis 5 AWG im Einzelnen

159

2. Fahrlässige Begehung

161

a) Abgrenzungsschwierigkeiten zum Eventualvorsatz

161

b) Mögliche Gegenkritik

163

3. Anzeige bei der zuständigen Behörde

165

a) Anzeigeerstatter

165

b) Zuständige Behörde

166

c) Form und zeitliche Dimension der Anzeige

167

d) Inhalt der Anzeige

168

4. Angemessene Maßnahmen zur Verhinderung eines Verstoßes aus gleichem Grund

170

a) "Angemessenheit" der Maßnahmen

171

aa) Beurteilungs- und Entscheidungsspielraum der Behörden

171

bb) Einzelfallbezogene Bestimmung der Angemessenheit

171

cc) Umsetzungsstandard für die Angemessenheit

173

dd) Anforderungen bei bereits "angemessener Compliance"

174

b) Zeitpunkt der Umsetzung der Maßnahmen

174

c) Möglichkeit des Verzichts auf die Voraussetzung des Treffens angemessener Maßnahmen für zuwiderhandelnde Mitarbeiter?

176

d) Verhinderung eines Verstoßes "aus gleichem Grund"

178

5. Aufdeckung des Verstoßes im Wege der Eigenkontrolle

179

a) Grundsätzliche Bedeutung

180

b) Aufdeckung im Wege der Eigenkontrolle auch bei Aufdeckung durch Unternehmensexterne?

181

c) Ausschluss durch jegliche behördliche Aufdeckung?

183

6. Kein Ausschluss nach § 22 Abs. 4 S. 2 AWG – Freiwilligkeit als weitere Tatbestandsvoraussetzung?

184

a) Freiwilligkeit als eigenständiges Merkmal neben der Voraussetzung der "Aufdeckung im Wege der Eigenkontrolle"

185

b) Freiwilligkeit als Tatbestandsvoraussetzung oder Ausschlussgrund?

186

c) Grundsätzliche Bedeutung der Freiwilligkeit in § 22 Abs. 4 S. 2 AWG

188

d) Annahme von Unfreiwilligkeit bei Aufnahme von Ermittlungen durch die zuständige Behörde

189

aa) Zuständige Behörde

190

bb) Ermittlungen

190

cc) Maßgeblichkeit der Kenntnis des Betroffenen von der Aufnahme der Ermittlungen?

191

III. Rechtsfolgen des § 22 Abs. 4 AWG

194

1. Zur Einordnung der Rechtsnatur

194

2. Persönliche Reichweite

196

3. Sachliche Reichweite

199

4. Zur rückwirkenden Anwendbarkeit

204

5. § 22 Abs. 4 S. 3 AWG

207

6. Ergebnis

208

IV. Abschließende Betrachtung

209

D. Conclusio

210

3. Teil: Die unterschiedlichen Modelle der Selbstanzeigevorschriften und ihre Gegenüberstellung als Grundlage für Überlegungen zu weiteren Regelungen im Ordnungswidrigkeitenrecht

211

A. Analyse und vergleichende Gegenüberstellung der betrachteten Selbstanzeigen im Wirtschaftsordnungswidrigkeitenrecht

212

I. Vergleich der Ratio legis

212

II. Vergleich der tatbestandlichen Voraussetzungen für Sanktionsfreiheit

214

1. Zugrundeliegender Verstoß

214

2. "Element der subjektiven Tatseite"

215

3. "Element der behebbaren Rechtsgutsbeeinträchtigung"

215

4. "Kausales Umkehrelement"

216

5. "Selbstbezichtigungselement"

218

6. "Freiwilligkeitselement"

219

7. "Element der Eigenaufdeckung"

221

8. Das neue "Element zukünftig wirkender Verhinderungsmaßnahmen"

222

9. Gegenüberstellung der Ausschlussgründe

223

III. Rechtsnatur und Rechtsfolgen im Vergleich

224

IX. Conclusio: Unterschiedliche "Modelle" in gemeinsamem System

225

1. Das "Fiskal-Modell"

226

2. Das "verwaltungsinterne Bonus-Modell"

226

3. Das "Compliance-Modell"

226

4. Ergebnis

227

B. Überlegungen zur Schaffung weiterer Selbstanzeigeregelungen

227

I. Potenzielle Zieldelikte als Bezugspunkte der Übertragbarkeit

228

II. Mögliche Ansätze in einer Diskussion zur Schaffung weiterer Selbstanzeigevorschriften

229

1. Übertragbare Ratio legis

229

2. Erst-Recht-Schluss aus dem Verhältnis von Straftaten und Ordnungswidrigkeiten

230

3. Verfassungsrechtliche Notwendigkeit einer Ausweitung von Selbstanzeigeregelungen unter dem Gesichtspunkt der Gleichbehandlung?

232

4. Vorzugswürdigkeit einer gesetzlichen Regelung vor einer Berücksichtigung von Selbstanzeigen nach § 47 OWiG?

234

5. Rechtspolitische Erwägungen

236

III. Ergebnis

239

Schlussbetrachtung

240

Literaturverzeichnis

244

Stichwortverzeichnis

263