Criminal law: procedure & offences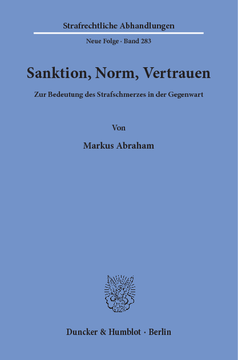 Additional Information
Book Details
ISBN

978-3-428-55328-0
978-3-428-15328-2 (print edition)

DOI

https://doi.org/10.3790/978-3-428-55328-0

Edition

1

Language

German

Pages

291

Collections

Subjects
Pricing
Institution

€ 92.00 (incl. local VAT if applicable)

Individual

€ 71.90 (incl. local VAT if applicable)
About The Author
Markus Abraham studierte Rechtswissenschaften an der Universität Passau. Er ist Habilitand und wissenschaftlicher Mitarbeiter am Lehrstuhl für Strafrecht und Rechtsphilosophie (Prof. Dr. Jochen Bung) an der Universität Hamburg.
Markus Abraham studied Law at the University of Passau. He works as postdoctoral fellow at the chair of criminal law and philosophy of law (Prof. Dr. Jochen Bung) at the University of Hamburg.
Abstract
Ist Strafe ohne Schmerzzufügung vorstellbar? Möglicherweise ist eine solche Strafpraxis sogar wünschenswert. Zwar stehen dagegen sowohl alltägliche Intuitionen wie auch elaborierte Rechtfertigungsversuche. Diese Intuitionen und Rechtfertigungen enthalten Richtiges, doch können sie die Notwendigkeit des Strafschmerzes nicht überzeugend begründen. Zu entwickeln ist daher, wie eine Transformation der gegenwärtigen Sanktionspraxis aussehen kann. Ein geeigneter Fluchtpunkt, so die vorgetragene Überlegung, liegt in der unserer Lebensform zugrunde liegenden Praxis des Gewährens und Entziehens von Vertrauen.

Die Arbeit wurde ausgezeichnet mit dem Promotionspreis der Fakultät für Rechtswissenschaft der Universität Hamburg zur Förderung herausragenden wissenschaftlichen Nachwuchses 2018. »Norm, Sanction, Faith«

Is it possible to think criminal law without the pain of punishment? This book aims to spell out this contra-intuitive idea in a constructive manner and in view of the significant counter-arguments. The author argues for a transformation of the present system of punishment with regard to our very basic human practice: the practice of granting and withdrawing trust.
Table of Contents
Section Title
Page
Action
Price

Vorwort

5

Inhaltsverzeichnis

7

A. Einleitung

11

I. Spiegelfechtereien

11

1. Die Ausfallhaftung der Strafrechts-Schulen

11

2. Fragwürdige Dualismen

12

II. Gang der Bearbeitung

16

III. Intuitive Begründungen für die Schmerzzufügung

18

1. Wer nicht hören will, muss fühlen

21

2. Ich hab's dir doch vorher gesagt

22

3. Eine ordentliche Abreibung hat noch niemandem geschadet

23

4. Die Aussicht auf Schmerzen verhindert Verbrechen

25

5. Willst du etwa Selbstjustiz?

27

6. Strafe ist's nur, wenn's weh tut!

28

7. Dem soll es doch nicht besser ergehen als den anderen Verbrechern

31

8. Strafen ist eben eine hässliche Angelegenheit

32

B. Straftheoretische Begründungsvorschläge

33

I. Intrinsische Begründungen: Der Strafschmerz ist im Unrecht

33

II. Strafschmerz im aufgeklärten Eigeninteresse (Norbert Hoerster)

44

1. Eine interessenstheoretische Fundierung der Strafpraxis

44

2. Probleme der generalisierenden Rechtfertigungsüberlegung

50

a) Wie der Blick auf die gesamte Praxis immunisiert

51

b) Das allseitige, hypothetische Interesse

52

3. Ergebnis

57

III. Klugheitsgrund und Opfersolidarisierung (Tatjana Hörnle)

58

1. Hybride Theorie aus Abschreckung und Tadelausdruck

58

2. Ankündigung von Nachteilen als Klugheitsgrund

63

a) Die unterstellte Legitimität des Drohens

63

b) Fairness

65

3. Ernsthaftigkeit durch Handfestigkeit

66

4. Ergebnis

71

IV. Schmerz für die Wirklichkeit der Norm (Günther Jakobs)

71

1. Konzeption von Individuum und Person in "Norm, Person, Gesellschaft"

71

2. Strafschmerz als objektivierter Widerspruch (1999)

76

3. Kognitive Untermauerung (2008)

79

a) Reformulierte, gespiegelte Abschreckungstheorie

79

b) Intellektueller Schadensersatz (Theodor Welcker)

85

c) Strafschmerz als notwendige kognitive Untermauerung

90

4. Zur Zwei-Welten-Hypothese – Worte und Schmerzen

92

a) Unterbelichtung des Einzelakteurs in der normativen Sphäre

93

b) Normativität durch Anerkennung (Hegel)

97

c) Schiffe und Anker

105

d) Zweifelhafte Zweiteilung

108

aa) Verzauberte Sprachverwendung

108

bb) Anders auffangbare Intuitionen

109

cc) Personalität von Gruppen

111

5. Der Einzelne, die Schuld und Fichte

112

6. Ergebnis

116

V. Die Pflicht zur Mitwirkung am gemeinsamen Projekt der Freiheit (Michael Pawlik)

118

1. Die Sekundärpflicht des illoyalen Bürgers

118

2. Mitwirken durch Strafschmerzen?

122

a) Das Verhältnis zwischen Mitwirkung und Freiheitsgenuss

123

b) Ermöglichung und Entzug von Freiheit: kein actus contrarius, sondern Demonstration

125

c) Substantialisierte Supraindividualität

127

3. Ergebnis

131

VI. Der Schmerz, der richtig stellt (Jean Hampton)

131

1. Strafe als Beseitigung des falschen Anscheins

131

2. Unterjochung des Unterjochers

136

VII. Strafschmerz als Einlösung der Notwehrpflicht (Victor Tadros)

139

1. Pflicht zur Notwehrduldung

139

2. Notwehr – Strafe: Übertragungshürden

142

3. Die Probleme, den Notwehrschmerz in den Strafschmerz zu transponieren

145

a) Kein erzwingbarer "Pflichtentauschvertrag"

146

aa) Normtheoretische Inkorrektheit des Pflichtentauschvertrages

147

bb) Intuitives Ergebnis auch ohne Pflichtentauschvertrag

149

cc) Zwischenergebnis: kein erzwingbarer Pflichtentauschvertrag vor Tatbegehung

151

b) Der Instrumentalisierungs-Erlaubnis-Erhaltungssatz

152

c) Kriminelle Intentionen sanft und sorgfältig vermeiden

155

d) Organhandel als unerwünschte Konsequenz

156

4. Ergebnis

157

VIII. Der Strafschmerz als Reue (Antony Duff)

158

1. Eine ideale politische Gemeinschaft

158

2. Probleme der schmerzlichen Reue

166

a) Ist das Abzielen auf Reue moralisch intrusiv?

166

b) Das Verhältnis von Reueschmerz und Strafschmerz

168

c) Zur Möglichkeit, Strafe als Buße zu interpretieren

171

3. Ergebnis

172

C. Strafen ohne Schmerzzufügung

173

I. Konventionalität des Strafschmerzes und Bindung der Worte

173

II. Sanktionalität und Normativität (Robert Brandom)

178

1. Was uns auszeichnet

178

2. Deontische Kontoführer

181

3. Interne Sanktionen: die Hütte und das Blatt

186

4. Am Grunde der Normen

188

5. Ergebnis zu Brandom

193

6. Locke und das ursprüngliche Strafrecht

194

III. Was es heißt, normativer Kontoführer zu sein

197

1. Kontoführen als Feststellen und Beobachten

197

a) Multiperspektivität und Vagheit

198

b) Die Leistung des Rechts

201

2. Kontoführen als Vertrauen: Warum ein guter Syllogist zu sein, nicht alles ist

204

a) Noch mehr Vertrauen beim Versprechen

207

b) Misstrauen als Sanktion – Sieben Fürsten

208

c) Spiel des Vertrauens

209

d) Staatliche Zertifikation

212

e) Rechtliches Misstrauen als Strafe

212

f) Zwischenergebnis

215

IV. Inklusion durch Gründe

216

V. Elektroschock

222

1. Körperstrafe im internationalen Recht

223

2. Die verlorene Kunst des Strafschmerzes?

226

VI. Stellung des Verletzten in der Straftheorie

230

1. Nicht: Opfer im Strafprozess

232

2. Opfer in der Straftheorie

233

3. Strafrecht des Opfers – Anspruch des Opfers auf Bestrafung

234

4. Zur Neutralisierung des Opfers – Zwei Narrative

237

5. Durchbrechung des Trennungsdogmas

240

VII. Praktische Entwicklungschancen

247

1. Idealisiert: Genereller Perspektivenwechsel

248

2. Konkrete Sanktionspraxis

250

a) Feststellungsfunktion

251

aa) Absehen von Strafe, § 60 StGB

251

bb) Verwarnung nach § 59 StGB

254

b) Verletzteninteressen

255

c) Bewährung

257

3. Abschied vom Strafschmerz

260

VIII. Schlussbetrachtung

262

1. Gründefolger, Kooperationsentzieher, Vertrauenssucher

262

2. Zwei offensichtliche Einwände

265

3. Refiduzierung

267

Literaturverzeichnis

270

Stichwortverzeichnis

288