Legal history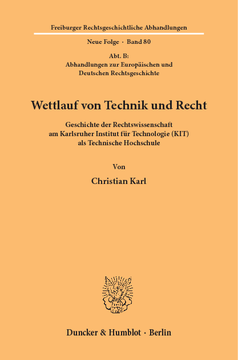 BOOK
Wettlauf von Technik und Recht
Geschichte der Rechtswissenschaft am Karlsruher Institut für Technologie (KIT) als Technische Hochschule. (Abt. B: Abhandlungen zur Europäischen und Deutschen Rechtsgeschichte)
Freiburger Rechtsgeschichtliche Abhandlungen. N. F., Vol. 80
(2018)
Additional Information
Book Details
ISBN

978-3-428-55420-1
978-3-428-15420-3 (print edition)

DOI

https://doi.org/10.3790/978-3-428-55420-1

Edition

1

Language

German

Pages

432

Collections

Subjects
Pricing
Institution

€ 138.00 (incl. local VAT if applicable)

Individual

€ 107.90 (incl. local VAT if applicable)
About The Author
Christian Karl studierte von 2006 bis 2012 Rechtswissenschaft an der Universität Mannheim und der University of the West of England (UWE) in Bristol. Er war studentischer Mitarbeiter am Institut für Deutsches, Europäisches und Internationales Medizinrecht, Gesundheitsrecht und Bioethik (IMGB) der Ruprecht-Karls-Universität Heidelberg und der Universität Mannheim. Nach seinem Referendariat am Landgericht Karlsruhe war er wissenschaftlicher Mitarbeiter am Zentrum für Angewandte Rechtswissenschaft / Institut für Wirtschafts- und Informationsrecht (ZAR/IIWR) am Karlsruher Institut für Technologie (KIT). Neben seiner Tätigkeit in den dortigen Forschungsgruppen »Patentrecht« und »Informationsrecht für technische Systeme und Rechtsinformatik« promovierte er bei Prof. Dr. Thomas Dreier, M.C.J., zum Thema »Wettlauf von Technik und Recht« an der Albert-Ludwigs-Universität Freiburg (Zweitgutachter: Prof. Dr. Frank L. Schäfer, LL.M. (Cambridge)). Christian Karl ist seit 2017 Rechtsanwalt in einer Boutique für Sport- und Wirtschaftsrecht in Karlsruhe.
Christian Karl studied law at the University of Mannheim and the University of the West of England (UWE) in Bristol. He spent his legal apprenticeship as a law clerk at the district court of Karlsruhe. Working as a scientific assistant at the Centre for applied legal studies (ZAR) / Institute for Information and Business Law (IIWR) at Karlsruhe Institute for Technology (KIT) he wrote his doctoral thesis on the »Race between technology and law«. Since 2017 Christian works as an attorney at a law firm in Karlsruhe which is specialised in business and sports.
Abstract
Die Korrelation der Kulturphänomene Technik und Recht wird im ersten Teil der Arbeit unter dem Schlagwort des »Technikrechts« als Querschnittsmaterie beleuchtet. Im zweiten Teil erfolgt eine Darstellung der Geschichte der Rechtswissenschaft am heutigen Karlsruher Institut für Technologie (KIT) seit Gründung des Großherzoglich Badischen Polytechnikums im Jahr 1825. Im Kontext dieser bislang wenig beachteten historischen Entwicklung, die sich in vergleichbarer Weise an allen heutigen Technischen Universitäten vollzog, kann das komplexe Verhältnis von Technik und Recht konkret nachvollzogen werden. In Forschung und Lehre an Technischen Universitäten ist die Rechtswissenschaft heute insbesondere in wirtschafts- und techniknahen, häufig auch informationsrechtlichen Bereichen, fest verankert. Anstelle des tradierten Wettlaufes von Technik und Recht verschmelzen beide Felder künftig weiter miteinander, was sich etwa in einem neuen Studiengang zum »Legal Tech Engineer« abbilden könnte. »The Race between Technology and Law«

The complex relation of the cultural phenomena technology and law is being examined from a historical perspective and reflected under consideration of the development of jurisprudence and law faculties at today's Technical Universities in Germany. A technical and business-oriented legal education and legal research have been taking place at these institutions for approximately 200 years, as an analysis of the development of law in the history of Karlsruhe Institute of Technology (KIT) and other comparable institutions demonstrates. With society's increasing technologisation and digitisation, this area of jurisprudence has become more significant overall. In research and teaching at Technical Universities, jurisprudence is therefore firmly rooted, especially in all areas of information law. The race between technology and law could therefore lead to an entwinement of technology and law which could be supported institutionally by a corresponding postgraduate course on »legal tech engineering« at Technical Universities, as it would already find multiple uses within many legal fields of work.
Table of Contents
Section Title
Page
Action
Price

Vorwort

5

Inhaltsverzeichnis

7

Abbildungsverzeichnis

12

Abbildung 1 – Dimensionen und Perspektiven der Technik, nach Ropohl, Erträge der interdisziplinären Technikforschung: Eine Bilanz nach 20 Jahren, S. 18.

47

Abbildung 2 – Programm der Polytechnischen Schule 1832, Archiv des KIT, IV, 01.–0.27. Pos: 472–503. Film Nr. 1.

139

Abbildung 3 – Struktur der Polytechnischen Schule um 1833 und Optionen im Anschluss an die beiden obligatorischen, allgemeinen Mathematischen Klassen.

140

Abbildung 4 – Vorträge aus der Rechtsanwaltschaft, Anschlag am "schwarzen Brett" WS 1932 / 33, KIT-Archiv (KITA), IV, 71–85, Pos: 584–599, Film Nr. 7.

187

Abbildung 5 – Reklameseite im Einband von Das Recht im NS-Weltbild, in: Neugestaltung von Recht und Wirtschaft, Leipzig 1934.

230

Abbildung 6 – Lehrangebot Rechtswissenschaft, Vorlesungsverzeichnis 1971, S. 210, 240.

246

Abbildung 7 – BNN vom 09.02.1972.

249

Abbildung 8 – KITA, 23004–10, Hinweis Prof. Schultes auf das Fehlen des Datenschutz- und Umweltrechts 1988.

257

Abbildung 9 – KITA, 23004–10, Auflistung des juristischen Lehrangebotes 1988.

258

Abbildung 10 – KITA, 23004–10, Zuordnung des jur. Lehrangebotes zu Studiengängen 1988.

259

Abbildung 11 – KITA, 23004–10, Vermerk Prof. Schulte vom 06.02.1995.

267

Abbildung 12 – Entwicklung der absoluten Studierendenzahlen am KIT, Quelle: KIT-PST (2015).

298

Abkürzungsverzeichnis

13

Vorbemerkung

17

Teil 1: Korrelation von Technik und Recht

19

A. Einleitung

19

I. Ausgangssituation der Rechtswissenschaft

19

II. Vorüberlegungen zur juristischen Lehre an einer Technischen Universität

22

III. Vorüberlegungen zur juristischen Forschung an TUs

25

IV. Gang der Untersuchung und Thesen

28

B. Historische Wechselwirkung von Technik und Recht

33

I. Technik, Ökonomie und Recht im Zeichen der Technikgeschichte

33

II. Technisierung als kultureller Faktor – Staatsaufgabe Technikbewältigung

46

1. Vielfältige, historische Wirkdimensionen von Technik

46

2. Einfluss des Rechts auf Innovation – Technikbegrenzung und -förderung

54

3. Wechselwirkung von gesellschaftlicher Realität und Recht

60

III. Die Regeln der Technik – Flexibilität und Kooperation

63

C. "Technikrecht" als weite Querschnittsmaterie

69

I. Begriff des Technikrechts

69

II. Diametrale Ziele des Technikrechts

74

D. Der "legal lag" – Steuerung des Wettlaufs von Technik und Recht

76

I. Vorsprung der Technik im Dreiecksverhältnis mit Ökonomie und Recht

76

II. Erklärungsansätze

79

III. Lösungsstrategien

83

1. Flexibilität und Wahrung rechtlicher Grundwerte

83

2. Innovative Regelungskonzepte

84

3. Interdisziplinär-wissenschaftliche Optionen der Rechtsinformatik

89

IV. Von der techniknahen Folgen- zur Innovationsregulierung

91

1. Plurales Technikrecht und Steuerungsstrategien in der Risikogesellschaft

91

2. Technikrecht als Ausdruck notwendiger Innovationsregulierung

95

3. Technikrecht als Paradigma distribuierter Wissenschaftserfahrung

100

E. Schlussfolgerungen für das Recht und die Rechtswissenschaft

103

I. Rechtswissenschaftliche Begleitung von Recht und Innovation

103

II. Rechtswissenschaft im klassischen universitären Umfeld

105

III. Sonderfall: Rechtswissenschaft im Umfeld Technischer Universitäten

110

1. Rechtswissenschaftliche Forschung an der Technischen Universität

110

2. Rechtswissenschaftliche Lehre an der Technischen Universität

113

Teil 2: Geschichte der Rechtswissenschaft in Karlsruhe

19

A. Von der Gründung der Polytechnischen Schule zum KIT

119

I. Polytechnische Schulen als institutioneller Vorläufer

119

II. Der Standort Karlsruhe um 1800

124

III. Vom Großherzoglichen Polytechnikum zum KIT

126

1. Das Polytechnikum zu Karlsruhe

126

2. Über die Technische Hochschule Karlsruhe zur Universität Karlsruhe (TH)

131

3. Das Karlsruher Institut für Technologie (KIT)

132

B. Indikator der frühen Industrialisierung (1825–1871)

133

I. Frühformen rechtswissenschaftlichen Unterrichts

133

II. Frühe rechtswissenschaftliche Einflüsse am Polytechnikum in Karlsruhe

137

1. Einflüsse auf die Forstschule

141

2. Einflüsse auf die Gewerbeschule

142

3. Einflüsse auf die Handelsschule

144

4. Einflüsse auf die Ingenieurs- und die Bauschule

144

5. Erste patentrechtliche Inhalte

145

III. Ausdifferenzierung im Zeichen der zeitgenössischen Wirtschaft

147

1. Das Polytechnikum bis 1871

147

2. Bedeutung des Postwesens

149

3. Rekonstruktion juristischer Lehrinhalte am Polytechnikum

149

IV. Historische Doppelfunktion der Juristen: Amt des Rechtsbeirates

152

V. Patentprüfung und frühe "Politikberatung" der Polytechnischen Schule

154

VI. Vergleich: weitere Institutionen

157

C. Die Rechtswissenschaft an der TH im Kaiserreich

158

I. "Sattelzeit" der deutschen Wirtschaftsrechtsgeschichte

158

1. (Staats-)Rechtliche Entwicklungen und juristische Innovationen

158

2. Evolutionen der Rechtswissenschaft

161

II. Rechtswissenschaft am Polytechnikum bzw. der TH Karlsruhe

162

1. Zwischenzeitliche Reduktion der Rechtswissenschaft und die Soziale Frage

162

2. Formelle Neuordnung: Sektion für allgemeinbildende Fächer ab 1895

167

3. Inkrafttreten des BGB 1900 – Abbild an der Technischen Hochschule Karlsruhe

169

III. Vergleich: weitere Institutionen

171

D. Erster Weltkrieg – Kriegswirtschaftsrecht

174

I. Rechtliche Innovationen

174

II. Rechtswissenschaft an der TH Karlsruhe

176

E. Weimarer Republik

179

I. Entstehung des modernen Wirtschafts(verfassungs)rechts

179

II. Auswirkungen auf die TH Karlsruhe

181

III. Vergleich: weitere Institutionen

187

F. "Drittes Reich" und Zweiter Weltkrieg

188

I. Umgestaltung von Recht und Rechtswissenschaft

188

II. Recht und Rechtswissenschaft aus Perspektive der Technischen Hochschule

191

1. Gleichschaltung und Neuausrichtung der Fridericiana

191

2. Entwicklung der Rechtswissenschaft an der Fridericiana

193

3. Biographisches: Prof. Dr. Karl Ludwig Asal (1889–1984)

197

4. Biographisches: Prof. Dr. Hans Furler (1904–1975)

199

III. Vergleich: weitere Institutionen

204

G. Nachkriegszeit

206

I. Wiederaufbau und Gründung der Bundesrepublik Deutschland

206

II. Entwicklung an der TH Karlsruhe

206

III. Vergleich: weitere Institutionen

212

H. 40 Jahre Lehrstuhlgeschichte – Keine juristische Fakultät

214

I. Lehrstuhl für Rechtswissenschaft in Karlsruhe – Prof. Schmelzeisen

214

1. Lehrstuhlbetrieb von 1961 bis 1968

214

a) Herausforderungen im Rahmen der Lehrstuhlgründung

214

b) Erste Gründungsversuch einer juristischen Fakultät an der TH Karlsruhe

219

c) Juristische Lehre an der TH Karlsruhe von 1961 bis 1968

221

d) Juristische Forschung an der TH Karlsruhe von 1961 bis 1968

223

e) Noch keine Bezüge zum Institut für Regionalwissenschaften

224

2. Biographisches: Prof. Dr. Gustaf Klemens Schmelzeisen (1900–1982)

225

3. Juristisches Werk Schmelzeisens 1933 bis 1945

229

a) Zusammenfassung weltanschaulich-ideologischer juristischer Schriften

229

b) Dogmatische Arbeiten Schmelzeisens

234

c) Bewertung

235

II. Institut für Rechtswissenschaft in Karlsruhe – Prof. Dr. Hans Schulte

243

1. Lehrstuhl- und Institutsbetrieb von 1968 bis 1998

243

a) Vom Amt des "Rechtsbeirates" zur Rechtsabteilung

243

b) Juristische Lehre und Forschung von 1969 bis 1980

245

c) Reformfakultät zur einstufigen Juristenausbildung in Karlsruhe?

247

d) Mittelknappheit und Schwierigkeiten der Personalfindung

248

e) Der Lehrstuhlbetrieb und allgemeine Strukturreformen in den 1980er-Jahren

250

f) Juristische Lehre um 1988: Wegweisende Ansätze eines modernen IT-Rechts

256

g) Gemeinsames Institut für Umweltrecht mit dem Forschungszentrum ab 1990?

261

h) Letztmalige Bestrebungen zur Fakultätsgründung um 1992

264

i) Das Institut für Rechtswissenschaft um 1995

266

2. Biographisches: Prof. Dr. Hans Schulte

269

III. Vergleich: weitere Institutionen

270

IV. Zusammenfassung der Nachkriegsgeschichte

273

Teil 3: Entwicklungen im Zeichen der Digitalisierung

275

A. Das Zentrum für Angewandte Rechtswissenschaft (ZAR) / Institut für Informations- und Wirtschaftsrecht (IIWR)

275

I. Gründung und Ziele des ZAR Ende der 1990er-Jahre

275

II. Schwerpunkte in Lehre und Forschung am ZAR

283

1. Institut für Informations- und Wirtschaftsrecht (IIWR): Lehrstuhlbetrieb

283

2. Forschungsgruppe Informationsrecht für technische Systeme und Rechtsinformatik (ITR)

290

3. Forschungsgruppe Patentrecht

293

4. Aktuelle Entwicklungen

295

III. Mitwirkung am innovativen Institut für Technikzukünfte (ITZ)

298

IV. Institutionelle Sonderstellung des ZAR

299

B. Vergleich: Die techniknahe Rechtswissenschaft 2017

302

I. Rechtswissenschaft an Technischen Universitäten

302

II. Jurafakultäten an klassischen Universitäten: Hinwendung zur Technik?

307

Teil 4: Ergebnis und Schlussfolgerungen

310

I. Zur Wechselwirkung von Technik und Recht

310

Schlussfolgerung zu These 1:

310

Schlussfolgerung zu These 2:

311

Schlussfolgerung zu These 3:

313

Schlussfolgerung zu These 4:

314

Schlussfolgerung zu These 5:

316

II. Zusammenfassung juristische Lehre und Forschung an der TU

318

Schlussfolgerung zu These 6:

318

III. Ausblick

323

Teil 5: Anhang

328

I. Dozentenliste mit Lehrkanon

328

II. Publikationslisten ausgewählter Dozenten und Professoren

350

III. Historische Momentaufnahmen: Jura an THs um 1910

393

IV. Studierendenzahlen am heutigen KIT insgesamt (Stichproben)

397

V. Aktuelle Studierendenzahlen am ZAR / IIWR (Stichprobe)

398

1. Klausuranmeldungen

398

2. Seminaranmeldungen

405

3. Teilnehmerzahlen "privatrechtliche Übung"

406

VI. Verzeichnis der verwendeten Archivalien und Statistiken

406

Literaturverzeichnis

408

Personen- und Sachverzeichnis\r

428