Islamic groups: Sunni, Alsalaf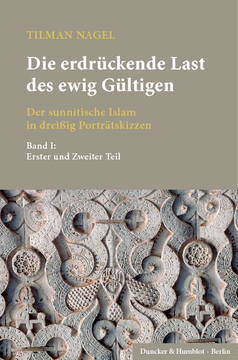 BOOK
Die erdrückende Last des ewig Gültigen
Der sunnitische Islam in dreißig Porträtskizzen. 2 Teilbände. Bd. I: Erster und Zweiter Teil; Bd. II: Dritter und Vierter Teil
(2018)
Additional Information
Book Details
ISBN

978-3-428-55227-6
978-3-428-15227-8 (print edition)

DOI

https://doi.org/10.3790/978-3-428-55227-6

Edition

1

Language

German

Pages

1322

Collections

Subjects
Pricing
Institution

€ 116.00 (incl. local VAT if applicable)

Individual

€ 89.90 (incl. local VAT if applicable)
Abstract
In Sure 6, Vers 38, wird dem Muslim versichert, dass Allah im Koran »nichts ausgelassen« habe. Diese Worte beziehen sich auf Allahs Kenntnis von allen Vorgängen in seiner Schöpfung. Im sunnitischen Islam liest man aus ihnen heraus, dass Allah im Koran und in den durch ihn selber inspirierten Worten und Taten Mohammeds das Geschehen in der Welt und die Daseinsordnung der Menschen vollständig und endgültig dargelegt habe. Das Sunnitentum, das dank dem Auftreten des Propheten Wirklichkeit geworden sei, verkünde seit dessen Tod diese unveränderliche Wahrheit und stehe für deren Anwendung gerade.

In der quellennahen Studie analysiert Nagel die theologischen und gesellschaftsbezogenen Grundideen von dreißig Personen, die für die Geschichte des sunnitischen Islams von erstrangiger Bedeutung waren. Es wird erstmalig sichtbar, wie sich über Jahrhunderte das sunnitische Selbstverständnis herausgebildet hat und welchen Veränderungen es unterlag. Die gebührende Aufmerksamkeit widmet Nagel dem Sunnitentum der Neuzeit und legt dabei die mittelalterlichen Wurzeln frei, aus denen dessen Charakteristika wuchsen. »The Crushing Burden of Eternal Directives«

The publication is the first comprehensive study of the most important religious and political group within Islam. The author identifies four major stages of the history of Sunnism: 1. It took about four centuries until Sunnism succeded in being recognized as the legitimate continuation of the Medinian community founded by the prophet Mohammed. 2. This success enabled Sunnism to overcome the challenge of the philosophical traditions of antiquity. 3. Since the 13th century A.D. the belief that Mohammed was still present among the Sunni moslems became widely spread. 4. Yet it is already since the 11th century that we can trace out the denial of that popular tenet, a denial which has become characteristic of contemporary Sunnism.
Table of Contents
Section Title
Page
Action
Price

Vorwort

5

Inhaltsverzeichnis

9

Einführung: Koranische Grundlagen der islamischen Heilsgewißheit

17

1. Die "beste Gemeinschaft"

17

2. Die Heilsbotschaft des Islams

20

3. Die "Gemeinwesenreligion" und ihr weltweiter Geltungsanspruch

31

4. Der ganze Erdboden, ein Ort des rituellen Gebets

39

5. Zusammenfassung der Grundzüge der mohammedschen Verkündigungen

51

Erster Teil: Die Einhegung des Daseins durch die ewige Wahrheit

57

Zu den biographischen Skizzen des ersten Teils

59

I. ʿUmar b. al-Ḫaṭṭāb (ca. 583–644) – Der Befestiger der Macht des Islams

72

1. Die Sehnsucht nach dem idealen Muslim

72

2. Mohammed und ʿUmar

73

3. ʿUmar b. al-Ḫaṭṭāb als Herrscher

80

4. Ausblick

90

II. ʿAlī Ibn abī Ṭālib (ca. 600–660) – Schwiegersohn des Propheten, Ahnherr der Schia

92

1. ʿAlīs Stellung zu Lebzeiten Mohammeds

92

2. Die politische Entwicklung bis zum Kalifat ʿAlīs

94

3. Die Wiederkehr Mohammeds

100

4. Die Ermordung ʿUṯmāns und das Kalifat ʿAlī b. abī Ṭālibs

102

5. ʿAlī, Zauderer oder Kämpfer?

107

III. ʿAbd al-Malik b. Marwān (646–705) – Der Erbauer des Felsendoms

110

1. Der Aufstieg des Propheten in die sieben Himmel

110

2. Der neue Glaube und die Macht der Stämme

118

3. Das Ende der Kampfgemeinschaft

124

4. Die "einträchtige Gemeinschaft" der Muslime

129

5. Erste Spuren des ḥadīṯ

133

6. Der Felsendom und die "fünf Säulen des Islams"

136

IV. Hārūn ar-Rašīd (766–809) – Die "goldene Zeit" des islamischen Reiches?

142

1. Die Märchengestalt

142

2. Der zwielichtige Weg zum Kalifat

143

3. Verdeckte Schwierigkeiten und äußerer Glanz

148

5. Vorboten eines sunnitischen Rechtssystems

153

6. Der Sturz der Barmakiden

158

7. Eine Epoche des Übergangs

162

V. Aš-Šāfiʿī (767–820) – Die Mohammedanisierung des Daseins

165

1. Eine vielbesuchte Grabstätte

165

2. Ein Lebenslauf in der Epoche der Vollendung der Prophetenüberlieferung

166

3. Die vermeintliche Unzulänglichkeit des Überlieferten

167

4. Das Eindringen des ḥadīṯ in die Praxis

171

5. Die theoretische Durchdringung der Anwendung des ḥadīṯ

176

6. Die Tragweite der Lehren aš-Šāfiʿīs

186

VI. Muḥammad b. Ismāʿīl al-Buḫārī (810–870) – Das "gesunde" ḥadīṯ

188

1. Worum es geht

188

2. Das "gesunde" ḥadīṯ

190

3. Zur Entstehungsgeschichte des "gesunden" ḥadīṯ

205

4. Der islamische Kosmos

213

5. Al-Buḫārīs Theologie

220

6. Der Mann an der Wende der sunnitischen Geschichte

229

VII. Abū l-Ḥasan al-Ašʿarī (gest. 935) – Die Grenze zwischen göttlichem und geschaffen werdendem Sein

238

1. Ein Bekehrungserlebnis?

238

2. Die Billigung des rationalen Argumentierens

242

3. Sunnitische Metaphysik

245

4. Die "rituell Betenden"

255

5. Die aschʿaritische Schule

260

VIII. Abū ʿAbd ar-Raḥmān as-Sulamī (936–1021) – Die Vertiefung der sunnitischen Frömmigkeit

265

1. Mohammeds frömmste Genossen

265

2. Die Geschichte der vertieften Frömmigkeit

269

3. Bruderschaft und Entmächtigung des Selbst

276

Anmerkungen zum ersten Teil

288

Zweiter Teil: Fluchtwege: Die Wirklichkeit und das verborgene Sein

313

Zu den biographischen Skizzen des zweiten Teils

315

1. Rückblick

315

2. Die Thematik des zweiten Teils

319

Exkurs über den verborgenen Seinsbereich

325

Fortsetzung des Überblicks über die Thematik dieses Teils

330

IX. Avicenna (Ibn Sīna) (980–1037) – Die Entdeckung der Seele

334

1. Die Seele und der Tod

334

2. Die Ungewißheit des Jenseitsschicksals

337

3. Die Seele als in sich selber subsistierende geistige Substanz

340

4. Vertiefung der gewonnenen Einsicht

347

5. Die Vollendung

352

X. Ibn Ḥazm (994–1064) – Ein sunnitischer Rechtsgelehrter liest das Neue Testament

363

1. Eine Religionsgeschichte der Menschheit

363

2. Die vermeintliche Bodenlosigkeit der christlichen Überlieferung

367

3. Genealogie und Gemeinwesen als Voraussetzungen für Überlieferung

374

4. Allahs Wort und das Schöpfungswerk

377

5. Der Mensch in der Schöpfung

381

XI. Al-Ġazālī (1058–1111) – Die Krise der sunnitischen Heilsgewißheit

384

1. Politischer Triumph und innere Widersprüchlichkeit des Sunnitentums

384

2. Der Wahrheitsanspruch des Überlieferten

387

3. Die Wiederherstellung der Einheit von Wissen und Handeln

395

4. Philosophie und Urreligiosität

399

5. Urreligiosität und Nachahmung des Propheten

405

6. Die erneuerte Eingottbezeugung

409

7. Wiedererrungene Heilsgewißheit

413

8. Angst vor der eigenen Courage

420

XII. ʿAbd al-Qādir al-Ǧīlānī (1077–1166) – Das Verborgene im Offenkundigen

424

1. Ein befremdlicher Text

424

2. ʿAbd al-Qādirs Berufung

426

3. ʿAbd al-Qādir und das Hanbalitentum

430

4. Die Zugegenheit Allahs in seiner Schöpfung

436

5. Bürgen der Zugegenheit: \rdie Gottesfreunde und ihre Hierarchie

448

XIII. Saladin (Ṣalāḥ ad-Dīn) (1138–1193) – Ein Streiter für den sunnitischen Islam

457

1. Die Idealisierung Saladins

457

2. Die Kreuzzüge und die Anfänge der Aijubiden

459

3. Legitime sunnitische Machtausübung und Dschihad

461

4. Saladins Herrschaft über Ägypten

468

5. Die syrischen Affären und das Bagdader Kalifat

473

6. Der scheinbare Triumph

477

7. Saladins Erbe

481

XIV. Faḫr ad-Dīn ar-Rāzī (1149–1210) – Die autoritativen Texte und der Verstand des Menschen

483

1. Beschreibung eines schwierigen Verhältnisses

483

2. Die Wahrheit der durch den Verstand gewonnenen Erkenntnisse

486

3. Die Grundlage der Heiligung

495

4. Ein vergleichender Blick auf Averroes (1126–1198)

504

5. Faḫr ad-Dīn ar-Rāzī und Avicenna

513

6. Faḫr ad-Dīn ar-Rāzī und seine Bedeutung \rfür das Sunnitentum

521

XV. Ibn ʿArabī (1165–1240) – Die eigentliche Wahrheit des Islams

527

1. Der Verworfene

527

2. Die Vollendung des Islams

528

3. Ibn ʿArabīs Vorstellung vom Kosmos

533

4. Die Heilssicherheit des Geschaffenwerdenden

541

5. Die mohammedsche Ausprägung des Wissens

555

6. Die Entmächtigung der Textgelehrsamkeit

561

7. Rückblick und Ausblick

564

Anmerkungen zum zweiten Teil

567

Inhaltsverzeichnis

VI

Dritter Teil: Der Äon des fleischgewordenen Mohammed

589

Zu den biographischen Skizzen des dritten Teils

591

1. Zweimal Mohammed

591

2. Von Kaʿb b. Zuhair zu al-Būṣīrī

599

2. Zu den Biographien des dritten Teils

617

XVI. Abū Zakarjā an-Nawawī (1233–1277) – Die alltägliche und die numinose Kraft des ḥadīṯ

622

1. Die Wiesen der Frommen

622

2. Das Gottesgedenken und der Alltag

633

3. Die ḥadīṯ-Gelehrsamkeit

645

4. An-Nawawī und die Machthaber

655

XVII. Ibn Taimīja (1263–1328) – Das Vorbild der Altvorderen

663

1. Streit um des Streites willen?

663

2. Allah auf dem Thron

665

3. Gegen Ibn ʿArabīs Lehre von der "Vereintheit des Seins"

674

4. Hören vor Sehen

677

5. Gehorchen

684

XVIII. Ibn Ḫaldūn (1332–1406) – Das verborgene Wesen der Geschichte

693

1. Der Mißbrauch eines Gelehrten

693

2. Grundlagen seines geistigen Profils

695

3. Ein Lebenslauf in unruhiger Zeit

699

4. Grundzüge der Ideen Ibn Ḫaldūns, erster Teil

704

5. Grundzüge der Ideen Ibn Ḫaldūns, zweiter Teil

708

6. Grundzüge der Ideen Ibn Ḫaldūns: dritter Teil

717

XIX. Al-Maqrīzī (1363–1442) – Unsicherheit und Sicherheit des Daseins

725

1. Zuckermonopol

725

2. Die Herrschaft der Mamluken

727

3. Die Kosten des Militärs und der Wert des Geldes

730

4. Gründe für den Niedergang

736

5. Al-Maqrīzī und die Geschichte

739

XX. Ǧalāl ad-Dīn as-Sujūṭī (1445–1505) – Die Gegenwärtigkeit Mohammeds unter den Muslimen

753

1. In Freiheit vor Allah?

753

2. Ein sunnitisches Gelehrtenleben

754

3. Der Streit mit dem Rivalen

757

4. Zwei Auffassungen von der Gegenwart der verstorbenen Propheten

760

5. Der sunnitische Kosmos

764

6. Die Welt der Toten und die Welt der Dämonen

769

7. Die Warnung der Gebildeten vor den Lügen der Erzähler

776

XXI. Ibn Ḥaǧar al-Haitamī (1504–1566) – Eine Βestandsaufnahme des sunnitischen Islams

786

1. Hören geht vor Sehen

786

2. Ein Blick in die Geschichte des Sunnitentums

794

3. Muʿāwija und die Verschiebung des Weltenendes

806

4. Mohammed, der Garant der Fortdauer der islamischen Geschichte

816

XXII. ʿAlī b. Burhān ad-Dīn al-Ḥalabī (1567 / 8–1635) – Sunnitische Gelehrsamkeit und ihr spiritueller Boden

824

1. Sunnitische Gelehrsamkeit – der Verstand im Käfig des Wissens

824

2. Wort und Wirklichkeit

833

3. ʿAlī b. Burhān ad-Dīn, der Bruder

837

Anmerkungen zum dritten Teil

846

Vierter Teil: Die Reform des sunnitischen Islams \rund ihre Reichweite

869

Zu den Portraits des vierten Teils

871

1. Wider die Vermittlerinstanzen

871

2. Die sunnitische "Objektivität"

877

3. Die Reform des sunnitischen Islams

892

4. Sunnitischer Islam ohne die Schariagelehrten?

896

5. Gamāl ʿAbd an-Nāṣir (Nasser), ein Verfechter des Säkularismus?

902

6. Der islamische Staat

918

7. Eine vom Westen induzierte "Moderne"?

924

XXIII. Muḥammad b. ʿAbd al-Wahhāb (1702 / 3–1792) – Die Reform des sunnitischen Islams, erster Teil

934

1. Die Drei Prinzipien, ein Schulungstext

934

2. Die Lehre von der Einsheit Allahs

942

3. Geistiger Kampf

952

4. Der Kampf mit der Waffe

960

XXIV. Muḥammad ʿAlī (1769–1849) – Die befohlene Modernisierung

966

1. Die Meinung eines Reisenden

966

2. Die Anfänge der Herrschaft Muḥammad ʿAlīs

967

3. Ägyptens Eintritt in die große Politik

970

4. Die erzwungene Blüte der Wirtschaft

973

5. Der Krieg gegen den Sultan

977

6. Die Deutungshoheit der sunnitischen Gelehrten

980

7. Eine mehrdeutige Bilanz

991

XXV. Muḥammad ʿAbduh (1849–1905) – Die Reform des sunnitischen Islams, zweiter Teil

995

1. Scharfe Kritik an Muḥammad ʿAlī

995

2. Die Abhandlung über die Einsheit

999

3. Die Islamisierung der Menschheit und der Stillstand der Geschichte

1010

4. Wider die Rechtsschulen und wieder die Spiritualität

1022

5. Muḥammad ʿAbduh in der Auslegung Muḥammad Rašīd Riḍās

1028

XXVI. Amīn al-Ḫūlī (1895–1966) – Die Wahrheit der Botschaft des Korans

1034

1. Eine zurückgewiesene Doktorarbeit

1034

2. Amīn al-Ḫūlī und die "Entwicklung" des Religiösen

1041

3. Die zwei Ebenen der Botschaft des Korans

1049

4. Zur Rezeption der Lehren Amīn al-Ḫūlīs

1057

XXVII. Saijid Quṭb (1906–1966) – Die ewige Wahrheit des Islams

1065

1. Eine Auslegung von Sure 6, Vers 74 bis 94

1065

2. Die gerechte, die islamische Gesellschaft

1073

3. "Die Zukunft gehört dem Islam"

1086

4. Die Zeichen auf dem Weg zum Triumph

1094

XXVIII. Abū l-Aʿlā Maudūdī (1903–1979) – Der islamische Staat

1100

1. Die Unverträglichkeit des Islams

1100

2. Auf dem Weg zu einer islamischen Gesellschaft

1104

3. Eine sunnitische Revolution?

1114

4. Der islamische Staat

1119

XXIX. Muḥammad Mutawallī aš-Šaʿrāwī (1911–1998) – Der Erlebnishorizont der sunnitischen Weltauslegung

1132

1. Eine segensreiche Herkunft

1132

2. Für die Anerkennung des Verborgenen streiten

1137

3. Mohammed

1146

4. Durch Fremdbestimmung zur Freiheit der Entscheidung?

1157

5. "Die Rückkehr des Geistes"

1162

XXX. Muḥammad ʿĀbid al-Ǧābirī (1935–2010) – Und der Koran ist doch die Wahrheit!

1169

1. Die Verleihung des Ibn Ruschd-Preises an al-Ǧābirī, eine deutsche Szene

1169

2. Arabische Rationalität

1175

3. Die Aufhebung der Ungleichzeitigkeit

1188

4. Der Koran ist ewig wahr

1194

Epilog

1207

Anmerkungen zum vierten Teil

1227

Indices

1264

I. Themen

1264

II. Personen

1282

III. Zitierte bzw. erwähnte Koranverse

1292

IV. Arabische Termini

1300

Zur Transliteration der arabischen Wörter

1307