Property law: general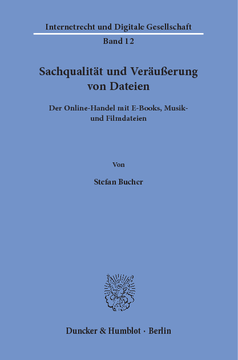 BOOK
Cite BOOK
Style
---
Bucher, S. (2018). Sachqualität und Veräußerung von Dateien. Der Online-Handel mit E-Books, Musik- und Filmdateien. Duncker & Humblot. https://doi.org/10.3790/978-3-428-55543-7
Bucher, Stefan. Sachqualität und Veräußerung von Dateien: Der Online-Handel mit E-Books, Musik- und Filmdateien. Duncker & Humblot, 2018. Book. https://doi.org/10.3790/978-3-428-55543-7
Bucher, S, (2018): Sachqualität und Veräußerung von Dateien: Der Online-Handel mit E-Books, Musik- und Filmdateien, Duncker & Humblot, [online] https://doi.org/10.3790/978-3-428-55543-7
---
Format
---
Sachqualität und Veräußerung von Dateien
Der Online-Handel mit E-Books, Musik- und Filmdateien
Internetrecht und Digitale Gesellschaft, Vol. 12
(2018)
Additional Information
Book Details
ISBN

978-3-428-55543-7
978-3-428-15543-9 (print edition)

DOI

https://doi.org/10.3790/978-3-428-55543-7

Edition

1

Language

German

Pages

226

Collections

Subjects
Pricing
Institution

€ 80.00 (incl. local VAT if applicable)

Individual

€ 62.90 (incl. local VAT if applicable)
About The Author
Stefan Bucher studierte Rechtswissenschaften an der Julius-Maximilians-Universität Würzburg. Anschließend war er als wissenschaftlicher Mitarbeiter am Lehrstuhl für deutsches und europäisches Privatrecht sowie Internationales Privatrecht bei Frau Professor Dr. Eva-Maria Kieninger tätig. Seit Juli 2017 ist er Rechtsreferendar am Oberlandesgericht Frankfurt am Main. Seine Promotion durch die Juristische Fakultät der Julius-Maximilians-Universität erfolgte im Juni 2018.
Stefan Bucher studied law at Julius-Maximilians-University of Würzburg. He then worked as a research assistant at the Chair for German and European Private Law and Private International Law of Professor Dr. Eva-Maria Kieninger. Since July 2017 he has been a trainee lawyer at the Higher Regional Court of Frankfurt am Main. He received his doctorate from the Faculty of Law of Julius-Maximilians-University in June 2018.
Abstract
Die klassischen Vertriebswege für Literatur-, Musik- oder Filmprodukte in Form gedruckter Bücher, CDs bzw. DVDs oder Blu-Rays werden mittlerweile zunehmend durch den Download von E-Books, Musik- oder Filmdateien über das Internet verdrängt. Vor diesem Hintergrund untersucht die Arbeit die sachenrechtliche Dimension des Online-Handels mit elektronischen Medien. Zunächst wird die Rechtsnatur von E-Books, Musik- und Filmdateien untersucht und dabei insbesondere deren Sachqualität im Sinne von § 90 BGB nachgegangen. Die Arbeit widmet sich sodann der Frage, ob sich der Download von Dateien unter die Übereignungstatbestände der §§ 929 ff. BGB einordnen lässt. Dabei werden relevante Aspekte des Urheber-, Erb-, Kreditsicherungs- und Zwangsvollstreckungsrechts in die Betrachtung einbezogen. Der Autor entwickelt ein neues Konzept des Sachbegriffs und der Übergabe, das erlaubt, den Online-Handel mit Mediendateien mit dem herkömmlichen Instrumentarium des BGB zu bewältigen. »Thingness and Disposal of Files«

In the light of the increasing digitalisation of the trade in literature, music and film products, the thesis deals with the property law dimension of online trade in electronic media. The legal nature of media in file form and the disposal of files via download is dogmatically examined. Relevant aspects of copyright law, the law of succession, the law of credit securities and foreclosure law are also taken into consideration.
Table of Contents
Section Title
Page
Action
Price

Vorwort

7

Inhaltsverzeichnis

9

Kapitel 1: Einleitung

17

A. Internet als rechtspolitisches Neuland

17

B. Klassische und moderne Vertriebswege für Medieninhalte

18

C. Gegenstand und Zielsetzung der Arbeit

19

I. Untersuchung der vernachlässigten sachenrechtliche Dimension der Thematik

20

II. Aufzeigen des Bedarfs für Änderungen des Gesetzes

21

III. Vermeidung allzu technischer Diskussionen

23

D. Stand der Forschung

24

E. Begriffsbestimmungen

25

I. Datei

25

II. Daten

26

III. DVD / Blu-Ray

26

IV. E-Book

26

V. MP3

26

VI. Musik- bzw. Filmdatei

27

F. Gang der Darstellung und Abgrenzung des Themas

27

Kapitel 2 : Die Rechtsnatur elektronischer Medien

29

A. Die äußerliche Struktur von § 90 BGB als Ausgangspunkt der Untersuchung

31

B. Der Meinungsstand im Schrifttum zum Sachbegriff nach § 90 BGB

32

C. Kritik am bisherigen Ansatz

33

I. Körperlichkeit nicht gleichrangig zu weiteren Kriterien des Sachbegriffs

34

II. "Sache" und "körperlicher Gegenstand" sind keine Synonyme

34

III. Hintergrund und Konsequenz der herrschenden Meinung

36

IV. Zwischenergebnis

37

D. Eigener Ansatz

37

I. Einheitliche Beurteilung nach aktuellem Stand der Naturwissenschaft

38

II. Sachen als Teilmenge der körperlichen Gegenstände

40

1. Untere Ebene: "Sache" und Verkehrsanschauung

41

a) Rechtsunsicherheit bei der Ermittlung der Verkehrsanschauung

41

b) Wandel der Verkehrsanschauung

43

aa) Die Naturwissenschaft als Impulsgeber

43

bb) Dynamik des Sachbegriffs

44

c) Auch "falsche" Ergebnisse der Verkehrsanschauung sind "richtig"

45

d) Zwischenergebnis

46

2. Obere Ebene: "Körperlicher Gegenstand" und Naturwissenschaft

46

III. Zwischenergebnis

47

E. Der Sachbegriff im Sinne des BGB

48

I. Grammatikalische Auslegung

48

II. Historische Auslegung

49

III. Systematische Auslegung

51

IV. Teleologische Auslegung

52

1. Beherrschbarkeit

52

2. Abgegrenztheit

53

a) Materieller Inhalt der Abgegrenztheit

54

b) Verhältnis zur Beherrschbarkeit

54

3. Sinnliche Wahrnehmbarkeit

57

4. Verkehrsfähigkeit

59

a) Ökonomische Funktion des Sachbegriffs

60

b) Missverständnis der Verkehrsfähigkeit

62

V. Funktion der ermittelnden Kriterien und ihr Verhältnis zueinander

63

1. Bisher herrschende Meinung

63

a) Kriterien des Sachbegriffs verschieben die Subsumtion

63

b) Inkompatibilität von Verkehrsanschauung und zwingenden Kriterien

64

2. Eigener Ansatz

65

a) Kriterien als Indizien statt zwingende Voraussetzungen

65

b) Auch Verkehrsfähigkeit kein Tatbestandsmerkmal sondern nur starkes Indiz

66

F. Zwischenergebnis

66

G. Subsumtion

67

I. Sachqualität analoger Medien

68

1. Geistiges Werk

68

2. Datenträger

68

II. Sachqualität von Standardsoftware – Meinungsstand

69

III. E-Books, Musik- und Filmdateien

71

1. Geistiges Werk

72

2. Datenträger

72

a) Anknüpfung

72

b) Systematische Bedenken gegen den Ansatz

73

c) Flüchtigkeit der Verbindung zwischen Datenträger und Datei

74

d) Widerspruch zur Verkehrsanschauung

75

3. Datei

76

a) Terminologie

77

b) Sachqualität

79

aa) Abgegrenztheit

80

bb) Beherrschbarkeit

81

cc) Sinnliche Wahrnehmbarkeit

81

dd) Verkehrsfähigkeit

83

H. Zusammenfassung und Ergebnis

84

Kapitel 3: Bestehende Rechte an Medien in Dateiform und deren Übertragung – Die lex lata

85

A. Dateien nicht wesentliche Bestandteile des Datenträgers

85

B. Technischer Ablauf typischer Übertragungsvorgänge

86

I. Download

86

II. Sonderfall Streaming

87

C. Sachenrechtliche Bewertung des Downloads

88

I. Besitz

90

1. Ausübung der tatsächlichen Sachherrschaft

90

2. Vereinbarkeit mit besitzrechtlichen Grundsätzen

91

a) Schutzfunktion

92

aa) Darstellung

92

bb) Subsumtion

92

b) Publizitätsfunktion

93

aa) Darstellung

93

(1) Übertragungswirkung

94

(2) Gutglaubenswirkung

95

(3) Vermutungswirkung

95

bb) Subsumtion

96

3. Zwischenergebnis

98

II. Eigentum

98

1. Relevanz der Diskussion zu virtuellen Gütern in virtuellen Welten

99

2. Subsumierbarkeit von E-Books, Musik- und Filmdateien

99

III. Übereignung gemäß § 929 Satz 1 BGB: Dingliche Einigung

100

1. Grammatikalische Auslegung

100

2. Historische Auslegung

101

3. Systematische Auslegung

101

4. Teleologische Auslegung

102

5. Zwischenergebnis

103

IV. Die Übergabe im Sinne von § 929 Satz 1 BGB

103

1. Wesen und Zweck der Übergabe

104

2. Voraussetzungen und Ablauf der Übergabe am Beispiel eines Handkaufs

105

V. Der Download als Übergabe ohne Besitzverlust des Veräußerers

107

1. Die Besitzbegründung durch den Erwerber

107

2. Kein Besitzverlust des Veräußerers

108

3. Im Schrifttum unterbreitete Lösungsvorschläge

109

VI. Erforderlichkeit eines Besitzverlusts des Veräußerers bei der Übergabe

110

1. Grammatikalische Auslegung

110

2. Historische Auslegung

112

3. Systematische Auslegung

113

a) Der Bezug zu § 854 BGB

113

b) Vergleich mit § 929 Satz 2 BGB und § 931 BGB

114

c) Erwerber besitzt auf Veranlassung des Veräußerers

115

d) Vereinbarkeit mit dem Publizitätsgrundsatz

115

aa) Der Begriff der Publizität

116

bb) Die persönliche Zielrichtung der Publizität

117

(1) Kein schutzwürdiges Interesse unbeteiligter Dritter an Übereignungen

117

(2) Publizität für Dritte bei den übrigen Übereignungstatbeständen

118

(2) Zwischenergebnis

119

cc) Die sachliche Zielrichtung der Publizität

119

(1) Die Untauglichkeit der Übergabe als Publizitätsmittel

120

(2) Zwischenergebnis

122

(3) Positive Publizität in Bezug auf den neu begründeten Besitz des Erwerbers

123

(4) Negative Publizität in Bezug auf den verlorenen Besitz des Veräußerers

123

dd) Zusammenfassung und Ergebnis

124

e) Vereinbarkeit mit dem Bestimmtheitsgrundsatz

125

4. Teleologische Auslegung

126

5. Ergebnisse

127

a) Keine Kollision der Ergebnisse der Auslegungskriterien

127

b) Voraussetzungen der Übergabe nach § 929 Satz 1 BGB

127

c) Subsumtion des Downloads unter § 929 Satz 1 BGB

128

VII. Übereignung gemäß § 929 Satz 2 BGB

129

VIII. Übergabesurrogate

130

1. Besitzkonstitut, § 930 BGB

131

a) Praktische Relevanz des Besitzkonstituts im Kontext elektronischer Medien

131

b) Sachenrechtlicher Fokus der Untersuchung

132

c) Voraussetzungen

132

aa) Das Problem der Herausgabemöglichkeit

133

bb) Herausgabe durch Besitzkonstitut

133

cc) Zwischenergebnis

134

dd) Herausgabe ohne Besitzverlust des Gebers

135

d) Ergebnis

136

2. Abtretung des Herausgabeanspruchs, § 931 BGB

136

IX. Gutgläubiger Erwerb vom Nichtberechtigten

137

1. Bezugspunkt des guten Glaubens

137

2. Raubkopien

139

a) "Perfekte" Kopien in Sekundenschnelle

139

b) Wertungen des gutgläubigen Erwerbs

140

c) Inhaber einer Raubkopie ist sachenrechtlich Berechtigter

142

d) Geringe praktische Relevanz eines gutgläubigen Erwerbs von Dateien

143

e) Zwischenergebnis

143

f) Unterschiede zum gutgläubigen Erwerb von Medien in klassischer Form

144

3. Keine Anwendungsfälle für § 935 BGB bei elektronischen Medien

144

4. Kein "lastenfreier" Erwerb

146

5. Zusammenfassung der Ergebnisse

147

X. Ergebnis und kritische Würdigung

148

1. Subsumtion von Mediendateien aufgrund hoher Abstraktheit von §§ 929 ff. BGB möglich

148

2. Angreifbarkeit der hier vertretenen Auffassung

148

3. Bedürfnis nach gesetzlicher Klarstellung

149

D. Exkurs: Schuld- und sachenrechtliche Bewertung von Streaming

150

I. Sachenrecht

150

II. Schuldrecht

150

1. Rechtsnatur des Konzertbesuchervertrags

150

2. Rechtsnatur des Kinobesuchervertrags

151

3. Rechtsnatur von Streaming vergleichbar mit Museumsbesuchervertrag

151

4. Zwischenergebnis

153

III. Unterschiedliche Ergebnisse für Download und Streaming

153

Kapitel 4: Einschränkungen der bestehenden Sachenrechte

154

A. Urheberrecht

154

I. Verbreitungsrecht

155

II. Vervielfältigungsrecht

157

III. Recht der öffentlichen Zugänglichmachung

159

IV. Die UsedSoft-Entscheidung des EuGH

161

V. Ergebnis

163

B. Schuldrechtliche Vereinbarungen – Weitergabeverbote

166

C. Ergebnis

167

Kapitel 5: Weitere Rechtsfragen

169

A. Der digitale Nachlass

169

I. Dateien als "Vermögen" im Sinne von § 1922 Abs. 1 BGB

170

II. Kein entgegenstehendes Urheberrecht

171

III. Ergebnis

172

B. Sicherungsrecht und Zwangsvollstreckung

173

I. Kreditsicherung und Zwangsvollstreckung wegen Geldforderungen

173

II. Ergebnis

175

Kapitel 6: Die lex ferenda

176

A. Der Schutz von Dateien

176

I. Erforderlichkeit eines "Dateneigentums"

176

II. Änderung des Sachbegriffs

178

1. Verzicht auf § 90 BGB

178

2. Einfügung von "§ 90b BGB"

179

3. Änderung des Wortlauts von § 90 BGB

180

III. Zwischenergebnis

181

B. Rechtsgeschäftliche Übertragung

181

I. Der Download als Übergabe

181

II. Unbeachtlichkeit des Fehlens sinnvoller Anwendungsfälle

182

1. Besitzkonstitut

182

2. Gutgläubiger Erwerb

182

III. Zwischenergebnis

183

C. Befugnisse des Inhabers digitaler Medien in Dateiform

183

I. Besonderheiten beim Online-Handel mit Medien in Dateiform

184

1. "Kopieren" statt "Verschieben"

184

2. (Nicht-)Rivalität von Gütern als entscheidender ökonomischer Faktor

185

3. Unterschiedliche (wirtschaftliche) Interessenlage

187

II. Die Interessenlage zwischen Urhebern und Erwerbern

188

1. Unterminierung der Verwertungsmöglichkeit des Urhebers

188

2. "Unbrauchbar machen" der Ausgangsdatei kein geeignetes Mittel

190

a) Unbrauchbar machen verhindert nicht die Vervielfältigung

190

b) Rechtmäßigkeit des Erwerbs in den Händen des Veräußerers

191

c) Ungeeignetheit von Digital Rights Management

192

d) Ausklammern von Lizenzvereinbarungen

193

3. EuGH-Entscheidung in der Sache VOB / Stichting

195

4. Ökonomische Konsequenzen einer Angleichung der Befugnisse der Eigentümer

196

III. Zwischenergebnis

197

Kapitel 7: Schluss

200

A. Ergebnisse

200

B. Schlussbemerkungen

201

C. Ausblick

203

Literaturverzeichnis

204

Stichwortverzeichnis

224