Criminal procedure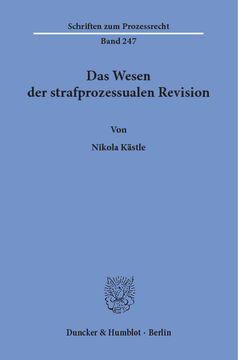 Additional Information
Book Details
ISBN

978-3-428-55488-1
978-3-428-15488-3 (print edition)

DOI

https://doi.org/10.3790/978-3-428-55488-1

Edition

1

Language

German

Pages

245

Collections

Subjects
Pricing
Institution

€ 92.00 (incl. local VAT if applicable)

Individual

€ 71.90 (incl. local VAT if applicable)
About The Author
Nikola Kästle studierte Rechtswissenschaften an der Universität Passau. Von 2015 bis 2018 war sie als wissenschaftliche Mitarbeiterin am Lehrstuhl für Strafrecht, Strafprozessrecht, Rechtsphilosophie und Rechtssoziologie an der Ludwig-Maximilians-Universität München tätig, wo sie im Januar 2018 promoviert wurde.
Nikola Kästle studied law at the University of Passau. From 2015 to 2018 she worked as a research assistant at the Chair of Criminal Law, Criminal Procedure Law, Philosophy of Law and Sociology of Law at the Ludwig-Maximilians-University Munich. She obtained her doctorate there in January 2018.
Abstract
Die Arbeit ermittelt anhand einer Auslegung von § 337 StPO das Wesen der strafprozessualen Revision. Dabei wird im Rahmen der Auslegung von Wortlaut und Systematik einerseits auf die Besonderheiten der Verfahrensrüge eingegangen. Die dort bestehenden Prüfungsmöglichkeiten des Revisionsgerichts werden systematisiert und die Grenzen der Revisibilität insbesondere hinsichtlich des Verbots der Rekonstruktion der Hauptverhandlung ausgelotet. Andererseits werden im Rahmen der Sachrüge die Strafmaßrevision und die sog. erweiterte Revision erörtert. Dabei werden insbesondere das Recht des Revisionsgerichts zu eigener Strafzumessung und die dogmatische Berechtigung der erweiterten Revision betrachtet. Anschließend werden die Aufgaben der Revision ermittelt und eine differenzierende Zwecksetzung für Verfahrens- und Sachrügen vorgeschlagen. Die Arbeit schließt mit fünf Folgerungen, die das Wesen der Revision beschreiben und auf zwei aktuelle Fragestellungen des Revisionsrechts angewendet werden. »The Essence of Criminal Procedural Review in German Law«

The thesis uses an interpretation of § 337 StPO to determine the nature of criminal procedural review in German law. On the one hand, the audit scope of the Review Court for procedural complaints is systematized and delimited, and on the other hand, its authority to assess its own penalty and the dogmatic basis of the so called extended review are discussed. A differentiating purpose for procedural and substantive complaints is then proposed. Five conclusions sum up the essence of the review.
Table of Contents
Section Title
Page
Action
Price

Vorwort

7

Inhaltsübersicht

9

Inhaltsverzeichnis

11

§ 1 Einleitung

17

§ 2 Begriffsbestimmung und Methodik

19

§ 3 Ausgangpunkt der Untersuchung

21

A. Stand nach Literatur und Rechtsprechung

21

I. Literatur

21

II. Rechtsprechung

21

III. Ergebnis

23

B. Einwände

24

I. Kritische Anmerkungen Rosenaus und Knauers

24

II. Die These von Hamm

26

C. Zusammenfassung

27

§ 4 Das Wesen der Revision ausweislich § 337 StPO

28

A. Wortlaut und Systematik von § 337 StPO

28

I. Der Begriff der "Revision"

28

II. "Verletzung des Gesetzes" im Sinne von § 337 I StPO

30

1. Verfahrensrüge (§ 344 II 1 Fall 1 StPO)

33

a) Verfahrenshindernisse

34

b) Verletzung von sonstigem Verfahrensrecht

35

aa) Prüfungsumfang

35

(1) Formelle Prüfung des Verfahrens

37

(2) Materielle Prüfung des Verfahrens

38

(a) Rüge einer zu engen Beweisgrundlage

39

(aa) Aufklärungsrüge

39

(bb) Verfahrensrüge "wegen Verletzung des Beweisantragsrechts"

42

(cc) Rüge der Verletzung von § 261 StPO ("Inbegriffsrüge")

43

(b) Rüge einer zu weiten Beweisgrundlage

45

(aa) Rüge des Verstoßes gegen ein Beweisverbot

45

(bb) Rüge der Verletzung von § 261 StPO ("Inbegriffsrüge")

45

(3) Zwischenergebnis

46

bb) Grenzen der revisionsrechtlichen Kontrolle

47

(1) Beschränkungen der Revision bei der Kontrolle von "Ermessens-"Vorschriften im Allgemeinen und durch das Verbot der Rekonstruktion der Hauptverhandlung im Besonderen

51

(a) Das Rekonstruktionsverbot in der Rechtsprechung

52

(aa) Auswirkungen des Rekonstruktionsverbots auf die Aufklärungsrüge

54

(bb) Auswirkungen des Rekonstruktionsverbots auf die Inbegriffs- und aliud-Rüge

55

(b) Das Rekonstruktionsverbot in der Literatur

56

(2) Bewertung und Folgerungen für das Wesen der Revision

58

(3) Neue Tendenz: Beweiserhebung zur Schuldfrage durch das Revisionsgericht?

64

cc) Ergebnis

67

2. Sachrüge (§ 344 II 1 Fall 2 StPO)

67

a) "Klassische" Sachrüge

68

aa) Kontrolle der Tatbestandsseite durch das Revisionsgericht

68

bb) Kontrolle der Rechtsfolgenseite durch das Revisionsgericht

72

(1) Prüfungsumfang des Revisionsgerichts auf der Rechtsfolgenseite

73

(2) Entscheidungsmöglichkeiten des Revisionsgerichts auf der Rechtsfolgenseite

76

(a) Eigene Entscheidung des Revisionsgerichts im Rahmen der Beruhensprüfung gem. § 337 I StPO

77

(b) Eigene Entscheidung des Revisionsgerichts bei Erfolg der Revision

79

(aa) Eigene Entscheidung des Revisionsgerichts nach § 354 I StPO

80

(bb) Eigene Entscheidung des Revisionsgerichts analog § 354 I StPO

81

(α) Festsetzung neuer Rechtsfolgen durch das Revisionsgericht

83

(β) Bestätigung des Strafausspruchs trotz Rechtsfehlers

86

(cc) Eigene Entscheidung des Revisionsgerichts nach § 354 Ia und Ib StPO

88

(α) Hintergrund der Regelungen – BVerfG Beschl. v. 07.01.2004

88

(β) Inhalt der Regelung

90

(dd) Strafzumessungsbefugnis des Revisionsgerichts nach dem Wesen der Revision?

93

(α) Strafzumessung als Rechtsanwendung

93

(β) Strafzumessung durch die Revisionsgerichte als Verstoß gegen das Wesen der Revision

95

(γ) Beurteilung der Kritik

97

(δ) Sicherstellung eines vollständigen Strafzumessungssachverhalts

102

(αα) Sicherstellung schon nach dem bisherigen Verfahren in der Revision

102

(ββ) Die Lösung des BVerfG

104

(γγ) Bewertung der Lösung des BVerfG und Folgerungen

106

(ee) Bedeutung für § 354 I Fall 4, 5 StPO und die analoge Anwendung von § 354 I StPO

113

(α) § 354 I Fall 4, 5 StPO

113

(β) Nach den Umständen niedrigste bzw. allein schuldgerechte Strafe analog § 354 I StPO

114

(ff) Bedeutung für den Prüfungsumfang des Revisionsgerichts

116

(3) Ergebnis

117

b) Erweiterte Revision

118

aa) Prüfungsumfang

118

(1) Kontrolle der Beweiswürdigung

121

(2) Kontrolle der Sachverhaltsfeststellungen

126

bb) Entscheidungsmöglichkeiten des Revisionsgerichts

130

(1) Darstellungsmängel auf Tatbestandsebene

130

(2) Darstellungsmängel auf Rechtsfolgenebene

131

cc) Dogmatische Einordnung der erweiterten Revision und Bedeutung für das Wesen der Revision

133

(1) Dogmatische Grundlage der erweiterten Revision

135

(a) Rechtsprechung von RG und BGH

136

(b) Literatur

139

(aa) Sachrüge als dogmatische Grundlage

139

(α) Rechtsnormcharakter von Denkgesetzen

139

(β) Wahrung der Einzelfallgerechtigkeit

140

(γ) Abgrenzung nach dem Urteilsinhalt

141

(δ) Voraussetzung der richtigen Anwendung des materiellen Strafrechts

142

(ε) Schaffung von Rechtsfrieden bzw. Akzeptanz des Urteils

144

(ζ) Die erweiterte Revision als rechtsstaatliches Gebot

144

(η) Verstoß gegen § 267 StPO als materiell-rechtliche Vorschrift

146

(θ) Zwischenergebnis

147

(bb) Verfahrensrüge als dogmatische Grundlage

147

(α) Arg. e § 357 StPO

147

(β) Arg. a maiore ad minus e § 338 Nr. 7 StPO

148

(γ) Verstoß gegen §§ 267, 261 und 244 II StPO

149

(δ) Zwischenergebnis

151

(c) Stellungnahme

151

(aa) Verfassungsrechtliche Verankerung der Anforderungen der erweiterten Revision

152

(bb) Konkretisierung der Anforderungen des Rechtsstaatsprinzips in § 261 StPO

154

(cc) Konkretisierung der Anforderungen des Rechtsstaatsprinzips in § 244 II StPO

156

(dd) Sicherstellung einer effektiven Kontrolle der verfassungsrechtlichen Garantien

158

(ee) Zwischenergebnis

160

(ff) Bedenken gegen die vorgestellte Konzeption

160

(gg) Zusammenfassung

163

(2) Verwischen der Grenzen von Aufgaben- und Verantwortungsteilung zwischen Revisions- und Tatgericht

163

(a) Inhaltliche Überprüfung der materiellen Feststellungen mittels der erweiterten Revision?

163

(b) Eigene Beweiswürdigung des Revisionsgerichts?

167

(3) Verschwimmen der Grenze zwischen Verfahrens- und Sachrüge

169

dd) Ergebnis

170

ee) Annex: Kontrolle der Auslegung von Urkunden und der Strafzumessung auf Widersprüche etc.

171

(1) Kontrolle der Auslegung von Urkunden, Willenserklärungen, Verträgen und sonstigen Äußerungen

171

(a) Inhalt der Kontrolle und Entscheidungsmöglichkeiten des Gerichts

171

(b) Grundlage der Kontrolle der Auslegung von Urkunden etc.

174

(2) Kontrolle der Strafzumessungserwägungen

175

III. "Beruhen" des Urteils auf der Gesetzesverletzung im Sinne von § 337 StPO

177

1. Der Begriff des "Beruhens"

177

2. Die Bedeutung des "Beruhens" für das Wesen der Revision

179

IV. Gesamtergebnis

182

B. Zweck von § 337 StPO

184

I. Zusammenhang zwischen Zweck und Wesen der Revision?

185

1. Abhängigkeitsverhältnis

185

2. Trennung von Zweck und Wesen

186

II. Die Aufgaben der Revision

187

1. Streitstand

187

a) Rechtseinheit und Einzelfallgerechtigkeit

188

b) Schaffung von Leitlinien und einzelfallbezogene Richtigkeitskontrolle

190

c) Sicherung eines realistischen Rechtsschutzes

190

d) Kontrolle und Sicherung der Qualität des Strafverfahrens

191

e) Schutz der Rechtsstaatlichkeit

193

f) Zusammenfassung

195

2. Die Antinomie der Revisionszwecke

195

a) Gleichrangigkeit der Ziele der Revision

196

aa) Argumentationsgang

196

bb) Einwände gegen die Gleichwertigkeit der Ziele

197

(1) Unterscheidung zwischen generalisierender und individualisierender Gerechtigkeit

197

(2) Praktische Einwände

198

b) Vorrang der Rechtseinheit

199

aa) Entstehungsgeschichte der Revision

200

bb) Begrenzung der Revision auf Rechtsfragen

202

c) Vorrang der Einzelfallgerechtigkeit

203

aa) Entstehungsgeschichte

203

bb) Die Revision als Rechtsmittel der Verfahrensbeteiligten

204

cc) Die Revision als einziges Rechtsmittel in Fällen schwerer Kriminalität

205

d) Zusammenfassung

205

3. Entscheidung des Gesetzgebers: Differenzierung zwischen Verfahrens- und Sachrüge

206

a) Unterschiede zwischen Verfahrens- und Sachrüge

207

b) Konsequenzen für das Rangverhältnis von Einzelfallgerechtigkeit und Rechtseinheit

208

aa) Verfahrensrüge

209

bb) Sachrüge

210

(1) Prüfung der Tatbestandsseite

210

(2) Strafmaßrevision

213

c) Kritik an der Differenzierung zwischen Verfahrens- und Sachrüge

214

4. Ergebnis

216

§ 5 Zusammenfassung der Ergebnisse und Folgerungen

217

Literaturverzeichnis

222

Sachverzeichnis

242