Company & business offences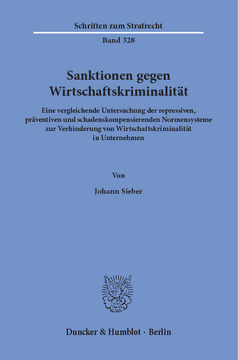 BOOK
Sanktionen gegen Wirtschaftskriminalität
Eine vergleichende Untersuchung der repressiven, präventiven und schadenskompensierenden Normensysteme zur Verhinderung von Wirtschaftskriminalität in Unternehmen
Schriften zum Strafrecht, Vol. 328
(2018)
Additional Information
Book Details
ISBN

978-3-428-55476-8
978-3-428-15476-0 (print edition)

DOI

https://doi.org/10.3790/978-3-428-55476-8

Edition

1

Language

German

Pages

578

Collections

Subjects
Pricing
Institution

€ 126.00 (incl. local VAT if applicable)

Individual

€ 98.90 (incl. local VAT if applicable)
About The Author
Johann Sieber studierte Rechtswissenschaft an der Eberhard-Karls-Universität Tübingen mit dem Schwerpunkt Rechtspflege in Zivilsachen. Nach dem ersten Staatsexamen 2010 folgte bis 2012 der juristische Vorbereitungsdienst im Bezirk des OLG Stuttgart. Im Anschluss an das zweite Staatsexamen war er als Akademischer Mitarbeiter am Lehrstuhl für Deutsches und Europäisches Straf- und Strafprozessrecht, Wirtschaftsstrafrecht und Computerstrafrecht von Prof. Dr. Jörg Eisele beschäftigt, während der er seine Dissertation verfasste. Seit 2017 ist Johann Sieber als Rechtsanwalt in einer internationalen Wirtschaftskanzlei in Stuttgart im Bereich Commercial tätig.
Johann Sieber studied law at the Eberhard-Karls-University Tuebingen with a focus on the administration of justice in civil matters. After the first state examination in 2010, he completed his legal traineeship in the district of the Higher Regional Court of Stuttgart in 2012. Following the second state examination, he worked as an academic assistant at the Chair for German and European Criminal and Criminal Procedural Law, White Collar Crime and Computer Crime Law of Prof. Dr. Eisele, during which he wrote his dissertation. Since 2017 Johann Sieber has been working as a lawyer in an international law firm in Stuttgart in the area of commercial law.
Abstract
Die Arbeit beschäftigt sich mit den zur Bekämpfung von Wirtschaftskriminalität in Unternehmen zur Verfügung stehenden Sanktionsregimen und befasst sich damit mit einem Grundlagenproblem des deutschen Wirtschaftsrechts. Ausgangspunkt der Untersuchung ist die Frage, ob die verschiedenen Arten wirtschaftsbezogener Sanktionen in ausreichendem Maße Gemeinsamkeiten aufweisen, um diese einem funktionalen Vergleich zuführen und dadurch weitergehende Erkenntnisse und Aussagen über ihre Wirkungsweisen, Effektivität und rechtsstaatlichen Anforderungen treffen zu können. Um die für die Untersuchung erforderliche Vergleichbarkeit zu gewährleisten, werden standardisierte Parameter entwickelt, anhand derer die Rechtsregime Kriminalstrafrecht, Ordnungswidrigkeitenrecht und Zivilrecht analysiert werden. »Sanctions against White-Collar Crime«

The thesis examines the sanctions regimes available for fighting white-collar crime in corporations and thus addresses a fundamental problem of German commercial law. The starting point of the analysis is the question of whether the different types of economic sanctions have sufficient commonalities in order to make a functional comparison and thus to be able to provide further insights and statements on their modes of action, effectiveness and requirements of the rule of law.
Table of Contents
Section Title
Page
Action
Price

Vorwort

5

Inhaltsverzeichnis

7

Abkürzungsverzeichnis

14

Kapitel 1: Einführung und Eingrenzung der Thematik

23

A. Einführung

23

B. Problemstellung

26

C. Funktionale Rechtsvergleichung als Erkenntnismethode

35

I. Vergleichsgegenstand

37

II. Auswahl der einbezogenen Sanktionsarten

38

III. Differenzierung der Sanktionsadressaten

40

D. Ziele der Arbeit und Gang der Darstellung

40

Kapitel 2: Wirtschaftskriminalität und Wirtschaftsstrafrecht

43

A. Wirtschaftskriminalität

43

I. Wirtschaftsordnung

44

II. Wirtschaftsorganisation

45

III. Wirtschaftssystem

47

B. Wirtschaftsstrafrecht

53

I. Ordnungsfunktion

53

II. Kontrollfunktion

57

III. Straffunktion

62

1. Gesetz zur Vereinfachung des Wirtschaftsstrafrechts (1949)

63

2. Gesetz über Ordnungswidrigkeiten (1952)

65

3. Entwicklungen der 50er und 60er Jahre

66

4. Erstes und zweites WiKG (1976 / 1986)

68

5. Reaktiv punktuell geprägte Gesetzgebung

71

C. Analyse der Sanktionsmechanismen

73

I. Kriminalsanktionen

73

1. Aktiv handelnde oder unterlassende Täter

73

2. Unterlassen von Vorgesetzten

74

3. Geschäftsherrenhaftung

75

II. Sanktionen im Ordnungswidrigkeitenrecht

76

1. Unternehmensgeldbuße

76

2. Vorgesetztenverantwortung

83

III. Vermögensabschöpfende Maßnahmen

85

IV. Zivilrechtliche Maßnahmen

88

D. Zwischenbilanz

89

Kapitel 3: Analyse der Regelungssysteme und ihrer Sanktionen

98

A. Kriminalstrafrecht

98

I. Sanktionen

98

1. Überblick

98

2. Freiheitsstrafe

98

a) Adressat

98

b) Inhalt

99

c) Stigmatisierende Wirkung

100

aa) Strafe als sozialethischer Tadel

100

bb) Mittelbare Stigmatisierungswirkung

102

d) Bemessung

105

e) Funktion

106

aa) Absolute Straftheorie

106

bb) Relative Straftheorien

108

(1) Theorie der Spezialprävention

109

(2) Theorie der Generalprävention

110

cc) Vereinigungstheorie

114

f) Bedeutung und Verbreitung

116

g) Wirkung und Wirksamkeitseinschätzungen

119

3. Geldstrafe

122

a) Adressat

122

b) Inhalt

123

c) Stigmatisierende Wirkung

125

d) Bemessung

126

e) Funktion

128

f) Bedeutung und Verbreitung

129

g) Wirkung und Wirksamkeitseinschätzungen

134

4. Maßnahmen der Vermögensabschöpfung

135

a) Einziehung von Taterträgen (ehemals Verfall)

136

aa) Adressat

136

bb) Inhalt

138

cc) Stigmatisierende Wirkung

146

dd) Bemessung

148

ee) Funktion

155

ff) Bedeutung und Verbreitung

156

gg) Wirkung und Wirksamkeitseinschätzungen

158

b) Einziehung von Tatprodukten, Tatmitteln und Tatobjekten (ehemals Einziehung)

160

aa) Adressat

160

bb) Inhalt

162

cc) Stigmatisierende Wirkung

163

dd) Bemessung

163

ee) Funktion

163

ff) Bedeutung und Verbreitung

164

gg) Wirkung und Wirksamkeitseinschätzungen

165

5. Berufsverbot

165

a) Adressat

165

b) Inhalt

166

c) Stigmatisierende Wirkung

167

d) Bemessung

168

e) Funktion

169

f) Bedeutung und Verbreitung

169

g) Wirkung und Wirksamkeitseinschätzungen

170

6. Abführung des Mehrerlöses

170

II. Sanktionsvoraussetzungen

171

1. Grundlagen

172

a) Arbeitsteilung

173

b) Dezentralisierung und Differenzierung

174

c) Fehlende Wissenskonzentration

175

2. Sanktionen gegen den aktiv handelnden Täter

176

a) Aktiv handelnde Täter auf der Ausführungsebene

176

aa) Allgemeindelikte

176

bb) Sonderdelikte

178

cc) Zwischenfazit

183

b) Der anweisende Vorgesetzte als Täter

184

aa) Top-down Zurechnung

186

bb) Vorgesetzte als unmittelbare Täter

190

cc) Vorgesetzte als Mittäter

190

dd) Vorgesetzte als mittelbare Täter

192

ee) Täterschaft kraft Organisationsherrschaft

192

ff) Vorgesetzte als Anstifter

195

gg) Fahrlässigkeit als Anknüpfungsmöglichkeit

197

3. Sanktionen gegen den unterlassenden Vorgesetzten

202

a) Anknüpfungsproblematik beim Unterlassensvorwurf

202

b) Geschäftsherrenhaftung

203

aa) Sachverantwortlichkeit

205

bb) Personalverantwortung

207

cc) Sanktionierungsschwierigkeiten

210

(1) Quasikausalität des Unterlassens

210

(2) Vorsatzbeziehung bzw. Fahrlässigkeitsvorwurf

211

4. Sanktionen gegen das Unternehmen

213

III. Rechtsdurchsetzung

214

1. Zuständige Stelle

214

2. Ermittlungsbefugnisse

214

3. Entscheidungsverfahren

219

4. Beweispflicht und Beweislast

221

5. Zentrale Schutzmechanismen

222

B. Ordnungswidrigkeitenrecht

224

I. Sanktionen

224

1. Geldbuße

224

a) Adressat

224

aa) Natürliche Personen

224

bb) Juristische Personen

226

b) Inhalt

227

c) Stigmatisierende Wirkung

229

d) Bemessung

235

aa) Allgemeine Bemessungsgrundlagen

235

(1) Bedeutung der Ordnungswidrigkeit

236

(2) Vorwurf gegenüber dem Täter

236

(3) Wirtschaftliche Verhältnisse des Täters

237

(4) Konkrete Individualisierung

238

(5) Bußgeldrahmen und Spezialregelungen

239

bb) Abschöpfung des wirtschaftlichen Vorteils

240

cc) Bemessungsgrundlage i. R.d. § 30 OWiG

242

dd) Bemessungsgrundlage i. R.d. § 130 OWiG

244

ee) Sonder- bzw. Spezialbemessungsgrundlagen

245

e) Funktion

250

aa) Repression

250

bb) Prävention

251

cc) Abschöpfung

252

dd) Funktion der Unternehmensgeldbuße

254

f) Bedeutung und Verbreitung

258

aa) Verbreitung

258

(1) Statistik des Bundeskartellamts

262

(2) Statistik des Gewerbezentralregisters

263

(3) Zwischenbefund

264

bb) Bedeutung

264

g) Wirkung und Wirksamkeitseinschätzungen

265

aa) Natürliche Personen

266

bb) Juristische Personen

267

2. Einziehung des Wertes von Taterträgen gem. § 29a OWiG (ehemals Verfall)

269

a) Adressat

269

b) Inhalt

270

aa) Einordnung der Einziehung des Wertes von Taterträgen

270

bb) Einziehungsvoraussetzungen

271

cc) Verhältnis zur Geldbuße

272

c) Stigmatisierende Wirkung

272

d) Bemessung

273

e) Funktion

275

f) Bedeutung und Verbreitung

276

aa) Verbreitung

276

bb) Bedeutung

277

g) Wirkung und Wirksamkeitseinschätzungen

278

II. Sanktionsvoraussetzungen

280

1. Sanktionen gegen den aktiv handelnden Täter

280

2. Sanktionen gegen den unterlassenden Vorgesetzten

283

a) Allgemeine Unterlassungshaftung

283

b) Aufsichtspflichtverletzung nach § 130 OWiG

286

aa) Rechtsnatur und Rechtsgut des § 130 OWiG

286

bb) Konzeption des § 130 OWiG

288

cc) Effizienz des § 130 OWiG

293

(1) Objektive Weite des Tatbestandes

293

(a) Anforderungen an die Aufsichtspflicht

293

(b) Abgeschwächte Kausalitätsanforderung

297

(2) Subjektive Weite des Tatbestandes

300

3. Sanktionen gegen das Unternehmen

300

a) Rechtsnatur und Konzeption des § 30 OWiG

301

b) Haftungsvoraussetzungen des § 30 OWiG

301

III. Rechtsdurchsetzung

306

1. Zuständige Stelle

306

2. Ermittlungsbefugnisse

307

3. Entscheidungsverfahren

309

a) Einheitliches (kumulatives) Verfahren

313

b) Selbstständiges Verfahren

315

aa) Nichteinleitung von Verfahren

316

bb) Einstellung von Verfahren

317

4. Beweispflicht und Beweislast

319

5. Zentrale Schutzmechanismen

320

C. Zivilrecht

322

I. Sanktionen

322

1. Überblick

323

2. Schadensersatz

325

a) Adressat

325

aa) Unternehmensmitarbeiter

325

bb) Vorgesetzte

325

cc) Unternehmen

327

b) Inhalt

327

c) Stigmatisierende Wirkung

329

aa) Natürliche Personen

330

bb) Juristische Personen

332

cc) Zivil- und strafrechtliche Kumulationsrisiken

333

d) Bemessung

333

e) Funktion

335

aa) Ausgleichsfunktion

335

bb) Verhaltenssteuerung

338

f) Bedeutung und Verbreitung

347

g) Wirkung und Wirksamkeitseinschätzungen

349

aa) Präventionswirkung bei Unfällen

350

bb) Präventionswirkung bei Versicherungsschutz

351

cc) Präventionswirkung bei Kollektivgütern

352

dd) Präventionswirkung bei Vermögenslosigkeit

355

ee) Präventionswirkung bei Streu- und Bagatellschäden

355

(1) Anwendung eines sog. Schadens-Multiplikators

357

(2) Kollektive Rechtsdurchsetzung

359

ff) Sonderfall Unternehmenskriminalität

361

II. Sanktionsvoraussetzungen

363

1. Sanktionen gegen aktiv handelnde Täter

363

2. Sanktionen gegen (unterlassende) Vorgesetzte

364

a) Aktualität und Brisanz der Vorstandshaftung

365

b) Voraussetzungen der Vorstandshaftung

371

aa) Regelungsgegenstand und Normfunktion

371

bb) Pflichtverletzung

371

cc) Schuldhaftes Verhalten

375

dd) Beweislast für Verschulden

376

ee) Vermögensschaden

377

3. Sanktionen gegen das Unternehmen

384

a) Deliktsrechtliche Haftung des Unternehmens

385

aa) Repräsentantenhaftung analog § 31 BGB

385

bb) Haftung für Verrichtungsgehilfen nach § 831 BGB

388

b) Spezialgesetzliche Regelungen

390

III. Rechtsdurchsetzung

390

1. Zuständige Stelle

390

2. Ermittlungsbefugnisse

390

3. Entscheidungsverfahren

391

4. Beweispflicht und Beweislast

392

5. Zentrale Schutzmechanismen

393

Kapitel 4: Regimeübergreifender Vergleich der Sanktionsmechanismen und Folgerungen

394

A. Regimeübergreifender Vergleich der Sanktionsmechanismen

394

I. Sanktionen

394

1. Adressat

394

2. Inhalt

395

3. Stigmatisierende Wirkung

399

4. Bemessung

402

5. Funktion

408

6. Bedeutung und Verbreitung

412

7. Wirkung und Wirksamkeitseinschätzungen

413

II. Sanktionsvoraussetzungen

419

1. Strafrecht

419

2. Ordnungswidrigkeitenrecht

424

3. Zivilrecht

432

III. Rechtsdurchsetzung

440

1. Zuständige Stelle

440

2. Ermittlungsbefugnisse

441

3. Entscheidungsverfahren

442

4. Beweispflicht und Beweislast

448

5. Zentrale Schutzmechanismen

448

B. Folgerungen

449

I. Sanktionensystem als Folge historischer Entwicklung

450

II. Einzeldisziplinäre Folgerungen

451

1. Kriminalstrafrecht

451

2. Ordnungswidrigkeitenrecht

455

3. Zivilrecht

457

III. Gesamtbetrachtung

461

C. Zusammenfassung der Ergebnisse in Thesen

464

Literaturverzeichnis

468

Stichwortregister

574