Constitution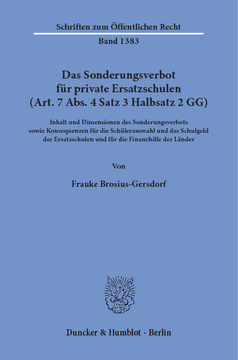 BOOK
Das Sonderungsverbot für private Ersatzschulen (Art. 7 Abs. 4 Satz 3 Halbsatz 2 GG)
Inhalt und Dimensionen des Sonderungsverbots sowie Konsequenzen für die Schülerauswahl und das Schulgeld der Ersatzschulen und für die Finanzhilfe der Länder
Schriften zum Öffentlichen Recht, Vol. 1383
(2018)
Additional Information
Book Details
ISBN

978-3-428-55465-2
978-3-428-15465-4 (print edition)

DOI

https://doi.org/10.3790/978-3-428-55465-2

Edition

1

Language

German

Pages

142

Collections

Subjects
Pricing
Institution

€ 46.00 (incl. local VAT if applicable)

Individual

€ 35.90 (incl. local VAT if applicable)
About The Author
Studium der Rechtswissenschaft in Hamburg. Staatsexamina 1995 und 2000. Promotion 1997. LL.M. 1998 in Edinburgh. 2000 bis 2004 Rechtsanwältin. 2004 bis 2010 Habilitation. Seit 2010 Inhaberin des Lehrstuhls für Öffentliches Recht, insbesondere Sozialrecht, Öffentliches Wirtschaftsrecht und Verwaltungswissenschaft an der Juristischen Fakultät der Leibniz Universität Hannover. 2011 Verleihung des Marie Elisabeth Lüders-Wissenschaftspreises für die Schrift »Demografischer Wandel und Familienförderung«. Seit 2015 stv. nicht berufsrichterliches Mitglied des Verfassungsgerichtshofs des Freistaates Sachsen. Seit 2017 Mitglied der Zentralen Ethikkommission der Bundesärztekammer. Die Forschungsschwerpunkte von Frauke Brosius-Gersdorf liegen im Sozialversicherungsrecht, im Bildungsrecht sowie im öffentlichen Ehe- und Familienrecht.
Studies of law in Hamburg. State examination 1995 und 2000. Doctorate 1997. LL.M. 1998 in Edinburgh. Advocate 2000 bis 2004. Postdoctorate habilitation 2004 bis 2010. Since 2010 owner of the chair for public law, in particular social security law, public commercial law and administrative science at Leibniz University Hannover, Law Faculty. 2011 Marie Elisabeth Lüders-award for the book »Demografischer Wandel und Familienförderung«. Since 2015 vicarious member of the constitutional court of the Free State of Saxony. Since 2017 member of the central ethics committee of federal medical association. The focus of research of Frauke Brosius-Gersdorf is on social security law, school law and public family law.
Abstract
Aus dem Sonderungsverbot des Grundgesetzes (Art. 7 Abs. 4 Satz 3 Halbsatz 2 GG) werden teilweise Vorgaben für den Schulgelddurchschnitt und die soziale Zusammensetzung der Schülerschaft privater Ersatzschulen abgeleitet. Die Autorin hinterfragt diese Thesen kritisch, indem sie Inhalt und Reichweite des Sonderungsverbots juristisch ausleuchtet und Konsequenzen für die Praxis aufzeigt. Zusätzlich widmet sie sich den Folgen des Sonderungsverbots für die Finanzhilfe der Länder.

Im Ergebnis zeigt die Autorin, dass das Sonderungsverbot weder Direktiven für den Schulgelddurchschnitt noch für die soziale Zusammensetzung der Schülerschaft enthält. Stattdessen müssen Ersatzschulen ihre Schülerinnen und Schüler unabhängig von den Einkommens- und Vermögensverhältnissen der Eltern auswählen (Diskriminierungsverbot). Schulgeld müssen sich Eltern aller Einkommens- und Vermögensschichten leisten können (Fördergebot). »›Sonderungsverbot‹ for Private Schools«

At present, the constitutional requirements for private schools such as the »Sonderungsverbot« (Article 7 para. 4 sentence 3 clause 2 GG) is subject to intense discussions. The author takes up the discussions and examines the content and the reach of the Sonderungsverbot. She illustrates the consequences for pupils selection and for school fee. Besides, the consequences for financial aid of the Länder are demonstrated.
Table of Contents
Section Title
Page
Action
Price

Vorwort

5

Inhaltsverzeichnis

7

A. Aktuelle Debatte über das Sonderungsverbot und Gegenstand der Untersuchung

11

B. Das verfassungsrechtliche Sonderungsverbot als Voraussetzung der Ersatzschulgenehmigung (Art. 7 Abs. 4 Satz 3 GG)

16

I. Ersatzschulfreiheit unter Genehmigungsvorbehalt (Art. 7 Abs. 4 Satz 2 bis 4 GG)

16

II. Grundrechtsdogmatische Einordnung des Genehmigungsvorbehalts für Ersatzschulen

18

III. Rechtsfolgen bei Verstößen gegen das Sonderungsverbot des Art. 7 Abs. 4 Satz 3 GG

20

1. Pflicht zur Versagung bzw. Aufhebung der Ersatzschulgenehmigung

20

2. Verhältnismäßigkeitsprinzip: Mängelbeseitigungsverfahren vor Aufhebung der Genehmigung

23

3. Keine Versagung bzw. Aufhebung der Genehmigung bei unzureichender Finanzhilfe?

24

C. Adressat des Sonderungsverbots

27

I. Ersatzschulträger oder Bundesländer?

27

II. Einzelner Ersatzschulträger oder Institution des Ersatzschulwesens?

27

D. Inhalt und Dimensionen des Sonderungsverbots

29

I. Besitzverhältnisse der Eltern

30

1. Besitzverhältnisse

30

a) Einkommens- und Vermögensverhältnisse

30

b) Bildungs- und Berufsverhältnisse?

32

2. Eltern

34

a) Besitzschwache Eltern einschließlich Empfänger staatlicher Sozialleistungen

36

b) Besitzstarke Eltern?

37

II. Keine Förderung der Sonderung der Schülerinnen und Schüler

38

1. Grammatikalische Auslegung

39

2. Teleologische und systematische Auslegung

40

3. Historische Auslegung

41

III. Dimensionen des Sonderungsverbots

41

1. Sonderungsverbot als Diskriminierungsverbot

43

a) Verbot unmittelbarer Diskriminierung: Keine Anknüpfung an die Besitzverhältnisse der Eltern

44

b) Verbot mittelbarer Diskriminierung: Verbot der Auswahl der Schülerinnen und Schüler nach Eignung, Befähigung und Leistung zugunsten einer spiegelbildlichen sozialen Zusammensetzung privater und öffentlicher Schulen?

46

aa) These von Wrase und Helbig: Art. 7 Abs. 4 Satz 3 GG gebietet eine spiegelbildliche soziale Zusammensetzung der Schülerschaft privater und öffentlicher Schulen

47

bb) (Begründungs-)‌Defizite der These von Wrase und Helbig

48

cc) Grundsätzliche Bedenken gegen ein Verbot mittelbarer Diskriminierung in Art. 7 Abs. 4 Satz 3 GG

48

(1) Faktische Benachteiligung von Kindern aus besitzschwachen Schichten bei leistungsbezogener Schülerauswahl wegen Undurchlässigkeit des Bildungssystems in Deutschland

49

(2) Diskussion zu Art. 3 Abs. 3 GG als Verbot mittelbarer Diskriminierung

50

(3) Einwände gegen die Interpretation des Art. 7 Abs. 4 Satz 3 GG als Verbot mittelbarer Diskriminierung

51

dd) Nichterfüllung der inhaltlichen Voraussetzungen eines Verbots mittelbarer Diskriminierung in Art. 7 Abs. 4 Satz 3 GG

57

ee) Fazit: Art. 7 Abs. 4 Satz 3 GG begründet kein Verbot mittelbarer Diskriminierung, das Ersatzschulen die Auswahl ihrer Schülerinnen und Schüler nach Eignung, Befähigung und Leistung untersagt

60

2. Sonderungsverbot als Fördergebot: Verpflichtung zur besitzabhängigen Gestaltung des Schulgelds

62

E. Konsequenzen des Sonderungsverbots für die Erhebung von Schulgeld

64

I. Recht der privaten Schulen zur Erhebung von Schulgeld

64

II. Gebot einkommens- und vermögensbezogener Gestaltung des Schulgelds

67

1. Zulässige Schulgeldmodelle

68

2. Unzulässige Schulgeldmodelle

69

a) Begrenzung der Höhe des (monatlichen) Schulgelddurchschnitts

70

b) Fixer prozentualer Anteil am Haushaltseinkommen der Eltern als Schulgeld

74

III. Offenlegung der Einkommens- und Vermögensverhältnisse der Eltern nur bei Antrag auf Schulgeldermäßigung

75

IV. Sub specie des Sonderungsverbots relevante Entgelte

76

1. Entgelte für Unterricht und Lernmittel

77

2. Entgelte für außerunterrichtliche Angebote

78

a) Schulische Angebote

78

b) Nichtschulische Angebote mit Teilnahmepflicht

79

c) Nichtschulische Angebote ohne Teilnahmepflicht

81

F. Konsequenzen für den Gesetzgeber und die (Schul-)‌Verwaltung

82

I. Schülerauswahl

82

II. Schulgeld

83

G. Verfassungsrechtliche Würdigung der Neuregelung des Schulgelds in Baden-Württemberg

89

I. Ungeeignetheit des baden-württembergischen Schulgeldmodells zur Verwirklichung des Sonderungsverbots in Bezug auf einkommens- und vermögensschwache Eltern

90

1. § 18a Abs. 17 PSchG i.V.m. Ziff. 5 Satz 1 VVPSchG: Keine Förderung der Sonderung bei monatlichem Schulgeld in Höhe von durchschnittlich maximal 160 €

90

2. § 18a Abs. 17 PSchG i.V.m. Ziff. 5 Satz 3 VVPSchG: Widerlegung der Vermutung durch Nachweis wirksamer wirtschaftlicher Erleichterungen für finanzschwache Schüler

91

3. § 18a Abs. 17 PSchG i.V.m. Ziff. 5 Satz 4 VVPSchG: Verpflichtung der Ersatzschulen, den Eltern ein Schulgeld in Höhe von maximal 5% ihres Haushaltsnettoeinkommens anzubieten

92

II. Nichterforderlichkeit des baden-württembergischen Schulgeldmodells zur Verwirklichung des Sonderungsverbots im Hinblick auf einkommens- und vermögensstarke Eltern

94

1. § 18a Abs. 17 PSchG i.V.m. Ziff. 5 Satz 1 VVPSchG: Vermutung der Förderung der Sonderung bei monatlichem Schulgeld in Höhe von durchschnittlich über 160 €

94

2. § 18a Abs. 17 PSchG i.V.m. Ziff. 5 Satz 3 und Satz 4 VVPSchG: Widerlegung der Vermutung durch Nachweis wirksamer wirtschaftlicher Erleichterungen für finanzschwache Schüler ist begrenzt durch Verpflichtung der Ersatzschulen, den Eltern ein Schulgeld in Höhe von maximal 5% ihres Haushaltsnettoeinkommens anzubieten

95

III. Entgelte für Sonder- und Profilleistungen, deren Inanspruchnahme für die Schüler und deren Eltern nicht verpflichtend ist, können unabhängig vom Schulgeld erhoben werden (§ 18a Abs. 17 PSchG i.V.m. Ziff. 5 Satz 6 VVPSchG)

98

H. Auswirkungen des Sonderungsverbots auf die Finanzhilfe der Bundesländer

100

I. Finanzhilfepflicht der Bundesländer

100

II. Höhe der Finanzhilfe

102

1. Herkömmliches Drei-Säulen-Modell zur Berechnung der Finanzhilfe

102

2. Kritik am herkömmlichen Drei-Säulen-Modell und Weiterentwicklung

104

a) Höhe der Finanzhilfe: Deckung der notwendigen Gründungs- und Betriebskosten der jeweiligen Ersatzschule

105

aa) Kosten für Unterricht und Lernmittel und Kosten für schulische außerunterrichtliche Angebote

106

bb) Kosten für nichtschulische außerunterrichtliche Angebote

106

b) Berücksichtigung von Schulgeld

108

aa) Unterschiedliche Möglichkeiten der Ersatzschulen zur Erhebung von Schulgeld

108

bb) Verzicht der Ersatzschulen auf Schulgeld

109

(1) Entgelte für Unterricht und Lernmittel

109

(2) Entgelte für außerunterrichtliche Angebote

111

c) Berücksichtigung einer (weiteren) Eigenleistung der Ersatzschulen

112

III. Ergebnis zur Finanzhilfepflicht der Bundesländer

115

I. Zusammenfassung der Ergebnisse

117

Literaturverzeichnis

130

Sachwortverzeichnis

137