Arbitration, mediation & alternative dispute resolution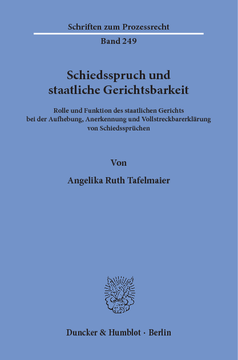 BOOK
Schiedsspruch und staatliche Gerichtsbarkeit
Rolle und Funktion des staatlichen Gerichts bei der Aufhebung, Anerkennung und Vollstreckbarerklärung von Schiedssprüchen
Schriften zum Prozessrecht, Vol. 249
(2018)
Additional Information
Book Details
ISBN

978-3-428-55463-8
978-3-428-15463-0 (print edition)

DOI

https://doi.org/10.3790/978-3-428-55463-8

Edition

1

Language

German

Pages

317

Collections

Subjects
Pricing
Institution

€ 104.00 (incl. local VAT if applicable)

Individual

€ 79.90 (incl. local VAT if applicable)
About The Author
Angelika Ruth Tafelmaier studierte Rechtswissenschaften an der Ludwig-Maximilians-Universität in München und an der Paul-Cézanne-Université in Aix-en-Provence, Frankreich. Parallel absolvierte sie eine fachspezifische Fremdsprachenausbildung im Französischen und Amerikanischen Recht und nahm an einer Summer-School zum Thema Art Law am Sotheby's Institute of Art in New York teil. Im Anschluss an die Erste Juristische Staatsprüfung Anfang 2015 verfasste sie ihre Dissertation am Institut für Internationales und Ausländisches Privatrecht an der Albert-Ludwigs-Universität Freiburg. Seit Ende 2016 ist sie Rechtsreferendarin am Hanseatischen Oberlandesgericht in Hamburg mit Auslandsstationen unter anderem in New York und Buenos Aires.
Angelika Ruth Tafelmaier studied law at the Ludwig-Maximilians-University of Munich and the Paul-Cézanne-University in Aix-en-Provence (France) while completing a Foreign Languages for Lawyers Training in French and American Law. In 2013, she participated in a summer school at Sotheby's Institute of Art in New York. After passing her first state law examination in the beginning of 2015, she wrote her PhD thesis at the Institute for International and Foreign Private Law at the Albert-Ludwigs-University in Freiburg. Afterwards, she started her legal clerkship at the Higher Regional Court in Hamburg including traineeships in New York and Buenos Aires.
Abstract
Die Arbeit hat die Rolle des staatlichen Gerichts bei der Aufhebung, Anerkennung und Vollstreckbarerklärung in- und ausländischer Schiedssprüche zum Gegenstand. Als Ausgangspunkt der Untersuchung dient das sog. Gleichwertigkeitspostulat: Die Schiedsgerichtsbarkeit ist als ein gegenüber der staatlichen Gerichtsbarkeit alternatives, eigenständiges, auf Privatautonomie beruhendes Streitentscheidungssystem zu begreifen, welcher ein hinreichend autonomer Handlungs- und Entscheidunsgspielraum jenseits staatlicher »Nachprüfungsmöglichkeiten« zukommen muss. Neben der detaillierten Darstellung einzelner, gesetzlich normierter Rahmenkontrollmechanismen arbeitet die Autorin auch deren Umfang und Grenzen heraus, insbesondere indem sie eine Gegenüberstellung mit den staatlichen Rechtsmittelverfahren der Zivilprozessordnung angesichts der ursprünglich dem Revisionsrecht entstammenden révision au fond vornimmt sowie Parallelen der ordre public-Kontrolle zum Prüfungsumfang des Bundesverfassungsgerichts zieht. Letztlich ist auch vor einem Schiedsgericht kein beliebiger Rechtsschutz einholbar, da lediglich eine »gleichwertige Rechtsschutzmöglichkeit«, aber kein darüberhinausgehender Rechtsschutz zu gewähren ist. »The Role of State Courts in the Course of the Reversal and Nullity, Recognition and Enforcement of Local and Foreign Arbitral Awards«

Arbitral jurisdiction needs to be conceived as an autonomous and independent mode of dispute resolution demanding a sufficient own scope for initiative and decision-making powers and thus presenting an equal alternative to state jurisdiction. The thesis does not only include a detailed presentation of individual legally standardized control mechanism by German state courts, but identifies scope and limits thereof in the course of a critical juxtaposition with state court appeals and constitutional complaints.
Table of Contents
Section Title
Page
Action
Price

Vorwort

7

Inhaltsverzeichnis

9

§ 1 Einleitung

21

§ 2 Problemstellung: Rolle und Verhältnis der Schiedsgerichtsbarkeit zur staatlichen Gerichtsbarkeit

27

A. Ausgangspunkt: § 1026 ZPO und § 1062 ZPO – Umfang staatsgerichtlicher Tätigkeit

27

B. Abgrenzung der staatsgerichtlichen "Hilfs- und Unterstützungs-" zur "Kontroll- und Überprüfungsfunktion"– Klärung der Begrifflichkeiten

29

C. Legislatorische Grundvorstellung: Gleichwertigkeit von Schiedsgerichtsbarkeit und staatlicher Gerichtsbarkeit

32

D. Festlegung des Begriffs der Schiedsgerichtsbarkeit

32

I. Vertragliche Theorie

34

II. Jurisdiktionelle Theorie

35

III. Vermittelnde Ansätze und Entscheidung

36

1. Definitionsmerkmale von Rechtsprechung

36

2. Entscheidung

38

3. Fazit

40

E. Folgen der Gleichwertigkeitsthese für die Herangehensweise der Untersuchung und Festlegung des Gegenstands der Untersuchung

41

§ 3 Grundlagen für das Verständnis des Verhältnisses zwischen Schiedsgerichtsbarkeit und staatlicher Gerichtsbarkeit

43

A. Schiedsgerichtsbarkeit und ihre verfassungsrechtliche Zulässigkeit

43

I. Zur Frage der Geltung von Grundrechten im Schiedsverfahren, insbesondere von Verfahrensgrundrechten – Grundrechtsverpflichtung auch der Schiedsgerichte?

44

II. Zur Vereinbarkeit der Schiedsgerichtsbarkeit mit einzelnen Bestimmungen des Grundgesetzes, insbesondere mit Art. 92 GG

46

III. Debatte um TTIP – Verfassungsrechtliche Dimension

49

IV. Herleitung der verfassungsrechtlichen Zulässigkeit der Schiedsgerichtsbarkeit aus den Freiheitsrechten

52

V. Fazit

55

B. Verhältnis von staatlicher Gerichtsbarkeit und Schiedsgerichtsbarkeit in rechtsgeschichtlicher Sicht

55

C. Die Schiedsvereinbarung als "Schnittstelle" zur Schiedsgerichtsbarkeit – Umfang und Grenzen der Privatautonomie

57

I. Interessen der Schiedsparteien – Umfang der Parteiautonomie

58

1. Nachteilige Auswirkungen einer staatlichen "Rahmenkontrolle" für die Interessen der Schiedsparteien

59

a) Größtmöglicher Einfluss auf das Verfahren

59

b) Rasche, kostengünstige und vertrauliche Entscheidung

59

c) Verbindlichkeit des Schiedsspruchs und rasche Durchsetzung

60

2. Interessen der Schiedsparteien, die eine staatliche "Rahmenkontrolle" erfordern

60

a) Beachtung der Parteivereinbarung durch das Schiedsgericht

60

b) Beachtung rechtsstaatlicher Mindeststandards

60

II. Staatliche Interessen – Grenzen der Privatautonomie

60

1. Schutz besonders sensibler Bereiche – Schiedsfähigkeit

61

2. Sicherung des Rechtsfriedens und Interesse an der Aufrechterhaltung der Funktionsfähigkeit der Schiedsgerichtsbarkeit

61

III. Interessen Dritter

61

IV. Fazit

62

§ 4 Das postarbitrale Verfahren vor dem staatlichen Gericht – einzelne Möglichkeiten einer "Rahmenkontrolle"

63

A. Verfassungsrechtlich gebotene "Rahmenkontrolle" schiedsgerichtlicher Entscheidungen

64

I. Verfassungsrechtlich gebotene "Rahmenkontrolle" von Schiedssprüchen wegen Art. 19 Abs. 4 GG

64

1. Meinungsstand

65

2. Stellungnahme

67

II. Gebot einer "Rahmenkontrolle" aus Art. 6 Abs. 1 EMRK?

69

III. Beschränkung auf eine repressive "Rahmenkontrolle" der Schiedsgerichtsbarkeit?

69

IV. Möglichkeit der Vereinbarung eines Instanzenzuges im Schiedsverfahren

70

V. Abgrenzung des schiedsinternen Instanzenzugs von staatlichen Rechtsmitteln und der "Aufhebungskontrolle" i. S. v. § 1059 Abs. 1 ZPO

72

VI. Fazit und Hinweis für die Bearbeitung

72

B. Abgrenzung zwischen inländischen und ausländischen Schiedssprüchen

73

I. Bedeutung der Unterscheidung

73

II. Entscheidung

74

III. Fazit

77

C. Inländische Schiedssprüche

78

I. Notwendigkeit eines Aufhebungsverfahrens bei inländischen Schiedssprüchen

78

II. Aufhebung des Schiedsspruchs, § 1059 ZPO

80

1. Vorrang der Berichtigung, Auslegung und Ergänzung des Schiedsspruchs durch das Schiedsgericht, § 1058 ZPO

81

2. Der Aufhebungsantrag gemäß § 1059 ZPO

82

a) Zulässigkeit des Aufhebungsverfahrens

82

aa) Antragserfordernis

82

bb) Frist gemäß § 1059 Abs. 3 ZPO

84

b) Wirkung der Aufhebung

85

c) Geltendmachung von Aufhebungsgründen außerhalb des Aufhebungsverfahrens

87

aa) Verhältnis zum Vollstreckbarerklärungsverfahren

87

bb) Negative Feststellungklage

87

cc) Wiederaufnahme des Verfahrens

88

3. Einzelne Aufhebungsgründe (§ 1059 Abs. 2 ZPO)

88

a) Auf Rüge zu beachtende Aufhebungsgründe

89

aa) § 1059 Abs. 2 Nr. 1 lit. a Var. 1 ZPO: Fehlende subjektive Schiedsfähigkeit

89

bb) § 1059 Abs. Nr. 1 lit. a Var. 2 ZPO: Allgemeine Ungültigkeit der Schiedsvereinbarung

90

cc) Exkurs: Fälschlicherweise verneinte Zuständigkeit des Schiedsgerichts als Aufhebungsgrund?

91

dd) § 1059 Abs. 2 Nr. 1 lit. b ZPO: Gehörsmängel

93

ee) § 1059 Abs. 2 Nr. 1 lit. c ZPO: Überschreitung des Streitgegenstandes

95

ff) § 1059 Abs. 2 Nr. lit. d: Prozessmängel

96

(1) § 1059 Abs. 2 Nr. 1 lit. d Var. 1 ZPO i. V. m. §§ 1034 ff. ZPO: Konstituierungsmängel

96

(2) § 1059 Abs. 2 Nr. 1 lit. d Var. 2 ZPO: Prozessablaufmängel

97

b) Von Amts wegen zu prüfende Aufhebungsgründe

98

aa) § 1059 Abs. 2 Nr. 2 lit. a ZPO: Fehlende objektive Schiedsfähigkeit

98

bb) § 1059 Abs. 2 Nr. 2 lit. b ZPO: Verstoß gegen die öffentliche Ordnung

99

(1) Verfahrensrechtlicher und materiellrechtlicher ordre public

100

(2) Restitutionsgründe des § 580 Nr. 1–6 ZPO und Aufhebung gemäß § 826 BGB

102

(3) Exkurs: Missachtung des anwendbaren materiellen Rechts

102

4. Rolle der staatlichen Gerichte im Aufhebungsverfahren nach § 1059 ZPO

103

III. Exkurs: Vergleich mit den staatlichen Rechtsmittelverfahren

108

1. Begriffsdefinition und Merkmale von staatlichen Rechtsmitteln

108

2. Statthaftigkeit der Rechtsbehelfe und Umfang und Ausgestaltung der Rechtsmittel

109

a) Berufung, §§ 511 ff. ZPO

109

aa) Statthaftigkeit

109

bb) Prüfung des Berufungsgerichts – Tatsachen – oder Rechtsinstanz?

110

cc) Konkrete Ausgestaltung und Umfang der Prüfung des Berufungsgerichts

113

(1) Berufungsbegründung

113

(2) Bindung an die Berufungsbegründung?

114

(3) Beachtung neuer Angriffs- und Verteidigungsmittel

115

dd) Entscheidung des Berufungsgerichts

116

b) Revision, §§ 542 ff. ZPO

116

aa) Statthaftigkeit der Revision

116

(1) Gegen Urteile des Berufungsgerichts

116

(2) Sprungrevision gegen erstinstanzliche Urteile

118

(3) Zulassung der Revision auch bei materiellen oder formellen Rechtsfehlern?

118

bb) Abgrenzung des Prüfungsumfangs zwischen Berufung und Revision

121

(1) Festlegung des Prüfungsumfangs des Revisionsgerichts

121

(a) Revisibles Recht

122

(b) Rechtsverletzung im Sinne des § 546 ZPO

122

(c) Beschränkte Nachprüfung tatsächlicher Feststellungen, § 559 ZPO; Abgrenzung Tat- und Rechtsfrage

123

(d) Ursächlichkeit der Rechtsverletzung und absolute Revisionsgründe, § 547 ZPO

124

(e) Umfang der Revisionsprüfung und Beschränkung auf die Revisionsanträge, § 557 ZPO

125

(2) Entscheidung des Revisionsgerichts

127

3. Vergleich mit dem Aufhebungsverfahren nach § 1059 ZPO

127

a) Zwecke der Verfahren

127

b) Statthaftigkeit

128

c) Vergleich der Anforderungen an die Begründung des Antrags und die Bindung des Gerichts an die Anträge

129

d) Vergleich hinsichtlich des Prüfungsumfangs

130

aa) Fehlende subjektive Schiedsfähigkeit, § 1059 Abs. 2 Nr. 1 lit. a Var. 1 ZPO

131

bb) Allgemeine Ungültigkeit der Schiedsvereinbarung, § 1059 Abs. 2 Nr. 1 lit. a Var. 2 ZPO

131

cc) Gehörsmängel, § 1059 Abs. 2 Nr. 1 lit. b ZPO

132

dd) § 1059 Abs. 2 Nr. 1 lit. c ZPO: Überschreitung des Streitgegenstandes

133

ee) Konstituierungsmängel, § 1059 Abs. 2 Nr. 1 lit. d Var. 1 ZPO i. V. m. §§ 1034 ff. ZPO

133

ff) Prozessablaufmängel, § 1059 Abs. 2 Nr. 1 lit. d Var. 2 ZPO

133

gg) Fehlende objektive Schiedsfähigkeit, § 1059 Abs. 2 Nr. 2 lit. a ZPO

134

hh) Verstoß gegen die öffentliche Ordnung, § 1059 Abs. 2 Nr. 2 lit. b ZPO

134

e) Fazit

135

IV. Vergleich mit der Verfassungsbeschwerde, §§ 90 ff. BVerfGG

136

1. Zulässigkeit der Verfassungsbeschwerde

137

2. Begründetheit der Verfassungsbeschwerde

138

a) Beschränkung der Überprüfung auf "spezifisches Verfassungsrecht"

139

b) Folge: Eingeschränkte Überprüfbarkeit einfachen Rechts

140

c) Überschreitung der verfassungsrechtlichen Grenzen richterlicher Rechtsfortbildung

141

d) Die Bedeutung der Eingriffsintensität

142

e) Grundrechtsverstoß durch das Entscheidungsergebnis: Willkürkontrolle im Sinne des Art. 3 Abs. 1 GG

144

3. Vergleich mit dem Aufhebungsverfahren von Schiedssprüchen, §§ 1059 ff. ZPO

144

a) Zwecke der Verfahren

144

b) Statthaftigkeit

145

c) Vergleich des Prüfungsumfangs

146

aa) "Einfaches Recht"

146

bb) "Spezifisches Verfassungsrecht"

149

(1) "Kontrolle" des gerichtlichen Verfahrens, vor allem die Gewährung rechtlichen Gehörs

149

(2) Intensität des Eingriffs und Willkürkontrolle als "Notkompetenz" – Vergleich zur ordre public "Kontrolle" im Aufhebungsverfahren von Schiedssprüchen

150

d) Fazit

153

V. Vollstreckbarerklärung des inländischen Schiedsspruches, § 1060 ZPO

154

1. Exkurs: Verbindlichkeit von Schiedssprüchen – formelle und materielle Rechtskraft

155

a) Ausgangspunkt der Untersuchung: § 1055 ZPO – Gleichwertigkeit der Rechtskraft von staatlichem Urteil und Schiedsspruch?

155

b) Verbindlichkeit bei staatlichen Urteilen – formelle und materielle Rechtskraft

156

aa) Formelle Rechtskraft i. S. v. § 705 ZPO

156

bb) Materielle Rechtskraft i. S. v. § 322 ZPO

157

cc) Folgen formeller und materieller Rechtskraft bei staatlichen Urteilen

159

dd) Durchbrechung der Rechtskraft

160

c) Verbindlichkeit bei inländischen Schiedssprüchen – formelle und materielle Rechtskraft

161

aa) Formelle Rechtskraft von Schiedssprüchen

162

bb) Vollstreckbarerklärung als Voraussetzung für den Eintritt materieller Rechtskraft

164

cc) Materielle Rechtskraft i. S. v. § 1055 ZPO – Gleichwertigkeit mit materieller Rechtskraft von staatlichen Urteilen?

165

(1) Umfang der materiellen Rechtskraft

165

(2) Abdingbarkeit der Rechtskraft und Beachtung nur auf Einrede?

166

(a) Darstellung der herrschenden Meinung

167

(b) Darstellung der Mindermeinung

169

(c) Entscheidung

172

d) Fazit

175

2. Vollstreckbarerklärung inländischer Schiedssprüche, § 1060 ZPO

175

a) Voraussetzungen und Verfahren: § 1060 Abs. 2 ZPO

176

aa) Endgültiger, wirksamer Schiedsspruch i. S. d. §§ 1025 ff. ZPO

176

bb) Antrag nach § 1062 Abs. 1 Nr. 4 ZPO

177

cc) Verfahren und Festlegung des Gegenstands des Vollstreckungstitels

177

dd) Begründetheit des Antrags – Prüfung der Aufhebungsgründe

178

(1) Anforderungen an die begründete Geltendmachung bei § 1059 Abs. 2 Nr. 1 ZPO

179

(2) Ausschluss durch rechtskräftige Abweisung des Aufhebungsantrags, § 1060 Abs. 2 S. 2 ZPO

179

(3) Ausschluss durch Ablauf der Frist des § 1059 Abs. 3 ZPO

180

(4) Erweiterung des Prüfungsmaßstabes auf Einwendungen nach § 767 ZPO

180

b) Entscheidung des Gerichts

181

aa) Positive Sachentscheidung und Wirkung der Vollstreckbarerklärung

181

(1) Abgrenzung zwischen Feststellungs- und Gestaltungswirkung zur Vollstreckungswirkung

182

(2) Ausnahme: Fiktion der Abgabe der Willenserklärung gemäß § 894 ZPO

183

(3) Übrige Vollstreckungsvoraussetzungen

183

bb) Negative Sachentscheidung

184

c) Inhalt der Entscheidung – Rolle der staatlichen Gerichte bei der Vollstreckbarerklärung inländischer Schiedssprüche

185

D. Ausländische Schiedssprüche

188

I. Anerkennung ausländischer Schiedssprüche

189

II. Vollstreckbarerklärung ausländischer Schiedssprüche, § 1061 ZPO

189

1. Anwendbarkeit: Ausländische Schiedssprüche

190

2. Vollstreckbarerklärung nach dem UN-Übereinkommen über die Anerkennung und Vollstreckung ausländischer Schiedssprüche

191

a) Konkurrenz des Verfahrens nach § 1061 ZPO und anderen Verfahrensarten

192

b) Vollstreckbarerklärung ausländischen Exequaturs

193

c) Systematik der Verweisung in das UNÜ

194

aa) Art. I UNÜ

194

bb) Art. II UNÜ

195

cc) Art. III UNÜ

196

dd) Art. IV UNÜ

197

ee) Art. V UNÜ

199

(1) Präklusion und Verbindlichkeit einzelner Versagungsgründe

199

(a) Unterschiedliche Fallgruppen

200

(b) Fallgruppe (α): Rügelose Einlassung im Schiedsverfahren

201

(c) Fallgruppe (β): Keine Teilnahme am Schiedsverfahren

202

(d) Fallgruppe (γ): Unterlassen eines Anfechtungsrechtsbehelfs im Erststaat trotz Rüge im Schiedsverfahren

203

(aa) Streitstand und aktuelle Rechtslage

204

(bb) Kritische Würdigung der Kehrtwende des Bundesgerichtshofs

207

(e) Fallgruppe (δ): Materiellrechtliche Einwendungen gegen den Schiedsspruch

211

(f) Präklusion bei allen Aufhebungsgründen?

212

(g) Verbindlichkeit von Art. V UNÜ?

214

(2) Einzelne Versagungsgründe

214

(a) Art. V Abs. 1 lit. a UNÜ: Nichtvorliegen bzw. Unwirksamkeit der Schiedsvereinbarung

214

(b) Art. V Abs. 1 lit. b UNÜ: Verletzung rechtlichen Gehörs

215

(c) Art. V Abs. 1 lit. c UNÜ: Kompetenzüberschreitung durch das Schiedsgericht

216

(d) Art. V Abs. 1 lit. d UNÜ: Fehler bei der Bildung des Schiedsgerichts oder im Schiedsverfahren

217

(e) Art. V Abs. 1 lit. e UNÜ: Fehlende Verbindlichkeit des Schiedsspruchs

218

(aa) Schiedsspruch i. S. d. § 1061 ZPO

218

(bb) Zeitpunkt der Verbindlichkeit

218

(cc) Sonderfall: Aufhebung des Schiedsspruchs im Ausland – Auswirkungen auf die Verbindlichkeit

219

(dd) Exkurs: Gefahr der Doppelkontrolle von Schiedssprüchen

221

(f) Art. V Abs. 2 lit. a UNÜ: Fehlen der objektiven Schiedsfähigkeit

222

(g) Art. V Abs. 2 lit. b UNÜ: Verstoß gegen den ordre public

223

(aa) Besonderheiten von ordre public Verstößen bei ausländischen Schiedssprüchen

223

(bb) Unterscheidung ordre public interne und ordre public international

224

(3) Entscheidung des Gerichts bei Bestehen / Nichtbestehen eines Versagensgrundes

226

ff) Art. VI UNÜ

226

gg) Art. VII UNÜ

227

(1) Völkerrechtliches Verhältnis zu anderen bi- und multilateralen Staatsverträgen

227

(2) Meistbegünstigungsklausel

227

(3) Verhältnis zum Genfer Protokoll über Schiedsklauseln von 1923 sowie zum Genfer Abkommen zur Vollstreckung ausländischer Schiedssprüche von 1927

229

hh) Verfahren

229

d) Prüfungsumfang des Gerichts bei ausländischen Schiedssprüchen

230

III. Anerkennung und Vollstreckbarerklärung nach anderen Staatsverträgen

232

1. Multilaterale Staatsverträge

232

a) Verhältnis zum UNÜ

232

b) Einzelne Abkommen

232

aa) Genfer Abkommen vom 26.09.1927

232

bb) Das Europäische Übereinkommen vom 21.04.1961 (EuÜ)

233

(1) Anwendungsvoraussetzungen, Art. I EuÜ

233

(a) Personenbezogene Anwendungsvoraussetzung

233

(b) Sachbezogene Anwendungsvoraussetzung

233

(c) Anwendung des EuÜ im Verhältnis zum UNÜ

234

(2) Besonderheiten bei der Anerkennung und Vollstreckbarerklärung von Schiedssprüchen

234

(a) Art. I Abs. 2 lit. a EuÜ, Art. VI Abs. 2 EuÜ

235

(b) Art. V EuÜ

235

(aa) Präklusionsvorschriften des Art. V EuÜ

235

(bb) Ausnahmen von der Präklusion

236

(c) Art. VIII EuÜ

237

(d) Art. IX EuÜ

237

(e) Art. X EuÜ

238

cc) Das Washingtoner Weltbankübereinkommen vom 18.03.1965

239

dd) COTIF vom 09.05.1980

240

ee) Londoner Auslandsschuldenabkommen vom 27.02.1953

240

2. Bilaterale Staatsverträge

240

a) Verhältnis zum UNÜ

240

b) Bilaterale Abkommen mit eigenständiger Regelung

242

aa) Deutsch-amerikanischer Freundschafts-, Handels- und Schifffahrtsvertragvom 29.10.1954

242

bb) Deutsch-belgisches Anerkennungs- und Vollstreckungsabkommen vom 30.06.1958

242

cc) Deutsch-tunesischer Rechtshilfe-, Anerkennungs- und Vollstreckungsvertrag vom 19.06.1966

243

IV. Anerkennung und Vollstreckbarerklärung ausländischer Urteile

243

1. Wirkungserstreckung oder Gleichstellung

245

2. Prinzip der Anerkennung von Gesetzes wegen

246

3. Anerkennung und Vollstreckung ausländischer Urteile nach der EuGVVO

246

a) Verstoß gegen den ordre public, Art. 45 Abs. 1 lit. a EuGVVO

248

b) Nicht ordnungsgemäße Verfahrenseinleitung, Art. 45 Abs. 1 lit. b EuGVVO

249

c) Unvereinbarkeit mit einer Entscheidung im Anerkennungsstaat, Art. 45 Abs. 1 lit. c und d EuGVVO

250

d) Zuständigkeitsprüfung, Art. 45 Abs. 1 lit. e, Abs. 3 EuGVVO

251

e) Keine Sachüberprüfung / Verbot der révision au fond, Art. 52 EuGVVO

251

4. Anerkennung und Vollstreckung nach deutschem autonomen Recht

252

a) Anerkennung ausländischer Urteile, § 328 ZPO

252

b) Vollstreckbarerklärung ausländischer Urteile, §§ 722, 723 ZPO

253

aa) Verfahren

254

bb) Vollstreckungsfähiges und vollstreckbares Urteil

254

c) Anerkennungs- und Vollstreckbarerklärungshindernisse

255

aa) Gerichtsbarkeit des ausländischen Staates, § 328 Abs. 1 Nr. 1 ZPO

255

bb) Nichteinlassung des Beklagten, § 328 Abs. 1 Nr. 2 ZPO

256

cc) Kollision unvereinbarer Entscheidungen, § 328 Abs. 1 Nr. 3 ZPO

257

dd) Verstoß gegen den ordre public, § 328 Abs. 1 Nr. 4 ZPO

258

ee) Verbürgerung der Gegenseitigkeit, § 328 Abs. 1 Nr. 5, Abs. 2 ZPO

258

ff) Verbot der révision au fond, § 723 Abs. 1 ZPO

259

5. Fazit: Prüfungsumfang bei der Anerkennung und Vollstreckbarerklärung ausländischer Urteile und Vergleich mit der Anerkennung und Vollstreckbarerklärung ausländischer Schiedssprüche

260

a) Umfang der Prüfung im Rahmen der Anerkennungshindernisse des § 328 ZPO und Art. 45 EuGVVO

260

aa) "Überprüfung" der internationalen Zuständigkeit des Erstgerichts

260

bb) Ordre public Widrigkeit der Anerkennung

261

cc) Übrige Anerkennungshindernisse im Vergleich

263

b) Präklusion von Einwänden im Anerkennungs- und Vollstreckbarerklärungsverfahren – ein Vergleich

265

c) Fazit

267

§ 5 Schlussfolgerungen für das Verhältnis zwischen Schiedsgerichtsbarkeit und staatlicher Gerichtsbarkeit

268

A. Gleichwertigkeitspostulat

268

B. Notwendigkeit einer "Rahmenkontrolle"

269

C. Ausgestaltung der Synthese zwischen der Privatautonomie und dem Sicherungsinteresse rechtsstaatlicher Mindeststandards

270

I. Möglichkeiten einer präventiven "Rahmenkontrolle"

271

II. Möglichkeiten einer repressiven "Rahmenkontrolle"

271

1. Aufhebungsverfahren von inländischen Schiedssprüchen, § 1059 ZPO

272

2. Vollstreckbarerklärung inländischer Schiedssprüche, § 1060 ZPO

272

3. Anerkennung und Vollstreckbarerklärung ausländischer Schiedssprüche, §§ 1061 ZPO i. V. m. UNÜ

274

III. Grenzen einer "Rahmenkontrolle"

274

1. Abschließende und verbindliche Aufzählung der Aufhebungs- und Anerkennungs- versagungsgründe

275

2. Verbot der révision au fond

275

3. Präklusion einzelner Aufhebungs- bzw. Versagungsgründe

277

D. Vergleich zum staatlichen Rechtsmittelverfahren, der Bundesverfassungsbeschwerde und der Anerkennung und Vollstreckbarerklärung ausländischer Urteile

278

I. Vergleich zum staatlichen Rechtsmittelverfahren

278

II. Vergleich zur Bundesverfassungsbeschwerde

279

III. Vergleich mit der Anerkennung und Vollstreckbarerklärung ausländischer Urteile

280

E. Fazit

280

Literaturverzeichnis

282

Sachverzeichnis

310