Local taxation, charges, public prices, excise duties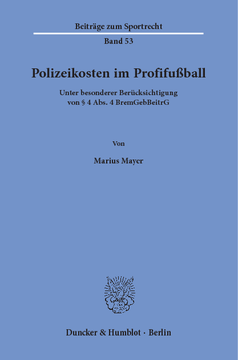 BOOK
Polizeikosten im Profifußball
Unter besonderer Berücksichtigung von § 4 Abs. 4 BremGebBeitrG
Beiträge zum Sportrecht, Vol. 53
(2018)
Additional Information
Book Details
ISBN

978-3-428-55522-2
978-3-428-15522-4 (print edition)

DOI

https://doi.org/10.3790/978-3-428-55522-2

Edition

1

Language

German

Pages

280

Collections

Subjects
Pricing
Institution

€ 104.00 (incl. local VAT if applicable)

Individual

€ 79.90 (incl. local VAT if applicable)
About The Author
Marius Mayer studierte Rechtswissenschaften an der Philipps Universität Marburg. Das Referendariat absolvierte er zwischen 2013 und 2015 am Landgericht Marburg mit einer Station an der Deutschen Botschaft in Sofia. Seit 2017 ist er als Rechtsanwalt bei der Kanzlei Hengeler Mueller tätig.
Marius Mayer studied law at the Philipps University in Marburg. He completed his legal traineeship between 2013 and 2015 at the regional court in Marburg with a station at the German Embassy in Sofia. Since 2017 he works as a lawyer for the law firm Hengeler Mueller.
Abstract
Bislang werden die Kosten für Polizeieinsätze bei Profifußballspielen zu einem weit überwiegenden Teil aus den Landeshaushalten bezahlt. Der Gesetzgeber des Landes Freie Hansestadt Bremen hat jedoch einen Vorstoß unternommen, die Fußballveranstalter zumindest bei sog. Risikofußballspielen an den Einsatzkosten anteilig zu beteiligen. Der im November 2014 ins BremGebBeitrG eingefügte § 4 Abs. 4 soll eine Rechtsgrundlage schaffen, um insbesondere bei Fußballrisikospielen für die personalintensiven Polizeieinsätze im öffentlichen Raum Gebühren erheben zu können.

Während der Autor sich im ersten Teil der Untersuchung auf rechtstatsächlicher Ebene mit den Polizeieinsätzen im Umfeld von Profifußballspielen auseinandersetzt, um eine Faktenbasis zu schaffen, auf deren Grundlage sich mit den rechtsdogmatischen Fragen der Thematik auseinandergesetzt werden kann, werden im zweiten Teil der Arbeit die (finanz)verfassungsrechtlichen Grenzen einer Polizeikostenbeteiligung aufgezeigt. »Policing Costs in Professional Football«

Based on a law of the federal state of Bremen, the doctoral thesis deals with the question whether public authorities are able to recoup from football clubs and football associations the costs of public order policing and crowd control in public space before and after football matches. The author does not only deal with the legal-dogmatic issues of charging policing costs, but also with the security situation and police operations in connection with football matches in Germany.
Table of Contents
Section Title
Page
Action
Price

Vorwort

5

Inhaltsverzeichnis

7

Abkürzungsverzeichnis

12

Einleitung

17

A. Einführung in die Thematik

17

B. Fragestellungen

19

C. Gang der Untersuchung

24

Erster Teil: Polizeieinsätze im Umfeld des Profifußballs

26

§ 1 Störer im Umfeld von Fußballspielen: Ultras, Fans und Hooligans?

26

A. Die Situation in den Anfangsjahren des deutschen Fußballs

26

B. "Fußballfans" – eine jugendliche Subkultur entsteht

27

I. Auswirkungen auf die Sicherheitslage

28

II. Blick auf die polizeiliche Einsatzkonzeption in den 1970er und frühen 1980er Jahren

29

C. Der Hooliganismus

30

I. Modifizierung der Einsatz- und Sicherheitskonzeptionen

32

II. Abkehr der Hooligans vom Stadionbesuch

33

D. Ultras – "das neue und bestimmende Gewaltphänomen"

35

I. Entwicklung der Ultras in Deutschland

36

II. Charakteristika der deutschen Ultras

37

1. Pyrotechnik als Ausdrucksmittel

38

2. Verhältnis zur Gewaltanwendung

40

3. Gesellschaftliches Engagement

41

4. Berührungspunkte mit Hooligans

42

5. Konflikte mit der (Bereitschafts-)‌Polizei

43

§ 2 Ursachen der Auseinandersetzungen im Umfeld von Fußballspielen

45

A. Erklärungsansätze für historische Zuschauergewalt

46

B. Modifizierung der Erklärungsansätze

47

§ 3 Gefahrenabwehrrechtliche Beurteilung der Vorfälle im Zusammenhang mit der Austragung von Fußballspielen

52

A. Auseinandersetzungen bei An- und Abreise

53

I. Beispiele aus der Praxis

53

II. (Straf-)‌Rechtliche Einordnung

55

B. Das "Abziehen" von Fanartikeln

57

I. Beispiele aus der Praxis

58

II. (Straf-)‌Rechtliche Einordnung

58

C. Passivbewaffnung und Vermummungsutensilien – "Fanoutfits" am Spieltag

60

I. Beispiele aus der Praxis

60

II. (Straf-)‌Rechtliche Einordnung

60

D. Übergriffe abseits der Spieltage

62

I. Beispiele aus der Praxis

62

II. (Straf-)‌Rechtliche Einordnung

63

E. Die "Meisterschaftskämpfe" der Hooligans

63

I. Beispiele aus der Praxis

63

II. (Straf-)‌Rechtliche Einordnung

64

F. Straftaten im Stadion

65

I. Gebrauch von Pyrotechnik

65

II. Inkriminierte Fangesänge – ein neues strafrechtliches Handlungsfeld?

67

III. Rechtswidriger Besuch von Spielen

70

G. "Reviermarkierung" im öffentlichen Raum

71

Zweiter Teil: Umfang und Grenzen der Beteiligung der Fußballveranstalter an den polizeilichen Einsatzkosten

149

§ 8 Einführung in die Problematik

149

§ 9 Polizeirechtlicher Ansatz

155

A. Gefahren für die öffentliche Sicherheit bei Fußballveranstaltungen

155

B. Fußballveranstalter als Störer

158

I. Problemaufriss

158

II. Störereigenschaft bei unzureichenden Sicherungsmaßnahmen

161

III. Störereigenschaft bei ausreichenden Sicherungsmaßnahmen

164

1. Auffassungen innerhalb der Unmittelbarkeitstheorie

164

a) Fußballveranstalter als Zweckveranlasser

167

b) Zwischenergebnis

174

2. Ergebnis

175

C. Polizeirechtliche Sekundärebene

175

§ 10 Gebührenrechtlicher Ansatz

177

A. Der Bremer Vorstoß: § 4 Abs. 4 BremGebBeitrG

179

I. Gesetzeshistorie

179

II. Gesetzgebungskompetenz

181

III. Verfassungsrechtliche Begrenzung der Gebührenerhebung im Bereich der Gefahrenabwehr

184

1. Steuerstaatsprinzip und Staatsaufgabenlehre

185

2. Stellungnahme

188

IV. Finanzverfassungsrechtliche Anforderungen an die Gebührenerhebung

190

1. Sachliche Gebührenpflicht

191

2. Persönliche Gebührenpflicht

193

a) Veranlassung der Bereitstellung der zusätzlichen Polizeikräfte

193

b) Zufließen eines besonderen Vorteils

197

aa) Einsparen von Sicherheitsaufwendungen

198

bb) Gewährleistung des Ablaufs der Veranstaltung

200

(1) Faktischer Sicherheitsvorteil

200

(2) Ermöglichung eines störungsfreien Verlaufs

205

3. Äquivalenz- und Kostendeckungsprinzip

207

V. Vereinbarkeit mit Freiheitsgrundrechten

209

1. Art. 12 Abs. 1 GG, Art. 14 Abs. 1 GG, Art. 2 Abs. 1 GG

209

2. Art. 8 GG

216

3. Art. 9 Abs. 1 GG

216

VI. Vereinbarkeit mit dem Allgemeinen Gleichheitsgrundsatz

218

1. Grundsatz der Belastungsgleichheit

218

2. Ungleichbehandlung zu kleineren und nicht-kommerziellen Veranstaltungen

219

3. Irrtümliche Prognose

219

VII. Hinreichende Bestimmtheit der Norm

220

1. Abgabeobjekt

221

a) Erfahrungsgemäß zu erwartende Gewalthandlungen

222

aa) Prognoseentscheidung

222

bb) Begriff der Gewalthandlungen

223

b) Räumlicher und zeitlicher Umfang

227

c) Einsatz von zusätzlichen Polizeikräften

229

2. Abgabesubjekt und Frage nach der Veranstaltereigenschaft

230

3. Bemessungsgrundlage und Abgabesatz

237

VIII. Art. 19 Abs. 1 S. 1 GG

241

B. Ergebnis des zweiten Teils und Ausblick

245

I. Ergebnis § 9

245

II. Ergebnis § 10

246

III. Ausblick

246

§ 11 Zusammenfassung der wichtigsten Ergebnisse

250

Literaturverzeichnis

257

Stichwortverzeichnis

277