Political structures: democracy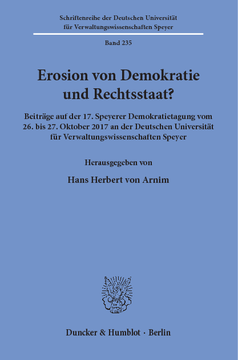 BOOK
Cite BOOK
Style
---
Arnim, H. (Ed.) (2018). Erosion von Demokratie und Rechtsstaat?. Beiträge auf der 17. Speyerer Demokratietagung vom 26. bis 27. Oktober 2017 an der Deutschen Universität für Verwaltungswissenschaften Speyer. Duncker & Humblot. https://doi.org/10.3790/978-3-428-55536-9
Arnim, Hans Herbert von. Erosion von Demokratie und Rechtsstaat?: Beiträge auf der 17. Speyerer Demokratietagung vom 26. bis 27. Oktober 2017 an der Deutschen Universität für Verwaltungswissenschaften Speyer. Duncker & Humblot, 2018. Book. https://doi.org/10.3790/978-3-428-55536-9
Arnim, H (ed.) (2018): Erosion von Demokratie und Rechtsstaat?: Beiträge auf der 17. Speyerer Demokratietagung vom 26. bis 27. Oktober 2017 an der Deutschen Universität für Verwaltungswissenschaften Speyer, Duncker & Humblot, [online] https://doi.org/10.3790/978-3-428-55536-9
---
Format
---
Erosion von Demokratie und Rechtsstaat?
Beiträge auf der 17. Speyerer Demokratietagung vom 26. bis 27. Oktober 2017 an der Deutschen Universität für Verwaltungswissenschaften Speyer
Editors: Arnim, Hans Herbert von
Schriftenreihe der Hochschule Speyer, Vol. 235
(2018)
Additional Information
Book Details
ISBN

978-3-428-55536-9
978-3-428-15536-1 (print edition)

DOI

https://doi.org/10.3790/978-3-428-55536-9

Edition

1

Language

German

Pages

222

Collections

Subjects
Pricing
Institution

€ 120.00 (incl. local VAT if applicable)

Individual

€ 89.90 (incl. local VAT if applicable)
About The Author
Hans Herbert von Arnim ist Jurist und Volkswirt. Nach der arbeitsrechtlichen Promotion in Heidelberg leitete er zehn Jahre lang das Forschungsinstitut des Bundes der Steuerzahler in Wiesbaden. Er habilitierte sich in Regensburg, für Öffentliches Recht, Finanz- und Steuerrecht, lehrte in München und Marburg und folgte 1981 dem Ruf der Deutschen Hochschule (heute: Universität) für Verwaltungswissenschaften Speyer, wo er auch über seine Pensionierung hinaus lehrt und forscht. Von 1993 bis 1995 war er Rektor der Hochschule. Sein Thema sind Grundfragen von Staat und Gesellschaft, was direkte Einmischung in die Politik aber nicht ausschließt.
Abstract
Die Frage nach dem Zustand von Demokratie und Rechtsstaat ist derzeit besonders aktuell, angesichts der Euro-Krise, des Brexits oder der Flüchtlingskrise. Vor diesem Hintergrund geht es in mehreren Beiträgen dieses Bandes um zu wenig Demokratie, weil politische Entscheidungen dem Volk oder dem Parlament entzogen oder vorenthalten werden. So etwa durch Gerichte, die den Gesetzen und der Verfassung oft mehr $aunter$zlegen, als sie $aaus$zzulegen, oder durch Regierungen und ihre Chefs, die den Parlamenten nur die formale Absegnung längst getroffener Entscheidungen überlassen. Weitere Themen sind die Flüchtlingswelle im Herbst 2015, Gefahren für Demokratie und Rechtsstaat, die von Freihandelsabkommen ausgehen, Licht- und Schattenseiten der Demokratie in den Europäischen Institutionen, das undurchsichtige Bundestagswahlrecht, das zu einer gewaltigen Aufblähung des Bundestags geführt hat, sowie die Chancen und Gefahren von direktdemokratischen Elementen auf Bundesebene.»Erosion of Democracy and the Constitutional State? Contributions at the 17th Speyer Democracy Conference from 26 to 27 October 2017 at the German University of Administrative Sciences Speyer«The question of the status of democracy and the constitutional state in Germany and in Europe is currently very topical in light of the euro crisis, Brexit, the refugee crisis, the shift of popular parties towards the political center so citizens are barely able to punish poor policies in the polls without getting closer to political extremes and the increasing number of political decisions kept from the people or parliament.
Table of Contents
Section Title
Page
Action
Price

Vorwort

5

Inhaltsverzeichnis

9

Hans-Werner Sinn: Brexit, Deutschland und die Zukunft der Europäischen Union

11

I. Nicht nur Verlierer

13

II. Auch Deutschland wird zu den Verliererndes Austritts gehören

14

III. Wider die Metapher vom Rosinenpicken

16

IV. Welche Union wollen wir?

16

V. Exit from Brexit

18

Wolfgang Weiß: Kann Freihandel Demokratie und Rechtsstaat gefährden? Zu den (unions)verfassungsrechtlichen Anforderungen der parlamentarischen Begleitung von Regelsetzung durch Vertragsgremien

21

I. Einleitung: Einordnung der Problemstellungin den Kontext von Globalisierung undinternationalisierter Regelsetzung

21

II. Verfassungsrechtliche Problemfelder der neuenumfassenden Freihandelsabkommen der EU

25

1. Vertragsgremien mit immer umfangreicheren Kompetenzen

25

a) Umfangreiche Kompetenzen der CETA Ausschüsse

27

b) Bindungswirkung der Ausschussbeschlüsse

28

c) Übertragung von Hoheitsgewalt

31

d) Anfragen an die demokratische Legitimation

32

2. Investitionsschutzstandards undInvestor-Staat-Streitbeilegungsverfahren

33

III. Freihandelsabkommen und Gefahren für die Demokratie

36

1. Einordnung und Standortbestimmung hinsichtlichdemokratischer Anforderungen

36

2. Unionsrechtliche Anforderungen an die Hoheitsausübung vonVertragsgremien

41

a) Rechtsgrundlage für die Hoheitsübertragung

41

b) Grenzen für die Hoheitsübertragung aufgrund von Anforderungenaus Demokratie und institutionellem Gleichgewicht

42

c) Ergebnis

47

3. Konsequenzen für die Zuständigkeitender Vertragsgremien am Beispiel von CETA

48

a) Durchführungszuständigkeiten

48

b) Entscheidungen grundlegender Bedeutung

48

aa) Übergang des Investitionsschutzesauf eine multilaterale Investitionsgerichtsbarkeit

49

bb) Festlegung der Standards für den Austauschvon Produktwarnungen

49

c) Allgemeine Regelsetzung

50

aa) Arbeitsweise des Berufungsgerichts

50

bb) Verhaltenskodex und wesentliche Verfahrensregeln

51

d) Änderungen am CETA

52

aa) Erweiterungen des Begriffs des Geistigen Eigentums

52

bb) Festlegung der gerechten und billigen Behandlung

52

cc) Verbindliche Auslegungen

53

dd) Veränderungen des CETA

55

e) Ergebnis

57

4. Unionsverfassungsrechtliche Lösungsmöglichkeiten:Zur Stärkung der demokratischen Legitimation der Vertragsgremiendurch Ausbau der Stellung des Europäischen Parlaments

58

5. Anforderungen an die Weiterübertragung vonHoheitsrechten durch die EU aus dem Grundgesetz

60

a) Anforderungen an die demokratische Ausgestaltungder EU-Hoheitsgewalt

61

b) Parlamentarische Kontrolle durch das Europäische Parlamentoder durch den Bundestag?

63

c) Alternativ: parlamentarische Zustimmung des Bundestagsfür bedeutsame Zuständigkeiten der Vertragsgremien erforderlich

66

IV. Fazit

69

V. Kurzfassung

70

Jens Gnisa: Gefahren für Rechtsstaat und Demokratie in Europa

71

I. Entwicklungen im Ausland

71

1. Türkei

71

2. Spanien

72

3. Osteuropa, insbesondere Polen

72

4. Westeuropa

72

II. Probleme des deutschen Rechtssystems

73

1. Gerechtigkeit

73

2. Sicherheit

74

3. Erschütterungen im Vertrauen auf Sicherheit und Gerechtigkeit

74

4. Wahrgenommene Rechtsbrüche der Politik

75

5. Komplexität der Gesellschaft und des Rechtssystems

76

6. Schwächung des Rechtssystems durch paralleleBewertungsmaßstäbe

76

III. Lösungsansätze

77

1. Europa vereinfachen

77

2. Ansätze auf der Ebene des Grundgesetzes

78

3. Konsequente Rechtsanwendung –keine Graubereiche entstehen lassen

78

4. Recht als ultima ratio

78

5. Bürgernahes, gerechtes Zivilrecht

78

6. Politisch unabhängige Justiz

79

7. Ausstattung

79

Werner J. Patzelt: Mehr "direkte" Demokratie! Aber was und wofür?

81

I. Verbesserung repräsentativer Demokratie:Warum eigentlich?

81

II. Bruchstellen zwischen Repräsentation und Demokratie

83

III. Wie genau können plebiszitäre Instrumente12die repräsentative Demokratie verbessern?

87

1. Grundsätzliches

87

2. Die drei Elemente einer Repräsentationsbeziehungund der Nutzen plebiszitärer Instrumente

90

IV. Sinnvolle plebiszitäre Instrumente

95

1. Volksantrag

95

2. Volksgesetzgebung

96

3. Das fakultative (gesetzesaufhebende) Referendum

97

4. Eher ein Gedankenspiel: Vorlageninitiativen

99

5. Obligatorische Referenden

100

IV. Abzulehnende plebiszitäre Instrumente

101

V. Was darf man von sinnvollen plebiszitärenInstrumenten erwarten – und was nicht?

105

Literatur

108

Frank Decker: Direkte Demokratie – aber wie und wofür?

109

I. Direkte Demokratie: vom linken zum rechten Thema?

109

II. Die Präferenz für die direkte Demokratie "von unten"

111

III. Die Systemwidrigkeit der von unten ausgelöstenVerfahren in der parlamentarischen Demokratie

115

IV. Geeignete direktdemokratische Verfahren auf Bundesebene

119

V. Schlussbemerkung

125

Bernd Rüthers: Judex legibus absolutus? Erosion des Rechtsstaats?

127

I. Vom Rechtstaat zum Richterstaat

127

1. Zu den Ursachen

127

2. Zum Richterrecht im Arbeitsrecht

130

a) Im Kündigungsschutzrecht

131

b) Im Arbeitskampfrecht

132

3. Zum Richterrecht im Verfassungsrecht

135

II. Verfassungserosion durch gemeinschaftliche "Umdeutung"der Verfassungsgrundbegriffe und Einrichtungsgarantien?

138

1. Der neue einfachgesetzliche Ehebegriff

138

2. Wie es zu dem Gesetz kam

140

3. Die Ehe als Verfassungsbegriff

140

4. Einvernehmliche Verfassungsumgehung durch die Verfassungsorgane? –Der "scheinautomatische Verfassungswandel" durchverschwiegene Umdeutung

142

5. Wird die verfassungsrechtliche und die verfassungspolitischeDimension solcher verdeckten und verschwiegenenVerfassungsänderungen verkannt?

143

III. Fazit

145

Robin Alexander: Die Flüchtlingskrise – wie es dazu kam

147

I. Vorbemerkungen

147

II. Die deutsche Flüchtlingskrise

148

III. Der schwarz-rot-grüne Asylkompromiss

149

IV. Wie Prognosen entstehen

150

V. Eine spontane Entscheidung

153

VI. Illusion europäische Lösung

154

Joachim Behnke: Das neue Wahlgesetz von 2013 im zweiten Test der Bundestagswahl von 2017 – nicht bestanden: Die dringende Notwendigkeit einer Reform

157

I. Einführung

157

II. Die Wirkungsweise des Wahlsystems von2013 bei der Bundestagswahl 2017

159

III. Alternative Modelle

166

IV. Normative Kriterien

176

V. Eigener Reformvorschlag

180

VI. Fazit

185

Literatur

187

Thomas Poguntke: Präsidentialisierung: Entmachtung des Parlaments?

189

I. Einleitung

189

II. Die These von der Präsidentialisierung

190

III. Die drei Gesichter der Präsidentialisierung

191

1. Die Präsidentialisierung der Exekutive

192

2. Die Präsidentialisierung der Parteien

193

3. Präsidentialisierung des Wahlprozesses

193

IV. Erklärungsfaktoren

194

V. Die Entmachtung der Parlamente

197

VI. Schlussfolgerungen

199

Literatur

200

Sven Giegold: Das Europäische Parlament zwischen Zerrbild und Realität

203

I. Vorbemerkungen zu meiner Person

203

II. Grundsätzliches zur Demokratie in EU-Institutionen

204

III. Eigene Erfahrungen als Europaparlamentarier

206

1. Die Rechte des Europaparlaments

206

a) Das Gesetzgebungsrecht

206

b) Das Budgetrecht

210

c) Das Ernennungs- und Abberufungsrecht

210

d) Das Kontrollrecht

212

2. Weitere Aspekte

213

a) Die Europäischen Parteifamilien

213

b) Die fehlende Wahlgleichheit

214

c) Die finanzielle Ausstattung

215

d) Die Debattenkultur

216

IV. Die Beseitigung von Demokratiedefiziten

216

1. Renationalisierung versus Europäische Demokratie

216

2. Einige meiner eigenen Projekte

217

V. Fazit

220

Verzeichnis der Autoren

221