Private or civil law: general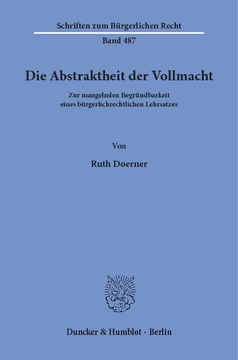 Additional Information
Book Details
ISBN

978-3-428-55396-9
978-3-428-15396-1 (print edition)

DOI

https://doi.org/10.3790/978-3-428-55396-9

Edition

1

Language

German

Pages

279

Collections

Subjects
Pricing
Institution

€ 104.00 (incl. local VAT if applicable)

Individual

€ 79.90 (incl. local VAT if applicable)
About The Author
Ruth Doerner studierte Rechtswissenschaften in Heidelberg und Madrid. Nach dem Ersten juristischen Staatsexamen im Jahr 2009 absolvierte sie das Referendariat in Frankfurt a.M. mit Stationen in Berlin und Brüssel und war anschließend als wissenschaftliche Mitarbeiterin am Lehrstuhl für Bürgerliches Recht, Arbeits- und Handelsrecht an der Universität Heidelberg tätig. Im Oktober 2017 folgte die Promotion durch die Universität Heidelberg. Ruth Doerner ist Staatsanwältin am Landgericht Aschaffenburg.
Ruth Doerner studied law in Heidelberg, Germany, and Madrid, Spain. Her first juristic exam was followed by a postgraduate judicial service in Frankfurt and Berlin, Germany, as well as in Brussels, Belgium, where she worked for the European Commission. Throughout her professional education she worked as a scientific assistant for the Chairs for Private Law of Prof. Dr. Thomas Lobinger and Prof. Dr. Katja Langenbucher in Heidelberg and Frankfurt, respectively. Ruth Doerner has been working as Judge and State Attorney at the District Court Aschaffenburg, Germany, since 2014 and received a doctorate from the University Heidelberg in 2017.
Abstract
Die Vollmacht als rechtsgeschäftlich erteilte Vertretungsmacht gilt im deutschen Bürgerlichen Recht als abstrakt von dem ihr zugrunde liegenden Grundverhältnis. Der Grundsatz der Abstraktheit der Vollmacht wird in der Praxis jedoch vielfach durchbrochen und erweist sich bei genauerem Hinsehen als entbehrlich. Ausgehend von den historischen und dogmatischen Grundlagen des stellvertretungsrechtlichen Abstraktionsgrundsatzes im deutschen Zivil- und Handelsrecht entwirft die Arbeit auf der Basis des geltenden Rechts ein Gegenmodell zu der Abstraktheit der Vollmacht. Dieses Modell beruht auf der Anerkennung der Außenerklärung des Vertretenen über die Vertretungsmacht seines Stellvertreters als rechtsgeschäftliche Zusicherung gegenüber dem gutgläubigen Dritten. Der im Stellvertretungsrecht erforderliche Verkehrsschutz wird damit einheitlich mittels des Gutglaubensschutzregimes der §§ 170 ff. BGB hergestellt und anders als die Abstraktheit der Vollmacht privatautonom legitimiert. Eine Sonderrolle nimmt dabei die Prokura ein. »The Abstractness of the Authority under German Civil Law«

The principle of abstractness of the authority (»Vollmacht«, i.e. the power of agency granted by a legal transaction) under German Civil Law is oftentimes ignored in practice and – on a closer look – ultimately dispensable. Starting from a historical and dogmatic point of view, this analysis shows that the protection of legal relations can be sufficiently and consistently achieved by means of the good faith protection rules laid down in Sec. 170 et seq. of the German Civil Code and legitimated under the principle of private autonomy. Different rules, however, apply to the general commercial power of representation (»Prokura«).
Table of Contents
Section Title
Page
Action
Price

Widmung

5

Vorwort

7

Inhaltsübersicht

9

Inhaltsverzeichnis

11

Einleitung

17

A. Der Ausgangspunkt

17

I. Die Abstraktheit der Vollmacht in der "Schrottimmobilien"-Rechtsprechung des Bundesgerichtshofs

18

II. Die Normen des Stellvertretungsrechts als Beleg für die Abstraktheit der Vollmacht?

21

B. Zum Stand der Diskussion

23

I. Die nationale Perspektive

23

II. Die europäische Perspektive

26

C. Präzisierung der Fragestellung und Gang der Untersuchung

27

Kapitel 1: Die historischen Grundlagen des Abstraktionsgrundsatzes im Stellvertretungsrecht

30

A. Mandat und Vollmacht in Rechtswissenschaft und Gesetzgebung des 19. Jahrhunderts vor Laband

32

I. Zum Stand von Wissenschaft und Gesetzgebung in der ersten Hälfte des 19. Jahrhunderts

32

1. Die Gesetzgebung

33

2. Die Anerkennung der direkten Stellvertretung in der Wissenschaft

36

II. Die Trennung zwischen Innen- und Außenverhältnis

40

1. Die Unterscheidung zwischen Innen- und Außenverhältnis bei Zeiller

40

2. Die Trennung von Mandat und Vollmacht bei Brinz

41

3. Die Trennung von Mandat und Vollmacht bei Jhering

42

4. Die Schaffung der Prokura im ADHGB von 1861

43

B. Die "Entdeckung" der Abstraktheit der Vollmacht durch Laband

47

I. Die Argumentation Labands

48

1. Die Selbstständigkeit der handelsrechtlichen Vollmachten mit gesetzlich festgelegtem Umfang

49

2. Die Selbstständigkeit der Vollmachten mit frei bestimmbarem Inhalt

50

3. Die Entstehung der Vollmacht durch Bevollmächtigungsvertrag

51

II. Die Ergebnisse Labands

52

III. Laband als "Kind seiner Zeit"

54

C. Die Rezeption der Thesen Labands

56

I. Die Kritik

56

II. Die Fortentwicklung

57

III. Insbesondere: Das Verhältnis der beiden Rechtsgeschäfte Bevollmächtigung und Auftrag

58

IV. Die Weiterführung bei Hupka

60

V. Zwischenergebnis

63

D. Die Beratungen zum Bürgerlichen Gesetzbuch

63

I. Die Trennung von Vollmacht und Grundgeschäft

63

II. Die Abstraktheit der Vollmacht

64

1. Die Begründung des Teilentwurfs von Gebhard

65

2. Die Beratungen der 1. Kommission

67

3. Die Beratungen der 2. Kommission

68

4. Interpretation der Materialien

68

III. Zwischenergebnis

70

E. Zusammenfassung und Fazit

70

Kapitel 2: Die Abstraktheit der Vollmacht im deutschen Stellvertretungsrecht

73

A. Der Vollmachtsbegriff des BGB

73

I. Eine isolierte Betrachtung der Vollmacht

73

II. Die Vollmacht als Mittel zum Zweck der Durchführung des Grundverhältnisses

77

B. Trennungs- und Abstraktionsprinzip im Stellvertretungsrecht des BGB

78

I. Das Trennungsprinzip

79

II. Das Abstraktionsprinzip

80

1. Inhaltliche und äußere Abstraktheit

80

2. Die gesetzlichen Grundlagen der Abstraktheit

83

3. Die Funktion der Abstraktheit

84

4. Die Durchbrechungen des Abstraktionsgrundsatzes

87

a) Bedingungszusammenhang, § 158 BGB, und Geschäftseinheit, § 139 BGB

87

b) Fehleridentität

90

c) Das Erlöschen der Vollmacht gemäß § 168 BGB

91

d) Der Missbrauch der Vertretungsmacht

92

aa) Kollusion

93

bb) Sonstige Missbrauchsfälle

94

(1) Die Überschreitung interner Weisungen

94

(2) Der Abschluss eines nachteiligen Rechtsgeschäfts

97

e) Zwischenergebnis

99

5. Das Abstraktionsprinzip in der Zusammenschau mit anderen Rechtsinstituten und -prinzipien

100

a) Abstraktion und Numerus clausus

100

b) Abstraktion und Publizität

103

6. Insbesondere: Abstraktion und Gutglaubensschutz

105

III. Zwischenergebnis

107

C. Die Wirkungsweise des stellvertretungsrechtlichen Abstraktionsprinzips

108

I. Die Innenvollmacht

108

1. Entstehung und Wirksamkeit

109

2. Umfang

111

3. Erlöschen

116

4. Änderung der Interessenlage: Die zeitliche Dimension der Abstraktheit

119

5. Die Kundgabe der Innenvollmacht

122

6. Fazit: Die Abstraktheit als Ausnahme

123

II. Die Außenvollmacht

124

1. Das Verhältnis zu dem Grundgeschäft

124

a) Entstehung

125

b) Wirksamkeit

125

c) Umfang

126

d) Erlöschen

126

2. Kritik an dem herrschenden Konzept der Außenvollmacht

128

a) Die Außenvollmacht und der personenbezogene Vollmachtsbegriff des BGB

128

b) Die Funktion der Außenvollmacht im Stellvertretungsrecht

132

c) Die Außenvollmacht in anderen europäischen Privatrechtsordnungen

134

aa) Schweiz

135

bb) Österreich

136

cc) Frankreich und Großbritannien

136

d) Zwischenergebnis

140

III. Die isolierte Vollmacht

140

1. Die bewusste Erteilung einer Vollmacht ohne Auftrag

141

a) Gefälligkeitsverhältnisse

142

b) Die vorsorglich erteilte (General-)Vollmacht

143

c) Die Empfangsbevollmächtigung

144

d) Die Bevollmächtigung eines Minderjährigen

145

e) Zwischenergebnis

146

2. Die Erteilung einer Vollmacht in der irrigen Annahme eines wirksamen Grundverhältnisses

146

IV. Zwischenergebnis

147

D. Zusammenfassung und Fazit

148

Kapitel 3: Verkehrsschutz durch Gutglaubensschutz

150

A. Die reine Innenvollmacht

152

I. Die Innenvollmacht in Abhängigkeit zu dem Grundverhältnis

152

1. Entstehung

152

2. Umfang und Erlöschen

152

3. Entbehrlichkeit der Rechtsfigur des Missbrauchs der Vertretungsmacht

157

4. Zwischenergebnis

158

II. Der Schutz des Dritten

159

1. Die Schutzbedürftigkeit des Dritten

160

2. Die Haftung des falsus procurators nach § 179 BGB

160

3. Die Haftung des Geschäftsherrn bei Vertretung ohne Vertretungsmacht

162

4. Zwischenergebnis

164

III. Der Schutz des Vertreters

166

1. Identifizierung des Haftungsrisikos

167

a) Die Unwirksamkeit des Grundgeschäfts

167

aa) Die Bevollmächtigung eines Minderjährigen

167

bb) Die Bevollmächtigung durch einen Minderjährigen

168

cc) Der Dissens bezüglich des Grundgeschäfts

168

dd) Die Unwirksamkeit des Grundgeschäfts aus sonstigen Gründen

169

b) Die Beendigung des Grundgeschäfts

169

c) Die Änderung der vollmachtsrelevanten Interessen des Geschäftsherrn

170

2. Begrenzung des Haftungsrisikos

171

a) Der Grund der Haftung aus § 179 BGB

171

aa) Die falsus-procurator-Haftung als Tatbestand der Vertrauenshaftung

173

bb) Die falsus-procurator-Haftung als Haftung für die Nichterfüllung eines eigenen Leistungsversprechens

174

b) Die Voraussetzungen der Haftung aus § 179 BGB

175

aa) Die Fragwürdigkeit der Verschuldensunabhängigkeit der Haftung aus § 179 Abs. 2 BGB

175

bb) Die teleologische Reduktion des § 179 Abs. 2 BGB

177

c) Der Schutz des Dritten bei einer verschuldensabhängigen falsus-procurator-Haftung aus § 179 Abs. 2 BGB

178

d) Der Regress des Vertreters gegenüber dem Geschäftsherrn

179

3. Zwischenergebnis

182

IV. Zwischenergebnis

183

B. Die Außenerklärung

183

I. Die Außenerklärung als Basis eines stellvertretungsrechtlichen Verkehrsschutzes

184

1. Die gesetzliche Verankerung der Außenerklärung in den §§ 170 ff. BGB

184

a) Die Rechtsscheinlehre

185

b) Das rechtsgeschäftliche Erklärungsmodell Flumes

186

c) Die Kundgabe als rechtsgeschäftliche Risikoübernahme nach Lobinger

187

d) Zwischenergebnis

191

2. Die ausdrückliche Erklärung des Geschäftsherrn gegenüber dem Dritten

191

a) Die Auslegung der Erklärung des Geschäftsherrn als Angebot

192

b) Die Annahme durch den Dritten

193

c) Die Anfechtbarkeit der Außenerklärung

193

d) Der Widerruf der Außenerklärung

194

3. Die konkludente Erklärung des Geschäftsherrn gegenüber dem Dritten

196

4. Das fahrlässige Verhalten des Geschäftsherrn

200

5. Die Vollmachtsurkunde

201

II. Konsequenzen für das Verhältnis der Außenerklärung zu dem Grundverhältnis

204

1. Die Unabhängigkeit von dem Innenverhältnis

204

2. Die Begrenzung der Risikoübernahme durch das Erfordernis der Gutgläubigkeit

205

3. Die Voraussetzungen des Gutglaubensschutzes

207

a) Der Anknüpfungspunkt für den guten Glauben

207

b) Die Redlichkeit des Dritten

208

c) Die Kenntnis des Dritten von Mängeln des Grundgeschäfts

211

d) Die Entbehrlichkeit der Rechtsfigur des Missbrauchs der Vertretungsmacht

212

III. Kein Wahlrecht des Dritten

213

IV. Zwischenergebnis

216

C. Überprüfung der Ergebnisse

217

D. Zusammenfassung und Fazit

228

Kapitel 4: Die handelsrechtlichen Vollmachten

229

A. Die Prokura

230

I. Umfang

230

1. Die gesetzliche Fixierung

230

2. Der Missbrauch der Vertretungsmacht

232

II. Erlöschen

233

III. Entstehung und Wirksamkeit

236

B. Die Handlungsvollmacht

240

I. Zur Genese von § 54 HGB

241

II. § 54 HGB im System der handelsrechtlichen Vollmachten

243

III. Die Handlungsvollmacht in der Rechtsprechung

244

1. Die schlüssige Bevollmächtigung

244

2. Die Stellung nach außen

246

3. Die Sicherheit des Rechtsverkehrs

247

IV. Zum Telos von § 54 HGB

248

V. Zwischenergebnis

250

C. Die Vollmacht des Ladenangestellten

251

I. Die Anstellung

254

II. Die Redlichkeit des Dritten

255

III. Die Anfechtbarkeit

255

D. Zusammenfassung und Fazit

256

Thesenartige Zusammenfassung der Ergebnisse und Ausblick

258

Literaturverzeichnis

263

Sach- und Personenregister

277