Legal systems: civil procedure, litigation & dispute resolution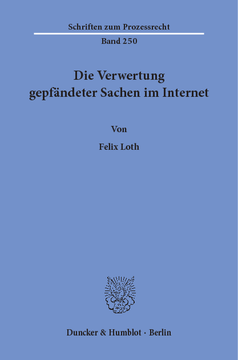 Additional Information
Book Details
ISBN

978-3-428-55472-0
978-3-428-15472-2 (print edition)

DOI

https://doi.org/10.3790/978-3-428-55472-0

Edition

1

Language

German

Pages

140

Collections

Subjects
Pricing
Institution

€ 70.00 (incl. local VAT if applicable)

Individual

€ 53.90 (incl. local VAT if applicable)
About The Author
Felix Loth studierte von 2005 bis 2010 Rechtswissenschaften an der Rheinischen Friedrich-Wilhelms-Universität Bonn. Während des Studiums arbeitete er bei Prof. Dr. Dr. Udo Di Fabio am Institut für Öffentliches Recht – Abteilung Staatsrecht. Nach dem ersten Staatsexamen war er wissenschaftlicher Mitarbeiter bei Prof. Dr. Christoph G. Paulus am Lehrstuhl für Bürgerliches Recht, Zivilprozess- und Insolvenzrecht sowie Römisches Recht der Humboldt-Universität zu Berlin. Das Referendariat absolvierte er zwischen 2012 und 2014 am Landgericht Köln mit Station am Kammergericht. Im Anschluss an das zweite Staatsexamen arbeitete er als Unternehmensjurist sowie am Lehrstuhl von Prof. Dr. de la Durantaye an der Humboldt-Universität zu Berlin. Seit April 2018 ist er Richter in Berlin.
Abstract
Der Gesetzgeber hat mit dem »Gesetz über die Internetversteigerung in der Zwangsvollstreckung« eine weitere Verwertungsmöglichkeit für gepfändete Sachen geschaffen. Doch anstatt die vorhandenen und etablierten privatrechtlichen Plattformen zu wählen, entschied sich der Gesetzgeber für eine Verwertung über eine nahezu unbekannte öffentlich-rechtliche Plattform. Aus rein ökonomischer Sicht verwundert diese Entscheidung: Da eine Erhöhung der Anzahl der Bieter auch die Einkünfte des Veräußerers erhöht, hätte es nahegelegen, die Plattform mit der höchsten Anzahl potenzieller Bieter zu wählen. Der Gesetzgeber begründete seine Entscheidung gegen die Nutzung privatrechtlicher Plattformen mit den bei einer Gesamtschau überwiegenden Nachteilen gegenüber ihren Vorteilen. Als Nachteile benennt er unter anderem den Entfall des umfassenden Gewährleistungsausschlusses, zudem seien die Vorschriften über den Fernabsatzvertrag und den Verbrauchsgüterkauf anwendbar und es falle Umsatzsteuer zwischen staatlichem Vollstreckungsorgan und Erwerber an. Die Arbeit prüft die Behauptungen des Gesetzgebers und kommt zu dem Ergebnis, dass sämtliche vom Gesetzgeber aufgeführten »Nachteile einer privatrechtlichen Verwertung« tatsächlich gar nicht existieren. Der Gesetzgeber hätte daher bei der Neuregelung problemlos die Verwertung über eine privatrechtliche Plattform wählen können, gegebenenfalls – im Sinne der Effektivitätsmaxime – sogar wählen müssen. »The Realisation of Attached Goods via the Internet«

With the »Law on internet auctions in compulsory enforcement proceedings« (»Gesetz über die Internetversteigerung in der Zwangsvollstreckung«) German lawmakers have implemented an additional means for bailiffs to facilitate the realisation of attached goods. However, instead of harnessing the long-established internet platforms governed by private law, the legislator has opted for a realisation via a – largely unknown – platform organised under public law. The work examines if the reasons for this decision expressly invoked by the legislator are well-founded.
Table of Contents
Section Title
Page
Action
Price

Vorwort

7

Inhaltsverzeichnis

9

A. Einleitung

13

B. "Klassische" Verwertungsformen

17

I. Versteigerung vor Ort, § 814 II Nr. 1 ZPO

17

1. Verfahren

17

2. Rechtliche Einordnung

18

a) Gebot und Zuschlag, § 817 I ZPO

19

aa) Privatrechtliche Auffassung

19

bb) Öffentlich-rechtliche Auffassung

21

cc) Streitentscheid

22

dd) Ergebnis

26

b) Ablieferung, § 817 II ZPO

27

aa) Privatrechtliche Auffassung

28

bb) Öffentlich-rechtliche Auffassung

28

cc) Streitentscheid

29

dd) Ergebnis

29

c) Exkurs: Aktuelle Diskussion

30

aa) "Renaissance" der privatrechtlichen Auffassung

30

bb) Einschränkung des Erwerbs

33

(1) Anwendung von § 1244 BGB

33

(2) Ansicht Müller

38

(a) Wandel der Rechtsanschauung in der Zwangsvollstreckung

38

(b) Bewertung der Ablieferung nach heutiger Dogmatik

42

(c) Bewertung Ansicht Müller

49

d) Zwischenergebnis

51

II. Andere Art der Verwertung, § 825 ZPO

52

1. Freihändiger Verkauf, § 825 I ZPO

52

a) Verfahren

52

b) Rechtliche Einordnung

53

2. Verwertung durch eine andere Person, § 825 II ZPO

54

a) Verfahren

55

b) Rechtliche Einordnung

55

C. Verwertung über das Internet

56

I. Verwertung über eine öffentlich-rechtliche Plattform

56

1. Verfahren

57

2. Rechtliche Einordnung

58

II. Verwertung über eine privatrechtliche Plattform

59

1. Rechtliche Einordnung der privaten "Internetversteigerung"

60

2. Einordnung in das System der Verwertung

61

a) Öffentliche Versteigerung, § 814 ZPO

61

aa) Versteigerung vor Ort, § 814 II Nr. 1 ZPO

62

(1) Zuschlag/dreimaliger Aufruf, § 817 I ZPO, § 156 BGB

62

(2) Präsenzgebot

64

(3) (Bar-)Zahlungsgebot, § 817 II ZPO

66

bb) Versteigerung im Internet, § 814 II Nr. 2 ZPO

67

b) Andere Art der Verwertung, § 825 ZPO

68

aa) Verwertung durch eine andere Person, § 825 II ZPO

68

bb) Freihändiger Verkauf, § 825 I ZPO

68

c) Ergebnis

69

3. Konsequenzen aus der Neuregelung für die Verwertung über eine private Plattform

70

4. Betrachtungen im Detail

71

a) Verfahren

71

b) Rechtliche Einordnung

72

aa) Obligatorisches Grundgeschäft

72

bb) Dingliches Vollzugsgeschäft

73

c) Pflichten

73

aa) Erwerber

74

bb) Gerichtsvollzieher

77

d) Gewährleistung

77

aa) Einordnung der Veräußerung in das System der Verwertung

78

bb) Generelle Anwendbarkeit von § 806 ZPO auf den Freihandverkauf

78

cc) Anwendbarkeit von § 806 ZPO bei einem Freihandverkauf über eine private Internetplattform

80

(1) Konkludente Vereinbarung der Mängelgewährleistungsrechte

80

(2) Teleologische Reduktion von § 806 ZPO

81

(3) Zwischenergebnis

86

dd) Ergebnis

86

e) Anfechtung

87

aa) Obligatorisches Grundgeschäft

87

bb) Dingliches Vollzugsgeschäft

90

f) Lastentragung (Gefahrtragung)

91

aa) Leistungsgefahr

92

bb) Preisgefahr

93

(1) Anwendung von § 447 BGB

94

(a) (Analoge) Anwendung auf den öffentlich-rechtlichen Vertrag

94

(b) (Analoge) Anwendung bei fehlendem Synallagma

96

(aa) Anfängliche planwidrige Unvollständigkeit

96

[a] Geschichte der (kaufrechtlichen) Gefahrtragung bis 1877

97

[b] Verwertung in der Zwangsvollstreckung (1877)

100

[c] Zwischenergebnis

101

(bb) Nachträgliche planwidrige Unvollständigkeit

102

[a] Geschichte der (kaufrechtlichen) Gefahrtragung nach 1877

102

[b] Verwertung in der Zwangsvollstreckung nach 1877

105

[c] Zwischenergebnis

106

(cc) Vergleichbarkeit der Interessenlage

107

(2) Ergebnis

108

g) Verbraucherschutzrecht

109

aa) Verbrauchsgüterkaufrecht

109

bb) Fernabsatzrecht

113

(1) Rechtslage bis zum 12. Juni 2014

113

(2) Rechtslage ab dem 13. Juni 2014

114

h) Wettbewerbsrecht

115

i) Umsatzsteuerrecht

117

aa) Lieferung oder sonstige Leistung, § 3 UStG

118

bb) Hilfsweise: Unternehmer, § 2 UStG

123

(1) Rechtslage bis zum 31. Dezember 2016

124

(2) Rechtslage ab dem 1. Januar 2017

128

D. Abschließende Betrachtung

130

I. Zusammenfassung der wichtigsten Ergebnisse

130

II. Praktische Hinweise

131

Literaturverzeichnis

132