Procurement law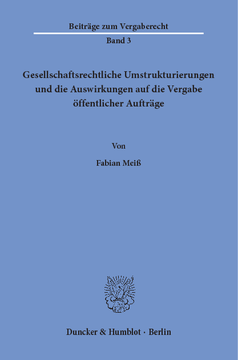 BOOK
Gesellschaftsrechtliche Umstrukturierungen und die Auswirkungen auf die Vergabe öffentlicher Aufträge
Beiträge zum Vergaberecht, Vol. 3
(2018)
Additional Information
Book Details
ISBN

978-3-428-55572-7
978-3-428-15572-9 (print edition)

DOI

https://doi.org/10.3790/978-3-428-55572-7

Edition

1

Language

German

Pages

208

Collections

Subjects
Pricing
Institution

€ 80.00 (incl. local VAT if applicable)

Individual

€ 62.90 (incl. local VAT if applicable)
About The Author
Fabian Meiß studierte Rechtswissenschaften in Gießen und schloss das Studium im Jahr 2010 mit dem ersten juristischen Staatsexamen ab. Während des Studiums war er als wissenschaftlicher Mitarbeiter in der Vergaberechtsabteilung einer internationalen Großkanzlei in Frankfurt a.M. tätig. Nach dem Referendariat am Landgericht Gießen folgte im Jahr 2013 das zweite juristische Staatsexamen. Danach arbeitete er zunächst als Anwalt in einer großen deutschen wirtschaftsberatenden Sozietät und ist seit 2015 bei einem der größten Sportrechtevermarkter Europas als Syndikusrechtsanwalt angestellt. Im Jahr 2018 folgte die Promotion durch die Deutsche Universität für Verwaltungswissenschaften Speyer.
Fabian Meiß studied law in Giessen and completed his studies in 2010 with the first state law examination. Already during his studies he worked as a research assistant in the public procurement law department of a major international law firm in Frankfurt a.M.. After his legal clerkship at the Regional Court of Giessen, he passed his second state law examination in 2013. Since then, he has initially worked as a lawyer in a German commercial law firm and since 2015 has been employed by one of Europe's largest sports rights marketers as an in-house counsel. In 2018 he received his doctorate from the German University of Administrative Sciences Speyer.
Abstract
Gesellschaftsrechtliche Veränderungen bei Unternehmen sind unterschiedlich motiviert und können nicht immer auf die Teilnahme an einem Vergabeverfahren abgestimmt werden. Es stellt sich daher die Frage, wie das Vergaberecht auf die (teils notgedrungenen) gesellschaftsrechtlichen Vorgänge reagiert und welche Konsequenzen für die Beteiligten mit einer gesellschaftsrechtlich bedingten Veränderung in der Person des Bieters verbunden sind. Gegenstand der Untersuchung ist die Zulässigkeit von gesellschaftsrechtlichen Umstrukturierungen während eines laufenden Vergabeverfahrens unter Berücksichtigung der gesellschafts- und vergaberechtlichen Prinzipien und Rechtsfolgen. Zur Feststellung einer vergaberechtlich relevanten Änderung in der Person des Bieters wird zunächst der Begriff der »Bieteridentität« definiert. Daran anschließend werden die eignungsrelevanten Auswirkungen erörtert. Im Ergebnis wird eine Änderung in der Person des Bieters unter bestimmten Bedingungen als zulässig angesehen. »Corporate Restructuring and the Impact on Public Procurement Procedure«

The work examines the admissibility of corporate restructuring during a public procurement procedure, taking into account the principles and legal consequences of corporate and public procurement law. In order to determine a change in the person of the bidder relevant under public procurement law, the term »bidder-identity« is first defined. Subsequently, the effects on the suitability of the bidder are discussed. A change in the person of the bidder is considered permissible within certain limits.
Table of Contents
Section Title
Page
Action
Price

1. Teil

17

Einführung

17

A.  Einleitung

17

B.  Einführung in die Problematik

19

I.  Kollision von Prinzipien des Gesellschaftsrecht mit denen des Vergaberechts

19

II.  Der Ablauf der Angebotsfrist als maßgeblicher Zeitpunkt

20

III.  Die diskussionswürdigen Problembereiche im Einzelnen

21

1.  Gesellschaftsrechtliche Umstrukturierungen als vergaberechtliche Änderung in der Person des Bieters

21

2.  Vereinbarkeit mit den Grundsätzen und Zielen des Vergaberechts

22

3.  Möglicher Verstoß gegen das Nachverhandlungsverbot

23

4.  Auswirkungen auf die Eignung des Bieters

23

IV.  Abgrenzungsfragen, Gang der Darstellung, Thesen

24

1.  Abgrenzung der Problematik zur Frage der Zulässigkeit einer Veränderung von Bietergemeinschaften während der Teilnahme an Vergabeverfahren

24

2.  Abgrenzung der Problematik zur Frage gesellschaftsrechtlicher Umstrukturierung nach Zuschlagserteilung

25

3.  Abgrenzung zur Problematik der sog. "Inhouse-Vergaben" \nund "Interkommunale Kooperationen"

26

4.  Abgrenzung zur Problematik der Gründung und Beauftragung von gemischtwirtschaftlichen Unternehmen

28

5.  Eingrenzung der Darstellung

29

6.  Thesen und Fragestellungen

30

2. Teil

32

Rechtliche Grundlagen

32

A.  Grundlagen des Vergaberechts

32

I.  Begriff, Rechtsgrundlagen und Sinn und Zweck des Vergaberechts

32

II.  Die Grundprinzipien des Vergaberechts

34

1.  Der Wettbewerbsgrundsatz

35

2.  Der Gleichbehandlungsgrundsatz

35

3.  Der Transparenzgrundsatz

36

III.  Die verschiedenen Vergabeverfahren

36

1.  Das offene Verfahren nach § 119 Abs. 3 GWB, § 15 VgV

37

2.  Das nicht offene Verfahren nach § 119 Abs.4 GWB, § 16 VgV

38

3.  Das Verhandlungsverfahren § 119 Abs. 5 GWB, § 17 VgV

39

IV.  Ausschluss von Bietern und Angeboten

40

1.  Zwingender Ausschluss von Bietern (§ 123 GWB)

40

2.  Fakultativer Ausschluss von Bietern (§ 124 GWB)

41

3.  Ausschluss von Angeboten (§ 57 VgV)

42

V.  Eignung und Eignungsprüfung

42

1.  Historie zu § 122 GWB

43

2.  Begriff der Eignung, Eignungskriterien und Nachweise

44

a)  Begriff der Eignung

44

b)  Festlegung der Eignungskriterien, insbesondere Mindestanforderungen

44

c)  Festlegung der Eignungsnachweise

45

aa)  Formlose Eigenerklärungen

45

bb)  Präqualifizierungssystem

46

cc)  Einheitliche Europäische Eigenerklärung

46

d)  Eignungskriterien und Nachweise im Einzelnen

47

aa)  Befähigung und Erlaubnis zur Berufsausübung (Abs. 2 Nr. 1)

47

bb)  Wirtschaftliche und finanzielle Leistungsfähigkeit (§ 122 Abs. 2 Nr. 2 GWB)

47

cc)  Technische und berufliche Leistungsfähigkeit \n(§ 122 Abs. 2 Nr. 3 GWB)

48

3.  Eignungsprüfung

48

a)  Beurteilungsspielraum und Prognoseentscheidung

49

b)  Zeitpunkt der Vornahme der Eignungsprüfung

49

c)  Zeitpunkt des Vorliegens der Eignungsvoraussetzungen

50

d)  Bindung des Auftraggebers an die Eignungsentscheidung

50

e)  Nachforderung fehlender Nachweise

52

4.  Verhältnis der Eignungsprüfung zu der Zuschlagsentscheidung - "Kein Mehr an Eignung"

53

VI.  Die nachträgliche Änderung des Angebotsinhalts

54

VII.  Auftragsänderungen während der Vertragslaufzeit (§ 132 GWB)

58

1.  Die Pressetext-Entscheidung des EuGH

59

2.  Kodifizierung durch § 132 GWB

61

3.  Begriff der Wesentlichkeit

62

4.  Grundsatz: Ersetzung des Auftragnehmers als wesentliche Vertragsänderung (§ 132 Abs. 1 Satz 3 Nr. 4 GWB)

62

5.  Rückausnahmen des § 132 Abs. 2 Nr. 4 GWB

64

a)  Überprüfungsklausel als Ersetzungsgrund

64

aa)  Überprüfungsklauseln

64

bb)  Optionen

65

cc)  Keine Änderung des Gesamtcharakters des Auftrags

66

b)  Unternehmensumstrukturierung als Ersetzungsgrund (Abs. 2 Satz 1 Nr. 4 lit. b GWB)

67

B.  Grundlagen des allgemeinen Gesellschaftsrechts

69

I.  Die Begriffe "Gesellschaft" und "Unternehmen"– \nIst vergaberechtlich eine rechtliche oder eine ökonomische \nBetrachtungsweise maßgeblich?

69

1.  Der Begriff der "Gesellschaft"

70

2.  Der Begriff des "Unternehmens"

71

3.  Der Unternehmensbegriff in der Rechtsanwendung

72

II.  Das Gesellschaftsrecht als kodifiziertes Handlungsinstrumentarium

74

III.  Die verschiedenen Gesellschaftsformen – Begriffe und Bedeutung

75

1.  Personengesellschaften

76

a)  Die personalistische Struktur als Leitbild einer Personengesellschaft

77

b)  Die Personengesellschaft als Rechtsperson

77

c)  Die Personengesellschaft als Trägerin \ndes Gesellschaftsvermögens

78

d)  Die Mitgliedschaft an einer Personengesellschaft – \nDer Gesellschaftsanteil

81

e)  Erwerb und Übertragung der Mitgliedschaft \nan einer Personengesellschaft

82

f)  Die Haftungsverfassung bei Personengesellschaften

82

2.  Körperschaften

83

a)  Allgemeine Merkmale der privatrechtlichen Körperschaft

84

b)  Die Mitgliedschaft in einer Körperschaft

85

c)  Kapitalgesellschaften – GmbH und AG

86

aa)  Die GmbH

86

bb)  Die AG

87

3.  Sonderkonstellationen und Ausformungen gesellschaftsrechtlicher Gestaltungsfreiheit

88

a)  Typenvermischung und Typenverformung

88

aa)  Die GmbH & Co. KG

89

bb)  Die Publikumspersonengesellschaft:

90

cc)  Die Ein-Mann-Gesellschaft

91

dd)  Vorgründungs- und Vorgesellschaften

92

(1)\tDie Vorgründungsgesellschaft

93

(2)\tDie Vorgesellschaft

94

ee)  Gesellschaften in Konzernverhältnissen

95

C.  Grundlagen der gesellschaftsrechtlichen Umstrukturierungen

96

I.  Begriffsbestimmungen und Abgrenzungs-/Einordnungsfragen

97

1.  Der Begriff der "gesellschaftsrechtlichen Umstrukturierung"

97

2.  Gründe gesellschaftsrechtlicher Umstrukturierung

99

3.  Rechtsgeschäftliche und gesetzliche Umstrukturierungen

99

4.  Die Begriffe "Asset Deal" und "Share Deal"

100

5.  Die Anwendung des Umwandlungsgesetzes als Alternative zu Liquidation und Neugründung nach allgemeinem Gesellschaftsrecht

102

6.  Umstrukturierung mit und ohne Vermögensübertragung

103

7.  Rechtsfolgenorientierte Betrachtungsweise

103

II.  Umstrukturierungen ohne Anwendung des Umwandlungsgesetzes

104

1.  Anwachsung als Rechtsfolge des Austritts eines oder mehrerer Gesellschafter

104

2.  Vermögensübertragung im Wege der Einzelrechtsnachfolge

106

3.  Der Rechtsformwechsel kraft Gesetzes bei Personengesellschaften

107

III.  Umstrukturierung unter Anwendung des Umwandlungsgesetzes

107

1.  Zweck des UmwG

107

2.  Systematik des UmwG

109

3.  Die Gesamtrechtsnachfolge als wesentliches Prinzip des Umwandlungsrechts

109

a)  Erbrechtliche Universal- und Singularsukzession

109

b)  Gesamtrechtsnachfolge im Umwandlungsrecht

111

aa)  Einordnung als gewillkürte Gesamtrechtsnachfolge

111

bb)  Totale und partielle Gesamtrechtsnachfolge

111

c)  Gesamtrechtsnachfolge im Rahmen des § 45 AO

113

d)  Im Wege der Gesamtrechtsnachfolge übergangsfähige \nRechte und Pflichten

114

D.  Die kartellrechtliche Fusionskontrolle nach §§ 35 ff. GWB

142

3. Teil

144

Vergaberechtliche Würdigung

144

4. Teil

197

Zusammenfassung und Schluss

197

Literaturverzeichnis

200

Sachwortverzeichnis

206