Religious law & concordats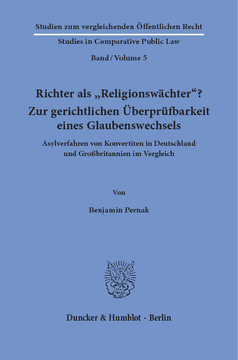 Additional Information
Book Details
ISBN

978-3-428-55547-5
978-3-428-15547-7 (print edition)

DOI

https://doi.org/10.3790/978-3-428-55547-5

Edition

1

Language

German

Pages

182

Collections

Subjects
Pricing
Institution

€ 80.00 (incl. local VAT if applicable)

Individual

€ 62.90 (incl. local VAT if applicable)
About The Author
Benjamin Pernak studierte Rechtswissenschaft mit einem Schwerpunkt im Völker- und Europarecht an der Juristenfakultät der Universität Leipzig. Nach dem ersten Staatsexamen schloss sich ein LL.M.-Studium an der University of Edinburgh an. Dem folgte eine Tätigkeit als Doktorand und wissenschaftlicher Mitarbeiter an der Leipziger Juristenfakultät am Lehrstuhl für Staats- und Verwaltungsrecht, Verfassungsgeschichte und Staatskirchenrecht bei Prof. Dr. Jochen Rozek. Seit dem Abschluss des Rechtsreferendariats ist der Verfasser als Referent in der Landesverwaltung tätig.
Benjamin Pernak studied law at the University of Leipzig. After the first state examination, he completed a LL.M.-programme at the University of Edinburgh. He returned to Leipzig and worked as a research assistant and PhD candidate at the Chair for Constitutional and Administrative Law, Constitutional History and State Church Law (Professor Jochen Rozek) at the Faculty of Law. Since completing his traineeship, the author has worked as a councillor in public administration.
Abstract
Das Völkerrecht kennt keinen Anspruch auf Asyl. Auch die Religionsfreiheit im umfassenden Sinne, unter Einschluss ihrer negativen Ausprägung und des Rechts auf freien Religionswechsel, ist bislang kein universell anerkanntes Menschenrecht. Das weitgehend harmonisierte europäische Flüchtlingsrecht wurde seitens der deutschen Rechtsprechung nur zögerlich umgesetzt. Dem Europäischen Gerichtshof folgend steht nun auch für das Bundesverwaltungsgericht die religiöse Identität des Betroffenen im Mittelpunkt. Das religiös bedingte, verfolgungsauslösende Verhalten muss für den Einzelnen – nach seinem Glaubensverständnis – identitätsprägend sein. Der mitgliedschaftsrechtlichen Entscheidung einer Religionsgesellschaft kommt allenfalls indizielle Bedeutung zu. Der Autor leitet aus Grundsatzentscheidungen des britischen Supreme Court zur Verfolgung wegen der sexuellen Orientierung und der politischen Meinung ab, dass die Inanspruchnahme der negativen Religionsfreiheit – die Konfessionsfreiheit als »westlich geprägter Lebensstil« – gleichermaßen identitätsprägend und in Herkunftsländern mit strikter Staatsreligion ebenso verfolgungsträchtig wie ein Religionswechsel sein kann. »Judges as ›Religious Police‹?«

The core of the thesis is the protection of the religious identity of asylum seekers. It aims to answer the following questions: What role does the individual's right to freedom of religion play in asylum cases of religious converts? Is the state bound by the decision of a religious community that accepted an asylum seeker as a member when judging an asylum claim? Finally, based on the UK Supreme Court's decision on sexual orientation and political opinion, the thesis argues for equal protection of non-believers.
Table of Contents
Section Title
Page
Action
Price

Vorwort

7

Inhaltsverzeichnis

9

A. Einführung

13

I. Die Gretchenfrage im Asylprozess – Gegenstand und Ziel der Arbeit

13

II. Gang der Untersuchung

16

B. Völker- und europarechtliche Parameter

17

I. Die Konversionsüberprüfung im Asylprozess und das Völkerrecht

17

1. Internationale Bestimmungen zur Durchführung von Asylverfahren

17

a) Die Genfer Flüchtlingskonvention

17

b) UNHCR-Leitlinien zur Bestimmung der Flüchtlingseigenschaft

19

2. Der Geltungsumfang der Religionsfreiheit im Völkerrecht

23

a) Die UNC (1945) und die AEMR (1948)

24

b) Der Internationale Pakt über bürgerliche und politische Rechte (1966)

28

c) Weitere internationale Instrumente

32

aa) Religiöse Diskriminierung – Erklärung (1981) und Sonderberichterstatter

32

bb) Menschenrechtsausschuss und Menschenrechtsrat

33

d) Die regionale Entwicklung – insbesondere in der arabisch-muslimischen Welt

35

3. Zusammenfassung

38

II. Die Konversionsüberprüfung im Asylprozess und das Europarecht

39

1. Asyl für Konvertiten unter der EMRK

39

a) Abschiebungsschutz nach Art. 3 EMRK

40

b) Entscheidungen zur Abschiebung konvertierter Asylbewerber

42

c) Weitere Entscheidungen des EGMR und der EKMR zur Prüfung von Glaubens- und Gewissensfragen

49

aa) Europäische Kommission für Menschenrechte (1954–1998)

49

bb) Entscheidungen des EGMR

51

d) Zusammenfassung

70

2. Das Recht der Europäischen Union und die Rechtsprechung des Europäischen Gerichtshofs

70

a) Die gemeinsame europäische Asylpolitik

70

aa) Primärrecht – EUV, AEUV und GRCh

70

bb) Sekundärrecht im Spiegel der Rechtsprechung des Europäischen Gerichtshofs

73

(1) Die Qualifikationsrichtlinie (QRL)

74

(a) Verfolgungsgrund der Religion

81

(b) Verfolgungsgrund der Zugehörigkeit zu einer bestimmten sozialen Gruppe

83

(2) Die Asylverfahrensrichtlinie

85

b) Religionsfreiheit – Gemeinschaftsgrundrechte und GRCh

86

3. Zusammenfassung EMRK und EU

87

C. Asylgewährung für Konvertiten in Deutschland

89

I. Konvertiten als "politisch Verfolgte" und anerkannte Flüchtlinge

89

1. Politisch verfolgte Asylberechtigte und anerkannte Flüchtlinge

89

a) Rechtsprechung

89

b) Stellungnahme

92

2. Religion als Anknüpfungspunkt für politische Verfolgung

93

a) Ältere Rechtsprechung – das sog. "religiöse Existenzminimum"

93

b) Neuere Rechtsprechung – die Auswirkungen der Qualifikationsrichtlinie (QRL)

94

c) Stellungnahme

97

II. Aufklärung und Würdigung des Sachverhalts – grundsätzliche Probleme

99

1. Praktische Schwierigkeiten bei der Sachverhaltsaufklärung

99

2. Begriffserklärungen

100

a) Untersuchungsgrundsatz und Mitwirkungspflichten

100

b) Grundsatz der freien Beweiswürdigung, Beweismaß und Beweislast

101

c) Wahrscheinlichkeit als Maßstab richterlicher Überzeugung und Bestandteil der Gefahrenprognose

102

III. Die rechtliche Prüfung der Asylgesuche von Konvertiten im Detail

103

1. Ausgangspunkt und weiteres Vorgehen

103

2. Die Konversion als Unterfall der Verfolgung aus Gründen der Religion

103

3. Verfolgung wegen der formalen Religionszugehörigkeit

104

4. Verfolgung wegen der Glaubensausübung nach einer Konversion

105

a) Der materiell-rechtliche Maßstab der Rechtsprechung

105

aa) Objektiv: Gefahr schwerwiegender Rechtsgutsverletzung

106

bb) Subjektiv: Bedeutung der Praxis für religiöse Identität des Betroffenen

106

b) Gefahrenprognose und Tatsachenfeststellung

107

aa) Prognose zur beachtlichen Wahrscheinlichkeit künftiger Verfolgung

107

bb) Ernsthaftigkeit der Konversion als Prognosebasis

108

cc) Stellungnahme unter Einbeziehung der verwaltungsgerichtlichen Praxis

110

(1) Ernsthafter (innerer) Glaubensübertritt als Entwicklungsprozess

111

(2) Formaler Glaubensübertritt (Taufe) nicht ausreichend

112

(3) Individuelle Begründung des Glaubenswechsels

113

(4) Vertrautheit mit den wesentlichen Grundzügen der neuen Religion

114

c) Zwischenergebnis

117

IV. Auswirkungen des Art. 4 GG sowie des Art. 140 GG i.V.m. Art. 136ff. WRV

118

1. Das Religionsverfassungsrecht der Bundesrepublik Deutschland

118

2. Das Selbstbestimmungsrecht der Religionsgesellschaften

121

a) Rechtsprechung

121

b) Stellungnahme

122

3. Die individuelle Religionsfreiheit des Konvertiten

127

a) Rechtsprechung

127

b) Stellungnahme

128

4. Der weltanschaulich-religiös neutrale Staat christlicher Prägung

129

a) Rechtsprechung

129

b) Stellungnahme

130

5. Exkurs: Die staatliche Überprüfung von Gewissensentscheidungen

131

a) Urteil des Bundesverwaltungsgerichts vom 20.02.2013

131

b) Stellungnahme

132

6. Ergebnis

134

D. Asylgewährung für Konvertiten in Großbritannien

135

I. Die Entwicklung der Rechtsprechung bis zur Entscheidung HJ (Iran) des Supreme Court im Jahr 2010

135

1. Allgemeine Feststellungen zur Beweiserhebung und -würdigung

135

2. Länderleitentscheidungen am Beispiel Iran – FS and others: Gewöhnliche und aktivere Konvertiten

139

3. Die Entscheidung SZ and JM: Religiöse Identität – Ist ein Verschweigen zumutbar?

142

4. Die Entscheidung HJ (Iran) des Supreme Court

146

5. Zusammenfassung

148

II. Entwicklung der Rechtsprechung seit HJ (Iran)

149

1. Asyltribunale und Instanzgerichte

149

2. Die Fortschreibung von HJ (Iran) durch den Supreme Court

151

E. Vergleichende Auswertung, Ergebnis der Untersuchung

154

I. Gesamtbetrachtung beider Staaten – Parallelen und Widersprüche

154

1. Parallelen

154

a) Der gemeinsame völker- und europarechtliche Rahmen

154

b) Gegenseitige Beeinflussung

156

c) Christliche Prägung des Aufnahmelandes

160

2. Unterschiede und Widersprüche

161

a) Die Bedeutung der Intensität der individuellen Überzeugung

161

b) Der Schutz konfessionsfreier Konvertiten und Apostaten

163

II. Schlussbemerkung und Ausblick

164

Literaturverzeichnis

166

Rechtsprechungs- und Entscheidungsverzeichnis

174

Stichwortverzeichnis

180