Administrative jurisdiction & public administration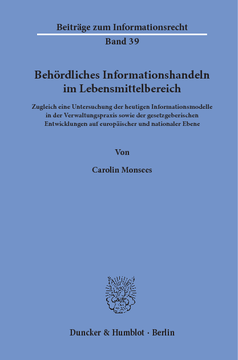 BOOK
Behördliches Informationshandeln im Lebensmittelbereich
Zugleich eine Untersuchung der heutigen Informationsmodelle in der Verwaltungspraxis sowie der gesetzgeberischen Entwicklungen auf europäischer und nationaler Ebene
Beiträge zum Informationsrecht, Vol. 39
(2018)
Additional Information
Book Details
ISBN

978-3-428-55492-8
978-3-428-15492-0 (print edition)

DOI

https://doi.org/10.3790/978-3-428-55492-8

Edition

1

Language

German

Pages

302

Collections

Subjects
Pricing
Institution

€ 104.00 (incl. local VAT if applicable)

Individual

€ 79.90 (incl. local VAT if applicable)
About The Author
Carolin Monsees studierte Rechtswissenschaften an der Universität Passau. Nach Abschluss des Zweiten Staatsexamens am Oberlandesgericht Hamburg wurde sie im Jahr 2013 als Rechtsanwältin zugelassen und arbeitete zunächst in einer auf den gewerblichen Rechtsschutz spezialisierten Kanzlei in Hamburg. Im Jahr 2015 begann sie ihre Promotion, die von der Studienstiftung des deutschen Volkes gefördert wurde. Während ihrer Promotionszeit arbeitete sie als Wissenschaftliche Mitarbeiterin am Lehrstuhl von Herrn Prof. Dr. Michael Fehling an der Bucerius Law School. Seit 2017 ist sie als Rechtsanwältin in der Kanzlei Taylor Wessing in Hamburg tätig.
Carolin Monsees studied law at the University of Passau. In 2013 after her Second State Exam at the Higher Regional Court of Hamburg she was admitted as lawyer and started her career at a law firm specialized in intellectual property law in Hamburg. In 2015 she began her doctorate, which was funded by the German Academic Scholarship Foundation. During her doctoral studies she worked as research assistant at the chair of Professor Michael Fehling at the Bucerius Law School. Since 2017 she has been working as a lawyer at the law firm Taylor Wessing in Hamburg.
Abstract
Das behördliche Informationshandeln auf Onlineportalen hat sich zu einem modernen Steuerungsinstrument entwickelt, bei dem nicht mehr die Gefahrenabwehr, sondern die Herstellung von Markttransparenz zu Gunsten der Verbraucher im Vordergrund steht. Am Beispiel des Lebensmittelbereichs untersucht die Autorin die europa- und verfassungsrechtlichen Voraussetzungen für heutige behördliche Publikationen. Ein Schwerpunkt der Arbeit liegt hierbei auf den Informationsmodellen der Verwaltungspraxis, wie dem »Kontrollbarometer NRW« oder der Onlineplattform »Lebensmittelklarheit«, bei welcher der Staat als Finanzgeber den Portalbetrieb an grundrechtsberechtigte Privatrechtssubjekte abgegeben hat. Die Autorin kommt zu dem Ergebnis, dass die derzeitigen Informationsmodelle erhebliche Legitimationsdefizite aufweisen und zeigt – unter Einbeziehung des Smiley-Systems in Dänemark – Möglichkeiten für eine rechtskonforme Ausgestaltung der heutigen behördlichen Informationsformen auf. »Public Information in the Food Sector«

The lawfulness of official publications on online portals is more relevant than ever. Using the food sector as an example, the author shows the legal requirements for today's consumer information on the internet. In this respect, the emphasis lies on current information models in the administrative practice – ranging from official control barometers to state-financed consumer portals operated by third parties – which raise numerous new problems under European and Constitutional law.
Table of Contents
Section Title
Page
Action
Price

Vorwort

5

Inhaltsübersicht

7

Inhaltsverzeichnis

9

Abbildungsverzeichnis

15

Abkürzungsverzeichnis

16

A. Einführung

21

I. Problemstellung der Arbeit

22

II. Gang der Darstellung

23

B. Kategorisierung und Terminologie

25

I. Abgrenzungskriterien im juristischen Schrifttum

26

1. Intensität der Verhaltenslenkung der Verbraucher

26

a) Warnung

27

b) Empfehlung

27

c) Aufklärung

28

d) Anwendbarkeit im Lebensmittelbereich

29

2. Zielrichtung der Informationstätigkeit

31

3. Bildung von Fallgruppen

32

II. Entwicklung eines praxistauglichen Abgrenzungskriteriums

33

III. Ergebnis

34

C. Verwaltungsrechtliche Einordnung behördlichen Informationshandelns

36

I. Begriffe und Funktion der verwaltungsrechtlichen Formenlehre

38

1. Begriff der "Handlungsform"

38

2. Abgrenzung der Begriffe "Handlungsform" und "Rechtsform"

39

3. Funktion der Formenlehre

42

II. Typologie der Handlungs- und Rechtsformen

42

1. Abgrenzung des schlichten zum informellen Verwaltungshandeln

43

2. Behördliches Informationshandeln als eigenständige Handlungsform?

45

a) Informationstätigkeit im Allgemeinen

47

b) Warnungen

48

III. Ergebnis

51

D. Verfassungsrechtliche Einordnung behördlichen Informationshandelns

52

I. Schutzrechtliche Dimension der Grundrechte

53

1. Informationsfreiheit, Art. 5 Abs. 1 S. 1 Hs. 2 GG

54

2. Körperliche Unversehrtheit, Art. 2 Abs. 2 S. 1 GG

55

3. "Grundrecht" auf Markttransparenz?

56

4. Zwischenergebnis

58

II. Abwehrrechtliche Dimension der Grundrechte

58

1. Exkurs: Verfassungsimmanente Grundrechtsbegrenzung bei Warnungen?

59

2. Grundsatzbeschlüsse des Bundesverfassungsgerichts

62

a) "Glykol" und "Osho" im Überblick

62

b) Kernkritikpunkte des Schrifttums

64

c) Zwischenergebnis für die weitere Untersuchung

67

3. Thematisch berührte Grundrechte

67

a) Berufsfreiheit, Art. 12 Abs. 1 GG

68

aa) Die "Wettbewerbsfreiheit"

69

bb) Staatliches Informationshandeln als Funktionsbedingung des Markts?

70

b) Eigentumsfreiheit, Art. 14 Abs. 1 GG

74

aa) Schutz des eingerichteten und ausgeübten Gewerbebetriebs

75

bb) Schutz der rechtmäßig eingetragenen Marke

78

cc) Verhältnis zu Art. 12 Abs. 1 GG

79

c) Informationelle Selbstbestimmung, Art. 2 Abs. 1 i. V. m. Art. 1 Abs. 1 GG

80

aa) Differenzierung zwischen natürlichen und juristischen Personen

81

bb) Verhältnis zu Art. 12 Abs. 1 GG und Art. 14 Abs. 1 GG

82

d) Allgemeine Handlungsfreiheit, Art. 2 Abs. 1 GG

83

e) Allgemeiner Gleichheitssatz, Art. 3 Abs. 1 GG

84

f) Zwischenergebnis

85

4. Grundrechtseingriff durch behördliches Informationshandeln

86

a) Vom klassischen zum erweiterten Eingriffsverständnis

86

b) Funktionelles Äquivalent eines klassischen Eingriffs

88

c) (Voluntative und kognitive) Finalität

89

d) Intensität der Drittbeeinträchtigung

93

e) Notwendigkeit der schutzbereichsbezogenen Eingriffsbestimmung

95

f) Zwischenergebnis

96

5. Verfassungsrechtliche Rechtfertigung

97

a) Erfordernis einer Ermächtigungsgrundlage

97

b) Anforderungen an die Ermächtigungsgrundlage

98

aa) Möglichkeit zur vorherigen Stellungnahme

98

bb) Bestimmtheitsgrundsatz

99

cc) Verhältnismäßigkeitsprinzip

100

c) Zwischenergebnis

102

III. Ergebnis

102

E. Einfachgesetzliche Ermächtigungsgrundlagen: Unionsrechtlicher Rahmen und Verfassungsmäßigkeit

105

I. § 40 LFGB

106

1. Regelungsgehalt des Normkomplexes

107

a) § 40 Abs. 1 LFGB

108

aa) § 40 Abs. 1 S. 1, S. 2 Nr. 1, 2 LFGB

108

bb) § 40 Abs. 1 S. 2 Nr. 3 bis 5 LFGB

111

cc) Vorrang unternehmenseigener Informationen, § 40 Abs. 2 LFGB

114

b) § 40 Abs. 1a LFGB

115

c) Sonstige Voraussetzungen

116

2. Unionsrechtlicher Rahmen

118

a) Europäisches Primärrecht

118

aa) Grundfreiheiten

118

(1) Beeinträchtigung der Warenverkehrs- und Dienstleistungsfreiheit

119

(2) Rechtfertigung

121

bb) Unionsgrundrechte

122

(1) Anwendbarkeit der Charta der Grundrechte der Europäischen Union

123

(a) Vollzug und Umsetzung von Unionsrecht sowie mitgliedstaatliches Handeln im darüber hinausgehenden unionsrechtlich determinierten Kontext

123

(b) Beschränkung von Grundfreiheiten

127

(2) Berührte Unionsgrundrechte im Überblick

128

(a) Berufs- und unternehmerische Freiheit, Art. 15, 16 GRC

128

(b) Eigentumsfreiheit, Art. 17 GRC

129

(c) Schutz personenbezogener Daten, Art. 8 Abs. 1 GRC

130

(3) Zwischenergebnis

131

b) Europäisches Sekundärrecht

131

aa) Art. 10 BasisVO

132

bb) Art. 7 KontrollVO

134

3. Verfassungsmäßigkeit

137

a) § 40 Abs. 1a LFGB

137

aa) Umsetzung in der Praxis

138

bb) Bestimmtheitsgebot

140

(1) Lebensmittelbezug bei § 40 Abs. 1a Nr. 2 LFGB

140

(2) Veröffentlichungsdauer

142

(3) Bußgeldprognose als Veröffentlichungsmaßstab

144

(a) Unschuldsvermutung und Verdachtsstrafe

144

(b) Exkurs: Spannungsverhältnis zu § 475 StPO

148

cc) Verhältnismäßigkeit

149

(1) Legitimer Zweck und Geeignetheit

149

(2) Erforderlichkeit

150

(3) Angemessenheit

150

(a) Zwingende Veröffentlichung ohne vorangehende Interessenabwägung

151

(b) Verdachtsbasierte Veröffentlichung

153

(c) Keine vorrangige unternehmenseigene Veröffentlichung

155

(d) Niedrige Bußgeldschwelle des § 40 Abs. 1a Nr. 2 LFGB

156

dd) Zwischenergebnis

157

b) § 40 Abs. 1 LFGB

157

aa) Umsetzung in der Praxis

157

bb) Bestimmtheitsgebot

160

cc) Verhältnismäßigkeit

161

4. Ausblick: Gesetzesentwurf zur Novellierung des § 40 LFGB

162

a) § 40 LFGB-E

163

b) § 40a LFGB-E

164

c) Änderungsvorschläge zum Gesetzesentwurf

165

II. § 6 Abs. 1 S. 3 Hs. 1 VIG

167

1. Regelungsgehalt der Vorschrift

167

a) Rechtsnatur des § 6 Abs. 1 S. 3 Hs. 1 VIG

171

b) Vergleichende Betriebsbewertungen: Veröffentlichung amtlicher Kontrollergebnisse

172

c) Verhältnis zu § 40 LFGB

175

2. Verfassungsmäßigkeit

175

a) Bestimmtheitsgebot

177

b) Verhältnismäßigkeit

179

III. Aktuelle gesetzgeberische Entwicklungen

181

1. Art. 11 und Art. 8 KontrollVO n. F.

181

2. Kontrollergebnis-Transparenz-Gesetz NRW

184

a) Regelungsgehalt

186

aa) Kontrollfrequenz, Beurteilungs- und Bewertungssystematik auf Basis der AVV RÜb

187

bb) Darstellung der Kontrollergebnisse

188

cc) Zusatzkontrolle auf Antrag

190

dd) Exkurs: Rechtsnatur des Kontrollbarometers

191

b) Gesetzgebungskompetenz

192

c) Verstoß gegen Art. 3 Abs. 1 GG

195

d) Verfassungsmäßigkeit

196

aa) Bestimmtheitsgebot

197

bb) Verhältnismäßigkeit

197

(1) Legitimer Zweck

197

(2) Geeignetheit

199

(a) Intransparenz der Beurteilungsmerkmale

199

(b) Suggestivwirkung der Gestaltung

201

(3) Erforderlichkeit

202

(4) Angemessenheit

203

e) Ansätze für ein überarbeitetes Gesetz

204

IV. Ergebnis

205

F. Verbraucherinformationen in der Verwaltungspraxis und deren rechtliche Bewertung

207

I. Kontrollergebnisse der Lebensmittelüberwachung: Veröffentlichung durch Behörden

207

1. Exkurs: Smiley-System in Dänemark

208

a) Behördenstruktur und gesetzliche Grundlagen

208

b) Kontrollfrequenz, Beurteilungs und Bewertungskriterien

210

c) Darstellung der Kontrollergebnisse, Rechtsschutz und Zusatzkontrollen

213

d) Empirische Auswertung

215

e) Zwischenergebnis

216

2. Modelle in Deutschland

217

a) "Hygiene-Pass" Zwickau

218

b) "Hygienediagramm" Mecklenburg-Vorpommern

220

c) Vom "Smiley" zum "Kontrollbarometer" in Nordrhein-Westfalen

221

d) "Pankower Liste(n)", "Pankower Smiley-System" und "Sicher Essen in Berlin"

223

aa) Pankower "Positiv-Liste" und "Negativ-Liste" im Jahr 2009

224

bb) "Sicher Essen in Berlin" und "Pankower Smiley-System" im Jahr 2011

225

cc) Zwischenergebnis

227

3. Rechtliche Bewertung und Ausblick

227

II. Produktbewertungen: Veröffentlichung durch Private bei staatlicher Finanzierung

230

1. Das Onlineportal "Lebensmittelklarheit"

230

a) Aufbau des Portals

231

aa) Veröffentlichungen im Produktbereich

232

(1) "Getäuscht?"

232

(2) "Geändert"

235

(3) "Erlaubt!"

236

bb) Begleitforschung

237

cc) Exkurs: Publikations- und Nutzerzahlen

237

b) Projektbezogene und institutionelle staatliche Förderung

239

c) Einflussnahme des BMEL

241

2. Portalbetrieb: Abgrenzung zwischen öffentlichrechtlichem und privatrechtlichem Handeln

244

a) Portalbetreiber als Beliehene?

246

aa) Keine Aufsicht durch das BMEL

247

bb) Kein Auftreten als Hoheitsträger

248

b) Portalbetreiber als Verwaltungshelfer?

251

c) Zwischenergebnis

252

3. Finanzierung: Verfassungsmäßigkeit der staatlichen Förderung

252

a) Staatliche Finanzierung als Grundrechtseingriff

254

b) Erforderlichkeit einer Ermächtigungsgrundlage

256

c) Exkurs: Keine (Finanz-)Zuständigkeit des Bundes

257

4. Rechtsschutz

258

a) Verhältnis Hersteller – Portalbetreiber

259

b) Verhältnis Hersteller – BMEL / Bundesrepublik Deutschland

260

aa) Portalveröffentlichung

260

bb) Staatliche Finanzierung

262

5. Rechtmäßige Ausgestaltungsmöglichkeiten

264

a) Anonymisierte Produktveröffentlichungen

264

b) "Stiftung Lebensmittelklarheit"

265

6. Ergebnis

266

G. Zusammenfassung der Ergebnisse in Thesen

268

Literaturverzeichnis

273

Anhang: Fundstellen der zitierten Gerichtsentscheidungen

294

Sachwortverzeichnis

300