Law of torts, damages & compensation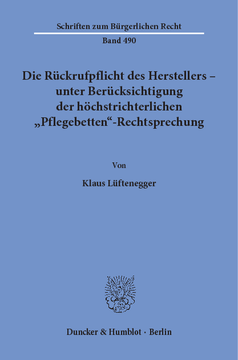 BOOK
Die Rückrufpflicht des Herstellers – unter Berücksichtigung der höchstrichterlichen »Pflegebetten«-Rechtsprechung
Schriften zum Bürgerlichen Recht, Vol. 490
(2018)
Additional Information
Book Details
ISBN

978-3-428-55260-3
978-3-428-15260-5 (print edition)

DOI

https://doi.org/10.3790/978-3-428-55260-3

Edition

1

Language

German

Pages

318

Collections

Subjects
Pricing
Institution

€ 104.00 (incl. local VAT if applicable)

Individual

€ 79.90 (incl. local VAT if applicable)
About The Author
Nach dem Studium »Internationales Wirtschaftsrecht« und einer Station in Shanghai war Klaus Lüftenegger ab 2010 als Rechtsreferent des General Counsel Energy für die Siemens AG tätig. Daneben promovierte er an der Friedrich-Alexander-Universität Erlangen-Nürnberg bei Prof. Dr. Mathias Rohe zum Thema Produkthaftung und Rückruf und war dort als wissenschaftlicher Mitarbeiter für den Vis Arbitration Moot verantwortlich. Seit 2018 arbeitet er als Legal Counsel bei der Daimler AG.
Abstract
Geht von einem in den Verkehr gebrachten Produkt eine Gefahr aus, ist der Hersteller im Rahmen der Produzentenhaftung zu einer Abwehrreaktion verpflichtet. Diese kann von einer Warnung bis hin zu einem Rückruf reichen. Trotz der großen Praxisrelevanz von Rückrufen ist die Bestimmung des Pflichtenumfangs im Einzelfall äußerst schwierig. Das liegt vor allem an der hierzu kaum vorhandenen Rechtsprechung. Von der neueren höchstrichterlichen Rechtsprechung ausgehend – im Jahr 2008 äußerte sich der BGH im »Pflegebetten«-Urteil erstmalig zum Umfang der Reaktionspflichten –, werden in der vorliegenden Arbeit abstrakte Kriterien und Fallgruppen abgeleitet, um den Pflichtenumfang des Herstellers besser bestimmen zu können. Weiter werden Konsequenzen für die Haftungssituation in einem Produkthaftungsfall dargestellt.

Die Arbeit wurde mit dem Schmitz-Nüchterlein-Förderpreis der Anwaltskammer Nürnberg (2017) ausgezeichnet. »The Duty of a Manufacturer to Recall Products – in Consideration of the German Federal Supreme Court's Decision ›nursing care beds‹ (›Pflegebetten‹)«

According to German product liability law, if a product is brought into circulation and turns out be harmful, the product's manufacturer has the legal duty to respond to and mitigate the danger. The dissertation develops abstract criteria and case groups in order to better define the scope of duty in each individual case, taking into account the German federal supreme court's decision »nursing care beds« (»Pflegebetten«). In addition, the liability situation in a product liability case is examined.
Table of Contents
Section Title
Page
Action
Price

Vorwort

7

Inhaltsübersicht

9

Inhaltsverzeichnis

11

Abkürzungsverzeichnis

19

Einleitung

23

Teil 1: Rückruf und Produktverantwortung

25

§ 1 Der Rückruf

25

I. Rückruf aus rechtlicher Perspektive

25

1. Definition

25

2. Rückruf in den verschiedenen Rechtsgebieten

27

3. Im Grenzgebiet zwischen Integritäts- und Äquivalenzinteresse

28

4. Strittige Rechtsfragen

30

II. Rückruf in der Praxis

31

1. Beteiligte

31

2. Rückrufformen

33

3. Rückrufkosten

34

4. Rücklaufquote und ihr Verhältnis zu Maßnahmekosten

35

5. Ziele eines Rückrufs

38

a) Schadensbegrenzung

38

b) Reputation

38

6. Wirtschaftliches Risiko eines Produktfehlers am Beispiel von GM

40

III. Entwicklungen

41

1. Zunehmende Anzahl an Rückrufen

41

a) Entwicklung in Zahlen

41

b) Ursachen

43

2. Vermehrte Wertschöpfung durch Zulieferer

45

3. Durchführung eines Rückrufs durch den Hersteller

45

IV. Zwischenergebnis: Die Problematik des Rückrufs

46

§ 2 Das Rechtsgebiet der Produkthaftung

47

I. Überblick

47

II. Zivilrechtliche Produktverantwortung

49

1. Vorbemerkungen

49

a) Begrifflichkeiten

49

b) Zurechnungsgründe

50

c) Zwecke und Motive

51

2. Produkthaftung aus Vertrag

52

a) Produktfehler als Pflichtverletzung

52

b) Nachteile des Vertragsrechts

53

c) Sonderverbindungen zwischen Geschädigtem und Hersteller

53

d) Entscheidung für das Deliktsrecht

56

3. Produkthaftung im allgemeinen Deliktsrecht

57

a) Einführung

57

b) Haftung aus § 823 Abs. 1 BGB

59

aa) Verletzung einer Verkehrssicherungspflicht

59

(1) Funktion der Verkehrssicherungspflichten bei der Produzentenhaftung

59

(2) Geschichte und Begründung

60

(3) Verortung im Prüfungsaufbau

61

(4) Umfang der Verkehrssicherungspflichten

62

(5) Anwendung auf Produzentenhaftung

63

(6) Erforderlichkeit und Zumutbarkeit in der Produzentenhaftung

64

(a) Technische Standards

65

(b) Verkehrserwartung

66

(c) Zumutbarkeit

68

(7) Problematik der Produzentenhaftung

69

(a) Rechtsunsicherheit durch mangelnde Objektivierung

69

(b) Nachteile des Fallrechts

70

bb) Anspruchsvoraussetzungen von § 823 Abs. 1 BGB

72

(1) Rechtsgutsverletzung

72

(2) Schadensauslösendes Verhalten

73

(3) Rechtswidrigkeit

75

(4) Verschulden

75

(5) Kausalität

76

(6) Zusammenfassung

77

cc) Pflichtenbereiche des Herstellers

77

(1) Konstruktion

77

(2) Fabrikation

78

(3) Instruktion

80

(4) Entwicklungsrisiken

80

(5) Produktbeobachtung

81

(a) Begründung und Funktion

82

(b) Umfang der Beobachtungspflichten

83

(c) Umfang der Reaktionspflichten

84

dd) Beweislastverschiebung

85

c) Haftung aus § 823 Abs. 2 BGB

88

d) Haftung aus § 826 BGB

89

4. Haftung aus dem Produkthaftungsgesetz

90

5. Verjährung

92

a) Regelverjährung

92

b) Höchstfristen und Begrenzung der Rückrufpflicht

93

6. Anspruchskonkurrenzen

94

III. Öffentlich-rechtliche Produktverantwortung

94

1. Verhältnis öffentlich-rechtlicher Normen zu anderen Rechtsgebieten

96

a) Verkehrssicherungspflichten

96

b) Zivilrechtliche Produkthaftung

97

c) Strafrecht

98

2. Öffentlich-rechtliche Rückrufpflicht

98

a) Herleitung

98

b) Praktische Relevanz

99

c) Zivilrechtliche Relevanz

101

IV. Strafrechtliche Produktverantwortung

103

1. Grundlagen im Kern- und Nebenstrafrecht

103

2. Rückruf im Strafrecht

105

3. Einfluss des Strafrechts auf Produzentenhaftung

106

§ 3 Der Rückruf im Unternehmen

107

I. Rückruf aus Unternehmensperspektive

107

1. Der Rückruf im Risikomanagement

107

2. Motive für ein Rückrufmanagement

108

a) Wirtschaftliche Notwendigkeit

108

b) Rechtliche Aspekte

109

c) Ergebnis

111

3. Rückruf und Versicherung

112

a) Versicherungsschutz für einen Rückruf

112

b) Anspruch auf Kostenerstattung aus §§ 82, 83 VVG

115

c) Ergebnis

116

II. Pflichtenbereiche von Hersteller und Zulieferer

117

1. Rolle des Zulieferers in der arbeitsteiligen Produktion

118

2. Eigenverantwortung als Haftungsprinzip \nder arbeitsteiligen Produktion

120

a) Pflichten des Herstellers

121

b) Pflichten des Zulieferers

122

3. Pflichten nach Inverkehrbringen des Endprodukts

124

a) Beobachtungs- und Reaktionspflichten des Herstellers

124

b) Beobachtungs- und Reaktionspflichten des Zulieferers

125

4. Zusammenfassung

127

III. Der Regress des Herstellers gegen den Zulieferer

128

1. Einleitende Bemerkungen

128

2. Vertragliche Ansprüche

129

a) Schadensersatz neben der Leistung

130

b) Nacherfüllung

131

c) Zwischenergebnis

132

3. Gesetzliche Ansprüche

132

a) Gesamtschuldnerausgleich

132

aa) Deliktischer Schadensersatzanspruch

133

bb) Mehrere Schuldner

136

cc) Inhalt des Anspruchs

137

b) Geschäftsführung ohne Auftrag

137

aa) Geschäftsbesorgung

138

bb) Fremdes Geschäft und Fremdgeschäftsführungswille

138

cc) Berechtigung

141

dd) Inhalt des Anspruchs

142

c) Bereicherungsrecht

143

aa) Anwendungsbereich

143

bb) Kondiktionsart

144

cc) Tatbestandsmerkmale

145

dd) Inhalt des Anspruchs

146

d) Deliktsrecht

146

4. Verjährung

147

5. Gerichtliche Praxis

149

6. Ergebnis

149

7. Exkurs: Regressansprüche nach Leistung an Geschädigten

150

Teil 2: Der Umfang der Rückrufpflicht

152

§ 4 Die Pflicht zum Rückruf im Zivilrecht

152

I. Reaktionsschwelle

152

II. Umfang der Reaktionspflicht

154

1. Auslegung von "erforderlich" und "zumutbar"

154

a) Entsprechend der produktbezogenen Pflichten

154

b) Anhaltspunkte in der Rechtsprechung

155

c) Vorschläge der Literatur

156

d) Zwischenergebnis

159

2. Meinungsstand im Schrifttum

159

a) Überblick

159

b) Streitpunkte

161

aa) Art des Produktfehlers

161

bb) Gefährdetes Rechtsgut

162

cc) Gefährdeter Personenkreis

163

dd) Verantwortung des Produktnutzers

164

ee) Kostentragung

165

3. Rechtsprechung

165

a) Einleitung

165

b) Die "Lederspray"-Entscheidung – der strafrechtliche Sonderling

167

c) Rechtsprechung vor 1985

169

d) Rechtsprechung von 1985 bis 2000

170

aa) Urteile

170

(1) Milchkühlanlagen

170

(2) Kondensatoren

171

(3) Druckluftbremsen

172

(4) Rettungsinseln

172

(5) Dunstabzugshaube

173

(6) Tempostat

174

(7) Gasheizungsdeckel

174

bb) Besonderheiten

175

(1) Rechtsansichten des BGH aus Nichtannahmebeschlüssen

176

(2) Leitlinien

177

(a) Gefährdung des Integritätsinteresses notwendig

177

(b) Gefährdetes Rechtsgut

177

(3) Keine differenzierende Auseinandersetzung mit Rückrufpflicht

177

(a) Fehlendes Eingehen auf Voraussetzungen

177

(b) Ungenaue Begrifflichkeiten

179

(c) Fehlende gegenseitige Bezugnahme

179

e) Rechtsprechung ab 2000 bis 2008

180

aa) Urteile

180

(1) Pflegebetten

180

(a) Pflegebetten 1 – LG Bielefeld

181

(aa) Sachverhalt

181

(bb) Rechtliche Bewertung durch LG Bielefeld

183

(cc) Rechtliche Bewertung durch OLG Hamm

184

(b) Pflegebetten 2 – LG Arnsberg

185

(2) Federbruchsicherung

186

(3) Hundesterben

187

bb) Besonderheiten

189

(1) Auseinandersetzung mit Rückrufpflicht

189

(2) Generelle Ablehnung einer Rückrufpflicht

190

(3) Medizinprodukte

191

f) Zwischenergebnis

192

aa) Entwicklung der Rechtsprechung

192

bb) Vergleich der Rechtsprechung vor und nach 2000

193

cc) Die neue Rechtsprechung als Kehrtwende?

196

III. Rückrufanspruch

197

1. Fragestellung und Bedeutung

197

2. Rückrufanspruch aus §§ 823 Abs. 1, 249 Satz 1 BGB

199

3. Rückrufanspruch aus § 1004 Abs. 1 BGB analog

199

a) Anwendbarkeit von § 1004 BGB bei Rückruf

200

b) Diskussion bei Rückruf

201

4. Rückrufanspruch aus dem Wettbewerbsrecht

202

5. Rückrufanspruch aus Vertrag

203

6. Das Verhältnis von Rückrufanspruch und Pflichtenumfang

205

7. Ergebnis

205

§ 5 Das "Pflegebetten"-Urteil

206

I. Aussagen des Urteils

207

1. Allgemeine Ausführungen zu Reaktionspflichten

207

2. Keine Rückrufpflicht bei Anwendung auf Sachverhalt

208

3. Verneinung weiterer deliktischer Ansprüche

209

II. Grundsätze

210

1. Bestätigung der Rückrufpflicht

210

2. Einzelfallbezogenheit der Reaktionspflichten

210

3. Effektiver Schutz des Integritätsinteresses als oberste Priorität

211

4. Relevante Abwägungskriterien für die Erforderlichkeit

212

a) Effektivität der Gefahrenabwehr

212

b) Identifizierbarkeit des Produktnutzers

213

c) Korrespondierende Pflichten des Produktnutzers

214

d) Gefährdung des Produktnutzers

215

e) Gefährdung der Allgemeinheit

216

5. Ergebnis

217

III. Fallgruppen für Rückrufpflichten

218

1. Ausgangspunkt der hinreichend deutlichen und detaillierten Warnung

218

2. Warnung nicht ausreichend zur Gefahreneinschätzung und Verhaltensanpassung

219

3. Hinwegsetzen über eine Warnung

221

a) Irrationalität der Produktnutzer

222

b) Fehlende oder geringe Gefährdung des Produktnutzers

223

c) Falsche Gefahreneinschätzung durch den Produktnutzer

224

4. Kostenloser Rückruf wenn "erforderlich"

226

a) Negative Abgrenzung statt Fallgruppen

226

b) Restriktive Auslegung

227

5. Ergebnis

228

IV. Bewertung des Kriteriums "Hinwegsetzen über eine Warnung"

230

1. Vorbemerkung

230

2. Verhältnis zum bestimmungswidrigen Gebrauch

231

3. Verhältnis zur Instruktionspflicht

232

a) Struktureller Vergleich

232

b) Vermutung instruktionsgerechten Verhaltens

234

4. Vergleich mit dem Vertrauensgrundsatz im Strafrecht

235

5. Objektivität der Verkehrssicherungspflichten

236

6. Praxisaspekte

237

a) Praktische Einwände

237

b) Wirkung auf den Produktnutzer

238

7. Logik des Urteils

240

8. Ergebnis

240

V. Schlussfolgerungen

241

1. Auslegung von Erforderlichkeit und Zumutbarkeit

241

2. Bestehen einer Rückrufpflicht

243

a) Fehlerkategorie

243

b) Gefährdetes Rechtsgut

244

aa) Reine Sachgefährdung

244

bb) Weiterfresserschäden

245

cc) Gefährdeter Personenkreis

245

dd) Selbstschutzmöglichkeiten des Produktnutzers

246

ee) Kostentragung

246

3. Ersatzansprüche im Rahmen der Geschäftsführung ohne Auftrag

246

a) Anwendungsbereich beim pflichtengebundenen Geschäftsführer

246

b) Produktnutzer

249

4. Rückrufanspruch und Regress

250

5. Übertragbarkeit auf das Strafrecht

251

6. Wechselwirkungen mit dem öffentlichen Recht

253

VI. Einordnung in die Rechtsprechung

255

1. Verhältnis zu Vorinstanzen

255

2. Verhältnis zur ergangenen Rechtsprechung

256

a) Entscheidungen, die eine Rückrufpflicht bejahten

256

b) Vorangegangene Rechtsprechung insgesamt

258

c) Das "Pflegebetten"-Urteil als Kehrtwende?

258

3. Nachfolgende Rechtsprechung

259

a) "Transformatoren"-Entscheidung des OLG Nürnberg

259

b) "Defibrillator"-Entscheidungen

261

4. Aufnahme durch das Schrifttum

263

VII. Zusammenfassung

264

§ 6 Implikationen der "Pflegebetten"-Rechtsprechung

265

I. Konsequenzen für die Beteiligten

265

1. Haftungssituation des Herstellers

265

a) Schadenseintritt trotz Rückruf

265

aa) Ausgleich oder Bestätigung einer Pflichtverletzung

266

bb) Enthaftung trotz Pflichtverletzung

267

(1) Gegenüber dem Produktnutzer

267

(2) Gegenüber Dritten

269

b) Schadenseintritt trotz Warnung

271

c) Schadenseintritt ohne Gefahrenabwehr

271

d) Zwischenergebnis

272

2. Verhältnis von Hersteller und Zulieferer

272

a) Problematik

272

b) Vertragliche Absicherung der Rückrufrisiken?

274

3. Versicherung und Hersteller

275

4. Produktnutzer

276

a) Anzahl der Rückrufe

276

b) Haftungssituation

277

II. Übertragung auf besondere Konstellationen

278

1. b2b-Konstellationen

279

a) Identifikation des Produktnutzers

279

b) Pflichten des Produktnutzers

279

aa) Gegenüber Arbeitnehmern

280

bb) Gegenüber der Allgemeinheit

281

cc) Pflichtenwahrnehmung

283

dd) Zwischenergebnis

284

2. b2c-Konstellationen

285

a) Identifikation des Produktnutzers

285

b) Pflichten des Produktnutzers

286

c) Zwischenergebnis

286

3. Automobilbranche

287

a) Bedeutung von Rückrufen

287

b) Besondere Ausgangsvoraussetzungen

288

c) Zwischenergebnis

288

4. Ergebnis

290

§ 7 Zusammenfassung der wesentlichen Ergebnisse

291

Materialienverzeichnis

295

Literaturverzeichnis

299

Sachwortverzeichnis

311