International law: sports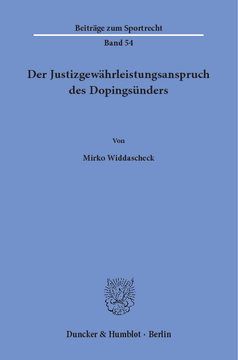 Additional Information
Book Details
ISBN

978-3-428-55610-6
978-3-428-15610-8 (print edition)

DOI

https://doi.org/10.3790/978-3-428-55610-6

Edition

1

Language

German

Pages

384

Collections

Subjects
Pricing
Institution

€ 104.00 (incl. local VAT if applicable)

Individual

€ 79.90 (incl. local VAT if applicable)
About The Author
Mirko Widdascheck studierte Rechtswissenschaften an der Leibniz-Universität in Hannover und der Universität Stockholm. Während seines Studiums konnte er besondere Kenntnisse im Internationalen Recht und in der Schiedsgerichtsbarkeit erwerben und ist Autor einer Monographie zu den Schiedsverfahrensregeln der UNCITRAL. Er war studentische Hilfskraft und wissenschaftlicher Mitarbeiter am Lehrstuhl für Öffentliches Recht und Sozialrecht von Herrn Prof. Dr. H. Butzer.
Mirko Widdascheck studied law at the Leibniz-University of Hanover and the University of Stockholm. During his studies he acquired in-depth knowledge of international law and arbitration and is the author of a thesis on the UNCITRAL Arbitration Rules. He was student assistant and scientific assistant at the chair for public and social law of Prof. Dr. H. Butzer.
Abstract
Der Rechtsstreit der deutschen Eisschnellläuferin Claudia Pechstein gegen ihre Dopingsperre durch den Court Arbitration Sport (CAS) hat das System der internationalen Sportschiedsgerichtsbarkeit in die Öffentlichkeit und den Mittelpunkt des wissenschaftlichen Interesses gerückt. Entlang des bisher wenig konturierten allgemeinen Justizgewährleistungsanspruchs werden die Besonderheiten des Sportrechts und die Freiwilligkeit der Schiedsvereinbarung eingehend untersucht. Mit Blick auf den enormen Zwangsdruck im Zeitpunkt der Unterzeichnung sind die Anforderungen an die Unabhängigkeit des CAS, die Ausgestaltung der Verfahrensordnung und die Rechtsmittel besonders hoch anzusetzen; diesen Anforderungen wird die Sportschiedsgerichtsbarkeit derzeit nicht gerecht. Neben der Unfreiwilligkeit des Grundrechtsausübungsverzichts folgt daraus auch ein Schutzpflichtverstoß bei Anerkennung der Schiedsvereinbarung. Die staatliche Gewalt ist aufgerufen, der Schiedsvereinbarung zum CAS die Anerkennung zu verweigern, solange die Anforderungen nicht gewahrt werden. »The Judicial Guarantee for Doping Sinners«

Claudia Pechstein's claim against her doping suspension by the CAS raises the question whether the system of international sports arbitration complies with the rule of law. This dissertation illustrates the CAS' lack of independence, disadvantages of the court's procedure and the ineffectiveness of remedies for the athletes. They do not sign the arbitration clause voluntarily. Therefore, the state has to allow proceedings in front of state courts as long as the requirements of due process are not fulfilled.
Table of Contents
Section Title
Page
Action
Price

Vorwort

5

Inhaltsverzeichnis

11

Abkürzungsverzeichnis

20

§ 1 Einführung

23

A. Problemaufriss – der Fall Pechstein

23

B. Wissenschaftliche Fragestellung

29

C. Stand der Forschung

31

D. Ziele der Untersuchung und Gang der Darstellung

34

§ 2 Die Gerichtsbarkeit bei "Doping" im Sport – Grundlagen

37

A. Die Dopingprävalenz im Sport

37

I. Der Sport als Baustein der Gesellschaft

37

II. Doping als zentrale Gefahr für die Zukunft des Sports

39

1. Der etymologisch-historische Hintergrund des Dopings

40

2. Das Verständnis des Dopings als illegitime Leistungssteigerung

41

3. Das Dopingproblem im Leistungssport

43

a) Gesellschaftlich induzierte Anreize sanktionsbewehrten Verhaltens

43

b) Die nationale und internationale Dopingprävalenz

46

4. Gegenwehr durch striktes Dopingverbot

49

5. Zwischenergebnis: Hohe Dopingprävalenz trotz Verbots

51

B. Der Kampf gegen Doping

52

I. Die Verrechtlichung des Sports

52

1. Das externe Sportrecht als Rahmengestaltung seitens des staatlichen Gesetzgebers

53

2. Das interne Sportrecht als Ausgestaltung des gesetzlichen Rahmens

56

a) Die Vereins- und Verbandsstruktur im Sport

57

b) Die Ausnutzung des Gestaltungsspielraums durch die "lex sportiva"

58

c) Das Ein-Platz-Prinzip als Grundlage einheitlicher Sportregeln

60

3. Zwischenergebnis: Ausgestaltung des Rahmens durch Quasi-Gesetzgeber

61

II. Die Anti-Doping-Bestimmungen des Sportrechts

62

1. Externe Anti-Doping-Bestimmungen und das Anti-Doping-Gesetz

62

2. Die Harmonisierung interner Dopingregelungen durch die Welt-Anti-Doping-Kommission (WADA)

65

a) Die Dopingdefinition des Welt-Anti-Doping-Codes (WADC)

67

b) Die Liste verbotener Substanzen und Methoden

67

c) Die Sanktionsmöglichkeiten des internen Sportrechts

68

3. Die Durchsetzung der Anti-Doping-Bestimmungen der WADA

71

a) Die Verpflichtung der Sportverbände

72

b) Die Bindung des Sportlers

73

aa) Die satzungsrechtliche Bindung der Mitglieder

74

bb) Die vertragsrechtliche Bindung der einzelnen Sportler

77

4. Das harmonisierte Doping-Kontrollsystem

78

a) Das Administrationsprogramm "ADAMS"

79

b) Der Ablauf von Dopingtest und -analyse

80

5. Zwischenergebnis: Weitgehende Harmonisierung von Regelwerken und Kontrollpraxis

82

C. Der sportrechtliche Sanktionsmechanismus

82

I. Die sportinterne Verbandsgerichtsbarkeit

83

II. Das System der Schiedsgerichtsbarkeit im Sport

84

1. Die Schiedsgerichtsbarkeit im Allgemeinen

85

a) Die Schiedsvereinbarung

85

b) Die Unterstützung der Schiedsgerichtsbarkeit durch staatliche Gerichte

87

aa) Der Aufhebungsantrag nach § 1059 ZPO

87

bb) Die Anerkennung und Vollstreckung ausländischer Schiedssprüche

88

2. Die Sportschiedsgerichtsbarkeit im Besonderen

89

a) Der Court of Arbitration for Sport (CAS)

89

aa) Geschichte und Aufbau des Gerichtshofs

89

bb) Zuständigkeit in internationalen Sachverhalten

91

b) Das Deutsche Sportschiedsgericht (DSS)

93

c) Die Schiedsvereinbarung zwischen Sportler und Verband

96

aa) Der Schiedszwang im Sport

96

bb) Die Bindung des Sportlers an die Schiedsvereinbarung

98

(1) Die Inkorporation der Schiedsklausel in die Vereinssatzung

98

(2) Die vertragsrechtliche Bindung des einzelnen Sportlers

99

3. Zwischenergebnis: Verpflichtende Schiedsgerichtsbarkeit im Sport

101

D. Ergebnis zu § 2: Andauernder Anti-Doping-Kampf und eigenständige Ausgestaltung durch die Sportwelt

102

§ 3 Die Sportschiedsgerichtsbarkeit und der verfassungsfundierte Justizgewährleistungsanspruch des Dopingsünders

103

A. Herleitung und Konturierung der Justizgewährleistungsrechte

103

I. Die Rechtsschutzgarantie des Art. 19 Abs. 4 GG

105

1. Der Anwendungsbereich der grundrechtlichen Rechtsschutzgarantie

106

2. Die Unanwendbarkeit der Rechtsschutzgarantie in der Sportgerichtsbarkeit

109

II. Der ungeschriebene allgemeine Justizgewährleistungsanspruch des Grundgesetzes

110

1. Herleitung und Grundrechtscharakter des Justizgewährleistungsanspruchs

110

2. Die verschiedenen subjektiven Rechte als Auslöser des Justizgewährleistungsanspruchs

113

a) Grundrechte als Urbild subjektiver Rechte

115

aa) Der Doppelcharakter der Grundrechte

115

bb) Das Untermaßverbot als Prüfungsmaßstab in der Schutzpflichtkonstellation

116

cc) Die Anwendung des Untermaßverbots im Kontext des Privatrechts

117

b) Verfahrensgrundrechte als Basis für subjektive Rügerechte

119

c) Konkretisierungen der grundrechtlichen Leitlinien im einfachen Recht als subjektive Rechte

122

d) Auslöser des Justizgewährleistungsanspruchs im internationalen Recht

124

e) Zwischenergebnis: Ein Bündel an subjektiven Rechten als Auslöser des Justizgewährleistungsanspruchs

128

3. Die Ausgestaltung des Justizgewährleistungsanspruchs

128

a) Der Ausgestaltungsauftrag an den einfachen Gesetzgeber

129

b) Der Schutzgehalt des Justizgewährleistungsanspruchs

130

aa) Der Anspruch auf Zugang zu staatlichen Gerichten in erster Dimension

131

bb) Der Anspruch auf "effektiven Rechtsschutz" in zweiter Dimension

132

c) Die verfassungsrechtlichen Grenzen der Ausgestaltung

135

aa) Der externe Abgleich mit sonstigen Verfassungsnormen und -grundsätzen

136

bb) Der interne Abgleich mit anderen Effektivitätspostulaten

137

cc) Weiterentwicklung: Stufenlose Prüfung der Verhältnismäßigkeit des Rechtsschutzes

138

4. Zwischenergebnis: Ausgestaltung nach den Maßgaben eines stufenlosen Verhältnismäßigkeitsgrundsatzes

140

B. Die Schiedsvereinbarung als partieller Verzicht auf die Ausübung des allgemeinen Justizgewährleistungsanspruchs

141

I. Die Schiedsvereinbarung als Grundrechtsausübungsverzicht

141

1. Die verfassungsrechtliche Figur des Grundrechtsverzichts

141

2. Der Grundrechtsausübungsverzicht durch privatrechtlichen Vertrag

144

3. Die verfassungsrechtlichen Grenzen der Dispositionsbefugnis

145

4. Die verfassungsrechtliche Zuordnung der Verzichtserklärung

147

II. Die Disponibilität des allgemeinen Justizgewährleistungsanspruchs

150

1. Der partielle Verzicht auf den Zugang zu staatlichen Gerichten

150

2. Die Anforderungen an die Ausgestaltung des Rechtsschutzes im Sport

153

a) Der verzichtsfeste Kern des Justizgewährleistungsanspruchs

153

aa) Die Unabhängigkeit der Rechtsprechung

153

bb) Die rechtsstaatlichen Kernanforderungen an die Durchführung des Verfahrens

155

cc) Die Effektivität des Rechtsschutzes

156

b) Die Wahrung des verfassungsrechtlich geforderten bereichsspezifischen Mindestmaßes an Rechtsschutz

157

aa) Die Anforderungen an die Unabhängigkeit der Rechtsprechung aufgrund der Besonderheiten des Sports

157

(1) Die Disposition durch privatrechtlichen Vertrag

158

(2) Die beschränkten Überprüfungsmöglichkeiten der Entscheidungen des CAS durch die deutschen Gerichten

159

(3) Die fehlende demokratische Legitimation der Gewaltausübung

161

(4) Die staatsähnliche Machtposition der Sportverbände

162

(5) Die rechtstatsächlichen Schwächen des sportinternen Anti-Doping-Systems

165

(a) Die Uneinheitlichkeit der Verfolgung von Dopingsündern

165

(b) Die Beweiserhebungs- und Sanktionsprobleme des Sportrechts

167

(c) Die Übernahme sportinterner Sanktionsvorschriften als materielle Grundlage des Schiedsspruchs

169

(6) Zwischenergebnis: Besonders hohe Anforderungen an die Unabhängigkeit der Rechtsprechung im Sport

170

bb) Die Übertragung strafrechtlicher Erwägungen auf die Sportschiedsgerichtsbarkeit

170

(1) Der Strafrechtscharakter des Schiedsverfahrens vor dem CAS

170

(2) Die Übertragung der Strafprozessmaximen in die Schiedsverfahrensregeln

172

(3) Zwischenergebnis: Verhältnismäßige Inkorporation der Strafprozessmaximen in das Schiedsverfahren

175

3. Zwischenergebnis: Der allgemeine Justizgewährleistungsanspruch ist im Sport nur teilweise disponibel

175

C. Die Freiwilligkeit des Verzichts auf die Ausübung des allgemeinen Justizgewährleistungsanspruchs

176

I. Die Bewertung der Freiwilligkeit des Verzichts als zentraler Dreh- und Angelpunkt

176

II. Die Konkretisierung des "freien Willens" in der (Rechts-)‌Philosophie

180

1. Die Bewertung der Freiwilligkeit einer Entscheidung

181

a) Nozick und der zu erwartende oder moralisch gewünschte Verlauf der Dinge

182

b) Die normative Bewertung aller Umstände der Vertragsunterzeichnung

184

2. Die Zwei-Komponenten-Theorie von Raz und Wertheimer

186

a) Die Wahlkomponente: Quantifizierung des Zwangsdrucks

187

aa) Die angedrohte Folge als wesentlicher Faktor der Zwangslage

188

bb) Die normative Bewertung des Wahldefizits

189

b) Die Ansinnenskomponente: Die Bewertung der ausgewählten Folge

192

aa) Das Ansinnen als normatives Unrecht

192

bb) Die Bewertung des Unrechts anhand einer Je-Desto-Formel

194

c) Zwischenergebnis: Bestimmung der Freiwilligkeit anhand der Zwei-Komponenten-Theorie und einer Je-Desto-Formel

195

III. Die konkrete Anwendung der Zwei-Komponenten-Theorie und einer Je-Desto-Formel auf den Schiedszwang im Sport

195

1. Die Wahlkomponente: Der individuelle Zwangsdruck im Zeitpunkt der Entscheidung für oder gegen die Unterzeichnung der Schiedsvereinbarung

195

a) Das faktische Berufsverbot als angedrohte Folge verweigerter Unterzeichnung

196

aa) Der Schutzbereich der beruflichen Vertragsfreiheit aus Art. 12 GG

196

bb) Die Intensität der Beschränkung bei verweigerter Unterzeichnung

198

b) Das kartellrechtliche Monopol als Extremform eines Machtgefälles

201

c) Weitere Aspekte des individuellen Wahldefizits

204

d) Zwischenergebnis: Hoher Zwangsdruck bei Unterzeichnung der Schiedsvereinbarung

205

2. Die Ansinnenskomponente: Die Unterwerfung unter ein substantiell nachteiliges Verfahren der Sportschiedsgerichtsbarkeit

207

a) Die unzureichende Unabhängigkeit des CAS und der Schiedsrichter

208

aa) Die institutionelle Abhängigkeit des CAS vom ICAS und von den Verbänden

208

bb) Die mittelbare Abhängigkeit der einzelnen Schiedsrichter von den Verbänden

210

(1) Die verbandslastige Zusammenstellung der Schiedsrichterliste

211

(2) Die geschlossene Schiedsrichterliste und die Bestimmung der Parteischiedsrichter

213

(3) Die verbandsnahe Bestimmung des Vorsitzenden der Berufungskammer

215

cc) Ergebnis zu a): Institutionalisierte Abhängigkeit des Schiedsgerichts

217

b) Die rechtsstaatlichen Schwächen im Verfahrensablauf vor dem CAS

218

aa) Die begrenzte Öffentlichkeit in der Sportschiedsgerichtsbarkeit

218

(1) Der Ausschluss der Öffentlichkeit im Verfahren

219

(2) Die ungeschützte Veröffentlichung der Entscheidungen

220

(3) Zwischenergebnis: Unverhältnismäßige Ausgestaltung der Öffentlichkeit

221

bb) Die limitierte Wahl der Verhandlungssprache

221

cc) Die abweichenden Kostenregelungen für das Schiedsverfahren

222

(1) Die erheblichen Kosten eines Verfahrens

223

(2) Die strikten Regeln zur finalen Kostenverteilung

225

(3) Die unzureichende Möglichkeit der Prozesskostenhilfe

227

(4) Zwischenergebnis: Verstoß gegen die Rechtsschutzgleichheit und die prozessuale Waffengleichheit

229

dd) Die nachteiligen Beweisregelungen im Verfahren vor dem CAS

230

(1) Die Beweisnot durch die besonders schnelle Durchführung des Verfahrens

230

(2) Die rechtsstaatlichen Schwächen der Beweisregelungen

232

(a) Die Missachtung der Unschuldsvermutung

232

(b) Das erleichterte Beweismaß für den Dopingverstoß

234

(c) Zwischenergebnis: Unterschreitung rechtsstaatlicher Anforderungen

236

(3) Inkurs: Das unzulängliche Beweisverfahren im Fall Pechstein

236

ee) Die fehlende Wiedereinsetzung in den vorigen Stand

239

ff) Ergebnis zu b): Rechtsstaatliche Verstöße und Kumulation von Nachteilen zu Lasten der Sportler

239

c) Die ineffektiven Rechtsmittel gegen Entscheidungen des CAS vor dem Schweizer Bundesgericht

241

aa) Das unzureichende ordentliche Rechtsmittel der Anfechtung

242

(1) Die begrenzten Anfechtungsmöglichkeiten bei Internationalen Schiedssprüchen

242

(2) Der vergleichbare unfreiwillige Verzicht auf das Recht der Anfechtung

244

(3) Die Nichtbeachtung der Gewährleistungen der EMRK

246

(4) Zwischenergebnis: Unzureichende Entscheidungspraxis des Schweizer Bundesgerichts

248

bb) Das unbefriedigende außerordentliche Rechtsmittel der Revision vor dem Schweizer Bundesgericht

248

cc) Der fingierte Verzicht auf staatlichen einstweiligen Rechtsschutz in der Verfahrensordnung des CAS

251

dd) Ergebnis zu c): Verstärkung der Nachteile durch die ineffektiven Rechtsmittel vor dem Schweizer Bundesgericht

252

3. Abschließende Bewertung der Freiwilligkeit anhand der Zwei-Komponenten-Theorie und der Je-Desto-Formel

253

D. Ergebnis zu § 3: Unwirksamer Grundrechtsausübungsverzicht aufgrund fehlender Freiwilligkeit

255

§ 4 Die Schutzpflichten des Staates bei fehlender Freiwilligkeit des Verzichts

256

A. Die Schutzpflichten des Staates zugunsten der fremdbestimmten Sportler

256

I. Die staatlichen Schutzpflichten in strukturellen Ungleichgewichtslagen

256

1. Die Schutzpflicht aus Art. 12 Abs. 1 GG hinsichtlich der Gewährleistung der beruflichen Vertragsfreiheit

257

2. Sozialstaatliche Schutzpflichten in strukturellen Ungleichgewichtslagen

259

a) Korrekturen des Bundesverfassungsgerichts bei Fremdbestimmung des Einzelnen in strukturellen Ungleichgewichtslagen

261

aa) Die Blinkfüer-Entscheidung (BVerfGE 25, 256ff.)

262

bb) Die Handelsvertreter-Entscheidung (BVerfGE 81, 242ff.)

262

cc) Die Bürgschafts-Entscheidung (BVerfGE 89, 214ff.)

263

dd) Unterhaltsverzichtsvertrags-Entscheidung (BVerfGE 103, 89ff.)

264

ee) Zusammenfassung der verfassungsrechtlichen Judikatur

265

b) Vergleichbare Ungleichgewichtslage im Verhältnis zwischen Sportler und Verband

265

3. Zwischenergebnis: Die Schutzpflicht aus Art. 12 GG als Ausgangspunkt der verfassungsrechtlichen Bewertung des Schiedszwangs im Sport

266

II. Die Verpflichtung zu verhältnismäßiger Ausgestaltung der Sportschiedsgerichtsbarkeit

266

1. Der Verhältnismäßigkeitsgrundsatz als Kontrollrahmen

267

2. Die legitimen Zwecke einheitlicher Sportschiedsgerichtsbarkeit

270

a) Die Vorteile einheitlicher Gerichtsbarkeit

271

b) Die Vorteile der Sportschiedsgerichtsbarkeit

271

3. Die Geeignetheit und Erforderlichkeit der Einrichtung einer einheitlichen Sportschiedsgerichtsbarkeit

273

4. Die Angemessenheit der Sportschiedsgerichtsbarkeit

274

a) Gewichtung der legitimen Zwecke

275

b) Bewertung der Intensität des Schiedszwangs im Sport

275

c) Auflösung der kollidierenden Interesse im Sinne praktischer Konkordanz

276

aa) Die Je-Desto-Betrachtung kollidierender Interessen

277

bb) Die Kollision von Verbandsautonomie und Berufsfreiheit

279

cc) Die Auflösung der Kollision durch eine Aufteilung des "Ob" und "Wie"

280

(1) Die Entscheidung über das "Ob" des Rechtsschutzes

281

(2) Das Untermaßverbot bei der Bereitstellung des "Wie"

282

5. Zwischenergebnis: Schutzpflichtverstoß bei Anerkennung des Schiedszwangs im Sport

283

B. Rechtstatsächliche Bestandsaufnahme des staatlichen Schutzes im Rahmen der Unterzeichnung der Schiedsvereinbarung

283

I. Der unzureichende Schutz der Sportler durch die deutsche Legislative

284

1. Die Schutzvorschriften des allgemeinen Zivilrechts und des Kartellrechts

284

2. Die Regelung zur Sportschiedsgerichtsbarkeit in § 11 Anti-Doping-Gesetz

286

3. De lege ferenda: Inkorporation notwendiger Leitlinien in § 11 Anti-Doping-Gesetz

287

II. Der fehlende Schutz der Sportler durch die deutsche Judikative

289

1. Die Fehlbewertungen durch den Bundesgerichtshof im Fall Pechstein

289

a) Die fehlerhafte Bewertung der Unabhängigkeit des CAS

290

b) Die Missachtung weiterer Schwächen in den Verfahrensregeln des CAS

292

c) Die Fehlbewertung der grundrechtlichen Interessenkollision

292

d) Der unvollständige Verweis auf den Willen des Gesetzgebers

294

e) Der ungenügende Verweis auf das Schweizer Bundesgericht

295

f) Die Missachtung eines Je-Desto-Verhältnisses zwischen den zwei Komponenten zur Bewertung der Freiwilligkeit

296

g) Der Verstoß gegen die Gewährleistungen der EMRK

296

h) Zwischenergebnis: Verfassungsrechtliche Korrektur notwendig

297

2. Die anstehende Supervision durch das Bundesverfassungsgericht infolge der anhängigen Verfassungsbeschwerde

298

a) Entscheidungsaspekt 1: Der Schutz in strukturellen Ungleichgewichtslagen

299

aa) Die Übertragbarkeit der bisherigen Rechtsprechung auf den Schiedszwang im Sport

299

bb) Die Entwicklung neuer Leitlinien durch das Bundesverfassungsgericht

301

cc) Das Kartellrecht als Vehikel der verfassungsrechtlichen Leitlinie zum Schiedszwang im Sport

302

b) Entscheidungsaspekt 2: Die Übertragbarkeit der "Solange-Rechtsprechung" auf die Sportschiedsgerichtsbarkeit

304

3. Entscheidungsempfehlung im Fall Pechstein: Aufhebung der Entscheidung des Bundesgerichtshofs

306

C. Lösungsmöglichkeit: Entwicklung einer verfassungsgemäßen Gerichtsbarkeit im Sport

307

I. (Internationale) Staatliche Gerichtsbarkeit in Anti-Doping-Streitigkeiten

308

II. Veränderungen im Sport zur Minderung des Zwangsdrucks

310

III. Veränderungen in der Sportschiedsgerichtsbarkeit

311

1. Gewährleistung größerer Unabhängigkeit des CAS und der Schiedsrichter

311

2. Veränderungen in den Verfahrensregelungen des CAS

313

3. Effektive Rechtsmittel gegen Entscheidungen des CAS

315

D. Ergebnis zu § 4: Notwendige Weiterentwicklung der Sportschiedsgerichtsbarkeit

317

§ 5 Ergebnisse der Untersuchung in Thesenform

319

Anhang: Die Statuten und die Verfahrensordnung des CAS

322

Literaturverzeichnis

348

Sachverzeichnis

376