Criminal procedure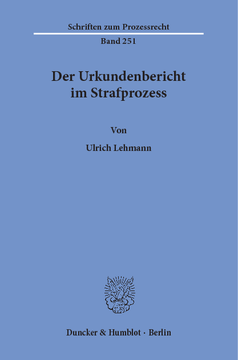 Additional Information
Book Details
ISBN

978-3-428-55556-7
978-3-428-15556-9 (print edition)

DOI

https://doi.org/10.3790/978-3-428-55556-7

Edition

1

Language

German

Pages

229

Collections

Subjects
Pricing
Institution

€ 92.00 (incl. local VAT if applicable)

Individual

€ 71.90 (incl. local VAT if applicable)
About The Author
Studium der Rechtswissenschaften an der Europa-Universität Viadrina, Frankfurt (Oder). Erste Juristische Prüfung 2009. Master-Studiengang »Wirtschaftsstrafrecht« an der Universität Osnabrück (LL.M.). Wissenschaftliche Hilfskraft am Lehrstuhl für Strafrecht, Strafprozessrecht und Kriminologie von Prof. Dr. Dr. Uwe Scheffler. Referendariat im Bezirk des Kammergerichts. Zweite Juristische Prüfung 2011. Zulassung zum Rechtsanwalt in Berlin 2012. Mehrjährige Tätigkeit als angestellter Strafverteidiger im Wirtschaftsstrafrecht. Seit 2016 selbständiger Rechtsanwalt und Strafverteidiger in Berlin.
Law studies at European University Viadrina, Frankfurt (Oder). First state examination in 2009. Master's degree course in commercial criminal law at the University of Osnabrück (LL. M.). Research assistant to Prof. Dr. Dr. Uwe Scheffler at European University Viadrina. Second state examination 2011 at Berlin Higher Court of Appeals. Admitted to the bar in Berlin in 2012 and worked for several years as an employed criminal defence lawyer in white-collar criminal law. Since 2016 self-employed criminal defense attorney in Berlin.
Abstract
Die Zulässigkeit des Berichts des Vorsitzenden über den wesentlichen Inhalt einer Urkunde im Strafprozess (kurz: »Urkundenbericht«) ist seit über 130 Jahren umstritten. Von der Rechtsprechung als zulässig erachtet, ist er bis heute in der StPO nicht ausdrücklich geregelt und wird deshalb von der Literatur überwiegend als unzulässig abgelehnt. Die Arbeit stellt die Entwicklung des Urkundenberichts geordnet dar und fasst den hierzu vorliegenden Streitstand systematisch zusammen. Dabei arbeitet sie heraus, dass es – trotz des seit Langem geführten Streits – an einer dogmatischen Auseinandersetzung mit diesem Phänomen fehlt. Die Arbeit schließt diese Lücke und ordnet den Urkundenbericht in das System des Beweisrechts der StPO ein. Vor dem Hintergrund des Streitstandes wird das erarbeitete Ergebnis überprüft. Abschließend definiert die Arbeit den derzeitigen Anwendungsbereich und liefert Denkanstöße zum (zukünftigen) Umgang mit Urkundenbeweisen in der Hauptverhandlung. »The Report on the Content of Documents in Criminal Proceedings in Germany«

The report on the content of a document has been considered admissible by jurisprudence for almost 130 years. Literature rejects it almost unanimously as inadmissible due to the lack of regulation. The dogmatic debate has so far been inadequate. This dissertation closes this gap and ranges the document report in the system of documentary evidence of the StPO. The arguments put forward against the document report are examined. Lastly, the scope of its application is defined.
Table of Contents
Section Title
Page
Action
Price

Vorwort

7

Inhaltsverzeichnis

9

Einleitung

15

1. Kapitel: Begriff der Urkunde und Wesen des Urkundenbeweises

17

A. Begriff der Urkunde

17

I. Urkundenbegriff des materiellen Strafrechts

17

II. Urkundenbegriff in der Strafprozessordnung

20

1. Definitionsansatz: äußere und innere Beschaffenheit

20

a) Äußere Beschaffenheit

20

b) Innere Beschaffenheit

21

2. Definitionsansatz: Verfahrensrechtliche Funktion

22

3. Zwischenergebnis / Ausnahme

25

B. Das Wesen des Urkundenbeweises

25

I. Den Verfahrensgegenstand bildende Urkunden

26

II. Berichtende Urkunden / Urkunden mit Indizwirkung für den Verfahrensgegenstand

27

1. Unmittelbarkeitsgrundsatz

28

a) Geschichtliche Entwicklung der Maxime

29

b) Bedeutungsinhalt der Maxime

35

aa) Formelle Unmittelbarkeit

36

bb) Materielle Unmittelbarkeit

38

2. Mündlichkeitsgrundsatz

41

3. Freie richterliche Beweiswürdigung

43

a) Begriff der Beweiswürdigung

43

b) Richterliche Überzeugung

44

c) "Aus dem Inbegriff der Hauptverhandlung"

46

d) Freiheit der Beweiswürdigung

46

e) Exkurs: Urteilsbegründung nach § 267 StPO

47

aa) Zweck und Bedeutung der schriftlichen Urteilsbegründung bei einer Verurteilung

47

bb) Zweck und Bedeutung der schriftlichen Urteilsbegründung bei einem Freispruch

50

III. Das Wesen des Urkundenbeweises im Spiegel der durch ihn berührten Verfahrensgrundsätze, insb. des Unmittelbarkeitsprinzips

51

1. § 251 Abs. 1 StPO

54

2. § 251 Abs. 2 StPO

57

3. § 256 StPO

58

4. §§ 253 und 254 StPO

59

5. § 325 StPO

61

IV. Zwischenfazit Kapitel 1

62

2. Kapitel: Der Urkundenbericht in der Rechtsprechung

63

A. Rechtsprechung des Reichsgerichts (1879 bis 1945)

64

I. Erste Entwicklungsphase

65

1. RGSt 2, 408 ff.

65

2. RGSt 3, 161 f.

66

3. RGSt 3, 141 f.

67

4. RGSt 3, 282 f.

68

5. Zusammenfassung

69

II. Zweite Entwicklungsphase

69

1. RG JW 1890, 6

69

2. RG JW 1891, 53

70

3. RGSt 25, 125 ff.

70

4. RGSt 26, 32 f.

72

5. RG GA 46 (1898), 193 ff. = JW 1898, 333 f.

73

6. RGSt 35, 198

74

7. Zusammenfassung

75

III. Dritte Entwicklungsphase / Einzelfragen

75

1. Beweisantrag auf Verlesung der Urkunde – Notwendigkeit der konkludenten Zustimmung

75

2. Protokollierungspflichten

79

3. Zusammenfassung

83

IV. Das "Erbe" des Bundesgerichtshofs / Definition des Urkundenberichts zu Beginn des Übergangs von Reichsgericht zu Bundesgerichtshof

84

B. Rechtsprechung des BGH und diverser Oberlandesgerichte bis zur Einführung des Selbstleseverfahrens

85

I. Zulässigkeitsverdikt (BGHSt 1, 94)

86

II. "Innerer" und "äußerer" Anwendungsbereich des Urkundenberichts

88

1. BGHSt 5, 278 ff.

89

2. BGHSt 11, 29 ff.

90

3. BGHSt 11, 159 ff. = NJW 1958, 559 f.

92

III. Urteile zum äußeren Bereich des Urkundenberichts

94

1. BGHSt 6, 141 ff.

95

2. OLG Schleswig SchlHA 1954, 387

95

3. OLG Köln MDR 1955, 122 = GA 1955, 220

96

4. BGH bei Dallinger MDR 1975, 365 (369)

97

5. Zusammenfassung

97

IV. Protokollierung des Urkundenberichts

98

1. OLG Hamm NJW 1958, 1359

98

2. OLG Hamm MDR 1964, 344

99

3. OLG Hamburg VRS 44 (1972), 214 ff. = MDR 1973, 156 f.

100

V. Zwischenergebnis / Zusammenfassung

101

C. Rechtsprechung des BGH und diverser Oberlandesgerichte nach Einführung des Selbstleseverfahrens

102

I. Das Selbstleseverfahren gem. § 249 Abs. 2 StPO

104

1. Gesetzliche und sachliche Anwendungsvoraussetzungen des Selbstleseverfahrens

105

2. Anordnung und Durchführung des Selbstleseverfahrens

107

II. Rechtsprechung nach Einführung des Selbstleseverfahrens

110

III. Zulässigkeit des Urkundenberichts

111

1. OLG Düsseldorf VRS 59 (1980), 269 f.

111

2. BGHSt 30, 10 ff.

112

IV. Zusammenfassung und Ausblick

115

D. Urkundenbericht und § 344 Abs. 2 Satz 2 StPO

116

I. OLG Köln VRS 73 (1987), 136 ff.

116

II. OLG Düsseldorf StV 1995, 120 ff.

117

III. KG VRS 100 (2001), 471 ff.

118

IV. BVerfGE 112, 185 ff.

119

V. Hinweis auf ständige Rechtsprechung

121

E. Protokollierungspflichten

121

I. OLG Celle StV 1984, 107

121

II. OLG Koblenz VRS 67 (1984), 146 ff.

122

III. OLG Düsseldorf VRS 74 (1988), 40 f.

122

IV. OLG Saarbrücken NStZ-RR 2000, 48 f.

123

V. BGH NJW 2011, 3733 ff.

123

VI. Zusammenfassung

124

F. Definition des Urkundenberichts nach Ansicht der Rechtsprechung

124

I. Rechtsprechung des Reichsgerichts

124

II. Rechtsprechung des BGH und der Oberlandesgerichte

126

III. Definition des Wesens des Urkundenberichts nach der Rechtsprechung und Zulässigkeitskriterien

128

3. Kapitel: Die zum Urkundenbericht vertretenen Literaturansichten

129

A. Urkundenbericht als Verlesungsersatz oder Urkundenbeweis?

130

I. Urkundenbericht ist Verlesungssurrogat

130

II. Urkundenbericht ist Urkundenbeweis

133

B. Zulässigkeit des Urkundenberichts – ablehnende Argumente

135

I. Grammatische Argumente gegen den Urkundenbericht

135

II. Historische Argumente gegen den Urkundenbericht

137

III. Systematische Argumente

138

IV. Teleologische und sachliche Argumente gegen den Urkundenbericht

139

1. Früheres Schrifttum

140

2. Aktuelles Schrifttum vor und nach Einführung des Selbstleseverfahrens

141

C. Zulässigkeit des Urkundenberichts – befürwortende Argumente

143

I. Grammatische Argumente für den Urkundenbericht

144

II. Historische Argumente für den Urkundenbericht

144

III. Systematische und teleologische Argumente für den Urkundenbericht

145

IV. Teleologische Argumente für den Urkundenbericht

146

V. Praktische Argumente aus Sicht der Strafverteidigung

147

VI. Den Kritikern widersprechende ("rechtfertigende") Argumente

148

D. Zusammenfassung und Fazit

149

4. Kapitel: Zur Urkundenbeweisqualität und zur Zulässigkeit des Urkundenberichts – Entwicklung einer eigenen Ansicht

151

A. Prämissen der Untersuchung

151

I. Getrennte Betrachtung der einzelnen Elemente

151

II. Beweis, Beweismittel und Beweisarten

152

III. Beweisen und Beweisverfahren

154

IV. Beweiserhebung

155

V. Beweiswürdigung

155

VI. Anerkennung des Phänomens "Urkundenbericht" auf Grundlage der Anforderungen der Praxis

156

VII. Keine Argumente, die Missbrauch oder Ausuferung als Kritikpunkt vorbringen

156

B. Die Urkundenbeweisqualität des Urkundenberichts

156

C. Zulässigkeit des Urkundenberichts

159

I. Grammatische Auslegung

160

1. Anwendung und Grenzen der grammatischen Auslegung

160

2. "Verlesen" als Fachterminus der §§ 249–256 StPO

164

II. Historische Auslegung

169

1. Gesetzgeber der Reichsstrafprozessordnung

171

2. Gesetzgeber des Selbstleseverfahrens von 1979

173

3. Gesetzgeber des Selbstleseverfahrens von 1987

177

III. Systematische Auslegung

179

1. Widerspruchsfreiheit

180

2. Nichtredundanz und Vollständigkeit

181

3. Postulat der systematischen Ordnung

184

4. Postulat der Einheit der Rechtsordnung

184

a) Uneinheitlichkeit der Rechtsordnung durch § 78 Abs. 1 OWiG?

185

b) Anerkennung des Urkundenberichts durch § 31 Abs. 3 PUAG?

189

IV. Teleologische Auslegung

193

V. Fazit

197

D. Gesamtergebnis des 4. Kapitels

197

5. Kapitel: Der praktische Anwendungsbereich des Urkundenberichts

198

A. Vorbemerkungen zur Fragestellung

198

B. Derzeitiger Anwendungsbereich des Urkundenberichts

199

C. Mehr Urkundenbericht wagen?

203

I. Urkundenbericht im Rahmen des Selbstleseverfahrens

204

II. Urkundenbericht bei Verlesung nach § 249 Abs. 1 StPO

206

1. Tatbestanderfüllende Urkunden

206

2. Berichtsurkunden

208

III. Mehr Urkundenbericht wagen!

208

D. Einführung des Urkundenberichts nach dem Vorbild Österreichs möglich?

209

I. Der Urkundenbericht in Österreich

209

II. Gesetzesbegründung Strafprozessnovelle 2005 (Österreich)

210

III. Vergleich Rechtswirklichkeit Österreich – Deutschland

211

E. Fazit

212

Zusammenfassung der Ergebnisse

213

Literaturverzeichnis

216

Sachverzeichnis

227