Public international law: human rights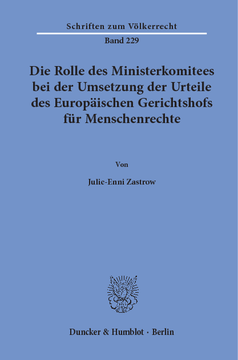 BOOK
Die Rolle des Ministerkomitees bei der Umsetzung der Urteile des Europäischen Gerichtshofs für Menschenrechte
Schriften zum Völkerrecht, Vol. 229
(2018)
Additional Information
Book Details
ISBN

978-3-428-55435-5
978-3-428-15435-7 (print edition)

DOI

https://doi.org/10.3790/978-3-428-55435-5

Edition

1

Language

German

Pages

195

Collections

Subjects
Pricing
Institution

€ 70.00 (incl. local VAT if applicable)

Individual

€ 53.90 (incl. local VAT if applicable)
About The Author
Julie-Enni Zastrow studierte Rechtswissenschaften in Potsdam und Paris in einem Doppelstudiengang deutsch-französischen Rechts. Nach dem Studium promovierte sie an der Universität Potsdam. Das Rechtsreferendariat absolvierte sie in Berlin und New York. Sie ist Referentin im Bundesministerium für Wirtschaft und Energie in Berlin.
Julie-Enni Zastrow studied law in Potsdam and Paris as part of a double degree program in German-French law. After her studies, she earned her doctorate at the University of Potsdam. She completed her legal clerkship in Berlin and New York. She is an advisor at the Federal Ministry of Economics and Energy in Berlin.
Abstract
Wenn der Europäische Gerichtshof für Menschenrechte ein Urteil gegen einen Staat erlässt, ist das Urteil von diesem Staat in sein innerstaatliches Recht umzusetzen. Die Umsetzung überwacht das Ministerkomitee des Europarats, ein aus Diplomatinnen und Diplomaten zusammengesetztes politisches Organ. In Zeiten wachsenden Widerstandes gegen den Europäischen Gerichtshof für Menschenrechte und seine Spruchpraxis stellt sich die Frage, welche Pflichten und Befugnisse das Ministerkomitee hat, um die vollständige Umsetzung der Urteile zu gewährleisten, und welche Möglichkeiten dem Ministerkomitee zur Verfügung stehen, um auf die Staaten einzuwirken, die ein Urteil nicht umsetzen. Neben der umfassenden Analyse der Rechtsgrundlagen des Ministerkomitees rundet eine Praxisanalyse anhand von Fallstudien die Untersuchung ab. Ebenso werden der Einfluss des EGMR und der übrigen Akteure des Europarats auf die Arbeit und Stellung des Ministerkomitees untersucht. »The Role of the Committee of Ministers in the Implementation of the Judgments of the European Court of Human Rights«

The Committee of Ministers of the Council of Europe supervises the implementation of the judgments of the European Court of Human Rights. The study focusses on the duties and powers of the Committee of Ministers to ensure the full implementation of the judgments and the possibilities available to persuade States to implement a judgment. In addition to a comprehensive examination of the legal basis, a practical analysis of the committee's work is carried out on the basis of case studies.
Table of Contents
Section Title
Page
Action
Price

Vorwort

5

Inhaltsübersicht

7

Inhaltsverzeichnis

11

Abkürzungsverzeichnis

17

Einleitung

19

A. Ein politisiertes Verfahren mit rechtsstaatlicher Bedeutung

19

B. Gang der Untersuchung

21

Teil 1: Die Aufgaben des Ministerkomitees im Konventionssystem im Wandel der Zeit

22

§ 1 Das Ministerkomitee zwischen 1953 und 1998

22

A. Justizielle Funktion (Art. 32 EMRK a. F.)

23

B. Überwachungsfunktion (Art. 54 EMRK a. F.)

27

C. Weitere Funktionen

28

§ 2 Reform des Kontrollmechanismus durch das 11. Zusatzprotokoll

29

Teil 2: Handlungsrahmen des Ministerkomitees \rbei der Überwachung der Umsetzung der Urteile gemäß Art. 46 EMRK

31

§ 1 Pflichten des Staates aus einem Urteil gemäß Art. 46 Abs. 1 EMRK

31

A. Beendigungspflicht

33

I. Beendigung durch generelle Maßnahmen

34

II. Beendigung durch individuelle Maßnahmen

35

B. Wiedergutmachungspflicht

36

I. Wiedergutmachung durch individuelle Maßnahmen

37

1. Wiederaufnahme eines Verfahrens

37

2. Weitere individuelle Maßnahmen

40

II. Gerechte Entschädigung (Art. 41 EMRK)

41

1. Voraussetzungen

41

2. Bemessung und Zahlung der Entschädigung

43

C. Verpflichtung, die Konventionsverletzung nicht zu wiederholen

45

I. Grundlagen und rechtliche Einordnung

45

II. Ausführung der Pflicht durch generelle Maßnahmen

48

1. Gesetzes- und Verfassungsänderungen

49

2. Andere generelle Maßnahmen

50

§ 2 Pflichten und Befugnisse des Ministerkomitees aus Art. 46 Abs. 2 EMRK

51

A. Pflichten und Befugnisse des Gremiums

51

I. Inhalt von Art. 46 Abs. 2 EMRK

51

1. Auslegung von Art. 46 Abs. 2 EMRK

51

2. Verfahrensregeln der Ministerkomitees

52

3. Mögliche Mittel

55

a) Prangerwirkung

55

b) Ausschluss aus dem Europarat

56

II. Neue Arbeitshilfen gemäß Art. 46 Abs. 3 bis 5 EMRK

58

1. Auslegung durch den Gerichtshof (Art. 46 Abs. 3 EMRK)

58

a) Voraussetzungen

59

b) Beurteilung der Norm

59

2. Infringement proceedings (Art. 46 Abs. 4, 5 EMRK)

60

a) Inhalt

61

aa) Voraussetzungen (Art. 46 Abs. 4 EMRK)

61

bb) Rechtsfolge (Art. 46 Abs. 5 EMRK)

62

b) Beurteilung der Norm

63

III. Fazit

64

B. Pflichten und Befugnisse der einzelnen Mitgliedsstaaten im Ministerkomitee

65

I. Vorfrage: Anwendbarkeit allgemeiner völkerrechtlicher Regeln

66

1. EMRK als self-contained régime

67

a) Begriff des self-contained régimes

67

b) Anwendung auf die EMRK

68

c) Zwischenergebnis

70

2. Rekurs auf allgemeines Völkerrecht

70

3. Ergebnis

72

II. Pflicht zur Kooperation im Ministerkomitee

73

1. Rechtsgrundlage

73

a) Art. 3 der Satzung des Europarats

73

b) Präambel der EMRK

73

c) Art. 41 § 1 ILC-Artikel

75

d) Zwischenergebnis

75

2. Handlungsmöglichkeiten

76

a) Aktive Mitarbeit im Ministerkomitee

76

b) Verfahren nach Art. 46 Abs. 4 EMRK initiieren

77

c) Staatenbeschwerde (Art. 33 EMRK)

78

d) Zusammenarbeit mit der Europäischen Union

78

aa) Beispiele

79

(1) Verfahren potentieller Beitrittskandidaten: Loizidou / Türkei und Sejdic und Finci / Bosnien und Herzegowina

79

(2) Ilascu u. a. / Moldau und Russland

82

bb) Zwischenfazit

83

e) Fazit

84

III. Pflicht, von dem Verletzerstaat Abstand zu nehmen

84

1. Pflicht, den rechtswidrigen Zustand nicht anzuerkennen

85

2. Pflicht, den Staat bei der Aufrechterhaltung des rechtswidrigen Zustands nicht zu unterstützen

86

IV. Gegenmaßnahmen als ultima ratio?

88

1. Anwendbarkeit von Gegenmaßnahmen zur Umsetzung der Urteile des EGMR

88

a) Argumente gegen die Anwendbarkeit von Gegenmaßnahmen

88

aa) Fehlende Reziprozität der Verpflichtungen

89

bb) Wirtschaftliches und politisches Ungleichgewicht der Staaten

90

b) Argumente für die Zulässigkeit von Gegenmaßnahmen

91

c) Zwischenergebnis

92

2. Rechtsgrundlage für Gegenmaßnahmen

93

a) Inhalt von Art. 54 ILC-Artikel und Gewohnheitsrecht

93

b) Voraussetzungen von Gegenmaßnahmen zur Durchsetzung der Urteile des EGMR

95

aa) Rekurs auf Gegenmaßnahmen

95

bb) Voraussetzungen der Rechtsgrundlage

96

(1) Erga-omnes-Verpflichtung aus Art. 48 ILC-Artikel

96

(2) Vorliegen einer besonders schweren Rechtsverletzung?

97

(3) Übrige Voraussetzungen

98

c) Zwischenergebnis

99

3. Mögliche Gegenmaßnahmen

99

4. Fazit

100

C. Ergebnis

101

Teil 3: Überwachung der Umsetzung der Urteile durch das Ministerkomitee in der Praxis

102

§ 1 Stand der Umsetzung der Urteile des EGMR

102

A. Meinungs- und Wissensstand in der Literatur

102

B. Analyse der Berichte des Europarats zur Umsetzung der Urteile des Europäischen Gerichtshofs für Menschenrechte, 2007–2014

104

I. Methode

104

1. Untersuchungsgegenstand

104

2. Untersuchungstechnik: Dokumentenanalyse

105

a) Beschreibung der Untersuchungstechnik

105

b) Probleme bei der Datenerhebung

106

II. Fallgruppen der Umsetzungsprobleme

107

1. Umsetzungsrubriken

107

a) Access to and efficient functioning of justice

107

b) Right to life and protection against torture and ill-treatment

109

c) Protection of Rights in Detention

110

2. Mitgliedstaaten

110

C. Ergebnis

111

§ 2 Reaktionen des Ministerkomitees auf einzelne Umsetzungsprobleme

111

A. Überlange Verfahrensdauer in Italien

112

I. Problemstellung

112

II. Gang der Überwachung

113

III. Fazit

115

B. Nordzypern

116

I. Problemstellung

116

II. Gang der Überwachung

116

1. Verschwundene Personen

117

2. Häuser und unbewegliches Eigentum vertriebener griechischer Zyprioten

118

a) Blockade im Ministerkomitee

118

b) Implizite Beurteilung des Ministerkomitees in Zypern / Türkei

120

3. Eigentumsrechte der im Nordteil lebenden griechischen Zyprioten

120

4. Entschädigungszahlungen aus dem Urteil Zypern / Türkei

121

III. Fazit

122

C. Nordkaukasus und Russland (Khashiyev und Akayeva-Gruppe)

123

I. Problemstellung

123

II. Gang und Gegenstand der Überwachung der Umsetzung durch das Ministerkomitee

123

1. Ermittlungen der russischen Behörden

124

a) Kontrolle der polizeilichen Ermittlungen und der Staatsanwaltschaft

125

b) Art und Weise der polizeilichen Ermittlungen

125

c) Verjährungsfristen

126

d) Begnadigung / Straflosigkeit

127

2. Situation der Opfer und ihrer Angehörigen

127

a) Suche nach verschwundenen Personen

127

b) Beteiligung der Opfer an den Ermittlungen

129

c) Entschädigungszahlungen an die Opfer und ihre Familien

129

III. Bewertung

130

1. Die Umsetzung der Tschetschenien-Urteile durch Russland

130

2. Reaktionen des Ministerkomitees

131

D. Wahlregelungen von Bosnien-Herzegowina (Sejdic und Finci / Bosnien und Herzegowina)

132

I. Problemstellung

132

II. Gang der Überwachung

132

III. Fazit

134

E. Wahlrechtsausschluss von Strafgefangenen im Vereinigten Königreich (Hirst / Vereinigtes Königreich)

135

I. Gang der Überwachung der Umsetzung

135

II. Beurteilung

139

F. Fazit

141

Teil 4: Einfluss der übrigen Akteure des Europarats auf die Arbeit des Ministerkomitees und die Umsetzung der Urteile des EGMR

143

§ 1 Rolle des EGMR bei der Umsetzung der Urteile

143

A. Anordnung von Durchsetzungsmaßnahmen durch den Gerichtshof

143

I. Anordnung individueller Maßnahmen durch den Gerichtshof

144

1. Entwicklung der Rechtsprechung

144

a) Maßnahmen zur Beendigung der Konventionsverletzung

145

b) Maßnahmen zur Wiedergutmachung der Konventionsverletzung

147

aa) Wiederaufnahme innerstaatlicher Gerichtsverfahren

148

bb) Rückgabe des Eigentums

149

2. Konventionsrechtliche Grundlage

150

3. Bedeutung für die Umsetzung der Urteile und die Kontrollaufgabe des Ministerkomitees

152

II. Anordnung genereller Maßnahmen durch den Gerichtshof: Piloturteile

153

a) Entwicklung und Kriterien

153

b) Bedeutung für die Kontrollfunktion des Ministerkomitees

156

aa) Eingriff in die Kompetenz des Ministerkomitees

156

bb) Vereinfachung der Überwachung der Umsetzung der Urteile

157

B. Kontrolle der Umsetzung eines Urteils durch den Gerichtshof bei Folgebeschwerden

158

I. Beispiele aus der Spruchpraxis des EGMR

158

1. Olsson / Schweden (Nr. 2), 27.11.1992

159

2. Mehemi / Frankreich (Nr. 2), 10.04.2003

159

3. Lyons / Vereinigtes Königreich, 08.07.2003

160

4. Verein gegen Tierfabriken (VgT) / Schweiz (Nr. 2), 30.06.2009

162

5. Liu / Russland (Nr. 2), 26.07.2011

164

6. Emre / Schweiz (Nr. 2), 10.11.2011

167

II. Kompetenzkonflikt mit dem Ministerkomitee

168

C. Ergebnis

169

§ 2 Die Rolle der Parlamentarischen Versammlung bei der Umsetzung der Urteile

170

A. Rechtsgrundlage

170

B. Handlungsrahmen

171

I. Vorschläge zur Verbesserung des Umsetzungsverfahrens

171

II. Staatenberichte

173

III. Fragen an das Ministerkomitee

174

C. Bewertung

174

§ 3 Rolle des Generalsekretärs bei der Umsetzung der Urteile

176

§ 4 Fazit

177

Teil 5: Reformüberlegungen und Handlungsvorschläge

179

§ 1 Gerichtshof

179

A. Anordnungen zur Umsetzung in jedem Urteil

179

B. Verantwortung der Umsetzung an den Gerichtshof abgeben

180

§ 2 Ministerkomitee

180

A. Finanzielle Sanktionen einführen

180

I. Strafzahlungen

181

II. Anpassung der Beitragszahlungen

182

B. Beteiligung der Beschwerdepartei und Dritter am Umsetzungsverfahren

182

C. Fonds für Entschädigung und finanzielle Unterstützung

183

Teil 6: Fazit

184

Literaturverzeichnis

186

Sachverzeichnis

194