Industrial arbitration & negotiation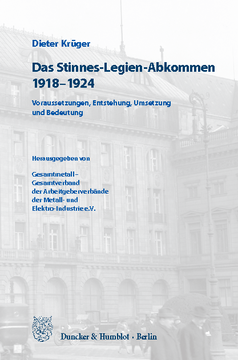 BOOK
Das Stinnes-Legien-Abkommen 1918–1924
Voraussetzungen, Entstehung, Umsetzung und Bedeutung. Herausgegeben von Gesamtmetall – Gesamtverband der Arbeitgeberverbände der Metall- und Elektro-Industrie e.V
(2018)
Additional Information
Book Details
ISBN

978-3-428-55490-4
978-3-428-15490-6 (print edition)

DOI

https://doi.org/10.3790/978-3-428-55490-4

Edition

1

Language

German

Pages

343

Collections

Subjects
Pricing
Institution

€ 70.00 (incl. local VAT if applicable)

Individual

€ 53.90 (incl. local VAT if applicable)
About The Author
Dieter Krüger, Historiker und Wiss. Archivar, diente über 30 Jahre als Wissenschaftlicher Beamter des Bundes und lehrt als außerplanmäßiger Professor Zeitgeschichte an der Universität Potsdam. Er veröffentlichte u.a. zur Sozialgeschichte und zu den Sozialwissenschaften im deutschen Kaiserreich, zur NATO und zum Warschauer Pakt, zur Europäischen Integration in den 1950er Jahren, zur militärischen Zeitgeschichte sowie zu Theorie und Praxis des Archivwesens, zuletzt: »Hans Speidel und Ernst Jünger. Freundschaft und Geschichtspolitik im Zeichen der Weltkriege«, Paderborn 2016.
Dieter Krüger is a historian and archivist, served as an academic civil servant for over 30 years and teaches as an associate professor of contemporary history at the University of Potsdam. He has published on social history and the social sciences in the German Empire, NATO and the Warsaw Pact, European integration in the 1950s, contemporary military history and the theory and practice of archiving; most recently: »Hans Speidel and Ernst Jünger. Freundschaft und Geschichtspolitik im Zeichen der Weltkriege«, Paderborn 2016.
Abstract
Die Monographie erinnert an das wegen seiner Bedeutung für den Verlauf der Weimarer Republik in der Geschichtswissenschaft umstrittene Abkommen zwischen Industrie und Gewerkschaften kurz nach der Novemberrevolution 1918. Es wurde nach seinen Protagonisten, dem Montanindustriellen Hugo Stinnes, und dem Führer der sozialistischen Gewerkschaften, Carl Legien, benannt. Mit der Vereinbarung erkannte die deutsche Großindustrie das Prinzip der kollektiven, überbetrieblichen Regelung der Löhne, Arbeitszeiten und Arbeitsverhältnisse durch Arbeitgeberverbände und Gewerkschaften an. Im Gegenzug verzichteten die Gewerkschaften vorläufig auf die Forderung nach Sozialisierung der Großindustrie. Die Inhalte des Abkommens gingen in die Reichsverfassung ein. Die gleichberechtigte Gestaltung der Arbeitsbeziehungen durch eine institutionalisierte Sozialpartnerschaft (»Zentralarbeitsgemeinschaft«) zerbrach in der Hyperinflation von 1923. Die Lehren aus dem Schicksal des Abkommens wirkten sich langfristig auf die Gestaltung der Tarifautonomie in der Bundesrepublik nach 1945 aus. »The Stinnes-Legien-Agreement, 1918–1924«

The monograph recalls the agreement between industry and trade unions shortly after the November Revolution of 1918, and the institutional social partnership between employers and trade unions that existed until 1924. Historians differed on its importance for the history of the Weimar Republic. The agreement represented a paradigm shift in the development of industrial relations from the late Empire to Weimar democracy, whose long-term impact also influenced the shape of the autonomy in collective bargaining in West Germany after 1945.
Table of Contents
Section Title
Page
Action
Price

Vorwort des Herausgebers

5

Inhaltsverzeichnis

7

Abbildungsverzeichnis

9

Abkürzungsverzeichnis

12

I. Prolog: Berlin, im November 1918

13

II. Einleitung

21

1. Das Stinnes-Legien-Abkommen im Spiegel der Literatur

21

2. Ein Erinnerungsbuch

34

III. Von den Sozialistengesetzen zum Gesetz über den Vaterländischen Hilfsdienst: Arbeitsbeziehungen im kaiserlichen Deutschland 1890–1917

37

1. Die Dominanz der Schwerindustrie: Unternehmer- und Arbeitgeberverbände

38

2. Modernisierungsdefizite: Staat und Arbeiterschaft

48

3. Konkurrenz und Kooperation: die Gewerkschaften

53

4. Reform als Klassenkampf: die Freien Gewerkschaften

60

5. Der Kampf um Tarifverträge

65

6. Der Krieg als Schrittmacher der Veränderung

73

7. Die Gewerkschaften als Ordnungsfaktor: das Hilfsdienstgesetz von 1916

81

8. Das Reformprogramm der Gewerkschaften

92

IV. Die Entstehung des Stinnes-Legien-Abkommens 1917 / 18

95

1. Vorsichtige Annäherung: das Problem der Übergangswirtschaft

95

2. Im Zeichen der militärischen Niederlage: die Gewerkschaften als Partner der Großindustrie

102

3. Die Revolution als Schrittmacher

124

4. Die Verhandlung des Vereins deutscher Eisen- und Stahlindustrieller am 14. November 1918 in Berlin

132

5. Die neue Arbeitsgemeinschaft in der Kritik

148

6. Revolutionäre Opposition

160

7. Das Abkommen und die Weimarer Reichsverfassung

163

8. Von der negativen Integration zur Partizipation: die Sozialpartner im Übergang zur Republik

168

V. Die institutionalisierte Sozialpartnerschaft: Die Zentralarbeitsgemeinschaft (ZAG) 1919–1922

173

1. Die Anfänge der Organisation

174

2. ZAG und Reichsverband der Deutschen Industrie (RDI)

178

3. ZAG und Reichsregierung: Gemeinwirtschaftspläne

181

4. Tarifverträge und Streiks

188

5. Konsolidierung im Zeichen wachsender gewerkschaftlicher Opposition gegen die ZAG

193

6. Staatlicher Gestaltungswille: Reichswirtschaftsrat und Schlichtungsverordnung

201

7. Widerstände gegen Angestelltentarifverträge

205

8. Die 'Gelben': die ZAG als hybride Institution

208

9. Bewährungsprobe: der Kapp-Lüttwitz-Putsch 1920

211

10. Um Löhne und Zulagen: das Problem der Inflation

219

11. Die Kontroverse um die Außenhandelsabgabe

227

VI. Inflation und Stabilisierung: das Scheitern der Arbeitsgemeinschaft 1922–1924

233

1. Gegensätzliche Sanierungsvorschläge

235

2. Wer trägt die Last? Die Auseinandersetzung um den Achtstundentag

254

3. Die Kündigung

263

VII. Bilanz und Ausblick

273

Anmerkungen

287

Quellenverzeichnis

317

Literaturverzeichnis

319

Personenverzeichnis

331

Personenregister

339