Economic history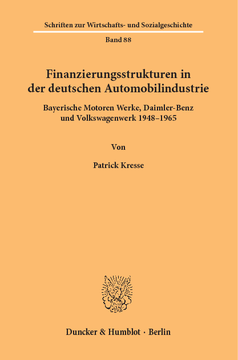 Additional Information
Book Details
ISBN

978-3-428-55577-2
978-3-428-15577-4 (print edition)

DOI

https://doi.org/10.3790/978-3-428-55577-2

Edition

1

Language

German

Pages

270

Collections

Subjects
Pricing
Institution

€ 104.00 (incl. local VAT if applicable)

Individual

€ 79.90 (incl. local VAT if applicable)
About The Author
Patrick Kresse studierte nach der Ausbildung zum Offizier der Bundeswehr Geschichte und Politikwissenschaft an der University of Strathclyde und an der Ruhr-Universität Bochum, an der er 2018 promoviert wurde. Während des Studiums arbeitete er an der erfolgreichen Einwerbung von Drittmitteln für das Projekt »Automobilindustrie im internationalen Wettbewerb 1945–2002« mit. Von 2008 bis 2016 war er als Fach- und Führungskraft im Haniel-Konzern zuerst für das strategische Beteiligungscontrolling und danach für das Prozessmanagement eines international tätigen Geschäftsbereichs des Konzerns verantwortlich. Seit 2016 ist er Mitglied der Geschäftsleitung der Fahrzeug-Werke Lueg AG.
Patrick Kresse studied – after a two-years officer training in the German Army – History and Political Science at the University of Strathclyde and at the Ruhr-Universität Bochum, where he gained a PhD in 2018. During his studies he was successfully contributing to acquiring third-party research funds for the project »International Competition in the Automotive Industry 1945–2002«. From 2008 until 2016 he was responsible for the strategic controlling and subsequently the process management organisation of an international business division of the Haniel Group. Since 2016, he is a member of the management board of Fahrzeug-Werke Lueg AG.
Abstract
Die Rekonstruktionsthese von Werner Abelshauser, mit der seit fast 20 Jahren das deutsche »Wirtschaftswunder« erklärt wird, liefert keine umfassende Erklärung für den Wiederaufstieg Deutschlands nach dem Zweiten Weltkrieg, denn die Sicht auf die Nachkriegszeit darf eine kritische Auseinandersetzung mit der Unternehmensbesteuerung in der frühen Bundesrepublik und den daraus entstehenden Verteilungskonflikten nicht unbeachtet lassen. Erstmals untersucht eine geschichtswissenschaftliche Arbeit am Beispiel der Automobilindustrie die Voraussetzungen und Folgen solider Finanzierung nach der Währungsreform. Die Verbindung akteurzentrierter Konzepte mit modernen betriebs- und geschichtswissenschaftlichen Methoden zu einem interdisziplinären Forschungsansatz macht die spannungsvolle Wechselwirkung zwischen der Besteuerung deutscher Automobilhersteller und gesellschaftspolitischen Interessen erkennbar und öffnet neue Perspektiven auf bislang kaum beachtete Aspekte des »Wirtschafswunders«. »Financing the German Motor Car Industry«

Although in use for nearly 20 years, Werner Abelshauser's reconstruction thesis does not deliver a comprehensive explanation for the rise of Western Germany after WWII. The view on the post-war period may not exclude a thorough analysis of Germany's taxation of businesses and the subsequent conflicts with regard to the distribution of wealth. For the first time, historical research analyses the success factors und consequences of sound financing using the example of the German motor car industry.
Table of Contents
Section Title
Page
Action
Price

Vorwort

7

Inhaltsverzeichnis

9

Abbildungsverzeichnis

15

I. Einleitung

17

1. Bedeutung des Themas

17

2. Fragestellung und These

21

3. Untersuchungsgegenstand und -zeitraum

22

4. Theoretisierung, Operationalisierung und Struktur

24

5. Stand der Forschung und Quellenlage

27

II. Wirtschaftliche Rahmenbedingungen

34

1. Kriegsschäden- und Kriegsfolgenbeseitigung

34

a) Reparationen und Demontagen

34

b) European Recovery Plan

35

c) Währungsreform und Preisgesetz

36

d) Lastenausgleich

40

e) Investitionshilfe

41

2. Entwicklung der westdeutschen Steuerpolitik

41

a) Vermögensteuer

42

b) Umsatzsteuer

42

c) Körperschaftsteuer

42

d) Notopfer Berlin

43

e) Gewerbesteuer

44

f) Besteuerung von Kraftfahrzeugen

44

g) Steuererleichterungen

45

3. Entwicklung des westdeutschen Finanzmarkts

51

a) Besonderheiten des bankorientierten deutschen Finanzsystems

51

b) Kreditmarkt

54

c) Kapitalmarkt

57

4. Entwicklung des westdeutschen Automobilmarktes

62

a) Entwicklung der Produktion

62

b) Entwicklung des Absatzes

64

5. Zwischenfazit

67

III. Bayerische Motoren Werke AG

69

1. Entwicklung des Unternehmens bis zur Währungsreform

69

a) Entstehung der Bayerische Motoren Werke AG

69

b) Kriegsschäden

70

c) Beschlagnahmung und Vermögenskontrolle

70

d) Demontagen und Reparationen

71

2. Bilanzanalyse

72

a) DM-Eröffnungsbilanz

72

b) Mittelherkunft

77

c) Mittelverwendung

81

3. Mittelherkunft nach Herkunftsarten

84

a) Umsatz- und Ertragslage

84

aa) Überblick

84

bb) Werkstattgeschäft

86

cc) Motorräder

87

dd) Personenkraftwagen

87

ee) Rüstungsgüter

93

b) Desinvestitionen

95

aa) Teilverkauf Werk Allach 1955

95

bb) Veräußerung der BMW Triebwerkbau GmbH

97

c) Aufnahme von Fremdkapital

98

aa) Kredite der Hausbanken 1949–1951

98

bb) Staatliche Unterstützung 1949–1956

99

cc) Wandelanleihe 1958

106

dd) Cramer-Plan 1958–1959

109

ee) Schuldscheindarlehen 1964

112

d) Eigenkapitalmaßnahmen

112

aa) Gescheiterte Kapitalerhöhungen bis 1959

112

bb) Kapitalerhöhung BMW Triebwerkbau GmbH 1960

120

cc) Kapitalerhöhungen BMW AG 1960 und 1961

122

4. Zwischenfazit

125

IV. Daimler-Benz AG

128

1. Entwicklung des Unternehmens bis zur Währungsreform

128

a) Entstehung der Daimler-Benz AG

128

b) Kriegsschäden

129

c) Beschlagnahmung und Vermögenskontrolle

131

d) Demontagen und Reparationen

131

2. Bilanzanalyse

132

a) DM-Eröffnungsbilanz

132

b) Mittelherkunft

135

c) Mittelverwendung

139

3. Mittelherkunft nach Herkunftsarten

142

a) Umsatz- und Ertragslage

142

aa) Überblick

142

bb) Werkstattgeschäft

144

cc) Personenkraftwagen

145

dd) Lastkraftwagen

152

ee) Motoren

156

ff) Rüstungsgüter

159

b) Desinvestitionen

161

aa) Auto-Union 1965–1966

161

c) Aufnahme von Fremdkapital

162

aa) Anleihe 1948/49

162

bb) Kredit der Hausbanken 1949

166

cc) Anleihe 1950

168

dd) KfW-Darlehen 1950

169

ee) Wandelschuldverschreibung 1952

169

ff) Teilschuldverschreibung 1954

170

d) Eigenkapitalmaßnahmen

171

aa) Kapitalerhöhung 1959

171

bb) Kapitalerhöhung 1961

178

cc) Kapitalerhöhung 1963

179

dd) Kapitalerhöhung 1965

180

4. Zwischenfazit

182

V. Volkswagenwerk AG

184

1. Entwicklung des Unternehmens bis zur Währungsreform

184

a) Entstehung der Volkswagenwerk GmbH

184

b) Kriegsschäden

190

c) Beschlagnahmung und Vermögenskontrolle

191

d) Demontage und Reparationen

193

2. Bilanzanalyse

194

a) DM-Eröffnungsbilanz

194

b) Mittelherkunft

195

c) Mittelverwendung

198

3. Mittelherkunft nach Herkunftsarten

208

a) Umsatz- und Ertragslage

208

aa) Überblick

208

bb) Personenkraftwagen

210

cc) Lastkraftwagen

217

dd) Motoren

218

b) Aufnahme von Fremdkapital

218

aa) Betriebsmittelkredite der VW-Händler und der Verwaltung für Wirtschaft 1948

218

bb) Dividenden-Darlehen 1950–1966

219

cc) Kurz- und mittelfristige Bankkredite 1960–1962

221

dd) Langfristiges Investitionsdarlehen 1961

222

ee) Darlehen der Stiftung Volkswagenwerk 1962–1965

222

ff) Darlehen der Bundesanstalt für Arbeitsvermittlung 1964

223

c) Eigenkapitalmaßnahmen

224

aa) Kapitalerhöhungen 1959 und 1960

224

4. Zwischenfazit

237

Fazit

239

Quellenverzeichnis

247

1. BMW Unternehmensarchiv (BMW UA)

247

2. Bundesarchiv (BArch)

251

3. Mercedes-Benz Classic Archive (MB CA)

251

4. Stiftung Westfälisches Wirtschaftsarchiv (WWA)

254

5. Wirtschaftsarchiv der Universität zu Köln (WA UK)

254

6. Gesetze

254

7. Zeitgenössische Zeitschriftenartikel

257

8. Sonstige Quellen

260

Literaturverzeichnis

261

Sachwortverzeichnis

268