Bankruptcy & insolvency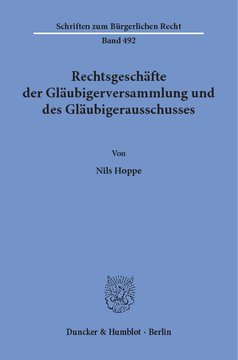 Additional Information
Book Details
ISBN

978-3-428-55581-9
978-3-428-15581-1 (print edition)

DOI

https://doi.org/10.3790/978-3-428-55581-9

Edition

1

Language

German

Pages

160

Collections

Subjects
Pricing
Institution

€ 80.00 (incl. local VAT if applicable)

Individual

€ 62.90 (incl. local VAT if applicable)
About The Author
Nils Hoppe studierte Staatswissenschaften, Abschluss Bachelor of Arts 2011. Studium der Rechtswissenschaften mit erfolgreicher erster Prüfung 2014. Ab 2016 erfolge der Eintritt in den juristischen Vorbereitungsdienst, der 2018 erfolgreich abgeschlossen wurde. Derzeit ist der Autor bei einer internationalen Wirtschaftskanzlei in Köln als Rechtsanwalt beschäftigt.
Nils Hoppe holds a bachelor's degree with majors in economics and law scienes. Law school (University of Cologne) from 2011 to 2014. From 2013 to 2016, assistant with an international law firm, clerkship with the District Court of Cologne from 2016 to 2018. Currently, the author is an associate with an international law firm located in Cologne.
Abstract
Die Interessen der Gläubiger werden durch Gläubigerversammlung und Gläubigerausschuss mit jeweils unterschiedlichen Zielsetzungen und Möglichkeiten wahrgenommen. Überwiegend haben sich die beiden Gläubigerorgane in der Praxis bewährt. Insbesondere ein mit Experten besetzter Gläubigerausschuss ist für ein komplexes Verfahren ein nicht zu unterschätzender Gewinn. Dem steht die im Einzelnen rudimentär gebliebene Regelung der Rechte und Pflichten der Gläubigerorgane entgegen. Ein Beispiel hierfür sind Rechtsgeschäfte der Gläubigerorgane, die im Zuge der Wahrnehmung ihrer Aufgaben getätigt werden. Die vorgefundenen Normen werfen überwiegend mehr Fragen auf, als dass sie sie beantworten. Dies ist bedauerlich, zumal, um nur das prominenteste Beispiel zu nennen, die Beauftragung eines Sachverständigen zur Kassenprüfung als Vorbedingung für die Kassenprüfung für das Insolvenzverfahren ähnliche Bedeutung hat wie die Beauftragung des Abschlussprüfers für den Jahresabschluss. »Transactions of the Committee of Creditors and the Creditors' Meeting«

Although they bear a variety of issues in the field with regard to conflicts of interest and enforement, legal transactions of the comittee of creditors and and the creditors' meeting have seldom been considered by professional insolvency literature so far. The author systematizes legislation as well as relevant views in jursidiction and professional literature, focusing on the most relevant transactions such as the appointment of the so called cash auditor (Kassenprüfer).
Table of Contents
Section Title
Page
Action
Price

Inhaltsübersicht

7

Inhaltsverzeichnis

9

Einleitung

15

1. Teil: Das Verhältnis von Insolvenzverwalter und Gläubiger

17

A. Das Schuldverhältnis zwischen Gläubigern und Insolvenzverwalter

17

B. Versuch einer Einordnung

19

I. Gläubigerautonomie

19

II. Das Schuldverhältnis zwischen Gläubiger und Insolvenzverwalter als Treuhandverhältnis

20

1. Das Außenverhältnis der Treuhand

20

2. Das Innenverhältnis der Treuhand

21

III. Die Rolle der Gläubigerorgane

25

1. Die Binnenorganisation des Insolvenzverfahrens

26

2. Die Leitungseinheit im Insolvenzverfahren

27

3. Grundlageneinheiten im Insolvenzverfahren

27

4. Aufsichtseinheiten im Insolvenzverfahren

29

C. Zusammenfassung

30

2. Teil: Rechtsgeschäfte der Gläubigerversammlung

31

A. Ausdrückliche Kompetenzen der Gläubigerversammlung

32

B. Ungeschriebene Kompetenzen der Gläubigerversammlung

33

I. Stand der Diskussion

34

II. Eigener Ansatz

35

1. Ungeschriebene Kompetenzen im Staatsrecht

36

a) Implied Powers im US-amerikanischen Verfassungsrecht

36

b) Ungeschriebene Kompetenzen im deutschen Staatsrecht

37

aa) Kompetenzen kraft Sachzusammenhangs

38

bb) Annexkompetenzen

39

cc) Kompetenzen kraft Natur der Sache

39

c) Methodische Einordnung

40

2. Ungeschriebene Kompetenzen im Privatrecht

40

a) Betriebsverfassungsrecht

41

aa) Beispiele

41

bb) Methodische Einordnung

42

b) Kapitalgesellschaftsrecht

43

aa) Beispiele

43

bb) Methodische Einordnung

45

3. Fazit

45

4. Anwendung der Figur der ungeschriebenen Kompetenzen auf die Gläubigerversammlung

45

a) Auslegung in den Grenzen der Gläubigerautonomie

46

b) Eingriff in die Rechtsstellung des Insolvenzverwalters?

47

c) Methodik

48

aa) Auslegung von Zweck und Mittel

48

bb) Wertungsgesichtspunkte

50

(1) Einfluss des Bedeutungszusammenhangs

50

(2) Einfluss des Regelungszwecks

51

(3) Einfluss der Rechtsfortbildung

53

d) Zwischenergebnis

54

e) Anwendung auf Beispielsfälle

55

aa) Kassenprüfung

55

(1) Weisungskompetenz der Gläubigerversammlung

55

(2) Inhalt der Weisung

56

(3) Sekundäransprüche

57

bb) Wahl einer Hinterlegungsstelle

58

cc) Sonstige Sachverständige

59

dd) Sonstige Hilfsgeschäfte

60

C. Delegation

61

D. Grenzen der Weisungsbefugnisse

63

I. Spaltung der Treugeberposition im Insolvenzverfahren

63

II. Materielle Beschlussmängel

65

1. Konflikte mit Neumassegläubigern

66

a) Stand der Diskussion

66

b) Stellungnahme

68

2. Konflikte mit Altmassegläubigern und dem Insolvenzschuldner

71

3. Konflikte der in der Versammlung vertretenen Gläubiger

71

4. Konflikte mit dem Insolvenzzweck

72

E. Zusammenfassung

73

3. Teil: Rechtsgeschäfte des Gläubigerausschusses

75

A. Beispiele

75

B. Zuständigkeit in der Binnenorganisation des Gläubigerausschusses

76

I. Kassenprüfung

77

II. Sonstige Sachverständige und Hilfsgeschäfte

78

III. Bestimmung einer Hinterlegungsstelle

78

C. Haftung

79

I. Kassenprüfung

79

1. Gesamtschuldnerische Haftung

79

2. Zurechnung

80

a) Stand der Diskussion

80

b) Stellungnahme

81

II. Sonstige Sachverständige

82

III. Wahl einer Hinterlegungsstelle

83

D. Zuständigkeit in der Binnenorganisation des Verfahrens

83

I. Weisungsbefugnisse des Gläubigerausschusses

84

1. Weisungsbefugnisse hinsichtlich einzelner Rechtsgeschäfte

84

2. Nachteile der Lösung über Weisungskompetenzen

85

a) Vergleich mit § 111 Abs. 2 S. 3 AktG

85

b) Entsprechende Problematik im Insolvenzverfahren

87

II. Rechtsgeschäfte als Auslagen der Ausschussmitglieder

88

1. Der Auslagenersatz der Ausschussmitglieder

88

a) Die Vergütung von Sachverständigen als Auslage

90

b) Die Kosten der Hinterlegungsstelle als Auslage?

91

c) Sonstige Hilfsgeschäfte als Auslage

92

d) Voraussetzungen der Erstattung

92

2. Nachteile des Anspruches auf Auslagenersatz

93

a) Zusätzliche Verfahrenskosten

93

b) Vorleistungspflicht der Ausschussmitglieder

95

III. Eigene Verwaltungsbefugnisse des Gläubigerausschusses oder der Ausschussmitglieder?

96

IV. Verhältnis der Lösungsansätze zueinander

98

E. Zusammenfassung

99

4. Teil: Durchsetzung von Weisungen der Gläubigerorgane

100

A. Kongruenz von Innen- und Außenverhältnis

100

B. Steuerungsmechanismen

101

I. Ausnahmsweise Durchbrechung der Rechtsmacht des Insolvenzverwalters

102

1. Die Übertragung der allgemeinen Grundsätze auf den Insolvenzverwalter

102

2. Alternative Konzepte

103

3. Anwendung auf Weisungen zur Tätigung von Rechtsgeschäften

104

II. Mittelbare Steuerung durch Haftungsnormen

105

1. Haftung gegenüber den Gläubigern

105

a) Haftung bei pflichtwidriger Umsetzung

105

b) Haftung bei pflichtgemäßer Umsetzung?

108

c) Stellungnahme

109

aa) Weisungen der Gläubigerversammlung

109

(1) Bindende Beschlüsse

109

(2) Nicht bindende Beschlüsse

110

(3) Besonderheiten bei Weisungen zur Tätigung von Rechtsgeschäften

111

bb) Aufhebung des Beschlusses durch das Insolvenzgericht

112

(1) Voraussetzungen der Aufhebung

112

(2) Antragspflicht des Insolvenzverwalters?

113

cc) Weisungen des Gläubigerausschusses

114

2. Haftung gegenüber Dritten

115

3. Problematische Beweisbarkeit eines Schadens

115

4. Zwischenergebnis

116

III. Mittelbare Steuerung durch die Aufsicht des Insolvenzgerichts

117

1. Das Insolvenzverfahren als hierarchisches Organisationsgefüge

117

2. Durchsetzung der Aufsicht des Insolvenzgerichts

118

a) Zwangsgelder

119

b) Entlassung des Insolvenzverwalters

120

c) Einsetzung eines Sonderverwalters

121

aa) Zulässigkeit der Bestellung

122

bb) Verfahren der Bestellung

123

cc) Anwendung auf die Tätigung von Rechtsgeschäften

124

3. Beteiligung der Gläubigerorgane an der Aufsicht

126

a) Die Antragsbefugnis im Rahmen der freiwilligen Gerichtsbarkeit

127

b) Die Antragsbefugnis im Rahmen der insolvenzgerichtlichen Aufsicht

127

aa) Organisationsrechte der Gläubigerorgane

128

bb) Organisationsrechte der Organmitglieder

131

c) Beteiligtenfähigkeit

132

d) Rechtsmittel

133

e) Die Haftung des Insolvenzgerichts

133

C. Weitere Steuerungsmechanismen nach dem ESUG

135

D. Zusammenfassung

136

Zusammenfassung der wesentlichen Ergebnisse

138

Literaturverzeichnis

142

Sachwortregister

159