Regulation of medicines & medical devices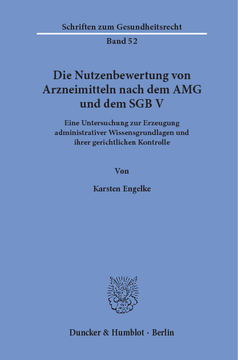 BOOK
Die Nutzenbewertung von Arzneimitteln nach dem AMG und dem SGB V
Eine Untersuchung zur Erzeugung administrativer Wissensgrundlagen und ihrer gerichtlichen Kontrolle
Schriften zum Gesundheitsrecht, Vol. 52
(2018)
Additional Information
Book Details
ISBN

978-3-428-55220-7
978-3-428-15220-9 (print edition)

DOI

https://doi.org/10.3790/978-3-428-55220-7

Edition

1

Language

German

Pages

347

Collections

Subjects
Pricing
Institution

€ 126.00 (incl. local VAT if applicable)

Individual

€ 98.90 (incl. local VAT if applicable)
About The Author
Karsten Engelke studierte Rechtswissenschaft an der Universität Hamburg. Anschließend war er als wissenschaftlicher Mitarbeiter am Lehrstuhl von Prof. Dr. Hase an der Universität Bremen sowie im Sonderforschungsbereich 597 »Staatlichkeit im Wandel« tätig. Er erforschte das Recht der klinischen Prüfungen in Argentinien während eines Forschungssemesters als Gastwissenschaftler am Instituto Gioja der Universidad de Buenos Aires. Sein Referendariat absolvierte Engelke am OLG Oldenburg mit Stationen in Berlin, Buenos Aires und Hamburg. Seit 2014 ist er als Rechtsanwalt im Pharmarecht in Berlin tätig.
Karsten Engelke studied law at the University of Hamburg. He was research assistant to Prof. Dr. Friedhelm Hase at the University of Bremen and participated in the research project in the framework of the DFG-funded Collaborative Research Center 597 »Transformation of the state«. After a semester as a visiting researcher at the »Instituto Gioja« of Buenos Aires University, he completed his legal training at the Higher Regional Court of Oldenburg with stages in Berlin, Buenos Aires and Hamburg. Since 2014 he has worked as an attorney specialized in pharmaceutical law in Berlin.
Abstract
Karsten Engelke untersucht, wie im Risikoverwaltungsrecht Wissen über Arzneimittel generiert und gerichtlich rezipiert wird: In klinischen Prüfungen wird nach medizinischer Methodik vorläufiges und revisionsoffenes Wissen über das neue Arzneimittel generiert; die Zulassungsbehörde trifft die Risikoentscheidung über das Inverkehrbringen. Zeitgleich beginnt im deutschen Krankenversicherungssystem eine umfangreiche und komplexe, eigenständige Bewertung des medizinischen Nutzens. Engelke arbeitet heraus, wie die Rechtsbereiche mit demselben medizinischen Wissen umgehen, welche Annahmen hinter den Wertentscheidungen stehen und wie das Risiko-Verwaltungsrecht stets neues Wissen generiert. Die Arbeit schließt mit einer Analyse der Rechtsprechung des BSG zum Umgang mit Wissen über Arzneimittel und schlägt eine Erweiterung um die spezifische prozedurale Überprüfung der Erzeugung von methodischen Standards vor. »The Benefit Assessment of Medicinal Products under Regulatory and Statutory Health Insurance Law (AMG and SGB V)«

Karsten Engelke investigates the fabrication of scientific medical knowledge and its judicial use, taking medicinal products as an example. He demonstrates the underlying procedures of processing uncertain and dynamic medical knowledge in regulatory and reimbursement decisions in German and EU law. Based on an analysis of the case law of the German Federal Social Court, he proposes applying a procedural test to the methodological standards for appraisals of clinical evidence in legal proceedings.
Table of Contents
Section Title
Page
Action
Price

Vorwort

5

Inhaltsverzeichnis

7

Abkürzungsverzeichnis

15

1. Kapitel: Einleitung und Problemüberblick

17

2. Kapitel: Wissensgenerierung und staatliche Entscheidung

21

A. Information und Wissen

22

B. Wissensrezeption durch die Verwaltung

27

I. Amtsermittlung durch die Verwaltung

28

II. Informationserhebung beim Betroffenen

32

1. Stellung von Anträgen im Verwaltungsverfahren

32

2. Anhörung im Verwaltungsverfahren

33

3. Akteneinsichtsrecht

35

III. Sachverständige

35

1. Anforderungen an den Sachverständigen

37

2. Aufgaben des Sachverständigen

38

3. Legitimationsbedürftigkeit der Sachverständigentätigkeit

39

IV. Antizipierte Sachverständigengutachten

43

1. Begriff

43

2. Rezeption der Figur

44

3. Beweisrechtliche Wirkung

45

4. Kritik im Schrifttum

47

V. Verwaltungsvorschriften

47

1. Ermessensrichtlinien

49

2. Norminterpretierende Verwaltungsvorschriften

50

3. Normkonkretisierende Verwaltungsvorschriften

50

a) Verwendung der Rechtsfigur

51

b) Administrative Beurteilungsspielräume

54

aa) Begründungsansätze in Rechtsprechung und Schrifttum

55

bb) Anerkannte Fallgruppen

57

cc) Gerichtliche Kontrolldichte

58

c) Formelle Anforderungen

58

d) Gesetzesvertretende Verwaltungsvorschriften

59

VI. Administrative Entscheidungsgremien

60

1. Verwendung der Rechtsfigur

60

2. Legitimation

61

3. Gerichtliche Kontrolldichte

62

C. Wissensrezeption in der exekutivischen Normsetzung

63

I. Wissensrezeption in legislativer Normsetzung

64

1. Sachverständige Beratung

65

2. Ermittlungspflichten

66

3. Grundsatz der Folgerichtigkeit

67

4. Begründungspflicht

68

II. Grundsätze der Wissensrezeption in der exekutivischen Normsetzung

69

D. Methoden der Wissensrezeption in komplexen Entscheidungsverfahren

71

3. Kapitel: Nutzenbewertung in der Medizin

76

A. Von der Erfahrung zur Evidenz

77

I. Medizin als Praxiswissenschaft

77

II. Die Kluft zwischen Wissen und Handeln

79

III. Von der Erfahrung zur Evidenz: evidenzbasierte Medizin

82

B. Inhalt des Nutzenbegriffs

84

I. Verwendungsweisen des Nutzenbegriffs

85

II. Wirksamkeit und Risiko

86

1. Wirksamkeit

86

2. Risiko

88

3. Verhältnis von Nutzen und Risiko

90

4. Grundanforderungen an den Abwägungsprozess

90

III. Vom Experiment zum RCT

92

1. Formen der klinischen Studien

93

a) Studiendesigns

93

b) Fehlerquellen und Fehlerkontrolle

94

c) Evidenzhierarchie und Studienbewertung

95

2. Endpunkte

97

3. Interne und externe Validität

99

4. Risikoaussagen in klinischen Studien

102

5. Aussagekraft klinischer Studien und Fehlerquellen

104

a) Bias in klinischen Studien

104

b) Zufallsfehler und Signifikanzschwelle

105

C. Die Feststellung des Standes der medizinischen Erkenntnisse

109

I. Meta-Analysen und systematische Reviews

109

II. Konsensfindung über die methodischen Grundlagen

112

III. Leitlinienbildung

115

D. Zwischenergebnis

117

4. Kapitel: Nutzenbewertung in der Arzneimittelzulassung

119

A. Rechtsquellen des Arzneimittelrechts

119

I. Historischer Überblick

120

II. Nationales Recht

125

III. Europäisches Recht

129

IV. Transnationales Recht

130

1. Die Harmonisierungsarbeit der ICH

130

a) Geschichtliche Entwicklung der Struktur der ICH

131

b) Arbeitsweise der ICH

133

2. Weitere transnationale Normsetzer

135

B. Die Zulassungsverfahren

135

I. Zulassungspflichtige und zulassungsfreie Arzneimittel

136

II. Das zentrale Zulassungsverfahren

138

1. Anwendungsbereich

138

2. Verfahrensablauf

139

3. Rechtswirkungen

142

III. Das dezentrale Zulassungsverfahren

142

1. Verfahrensablauf

143

2. Koordinierung der nationalen Behörden

144

IV. Ablauf von nationalen Zulassungsverfahren

145

1. Verfahrensablauf

145

2. Rechtswirkungen

147

3. Nachzulassungen

148

V. Besondere Zulassungsverfahren

149

1. Conditional Approval

149

a) Anwendungsbereich

150

b) Besonderheiten im Zulassungsverfahren

151

c) Empirische Bedeutung

152

2. Approval under exceptional circumstances

152

a) Anwendungsbereich

153

b) Besonderheiten im Zulassungsverfahren

153

c) Empirische Bedeutung

154

3. Konzept der Zulassungspfade und der Einbeziehung von HTA-Agenturen

155

a) Das Konzept der "Adaptive Pathways"

155

b) Einbeziehung der nationalen HTA-Agenturen

157

c) Wandel des Zulassungskonzepts

158

VI. Off Label Use, Compassionate Use und individuelle Heilversuche

158

1. Off Label Use

159

2. Compassionate Use

161

a) Europarechtliche Grundlagen

161

b) Nationale Umsetzung

163

3. Individueller Heilversuch mit nicht zugelassenen Arzneimitteln

164

VII. Pharmakovigilanz

166

1. Begriff und Entwicklung

166

2. Struktur des Pharmakovigilanzsystems

168

a) Adressaten

169

b) Der Stufenplan

169

c) Risikomanagement beim pharmazeutischen Unternehmer

171

3. Wissensgenerierung durch Pharmakovigilanz

173

a) Publikationsbeobachtung

173

b) Wirksamkeitsstudien in Phase IV

173

c) Wirksamkeitsstudien als Pharmakovigilanzauflage

174

d) Wandel des klinischen Standards in der Phase IV

175

4. Sicherheitsrechtliche Reaktionen auf neues Wissen

176

C. Die Nutzenbewertung im Zulassungsrecht

177

I. Inhalt und Methodik der Nutzenbewertung

177

1. Die Nutzenbewertung als Element der Unbedenklichkeitsentscheidung

177

2. Der Nutzenbegriff im Zulassungsrecht

179

a) Therapeutische Wirksamkeit

180

b) Wahrscheinlichkeitsaussage

181

3. Der Risikobegriff im Zulassungsrecht

182

4. Die Struktur der Nutzen-Risiko-Abwägung

184

II. Wissensquellen für die Zulassungsentscheidung

188

1. Nachweise und Nachweisbewertung im Zulassungsverfahren

188

a) Nachweise des pharmazeutischen Unternehmers

189

b) Wissensgenerierung durch die Zulassungsbehörde

191

2. Europarechtliche Harmonisierung der Zulassungsunterlagen

193

3. Transnationalisierung der Anforderungen an Zulassungsunterlagen

194

a) Inhaltliche Gestaltung des Studiendesigns

194

b) Harmonisierung der Guten Klinischen Praxis

198

c) Harmonisierung der Nachweise über die Qualität

201

4. Verbindlichkeit der ICH-Guidelines im deutschen Zulassungsverfahren

203

a) Umsetzung durch Richtlinienrecht

203

b) Umsetzung durch Leitlinien der EMA

204

c) Verbindlichkeit der Leitlinien über einen Beurteilungsspielraum

205

d) Leitlinien als antizipiertes Sachverständigengutachten

208

5. Rezeption transnationaler Standards zur Wissensgenerierung

210

III. Limitierungen des Wissens über Arzneimittel zum Zeitpunkt der Zulassung

211

1. Auswahl des Komparators

212

2. Auswahl der Endpunkte

214

3. Auswahl der Probanden

215

D. Zwischenergebnis

216

5. Kapitel: Nutzenbewertung im Recht der Gesetzlichen Krankenversicherung

218

A. Regulierungsinstrumente der Arzneimittelversorgung

218

I. Anspruch auf die Versorgung mit Arzneimitteln

219

1. Versicherungsfall der Krankenbehandlung

219

2. Ausgestaltung als Rahmenrecht

220

II. Voraussetzungen der Verordnungsfähigkeit von Arzneimitteln

223

1. Apothekenpflicht

224

2. Verschreibungspflicht

224

3. Frühe Nutzenbewertung

226

a) Anwendungsbereich

227

b) Verfahren der frühen Nutzenbewertung

229

4. Festbeträge

231

a) Stufen der Festbetragsgruppenbildung

232

b) Ausnahmen von der Einbeziehung in die Festbetragsgruppe

233

c) Nutzenbewertung in der Festbetragsgruppenbildung

234

5. Verordnungsbeschränkungen und -ausschlüsse des GBA

234

a) Nachweis der Unzweckmäßigkeit eines Arzneimittels

235

b) Unzweckmäßigkeitsnachweis durch Versorgungsstudien

236

6. Therapiehinweise, Preisvergleiche

237

a) Therapiehinweise des Gemeinsamen Bundesausschusses

237

b) Verordnungshinweise auf regionaler Ebene

239

7. Arzneimittelvereinbarungen

240

8. Aut-idem-Regelung

243

9. Bewertung eines Arzneimittels nach § 135 Abs. 1 Satz 1 Nr. 1 SGB V

244

10. Verordnungsfähigkeit in Sonderfällen: Off-label-Use, Systemversagen und Nikolaus-Ausnahme

246

a) Off-Label-Use

247

b) Systemversagen

251

c) Verfassungskonforme Auslegung der Leistungsvorschriften

252

III. Das Wirtschaftlichkeitsgebot des § 12 SGB V

253

1. Die Tatbestandsmerkmale des Wirtschaftlichkeitsgebots

254

a) "ausreichend"

254

b) "Maß des Notwendigen"

254

c) "zweckmäßig"

255

d) "wirtschaftlich"

255

2. Verhältnis der Tatbestandsmerkmale zueinander und zum Nutzenbegriff

256

B. Der Nutzenbegriff im SGB V

257

I. Der Stand der medizinischen Erkenntnisse in § 2 Abs. 1 Satz 3 SGB V

258

1. Das Verhältnis von Qualität, Wirksamkeit und Nutzen

259

2. Stand der medizinischen Erkenntnisse und Nutzenbegriff

260

II. Konkretisierung des Nutzenbegriffs

262

1. Konkretisierung auf gesetzlicher Ebene

263

a) Nutzen als Abwägungsergebnis

263

b) Nutzenmaß und Endpunktbestimmung

264

c) Nutzen im Behandlungsalltag

266

d) Zusatznutzenbegriff

267

e) Nutzennachweis

267

2. Konkretisierung durch den GBA

270

a) Der Nutzenbegriff in der Verfahrensordnung

270

aa) Nutzenbewertung nach § 92 SGB V

271

bb) Nutzenbewertung zur Festbetragsgruppenbildung

271

cc) Konkretisierung der frühen Nutzenbewertung

272

dd) Nutzenbewertung zur Ermittlung des Therapiestandards

273

ee) Nutzenbewertung bei arzneimittelähnlichen Medizinprodukten

273

ff) Bewertung vergleichbarer Darreichungsformen

273

gg) Der Nutzenbegriff nach der Verfahrensordnung des GBA

274

b) Außenverbindlichkeit der Konkretisierung des Nutzenbegriffs

274

3. Konkretisierung durch das IQWiG

278

a) Der Nutzenbegriff in den Allgemeinen Methoden des IQWiG

279

b) Außenverbindlichkeit der Konkretisierung des Nutzenbegriffs

282

C. Die Methodik der Nutzenbewertung von Arzneimitteln im SGB V

285

I. Bindungswirkung der Zulassungsentscheidung

285

1. Die Zulassungsentscheidung als Wissensquelle

285

2. Vorgreiflichkeitsrechtsprechung des Bundessozialgerichts

286

a) Dogmatische Grundlagen der Vorgreiflichkeit

286

b) Entwicklungslinien in der Rechtsprechung

288

3. Dogmatisches Verhältnis der Zulassungsentscheidung zur Nutzenbewertung

291

a) Kollisionslage der Nutzenbewertungen des AMG und SGB V

291

b) Würdigung

292

II. Wissensquellen der Nutzenbewertung

294

1. Die Wissensgenerierung durch den GBA

294

a) Internes Bewertungsverfahren

294

b) Wissensgrundlagen der Nutzenbewertungen

297

2. Die Wissensgenerierung durch das IQWiG

298

a) Internes Bewertungsverfahren

298

b) Auswahl der Wissensquellen

301

3. Außenwirkung und Kontrollmaßstab der Nutzenbewertungen des GBA

302

a) Kooperationsverhältnis zwischen IQWiG und GBA

303

b) Verhältnis zum Beurteilungsspielraum des GBA

304

c) Reduzierung der gerichtlichen Kontrolldichte von Empfehlungen des IQWiG

304

d) Das Konzept der prozeduralen Kontrolle in der Nutzenbewertung

305

e) Rechtsschutz durch prozedurale Kontrolle des "Wissens zweiter Ordnung"

305

6. Kapitel: Ausblick und Zusammenfassung

307

A. Ausblick

307

B. Zusammenfassung in Thesen

308

Literaturverzeichnis

313

Sachwortverzeichnis

343