IT & Communications law / Postal laws & regulations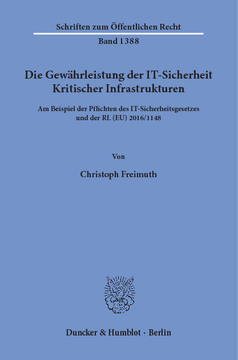 BOOK
Die Gewährleistung der IT-Sicherheit Kritischer Infrastrukturen
Am Beispiel der Pflichten des IT-Sicherheitsgesetzes und der RL (EU) 2016/1148
Schriften zum Öffentlichen Recht, Vol. 1388
(2018)
Additional Information
Book Details
ISBN

978-3-428-55563-5
978-3-428-15563-7 (print edition)

DOI

https://doi.org/10.3790/978-3-428-55563-5

Edition

1

Language

German

Pages

481

Collections

Subjects
Pricing
Institution

€ 116.00 (incl. local VAT if applicable)

Individual

€ 89.90 (incl. local VAT if applicable)
About The Author
Christoph Freimuth studierte nach dem Abitur ab 2011 an der Universität Bayreuth Rechtswissenschaften mit wirtschaftswissenschaftlicher Zusatzausbildung. Nach der ersten juristischen Prüfung 2016 war er bis 2018 als Geschäftsführer der Forschungsstelle für Wirtschafts- und Medienrecht sowie als wissenschaftlicher Mitarbeiter am Lehrstuhl von Prof. Dr. Möstl an der Universität Bayreuth tätig. Seit Oktober 2017 absolviert Christoph Freimuth das Referendariat im Bezirk des OLG Bamberg.
Christoph Freimuth studied law at the University of Bayreuth from 2011 to 2016 whilst completing an additional training in economics. After his first state exam, he worked as a manager of the Research Institute of Economic and Media Law, and as a research assistant at the chair of Prof. Dr. Moestl at the University of Bayreuth. Since October 2017, Christoph Freimuth has been a legal clerk in the area of responsibility of the Higher Regional Court of Bamberg.
Abstract
Der IT-Einsatz birgt neuartige Sicherheitsherausforderungen. Mit dem IT-Sicherheitsgesetz und dem Gesetz zur Umsetzung der RL (EU) 2016/1148 wurde die neue Rechtsmaterie der Pflichten zur IT-Sicherheit Kritischer Infrastrukturen geschaffen. Die Untersuchung analysiert diese und ordnet sie in verfassungs- wie unionsrechtliche Zusammenhänge ein. Die zentralen Begriffe der IT-Sicherheit und der Kritischen Infrastrukturen werden geklärt und die Pflichten zur IT-Sicherheit anhand Regelungsstruktur und -gegenstand als Risikosteuerungsrecht und Schnittmenge verschiedener Rechtsmaterien qualifiziert. Den Infrastrukturbetreibern wird die Gewährleistung der IT-Sicherheit durch eine zentrale Sicherungspflicht und ergänzende Nachweis- und Meldepflichten auferlegt. Zugleich wird ihnen ein Raum der Eigenverantwortung belassen. Im Zusammenwirken der Betreiber mit dem BSI gewährleistet der Pflichtenkanon die IT-Sicherheit auf einem einheitlichen Niveau und ist zugleich für eine Dynamisierung offen. »Guaranteeing IT-Security of Critical Infrastructures«

The use of information technology (IT) causes new security challenges. The Law for IT-Security and the Implementation Act for the Directive (EU) 2016/1148 have become the new legal foundations concerning legal obligations for IT-security of critical infrastructures. These obligations are analysed in regard to the constitutional law and EU law. The operators of critical infrastructures have to fulfil security obligations along with the obligations to provide proof, and reporting obligations. These obligations create a consistent level of IT-security.
Table of Contents
Section Title
Page
Action
Price

Vorwort

5

Inhaltsübersicht

7

Inhaltsverzeichnis

11

Abkürzungsverzeichnis

22

Einführung

27

A. Bestrebungen der normativen Gewährleistung der IT-Sicherheit

27

B. Gegenstand der Untersuchung

31

C. Gang der Untersuchung

33

Teil 1 : IT-Sicherheit Kritischer Infrastrukturen als Herausforderung

36

§ 1 Sicherheitsherausforderungen durch den Einsatz von IT

36

A. Rolle der IT in Wirtschaft, Verwaltung und Kritischen Infrastrukturen

38

B. Bedrohungen für die IT und Reaktionen

39

I. IT und IT-System

40

II. Veränderungen der Bedrohungslage

41

1. Besondere Bedrohungslage für die IT

43

a) Hardware

43

b) Software

44

c) Methoden

45

d) Zwischenergebnis

45

2. Erkennbarkeit einer Bedrohung

46

3. Rückverfolgbarkeit eines Angriffs

47

4. Zwischenergebnis

48

III. Bedrohung der IT-Sicherheit Kritischer Infrastrukturen

48

IV. Reaktionen auf die digitale Bedrohungslage

49

1. Staatliche Reaktionen

51

a) Nationale Ebene

51

b) Ebene der Europäischen Union

55

c) Überblick über die Regelungen des IT-Sicherheitsgesetzes und des Gesetzes zur Umsetzung der RL (EU) 2016 / 1148 für Kritische Infrastrukturen

56

2. Reaktionen in der Wirtschaft

57

V. Teilergebnis

58

§ 2 Klärung der zentralen Begriffe

59

A. IT-Sicherheit

59

I. Das Verständnis des BSIG

60

1. Die Schutzziele im Einzelnen und ihr Zusammenwirken

61

a) Verfügbarkeit

62

b) Unversehrtheit / Integrität

62

c) Unversehrtheit / Authentizität

63

d) Vertraulichkeit

63

e) Interdependenzen der Schutzziele

64

2. Schutzobjekt Information

65

3. Dynamisches Sicherheitsniveau für Informationen

68

4. IT-Sicherheit als Systemschutz

69

II. Abgrenzung zu anderen Sicherheitsbegriffen

69

1. Öffentliche Sicherheit

69

a) Der Schutz der öffentlichen Sicherheit mit Blick auf die IT-Sicherheit

71

aa) Schutz über anerkannte Rechtsgüter

71

bb) Schutz über die Rechtsordnung

73

b) Schutz der IT-Sicherheit als eigenständiges Rechtsgut?

75

c) Zwischenergebnis

77

2. Äußere Sicherheit

78

3. Datensicherheit

79

4. Versorgungssicherheit

82

5. Cybersicherheit

84

III. IT-Sicherheit als neue Teilmenge bekannter Sicherheitsbegriffe

85

IV. IT-Sicherheit im unionsrechtlichen Verständnis

86

B. Kritische Infrastrukturen

88

I. Infrastrukturbegriffe

88

1. Was ist Infrastruktur?

89

a) Definitionsversuche

89

b) Merkmale einer Infrastruktur

91

c) Rechtsbegriff Infrastruktur?

93

aa) In der Gesetzgebung

93

bb) In der Rechtsprechung

95

cc) In der Literatur

95

2. Infrastrukturkategorien

96

II. Kritikalität einer Infrastruktur nach nationalem Verständnis

97

1. Die Bedeutung der Beschreibung als "kritisch"

97

2. Kritische Infrastrukturen nach dem BSIG

98

a) Sektorenspezifische Eingrenzung nach § 2 Abs. 10 S. 1 Nr. 1 BSIG

100

b) Maßstäbe für die hohe Bedeutung einer Infrastruktur

100

aa) Bezugspunkt der Kritikalität

101

bb) Die Kriterien zur Bestimmung der Kritikalität i. e. S.

102

(1) Qualität

103

(2) Quantität

106

c) Zwischenergebnis

106

III. Wesentliche Dienste nach unionsrechtlichem Verständnis

107

1. Die Bestimmung wesentlicher Dienste

109

2. Vergleich mit nationalem Recht

113

IV. Teilergebnis

114

§ 3 Rechtssystematische Einordnung

114

A. Gefahrenabwehr- oder Risikosteuerungsrecht

115

I. Abgrenzung der beiden Konzepte der Sicherheitsgewährleistung anhand der Trennlinie von Gefahr und Risiko

116

II. Regelungsstruktur der Betreiberpflichten

120

B. Abgrenzung von und Schnittmengen mit anderen Regelungsmaterien

123

I. Datenschutzrecht

123

II. Recht des Bevölkerungsschutzes

125

III. Das IT-Sicherheitsgesetz als Vermengung verschiedener Rechtsmaterien

126

Teil 2: IT-Sicherheit Kritischer Infrastrukturen zwischen staatlicher Verantwortung und privater Pflichtigkeit

128

§ 4 Objektiv-rechtliche Grundlagen der Betreiberpflichten zur IT-Sicherheit Kritischer Infrastrukturen im Verfassungs- und Unionsprimärrecht

129

A. Objektive Schutzgehalte der Grundrechte des Grundgesetzes zugunsten der IT-Sicherheit

129

I. Schutzpflichten gegenüber Betreibern Kritischer Infrastrukturen

130

1. Art. 14 Abs. 1 GG

132

a) Infrastruktureinrichtungen

133

b) IT-Einrichtungen

134

c) Verfügbarkeit, Unversehrtheit und Vertraulichkeit von Informationen

134

aa) Eigentumsfähigkeit von Informationen

134

bb) Das Recht am eingerichteten und ausgeübten Gewerbebetrieb

137

(1) Informationen als Schutzobjekt des Rechts am eingerichteten und ausgeübten Gewerbebetrieb

137

(2) Verfassungsrechtliche Anerkennung des Rechts am eingerichteten und ausgeübten Gewerbebetrieb

139

d) Zwischenergebnis

142

2. Art. 12 Abs. 1 GG

142

3. Art. 5 Abs. 1 S. 1 Alt. 2 GG

143

4. Art. 10 Abs. 1 Var. 3 GG

144

5. Art. 2 Abs. 1 (i. V. m. Art. 1 Abs. 1) GG Recht auf informationelle Selbstbestimmung

146

6. Art. 2 Abs. 1 (i. V. m. Art. 1 Abs. 1) GG Grundrecht auf Gewährleistung der Vertraulichkeit und Integrität informationstechnischer Systeme

149

a) Begründung des Grundrechts auf Gewährleistung der Vertraulichkeit und Integrität informationstechnischer Systeme

149

aa) Bedeutung der Nutzung

150

bb) Neuartige Gefährdung

151

cc) Grundrechtliche Schutzlücke

151

b) Das Bedürfnis nach einem "neuen Grundrecht"?

152

c) Schutzgegenstand

154

aa) Vertraulichkeit und Integrität

155

bb) Informationstechnisches System

155

d) Schutzgehalt zugunsten der IT-Sicherheit Kritischer Infrastrukturen

157

aa) Objektiver Gewährleistungsgehalt der IT-Sicherheit?

158

bb) Objektiver Gewährleistungsgehalt zugunsten der Betreiber Kritischer Infrastrukturen

160

e) Zwischenergebnis

162

II. Schutzpflichten gegenüber Nutzern Kritischer Infrastrukturen

163

1. Art. 2 Abs. 1 i. V. m. Art. 1 Abs. 1 GG Recht auf informationelle Selbstbestimmung

163

2. Art. 2 Abs. 1 i. V. m. Art. 1 Abs. 1 GG Grundrecht auf Gewährleistung der Vertraulichkeit und Integrität informationstechnischer Systeme

164

3. Art. 12 Abs. 1 GG

165

4. Art. 2 Abs. 2 S. 1 GG

166

a) Schutzgegenstand Leben und körperliche Unversehrtheit

166

b) Bezug der Schutzpflicht zur IT-Sicherheit Kritischer Infrastrukturen

167

5. Art. 10 Abs. 1 Var. 3 GG

169

III. Verankerung der Betreiberpflichten in den grundrechtlichen Gewährleistungsgehalten

169

B. Infrastrukturgewährleistungsverantwortung

171

I. Verfassungsrechtlich normierte Infrastrukturverantwortung

171

1. Art. 87e Abs. 4 GG

172

2. Art. 87f Abs. 1 GG

174

II. Allgemeine Infrastrukturverantwortung für Kritische Infrastrukturen

175

1. Schutzpflichten

175

2. Sozialstaatsprinzip, Art. 20 Abs. 1 GG

177

3. Art. 87e Abs. 4 GG und Art. 87f Abs. 1 GG

179

III. Teilergebnis

180

C. Verankerung im Unionsprimärrecht

181

I. Grundrechte der EUGRCH

181

1. Schutzpflichten zugunsten der Betreiber wesentlicher Dienste

183

2. Schutzpflichten zugunsten der Nutzer wesentlicher Dienste

186

3. Verankerung der IT-Sicherheit wesentlicher Dienste in den Unionsgrundrechten

187

II. Unionsrechtliche Infrastrukturverantwortung

188

§ 5 Betreiberpflichten als Ausfluss privater Pflichtigkeit

190

A. Raum für eine verfassungsrechtliche Pflichtigkeit der Betreiber zur Sicherung der IT

192

B. Bestehen einer privaten Pflichtigkeit der Betreiber

193

I. Pflichtigkeit aufgrund einer Verursachungsverantwortlichkeit

194

1. Verfassungsrechtliche Verankerung der Verursachungsverantwortlichkeit

195

2. Verursachungsverantwortlichkeit im Risikosteuerungsrecht?

196

3. Bestehen einer Verursachungsverantwortlichkeit

197

4. Zwischenergebnis

200

II. Grundrechtliche Pflichtigkeit zur IT-Sicherheit

200

1. Abgrenzung der Eigensicherungspflichtigkeit vom Verursacherprinzip

201

2. Anknüpfungspunkte der Eigensicherungspflichtigkeit

201

a) Eigenständige Pflichtigkeit grundrechtlicher Gehalte

202

aa) Schutzpflichten zugunsten der Betreiber Kritischer Infrastrukturen

202

bb) Subsidiaritätsprinzip

204

b) Altruistischer Begründungsansatz

205

aa) Art. 14 Abs. 2 GG

206

bb) Pflichtigkeit aufgrund der sozialstaatlichen Gebundenheit grundrechtlicher Freiheit

207

cc) Pflichtigkeit aus Art. 87e, f GG

210

dd) Rückbindung der grundrechtlich gewährten Freiheit an das Gemeinwesen

212

III. Teilergebnis

213

C. Pflichtigkeit im Unionsrecht

214

Teil 3: Die normative Gewährleistung der IT-Sicherheit

217

§ 6 Personelle Begrenzungen der Pflichten zur Gewährleistung der IT-Sicherheit

217

A. Betreiber Kritischer Infrastrukturen

217

I. Betreiberbegriff

217

II. Bestimmung der Kritischen Infrastrukturen durch Rechtsverordnung

221

1. Konkretisierende oder konstitutive Bestimmung Kritischer Infrastrukturen

222

a) Parlamentsvorbehalt

223

b) Bestimmtheitsgebot

226

c) Konstitutive Festlegung durch die BSI-KritisV

228

2. Ausreichende Ermächtigungsgrundlage für eine Rechtsverordnung

229

a) Anforderungen an die Regelungsdichte

231

b) Hinreichende Regelungsdichte bezüglich des Inhalts

233

c) Hinreichende Regelungsdichte bezüglich des Zwecks

234

d) Hinreichende Regelungsdichte bezüglich des Ausmaßes

235

e) Auseinandersetzung mit der Kritik an der Regelungsstruktur der Bestimmung Kritischer Infrastrukturen

236

3. Zulässiger Delegatar

237

4. Rechtspolitische kritische Würdigung der Festlegung durch Rechtsverordnung

238

III. Die Struktur der BSI-KritisV

240

1. Kritische Dienstleistungen

241

2. Anlagen zur Erbringung kritischer Dienstleistungen

242

3. Der Schwellenwert

245

IV. Das Verhältnis zu speziell regulierten Infrastrukturen

248

B. Unionsrechtliche Determinierung der Kritischen Infrastrukturen

252

I. Vergleich der Struktur der BSI-KritisV und der Artt. 5 f. RL (EU) 2016 / 1148

252

II. Vergleich der Kritischen Infrastrukturen mit den wesentlichen Diensten

255

III. Teilergebnis

256

§ 7 Die Pflichten zur Gewährleistung der IT-Sicherheit

257

A. Pflichten nach dem BSIG

258

I. Die Sicherungspflicht

259

1. Unionsrechtliche Determinierung

260

2. Die Sicherungsmaßnahmen nach § 8a Abs. 1 BSIG

260

a) Organisatorische und technische Vorkehrungen zur Vermeidung von Störungen der IT-Sicherheit

260

aa) Störung der Verfügbarkeit, Integrität, Authentizität und Vertraulichkeit

261

bb) Zielrichtung der Maßnahmen

262

cc) Zu gewährleistendes IT-Sicherheitsniveau

264

dd) Sicherungsmaßnahmen im Einzelnen

265

ee) Zwischenergebnis

267

b) Festlegung des angemessenen IT-Sicherheitsniveaus

267

c) Stand der Technik

269

d) Die notwendige IT

271

e) Umsetzungsfrist

271

f) Unionsrechtskonforme Umsetzung

272

g) Dogmatische Charakteristika

274

3. Sanktionsmöglichkeiten

275

4. Verhältnis der Sicherungspflicht zu § 9 BDSG

277

5. Verhältnis der Sicherungspflicht zu § 25a Abs. 1 S. 3 Nr. 4, 5 KWG

278

6. Branchenspezifische Sicherheitsstandards

279

a) Anforderungen an den Vorschlag eines branchenspezifischen Sicherheitsstandards

280

aa) Materielle Anforderungen

280

bb) Formelle Anforderungen

282

b) Verfahren der Feststellung

284

c) Rechtswirkungen und Rechtsnatur der Feststellungsentscheidung und des branchenspezifischen Sicherheitsstandards

285

aa) Rechtswirkungen der Feststellungsentscheidung

285

(1) Inhaltliche Reichweite der Selbstbindung

286

(2) Zeitliche Reichweite der Selbstbindung

286

(3) Personelle Reichweite der Selbstbindung

288

bb) In der Feststellungsentscheidung enthaltene Rechtsakte

289

(1) Die Feststellung der Eignung

290

(2) Die konkludent erlassene Verwaltungsvorschrift

291

(3) Basis der Rechtswirkung zugunsten der Betreiber

292

cc) Rechtsnatur des branchenspezifischen Sicherheitsstandards i. e. S.

293

(1) Staatliches oder privates Recht

294

(2) Einordnung in die Kategorien öffentlich-rechtlicher Handlungsformen?

295

d) Folge der begrenzten zeitlichen Rechtswirkung: Die Aktualisierung des branchenspezifischen Sicherheitsstandards

296

e) Rechtsschutz

297

f) Kritische Würdigung der branchenspezifischen Sicherheitsstandards

298

aa) Eignung zur Gewährleistung des IT-Sicherheitsniveaus nach § 8a Abs. 1 BSIG

298

bb) Instrument innovativer IT-Sicherheitsgewährleistung

300

II. Durchsetzungsmechanismen der Sicherungspflicht

302

1. Der Nachweis nach § 8a Abs. 3 BSIG

303

a) Sicherheitsaudits, Prüfungen oder Zertifizierungen

303

b) Prüfer

304

c) Prüfungsverfahren

305

d) Nachweis gegenüber dem BSI

307

2. An den Nachweis andockende Befugnisse

307

3. Die Überprüfungsbefugnis nach § 8a Abs. 4 BSIG

308

4. Unionsrechtskonforme Umsetzung der Kontrollmechanismen

309

5. Verhältnis zu § 25a Abs. 1 KWG

310

6. Funktion der Durchsetzungsmechanismen

311

III. Die Meldepflicht

312

1. Meldepflicht des § 8b Abs. 3, 4 BSIG

313

a) Voraussetzungen

313

aa) Störung der IT-Sicherheit

313

(1) Der Störungsbegriff der Meldepflicht

313

(2) Erheblichkeitsschwelle für die pseudonyme Meldung

315

bb) Auswirkungen auf die betriebene Infrastruktur

318

cc) Zwischenergebnis

323

b) Rechtsfolge

323

aa) Unverzügliche Meldung

323

bb) Allgemeine inhaltliche Anforderungen

324

cc) Pseudonyme oder namentliche Meldung

324

(1) Abgrenzung der Pflicht einer namentlichen von der Möglichkeit einer pseudonymen Meldung

325

(2) Die pseudonyme Meldung

326

(3) Die namentliche Meldung

327

c) Dogmatische Bausteine

328

2. Die Kontaktstelle nach § 8b Abs. 3, 5 BSIG

328

3. Umsetzungsfrist und Sanktionen

329

4. Das Verhältnis zu § 42a BDSG

331

5. Kritische Betrachtung der Meldepflicht

332

IV. Ausnahmen

334

1. Kleinstunternehmen, § 8d Abs. 1 BSIG

334

2. Speziell regulierte Infrastrukturen

335

B. Pflichten in gesondert regulierten Bereichen

336

I. Energiesektor

336

1. Die Sicherungspflicht nach § 11 Abs. 1a, 1b EnWG

337

a) Angemessene Sicherungsvorkehrungen

337

b) Der Katalog der Sicherheitsanforderungen

338

aa) Inhalt

339

bb) Rechtswirkungen

342

cc) Rechtsnatur und Zulässigkeit der Fiktionswirkung

342

c) Besonderheiten für Betreiber von Energieanlagen

344

d) Dogmatische Charakteristika

346

2. Die Meldepflicht nach § 11 Abs. 1c EnWG

347

3. Die Meldepflicht nach § 44b AtG

348

4. Sanktionen

351

5. Charakteristika der Regulierung der IT-Sicherheit im Energiesektor

352

II. TKG

352

1. Die Sicherungspflicht

353

a) Vorgaben des § 109 Abs. 2 TKG

353

b) Sicherheitsbeauftragter, Sicherheitskonzept und Sicherheitskatalog

355

c) Dogmatische Bausteine

356

2. Das Verhältnis von § 109 Abs. 2 TKG zum PTSG

357

3. Die Meldepflicht nach § 109 Abs. 5 TKG

358

4. Sanktionen

362

5. Abgrenzung zu datenschutzrechtlichen Benachrichtigungspflichten des § 109a TKG

363

6. Charakteristika der Regulierung der IT-Sicherheit im Telekommunikationssektor

364

C. Wesentliche dogmatische Bausteine des Pflichtenkanons

364

D. Einfachgesetzliche Normierung einer privaten Verantwortlichkeit und Inpflichtnahme

366

E. Wirksamkeit und Einheitlichkeit der Pflichten?

368

I. Wirksamkeit

368

1. Sicherungspflichten und ihre Durchsetzungsmechanismen

368

2. Meldepflichten

371

3. Teilergebnis

372

II. Einheitlichkeit

373

1. Sicherungspflichten und ihre Durchsetzungsmechanismen

373

2. Meldepflichten

374

3. Vereinheitlichung des IT-Sicherheitsniveaus

375

§ 8 Die Rolle des BSI

375

A. Behördliche Aufgaben

376

I. IT-Wirtschaftsaufsichtsbehörde

376

II. Zentrale Stelle für die IT-Sicherheit Kritischer Infrastrukturen

379

1. Wissensakkumulation und Analyse

379

2. Internationale Vernetzung

380

3. Multiplikator

380

4. IT-Sicherheitsdienstleister

382

III. Behördlicher IT-Sicherheitsexperte

384

B. Verantwortungsteilung zwischen Staat und Privaten

384

I. Kooperation oder bloßes Zusammenwirken

385

II. Das BSI als staatlicher Garant der IT-Sicherheit Kritischer Infrastrukturen

387

§ 9 Verfassungs- und unionsrechtliche Zulässigkeit der Inpflichtnahme Privater

389

A. Kompetenz des Bundes

390

I. Gesetzgebungskompetenz

390

II. Exkurs: Verwaltungskompetenz für das BSI

392

B. Grundrechte

393

I. Grundrechtskanon des Grundgesetzes

396

1. Art. 12 Abs. 1 GG

396

a) Schutzbereich

396

b) Eingriff

396

aa) Sicherungspflicht

397

bb) Nachweispflicht

397

cc) Meldepflicht

398

(1) Die Pflicht zur Meldung von IT-Sicherheitsvorfällen

398

(2) Die Kontaktstelle nach § 8b Abs. 3 BSIG

400

c) Rechtfertigung

400

aa) Legitimes Ziel

400

bb) Geeignetheit und Erforderlichkeit

401

cc) Angemessenheit

401

(1) Sicherungspflicht

403

(2) Nachweispflicht

406

(3) Meldepflicht

406

(a) Die Pflicht zur Meldung von IT-Sicherheitsvorfällen

406

(b) Die Kontaktstelle nach § 8b Abs. 3 BSIG

408

dd) Zwischenergebnis

408

2. Art. 14 Abs. 1 GG

409

a) Schutzbereich

409

b) Inhalts- und Schrankenbestimmung

410

c) Rechtfertigung

410

3. Art. 2 Abs. 1 GG, Recht auf informationelle Selbstbestimmung

412

a) Schutzbereich

412

b) Eingriff

413

c) Rechtfertigung

415

4. Art. 2 Abs. 1 GG, Grundrecht auf Gewährleistung der Vertraulichkeit und Integrität informationstechnischer Systeme

416

II. Unionsrechtliche Grundrechte

418

1. Schutzbereiche

418

2. Beeinträchtigungen

419

a) Sicherungspflicht

419

b) Nachweispflicht

419

c) Meldepflicht

420

3. Rechtfertigung

420

III. Teilergebnis

421

C. Verstoß gegen den nemo tenetur se ipsum accusare-Grundsatz

422

I. Nachweispflicht

423

II. Meldepflichten

423

Teil 4 : Schlussbetrachtung

425

§ 10 Zusammenführung

425

A. Die Pflichten zur Gewährleistung der IT-Sicherheit als modernes infrastrukturbezogenes Sicherheitsrecht

425

B. Entwicklungstendenzen

427

§ 11 Thesen

430

Literaturverzeichnis

449

Sachregister

476