Fraud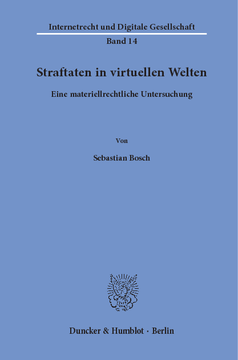 BOOK
Cite BOOK
Style
---
Bosch, S. (2018). Straftaten in virtuellen Welten. Eine materiellrechtliche Untersuchung. Duncker & Humblot. https://doi.org/10.3790/978-3-428-55585-7
Bosch, Sebastian. Straftaten in virtuellen Welten: Eine materiellrechtliche Untersuchung. Duncker & Humblot, 2018. Book. https://doi.org/10.3790/978-3-428-55585-7
Bosch, S, (2018): Straftaten in virtuellen Welten: Eine materiellrechtliche Untersuchung, Duncker & Humblot, [online] https://doi.org/10.3790/978-3-428-55585-7
---
Format
---
Straftaten in virtuellen Welten
Eine materiellrechtliche Untersuchung
Internetrecht und Digitale Gesellschaft, Vol. 14
(2018)
Additional Information
Book Details
ISBN

978-3-428-55585-7
978-3-428-15585-9 (print edition)

DOI

https://doi.org/10.3790/978-3-428-55585-7

Edition

1

Language

German

Pages

305

Collections

Subjects
Pricing
Institution

€ 104.00 (incl. local VAT if applicable)

Individual

€ 79.90 (incl. local VAT if applicable)
About The Author
Sebastian Bosch studierte Rechtswissenschaften an der Freien Universität Berlin mit dem Schwerpunkt Strafrechtspflege und Kriminologie und an der Universiteit van Amsterdam. Nach dem ersten Staatsexamen im Jahr 2010 folgte bis 2013 der juristische Vorbereitungsdienst beim Kammergericht (Berlin). Anschließend war er als Strafverteidiger bei der Kanzlei Sandkuhl Rechtsanwälte in Potsdam tätig. Gleichzeitig begann er mit der Arbeit an seiner Dissertation unter der Betreuung von Prof. Dr. Wolfgang Mitsch an der Universität Potsdam. An dessen Lehrstuhl für Strafrecht mit Jugendstrafrecht und Kriminologie war er ab 2015 als wissenschaftliche Hilfskraft tätig. Seit 2017 ist Sebastian Bosch Rechtslehrer beim Bildungszentrum der Bundeswehr in Berlin-Grünau.
Sebastian Bosch studied law at Freie Universität Berlin and Universiteit van Amsterdam with a focus on criminal law. After the first state examination in 2010 he completed the legal clerkship in 2013. In the aftermath he was working as a criminal defense lawyer at Sandkuhl Rechtsanwälte in Potsdam. Simultaneously he started working on his PHD under the supervision of Prof. Dr. Wolfgang Mitsch at Universität Potsdam. From 2015 he worked at the professorship of Prof. Mitsch supporting his scientific work. Since 2017 Sebastian Bosch is a teacher of law at the Bildungszentrum der Bundeswehr in Berlin.
Abstract
Virtuelle Welten wie World of Warcraft oder Second Life werden weltweit von vielen Millionen Menschen genutzt. Aufgrund der vielfältigen Interaktionsmöglichkeiten der Nutzer untereinander kommt es dabei immer wieder auch zu Verhaltensweisen, die die Frage nach strafrechtlicher Relevanz aufwerfen. Sebastian Bosch greift in seiner Arbeit einzelne Tatbestände des deutschen StGB heraus und untersucht diese auf ihre Begehbarkeit innerhalb virtueller Welten. Besondere Aufmerksamkeit wird dabei dem Betrug gem. § 263 StGB gewidmet, da dieser im Hinblick auf den speziellen »Tatort« der virtuellen Welten besonders interessante Fragen aufwirft. Im Anschluss daran wird untersucht, ob der Täter einer solchen Straftat auch entsprechend bestraft werden sollte, oder ob sich aufgrund des Spielcharakters virtueller Welten nicht eine Privilegierung aufdrängt, wie sie aus dem Sportstrafrecht bekannt ist. Der Autor gelangt zu dem Ergebnis, dass eine Privilegierung vorgenommen werden sollte, soweit es sich bei der verletzenden Handlung um eine spiel- bzw. weltenkonforme Handlung handelt. »Crimes in Virtual Worlds«

Millions of people use virtual worlds like World of Warcraft every day worldwide. Due to the multifaceted possibilities of interactions between the users the question of criminal liability arises. In his thesis Sebastian Bosch examines the possibilities to commit certain crimes under the German penal code within virtual worlds just by using in-game-mechanics. He also investigates if a crime committed in a virtual world should be punished the same way that it would be in the real world. He concludes that in dependence on findings from sports criminal law a perpetrator shouldn't be penalized as long as the particular behavior falls within the borders of typical behavior within the game.
Table of Contents
Section Title
Page
Action
Price

Vorwort

7

Inhaltsverzeichnis

9

Abkürzungsverzeichnis

17

A. Einleitung

23

B. Gang der Untersuchung

25

Teil 1: Virtuelle Welten

26

A. Definition des Begriffs "Virtuelle Welt"

26

I. Virtuelle Welten: alles nur Spiel?

27

II. Online-Spiele in virtuellen Welten

29

1. Offline-Spiele mit Online-Komponenten

29

2. Browser-Games

30

3. Online-Spiele im engeren Sinne

30

III. Technische Grundlagen

31

1. Virtuelle Objekte

31

2. Server

32

3. Clients

33

4. Peer-to-Peer-Technologie (p2p)

34

IV. Die Attraktivität virtueller Welten

34

1. Interaktivität

35

2. Kommunikation

35

3. Persistenz

36

4. Verfügbarkeit

37

5. Anonymität

37

6. Freiheit

37

B. Die Geschichte virtueller Welten

38

I. MUDs

38

II. Graphische Revolution

39

C. World of Warcraft

42

I. Wertschöpfungsmodell des Herstellers

42

II. Spielverlauf

42

1. Realms

43

2. Rassen und Klassen

43

3. Erste Schritte

44

4. Level-System

45

5. Gilden

45

III. Handel mit virtuellen Gütern

46

1. In-Game-Handel

47

2. Externer Handel

47

3. Gold Farming

49

a) Begriff

49

b) Übergabe des virtuellen Goldes

50

c) Einordnung des Marktes

50

d) Verbot von Gold Farming

51

e) Bedeutung für diese Arbeit

52

D. Second Life

52

I. Verlauf

53

II. Erlösmodell

54

III. Handel mit virtuellen Gegenständen

55

IV. Bedeutung für diese Arbeit

56

E. Fazit zu Teil 1

57

Teil 2: Virtuelle Kriminalität

58

A. "Virtuelle Kriminalität": Einordnung und Definition

58

I. Der Handlungsbegriff

59

II. Kriminelles Verhalten

60

1. Die Begriffe "Kriminalität" und "Verbrechen"

60

2. Der materielle Verbrechensbegriff

61

III. Definition "Virtuelle Kriminalität"

63

IV. Zusammenfassung

65

B. Formen virtueller Kriminalität

66

I. Deliktsart

67

1. Vermögensdelikte/Eigentumsdelikte

67

a) Diebstahl, § 242 StGB/Unterschlagung, § 246 StGB

67

b) Betrug, § 263 StGB

68

c) Erpressung, § 253 StGB

68

d) Untreue, § 266 StGB

68

2. Beleidigungsdelikte

69

3. Verbreitungsdelikte (insbesondere Pornographie)

69

II. Begehungsform

69

C. Beispiele virtueller Kriminalität

70

I. Dragon-Saber

70

II. Beispiele nach Deliktsarten

72

1. Vermögensdelikte

72

a) Betrug/Untreue

72

aa) World of Warcraft

72

bb) EVE Online: Bad Bobby

74

(1) Überblick

74

(2) Bad Bobbys Scam

75

(3) Einordnung

76

(4) Bewertung

77

b) Erpressung/Diebstahl: Runescape

78

2. Verbreitungsdelikte/Sexualdelikte

79

a) Second Life

79

b) GTA Online

80

c) LambdaMOO

81

D. Umfang krimineller Aktivitäten in virtuellen Welten

82

I. Hellfeldausschnitt

82

II. Dunkelfeldausschnitt

83

E. Fazit zu Teil 2

84

Teil 3: Anwendbarkeit strafrechtlicher Normen in virtuellen Welten

85

A. Erstreckung des Strafrechts auf virtuelle Welten

85

I. Staatlicher Strafanspruch und staatliche Strafverpflichtung

86

II. Virtuelle Welten: Teil der realen Welt

87

III. Strafklageverbrauch wegen Sanktionierung durch den Betreiber oder die virtuelle Gesellschaft

88

IV. Ausschluss der Anwendung von Strafrecht innerhalb des "Magic Circle"

89

V. Fazit

90

B. Anwendbarkeit deutschen Strafrechts: Strafrechtliche Anknüpfungsprinzipien

91

I. Das Territorialitätsprinzip, § 3 StGB

92

1. Handlungsort

93

2. Erfolgsort

93

a) Abstrakte Gefährdungsdelikte im Internet

94

aa) Die Ansicht der Rechtsprechung

95

bb) Ansätze in der Literatur

97

b) Würdigung der Ansätze

99

c) Fazit

101

II. Personale Anknüpfungsprinzipien

102

1. Aktives Personalitätsprinzip, § 7 Abs. 2 Nr. 1 StGB

102

2. Passives Personalitätsprinzip, § 7 Abs. 1 StGB

103

3. Ergebnis

104

C. Fazit zu Teil 3

104

Teil 4: Virtuelle Kriminalität und deutsches Strafrecht

106

A. § 263 StGB: Betrug

107

I. Überblick

107

II. Die objektiven Tatbestandsmerkmale des Betrugs

108

1. Tathandlung: Die Täuschung

108

a) Ontologischer Täuschungsbegriff der herrschenden Ansicht

109

b) Normativ geprägter Täuschungsbegriff

111

aa) Pawliks Ansatz

112

bb) Kindhäusers Ansatz

115

cc) Bewertung

116

dd) Zwischenergebnis

120

ee) Bedeutung des Meinungsstreits für die Betrugsstrafbarkeit von Handlungen in virtuellen Welten

121

(1) Heterogenität virtueller Welten und persönliche Beziehungen

121

(2) Außerhalb der virtuellen Welt liegende Täuschungsziele

124

(3) Bewertung

124

ff) Zwischenergebnis

126

c) Viktimodogmatische Ansätze im Rahmen des Täuschungsmerkmals

126

aa) Ellmers viktimodogmatischer Ansatz

127

bb) Der Gedanke der Opfermitverantwortung in virtuellen Welten

129

cc) Einschätzung

130

d) Ergebnis zum Täuschungsbegriff

130

2. Irrtum in der Person des Täuschungsadressaten

131

3. Vermögensverfügung/Vermögensschaden

131

a) Vermögenslehren

132

aa) Juristische Vermögenslehre

132

bb) Wirtschaftliche Vermögenslehre

132

cc) Juristisch-ökonomische Vermittlungslehren

133

dd) Zwischenergebnis

134

b) Einordnung virtueller Gegenstände unter den juristisch-ökonomischen Vermögensbegriff

135

aa) Einordnung virtueller Gegenstände unter zivilrechtliche Konzeptionen

136

(1) Keine Sachen, aber Gegenstände

136

(2) Denkbare Rechtsfiguren

137

bb) Zwischenergebnis

141

cc) Negation der Nutzerrechte an Items durch den Betreiber

141

dd) Verbot der Weiterveräußerung von virtuellen Gegenständen außerhalb der virtuellen Welt

142

ee) Zwischenergebnis

143

c) Schaden

144

aa) Minderung des Vermögenswerts

144

bb) Infinite Reproduzierbarkeit virtueller Gegenstände

145

III. Ergebnis

146

B. § 253 StGB: Erpressung

148

I. Tathandlung

149

1. Gewalt

149

a) Übersicht

150

b) Erforderlichkeit der Kraftentfaltung auf Täterseite

150

c) Erforderlichkeit der physischen Zwangswirkung auf Opferseite

154

d) Gewalt gegen Sachen

155

e) "Online-Sitzblockade"

156

aa) Die Ansicht des AG Frankfurt a.M.

156

bb) Die Ansicht des OLG Frankfurt a.M.

157

cc) Stellungnahme

158

f) "Gewalt" in virtuellen Welten

159

g) Zwischenergebnis

161

2. Drohung mit einem empfindlichen Übel

162

a) Überblick

162

b) Drohung mit einem empfindlichen Übel innerhalb virtueller Welten

163

aa) World of Warcraft

163

bb) Second Life

165

II. Nötigungsfolge: Handeln, Dulden oder Unterlassen

167

III. Vermögensnachteil

168

IV. Ergebnis

168

C. § 266 StGB: Untreue

168

I. Überblick

169

II. Der Tatbestand der Untreue

171

1. Die Missbrauchsvariante

172

a) Fremdes Vermögen

172

b) Verfügungs- und Verpflichtungsbefugnis

172

aa) Die Befugnis in virtuellen Welten

173

bb) Unkenntnis der Identität der Nutzer

174

cc) Rechtsbindungswille

175

c) Zwischenergebnis

179

2. Die Treubruchvariante

179

a) Vermögensbetreuungspflicht

180

aa) Überblick

180

bb) Treueverhältnis

182

cc) Treueverhältnis und Vermögensbetreuungspflicht in virtuellen Welten

182

dd) Zwischenergebnis

184

b) Tathandlung: Pflichtverletzung

185

3. Vermögensnachteil

185

III. Ergebnis

187

D. Äußerungsdelikte (§§ 185 ff. StGB)

187

I. Überblick

189

1. Das Rechtsgut der Beleidigung

189

2. Rechtsgutsinhaber

190

II. Tatbestand der Beleidigung nach § 185 StGB

192

1. Äußerung von Missachtung oder Nichtachtung

192

2. Kundgabe

192

III. Die Beleidigung im Internet

193

IV. Die Beleidigung in virtuellen Welten

194

1. Äußerung der Missachtung bzgl. des Äußeren eines Avatars

195

a) Beleidigungsadressat: anderer Nutzer

195

b) Objektive Eignung zur Ehrverletzung

196

2. Kundgabe bei Verwendung von Pseudonymen

197

3. Äußerung der Missachtung mittels szenetypischer Begrifflichkeiten

198

4. Virtuelle Welten als "beleidigungsfreier Bereich"

200

V. Die üble Nachrede gem. § 186 StGB in virtuellen Welten

202

VI. Fazit

204

E. Verbreitungssexualdelikte und sexueller Kindesmissbrauch § 184b/c StGB/§ 184d StGB/§ 184e StGB/§ 176 StGB

205

I. Überblick

206

II. Tatbestände der Pornographiedelikte

208

1. Definition des Begriffs der "Pornographie"

208

a) Entwicklung des Pornographiebegriffs

208

b) Erfassung fiktivpornographischer Inhalte

209

2. § 184b Abs. 1 StGB: "Age-Play" als kinderpornographische Schrift?

211

3. § 184d StGB

212

a) Absatz 1

212

aa) Überblick

212

bb) Zugänglichmachen

213

b) Absatz 2

214

4. § 184e n.F. StGB

216

5. § 176 Abs. 4 Nr. 4 StGB

218

6. Exkurs: § 24 Abs. 1 Nr. 1 lit. k) JMStV

219

a) Verhältnis von Straf- und Ordnungswidrigkeitennorm

220

b) "Angebote" und "Anbieter"

220

c) Tatbestand

221

aa) Erfolgsverursachung

221

bb) Objektive Sorgfaltspflichtverletzung

222

cc) Objektive Zurechenbarkeit des Erfolges

222

dd) Erlaubtes Risiko oder sozialadäquates Handeln

222

ee) Zwischenergebnis

223

7. Die strafrechtliche Verantwortlichkeit von Linden Lab

223

a) Überblick

224

b) Anbieter virtueller Welten als Diensteanbieter?

225

c) Content-Provider, Access-Provider, Host-Service-Provider

225

d) Einordnung der Anbieter virtueller Welten

226

e) Ergebnis

229

III. Fazit

229

F. Fazit zu Teil 4

229

Teil 5: Strafrechtliche Privilegierung virtueller Welten

231

A. Das Sportstrafrecht

233

I. Der Begriff des Sports

234

II. Die Sonderbehandlung des Sports aus strafrechtlicher Sicht

235

III. Verhältnis von Sportregeln und staatlichem Recht

238

IV. Strafrechtsdogmatische Lösungsansätze für die Straflosigkeit der Körperverletzung im Sport

240

1. Tatbestandsausschließende oder -einschränkende Ansätze

241

a) Restriktive Auslegung der Tatbestände

241

b) Sozialadäquanz

242

c) Sportadäquanz

243

d) Erlaubtes Risiko

244

e) Eigenverantwortlichkeitsprinzip

246

2. Rechtfertigende Ansätze

246

a) Einwilligung und Risikoeinwilligung

246

b) Mutmaßliche Einwilligung

248

3. Kritik

249

4. Ergebnis

253

V. Fazit zum Sportstrafrecht

254

B. Die strafrechtliche Privilegierung weltenkonformer Verhaltensweisen in virtuellen Welten

254

I. Vergleichbarkeit des Untersuchungsgegenstands

255

1. Unterschiede

255

2. Gemeinsamkeiten

257

3. Abwägung

258

II. Die "klassische" virtuelle Straftat und der Regelfall der Vorsatztat

260

III. Der Privilegierungsansatz Ecksteins

261

1. Spielkonformität

261

2. Vergleich mit dem Sportstrafrecht

263

3. Einordnung des Ansatzes in den sportstrafrechtlichen Kontext

265

IV. Kritik an Ecksteins Ansatz

266

V. Spielregeln in virtuellen Welten

266

1. Definition des Begriffs der Spielregel in virtuellen Welten

266

2. Spielkonformität und Regeln

267

a) Die Notwendigkeit von Spielregeln in virtuellen Welten

268

b) Das Zugeständnis freier Kommunikation an die Nutzer

269

c) Das Verbot beleidigender oder täuschender Spielweise

270

d) Telos der Spielregeln in virtuellen Welten und im Sport

271

e) Regeln positiver Art vs. Regeln negativer Art

272

f) Sanktionen in virtuellen Welten

274

g) Definitionsmacht der Betreiber

275

h) Nichtgeltung der Privilegierung bei Verletzung nicht-disponibler Rechtsgüter

278

aa) Nutzersicht

278

bb) Betreibersicht

279

VI. Kenntnis der Nutzer vom Verbot

280

VII. Eigener Ansatz

281

VIII. Ergebnis

284

C. Fazit

285

Literaturverzeichnis

288

Stichwortverzeichnis.

302