Employment & labour law: general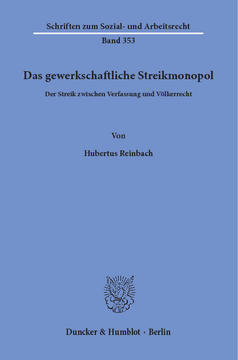 Additional Information
Book Details
ISBN

978-3-428-55527-7
978-3-428-15527-9 (print edition)

DOI

https://doi.org/10.3790/978-3-428-55527-7

Edition

1

Language

German

Pages

389

Collections

Subjects
Pricing
Institution

€ 116.00 (incl. local VAT if applicable)

Individual

€ 89.90 (incl. local VAT if applicable)
About The Author
Hubertus Reinbach hat von 2008 bis 2012 Rechtswissenschaften an der Bucerius Law School in Hamburg und der National Law School of India University in Bangalore studiert. Nach Promotion im Arbeitskampfrecht bei Prof. Dr. Matthias Jacobs leistete er von 2016 bis 2018 das Referendariat am Hanseatischen Oberlandesgericht in Hamburg mit Stationen am Bundesverfassungsgericht in Karlsruhe, in der arbeitsrechtlichen Abteilung einer internationalen Wirtschaftskanzlei und im Bereich »Arbeits- und Sozialrecht« der BMW AG in München ab. Ende 2018 wurde seine Arbeit mit dem Dissertationspreis des Hamburger Vereins für Arbeitsrecht e.V. ausgezeichnet.
Hubertus Reinbach studied law at Bucerius Law School in Hamburg from 2008 to 2012. Meanwhile he completed an exchange program at the National Law School of India University in Bangalore. After he concluded his dissertation on industrial action law he conducted his legal clerkship at the Higher Regional Court of Hamburg with stations at the German Federal Constitutional Court in Karlsruhe, at the department of labour law of an international law firm and at BMW AG in Munich. For his dissertation he was awarded the 2018 Prize of the Hamburg Association for Labour Law.
Abstract
Die Arbeit befasst sich mit der Zulässigkeit des nicht gewerkschaftlichen Streiks (»Wilder Streik«) in Deutschland. Sie erörtert, ob das in Deutschland geltende Recht das Streikrecht zwingend an tariffähige Gewerkschaften bindet. Der Autor kommt zu dem Ergebnis, dass diese Streikform entgegen der ständigen Rechtsprechung des Bundesarbeitsgerichts in engen Grenzen zulässig ist, wo Gewerkschaften nicht ausreichend Schutz bieten. Die Zulässigkeitsfrage stellt sich insbesondere vor dem Hintergrund verschiedener völkerrechtlicher Verträge, die auch den nicht gewerkschaftlichen Streik schützen. Die Arbeit analysiert das Zusammenspiel zwischen Völkerrecht, dem Grundgesetz und dem arbeitskampfrechtlichen Richterrecht des Bundesarbeitsgerichts und arbeitet heraus, in welchem Verhältnis diese Rechtsquellen zueinander stehen. Damit liefert sie einen Beitrag zu den dogmatischen Grundlagen des deutschen Arbeitskampfrechts unter Berücksichtigung völkerrechtlicher Vorgaben.

Die Arbeit wurde mit dem Dissertationspreis des Hamburger Vereins für Arbeitsrecht e.V. ausgezeichnet. »The Monopoly of Trade Unions in German Strike Law«

The thesis reviews the legal ban on wildcat strikes in Germany and discusses its legal permissibility in view of international law, the German Basic Law (»Grundgesetz«) and German case law. While the interaction between these three legal sources is closely analysed the findings of the thesis show that wildcat strikes in Germany are permissible under narrow conditions where trade unions do not provide enough protection.
Table of Contents
Section Title
Page
Action
Price

Vorwort

5

Inhaltsübersicht

7

Inhaltsverzeichnis

9

Abkürzungsverzeichnis

17

Einleitung

19

Gang der Untersuchung

23

1. Teil: Grundlagen der Untersuchung

25

1. Kapitel: Streik als Untersuchungsgegenstand

25

A.  Arbeitskampf als rechtlicher Begriff und soziales Phänomen

25

I.  Rechtlicher Begriff des Arbeitskampfes

26

II.  Arbeitskampf als soziales Phänomen

27

B.  Begriff des Streiks

28

C.  Begriff des "wilden Streiks"

32

2. Kapitel: Streik in Deutschland

33

A.  Historische Entwicklung des Streiks

33

I.  Einführung

34

II.  Mittelalter

35

III.  Industrialisierung und Kaiserreich

37

IV.  Weimarer Zeit

39

V.  Bundesrepublik Deutschland

41

B.  Bewertung des Streiks durch das Bundesarbeitsgericht

42

3. Kapitel: Nichtgewerkschaftlicher Streik

45

A.  Verbot des nichtgewerkschaftlichen Streiks durch das Bundesarbeitsgericht

46

I.  Gewerkschaftsbegriff in Deutschland

46

II.  Deliktsrechtliche Einordnung des nichtgewerkschaftlichen Streiks

49

III.  Arbeitsvertragliche Einordnung des nichtgewerkschaftlichen Streiks

51

B.  Möglichkeiten der Streikträgerschaft

55

C.  Soziale Bedeutung des nichtgewerkschaftlichen Streiks und Rechtsvergleichung

56

4. Kapitel: Ergebnisse

60

2. Teil: Völkerrecht

62

1. Kapitel: Überblick zum Völkerrecht

63

A.  Streikrechtliche Quellen im Völkerrecht

64

B.  Bedeutung völkerrechtlicher Verträge im nationalen Recht

65

I.  Innerstaatliche Geltung

66

II.  Unmittelbare Anwendbarkeit

66

III.  Grundsatz völkerrechtsfreundlicher Auslegung

67

C.  Auslegung völkerrechtlicher Verträge

70

2. Kapitel: Nichtgewerkschaftlicher Streik im Völkerrecht

72

A.  Art. 6 Nr. 4 Europäische Sozialcharta

72

I.  Schutzbereich

75

1.  Wortlaut

76

2.  Systematische Auslegung

80

3.  Teleologische Auslegung

82

4.  Spruchpraxis des Europäischen Komitees \nfür soziale Rechte und des Ministerkomitees

83

5.  Ergebnis

85

II.  Beschränkungsmöglichkeit nach Art. 31 Abs. 1 Europäische Sozialcharta

85

1.  Einschränkung durch Richterrecht?

86

2.  Rechtfertigung der Einschränkung

87

III.  Stellung des Art. 6 Nr. 4 Europäische Sozialcharta in der deutschen Rechtsordnung

89

1.  Unmittelbare Anwendbarkeit

89

2.  Mittelbare Anwendbarkeit

92

B.  Art. 11 Europäische Menschenrechtskonvention

93

I.  Schutzbereich

95

1.  Rechtsprechung des Europäischen Gerichtshof für Menschenrechte

97

2.  Prognose zum nichtgewerkschaftlichen Streik

103

II.  Beschränkungsmöglichkeiten nach Art. 11 Abs. 2 und Art. 14 Europäische Menschenrechtskonvention

109

III.  Stellung des Art. 11 Europäische Menschenrechtskonvention in der deutschen Rechtsordnung

114

C.  UN-Menschenrechtspakte

117

I.  Schutzbereich des Art. 8 Abs. 1 lit. d Internationaler Pakt über wirtschaftliche, soziale und kulturelle Rechte

120

II.  Beschränkungsmöglichkeiten

123

III.  Stellung des Art. 8 Abs. 1 lit. d Internationaler Pakt über wirtschaftliche, soziale und kulturelle Rechte in der deutschen Rechtsordnung

125

D.  ILO-Übereinkommen Nr. 87

126

I.  Schutzbereich des Art. 3 ILO-Übereinkommen Nr. 87

129

II.  Beschränkungsmöglichkeiten

135

III.  Stellung des ILO-Übereinkommens Nr. 87 in der deutschen Rechtsordnung

136

3. Kapitel

137

Exkurs: Nichtgewerkschaftlicher Streik im Unionsrecht

137

A.  Schutzbereich des Art. 28 Europäische Grundrechtecharta

138

I.  Auswirkungen des Zusatzes

138

II.  Eigenständige Gewährleistung

140

III.  Suspendierendes Streikrecht?

143

B.  Beschränkungsmöglichkeiten

144

4. Kapitel

146

Ergebnisse

146

3. Teil: Grundgesetz

148

1. Kapitel: Verortung des Streiks im Grundgesetz

148

A.  Verortung in Art. 9 Abs. 3 Grundgesetz

149

B.  Verortung außerhalb von Art. 9 Abs. 3 Grundgesetz

151

C.  Zwischenergebnis

152

2. Kapitel: Art. 9 Abs. 3 Grundgesetz im Überblick

152

A.  Personeller Schutzbereich der Koalitionsfreiheit

152

I.   "Jedermann-Grundrecht"

153

II.  Doppelgrundrecht

153

III.  Koalitionsbegriff

156

1.  Begriff der Vereinigung

156

2.  Bedeutung des Koalitionszwecks

160

3.  Zusammenfassung

162

B.  Subjektiv-rechtliche Dimension: Koalitionsfreiheit als Abwehrrecht

163

I.  Abstrakte Einordnung der Grundrechte als Abwehrrechte

163

II.  Abwehrrechtlicher Inhalt der Koalitionsfreiheit

165

1.  Schutz der Bildungsfreiheit

165

2.  Schutz der Betätigungsfreiheit

167

a)  Wortlaut

168

b)  Systematische Auslegung

169

c)  Historisch-genetische Auslegung

171

d)  Teleologische Auslegung

172

e)  Ergebnis

174

C.  Objektiv-rechtliche Dimension der Koalitionsfreiheit

174

D.  Zwischenergebnis

176

3. Kapitel: Streik als Element der abwehrrechtlichen Dimension

176

A. Streik als Element der Betätigungsfreiheit

177

I.  Rechtsprechung des Bundesverfassungsgerichts

178

1.  Vom Kernbereich zu einem weiten Grundrechtsverständnis

178

2.  Der Streik in der Rechtsprechung des BVerfG

181

II.  Rechtsprechung des Bundesarbeitsgerichts und Ansichten in der Literatur

186

1.  Koalitionszweck als gemeinsamer Nenner aller Ansichten

187

2.  Enge Tatbestandstheorie: Weitere Voraussetzungen

188

a)  Rechtsprechung des Bundesarbeitsgerichts

188

b)  Herrschende Meinung in der Literatur

194

aa)\tWortlautbezogene Argumentation und teleologische Erwägungen

196

bb)\tFunktionsbezogene Argumentation mit Tarifautonomie im Zentrum

197

cc)\tAbgrenzung zur allgemeinen Handlungsfreiheit

198

dd)\tTatbestandlicher Ausgleich widerstreitender Grundrechte

199

ee)\tEinfachrechtliche Argumentation

199

3.  Weite Tatbestandstheorie: keine weiteren Voraussetzungen

200

a)  Tarifvertrag nicht alleiniges Mittel der Koalitionseinigung

201

b)  Arbeitskampf als Mittel zur Verfolgung des Koalitionszwecks

202

c)  Historische Argumentation

202

d)  Abwehrrechtlicher Ansatz

203

e)  Trennung zwischen natürlicher und normativer Freiheit

204

III.  Stellungnahme: umfassender Schutz des Streiks

207

1.  Wortlaut

208

2.  Systematische Auslegung

209

a)  Koalitionsfreiheit und andere Normen

209

b)  Allgemeine Grundrechtssystematik

211

3.  Historisch-genetische Auslegung

214

4.  Teleologische Auslegung

218

5.  Ergebnis

220

IV.  Einfluss des Völkerrechts?

221

V.  Zusammenfassung

223

B.  Streik als natürliche und normative Freiheit

223

I.  Einordnung

223

1.  Natürliche Freiheit

224

2.  Normative Freiheit

226

a)  Keine unmittelbare Drittwirkung der Grundrechte

228

b)  Unmittelbare Drittwirkung gemäß Art. 9 Abs. 3 S. 2 GG

229

c)  Zivilrechtliche Generalklauseln als Einfallstore für eine Suspendierungswirkung

233

d)  Vergleich mit Erklärungsmodellen zum tariflichen Normsetzungsrecht

235

e)  Zusammenfassung zur normativen Freiheit

237

3.  Auswirkungen

238

4.  Zusammenfassung

240

II.  Abwehrrechtlicher Schutz

240

1.  Natürliche Freiheit

240

2.  Normative Freiheit

241

3.  Zusammenfassung

244

C.  Zwischenergebnis

245

4. Kapitel: Streik als Element der objektiv-rechtlichen Dimension

245

A.  Streik als Einrichtungsgarantie

247

B.  Streik als Bezugspunkt von Verfahrens- und Organisationsgarantien

250

C.  Streik als Bezugspunkt der Schutzpflicht

251

I.  Grundrechtliche Schutzpflicht im Allgemeinen

251

II.  Grundrechtliche Schutzpflicht in Bezug auf den Streik

254

D.  Einfluss des Völkerrechts

258

E.  Zwischenergebnis

260

5. Kapitel: Ergebnisse

261

4. Teil: Rechtsprechung des Bundesarbeitsgerichts

263

1. Kapitel: Verfassungsrechtliche Bewertung

264

A.  Rechtsprechung des Bundesarbeitsgerichts zum nichtgewerkschaftlichen Streik: Eingriff oder Ausgestaltung?

264

I.  Begriffliche Einführung zu den Kategorien Eingriff und Ausgestaltung

265

II.  Eingriff und Ausgestaltung in der Rechtsprechung des Bundesverfassungsgerichts

266

III.  Eingriff und Ausgestaltung in der Rechtsprechung \ndes Bundesarbeitsgerichts

270

IV.  Ansichten in der Literatur zu Eingriff und Ausgestaltung

272

1.  Stimmen gegen eine Unterscheidung von Eingriff und Ausgestaltung

273

2.  Unterscheidung nach Intensität

277

3.  Unterscheidung nach subjektivem Kriterium

277

4.  Unterscheidung nach "Ob" und "Wie"

278

5.  Unterscheidung nach Hemmung grundrechtlicher Prinzipien

279

6.  Unterscheidung nach Erforderlichkeit einer Grundrechtsabwägung

280

7.  Ausgestaltung bei normativem Verhalten und als Koordinierungsmittel

280

8.  Ausgestaltung bei normativer Freiheit und Eingriff \nbei natürlicher Freiheit

282

9.  Eingriff bei Aktivierung des Abwehrrechts

283

V.  Abschließende Stellungnahme: Differenzierung zwischen Eingriff und Ausgestaltung anhand des Abwehrrechts

285

VI.  Abschließende Einordnung der Rechtsprechung \ndes Bundesarbeitsgerichts zum nichtgewerkschaftlichen Streik

287

1.  Nichtgewerkschaftlicher Streik und Deliktsrecht: Grundrechtseingriff

287

2.  Nichtgewerkschaftlicher Streik und Arbeitsvertrag

291

a)  Suspendierungswirkung: Grundrechtsausgestaltung

291

b)  Arbeitsrechtliche Sanktionsmittel: Möglichkeit einer Grundrechtsbeeinträchtigung

293

VII.  Zusammenfassung

296

B.  Verfassungsrechtliche Rechtfertigung der Rechtsprechung des Bundesarbeitsgerichts zum nichtgewerkschaftlichen Streik

296

I.  Abstrakte Darstellung der verfassungsrechtlichen Vorgaben des Art. 9 Abs. 3 GG

297

1.  Grundrechtseingriffe

297

a)  Eingriffsrechtfertigung im Rahmen von Art. 9 Abs. 3 GG

298

b)  Insbesondere: Vorbehalt des Gesetzes und Wesentlichkeitstheorie

299

c)  Ausnahme vom Vorbehalt des Gesetzes und der Wesentlichkeitstheorie?

302

2.  Grundrechtsausgestaltung

306

a)  Grundrechtsausgestaltung im Normalfall

306

b)  Grundrechtsausgestaltung mit Doppelwirkung

311

3.  Zusammenfassung

312

II.  Übertragung auf die Rechtsprechung des Bundesarbeitsgerichts zum nichtgewerkschaftlichen Streik

313

1.  Deliktsrechtliche Bewertung: Verfassungswidriger Grundrechtseingriff

313

a)  Legitimer Zweck

314

b)  Geeignetheit

318

c)  Erforderlichkeit

320

d)  Angemessenheit

321

e)  Zwischenergebnis

327

2.   Suspendierungswirkung: Verfassungskonforme Grundrechtsausgestaltung

328

a)  Ausgestaltung aus Perspektive des Streikenden

329

b)  Ausgestaltung aus Perspektive des Arbeitgebers

332

2. Kapitel: Einfluss des Völkerrechts

337

A.  Deliktsrechtliche Bewertung: Völkerrechtswidriger Grundrechtseingriff

337

B.  Suspendierungswirkung: \nVorbehalt des Gesetzes vor Völkerrecht?

338

C.  Arbeitsrechtliche Sanktionsmittel: Berücksichtigungspflicht

339

3. Kapitel: Ergebnisse

341

5. Teil: Konsequenzen und Folgeüberlegungen

344

1. Kapitel Suspendierungswirkung für den nichtgewerkschaftlichen Streik?

344

A.  Anordnung durch das Bundesarbeitsgericht

345

B.  Anordnung durch den Gesetzgeber

348

2. Kapitel: Regeln für ein nichtgewerkschaftliches Streikrecht

351

A.  Nichtgewerkschaftliches Streikrecht und Friedenspflicht

351

B.  Formale Regeln eines nichtgewerkschaftlichen Streikrechts

353

3. Kapitel: Allgemeine Überlegungen zum Arbeitskampfrecht

354

4. Kapitel: Ergebnisse

356

Zusammenfassung der Ergebnisse

358

Literaturverzeichnis

362

Stichwortverzeichnis

387