Administrative jurisdiction & public administration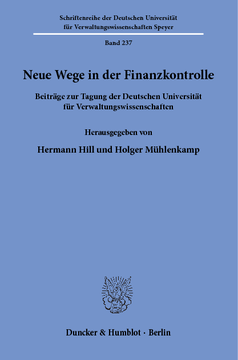 BOOK
Cite BOOK
Style
---
Hill, H. Mühlenkamp, H. (Eds.) (2019). Neue Wege in der Finanzkontrolle. Beiträge zur Tagung der Deutschen Universität für Verwaltungswissenschaften. Duncker & Humblot. https://doi.org/10.3790/978-3-428-55622-9
; Hill, Hermann and Mühlenkamp, Holger. Neue Wege in der Finanzkontrolle: Beiträge zur Tagung der Deutschen Universität für Verwaltungswissenschaften. Duncker & Humblot, 2019. Book. https://doi.org/10.3790/978-3-428-55622-9
Hill, H, Mühlenkamp, H (eds.) (2019): Neue Wege in der Finanzkontrolle: Beiträge zur Tagung der Deutschen Universität für Verwaltungswissenschaften, Duncker & Humblot, [online] https://doi.org/10.3790/978-3-428-55622-9
---
Format
---
Neue Wege in der Finanzkontrolle
Beiträge zur Tagung der Deutschen Universität für Verwaltungswissenschaften
Editors: Hill, Hermann | Mühlenkamp, Holger
Schriftenreihe der Hochschule Speyer, Vol. 237
(2019)
Additional Information
Book Details
ISBN

978-3-428-55622-9
978-3-428-15622-1 (print edition)

DOI

https://doi.org/10.3790/978-3-428-55622-9

Edition

1

Language

German

Pages

138

Collections

Subjects
Pricing
Institution

€ 70.00 (incl. local VAT if applicable)

Individual

€ 53.90 (incl. local VAT if applicable)
About The Author
Holger Mühlenkamp; Studium der Wirtschaftswissenschaften mit dem Abschluss als Diplom-Ökonom an der Universität Hannover. Promotion zum Dr. rer. pol. und Habilitation im Fach Betriebswirtschaftslehre an der Universität Lüneburg. 1998 Professor für das Fachgebiet »Ökonomik sozialer Dienstleistungen« an der Universität Hohenheim in Stuttgart. Seit 2003 Inhaber des Lehrstuhls für »Öffentliche Betriebswirtschaftslehre« an der Deutschen Universität für Verwaltungswissenschaften in Speyer. Seit 2013 Prorektor dieser Universität und seit 2017 Rektor. Hauptarbeits- und Forschungsgebiete: Öffentliches Rechnungswesen, Wirtschaftlichkeitsuntersuchungen, Wirtschaftlichkeitsvergleiche, Öffentlich-Private Partnerschaften, öffentliche Unternehmen, ergebnisorientierte Entgeltsysteme im öffentlichen Sektor.
Holger Mühlenkamp; Diploma in economics at the University of Hannover. Ph.D. in economics and postdoctoral thesis (Habilitation) in business administration at the University of Lueneburg. 1998 full professor for »Health economics and health management« at the University of Hohenheim in Stuttgart. Since 2003 full professor for »Business administration in the public sector« at the German University for Administrative Sciences in Speyer. Since 2013 vice rector of this University and since 2017 rector. Research and teaching interests: Public Sector Accounting, Appraisal of Public Projects, Benchmarking, Public Private Partnership, Public Enterprises, Performance Related Pay.
Abstract
Bei der Tagung »Neue Wege in der Finanzkontrolle« erörterten Vertreterinnen und Vertreter der Deutschen Universität für Verwaltungswissenschaften, des Europäischen Rechnungshofs, des österreichischen und des schweizerischen Rechnungshofs, aus dem Bundesrechnungshof und verschiedenen Landesrechnungshöfen sowie von kommunalen Prüfbehörden aktuelle Fragen und Denkanstöße zur Arbeit und Zukunft der Rechnungshöfe. Der Tagungsband bietet eine Vielzahl von Good-Practice-Beispielen der verschiedenen Ebenen aus dem In- und Ausland. Im Tagungsband werden unter anderem Chancen und Herausforderungen der Digitalisierung sowie neue Prüfmethoden wie die vergleichende Prüfung, die risikoorientierte Prüfung, die wirkungsorientierte Prüfung sowie die Prüfung situativ-experimentellen Verwaltungshandelns analysiert und bewertet. »New approaches for financial audits«

In the conference on »New approaches for financial audits« representatives of the German University of Administrative Sciences Speyer, the European Court of Auditors, the Austrian, Swiss and German Federal Courts of Auditors, several German State Courts of Auditors and auditors at local government level discussed issues of topical interest and current ideas concerning the future of financial auditing. This proceedings offers a variety of good practice examples in the various levels in Germany and abroad. It includes analyses and evaluations on chances and challenges of digitalisation and new auditing methods, such as comparative auditing, risk-oriented auditing, output-oriented auditing and auditing of situational-experimental administrative action.
Table of Contents
Section Title
Page
Action
Price

Vorwort

5

Inhaltsverzeichnis

7

Holger Mühlenkamp: Einführende Überlegungen zur Finanzkontrolle durch Rechnungsprüfungsbehörden

9

I. Einführung

9

1. Zum Begriff der Finanzkontrolle

10

2. Die Stellung der Finanzkontrolle im sog. Haushaltskreislauf

11

3. Gegenstand / Inhalt der Prüfung

14

II. Notwendigkeit der Finanzkontrolle und insbesondere auch der Wirtschaftlichkeitskontrolle

16

1. Unwirtschaftlichkeit im öffentlichen Sektor als reales Phänomen

16

2. Überlegungen aus dem Bereich der Prinzipal-Agent-Theorie

17

3. Überlegungen aus dem Bereich der Neuen Politischen Ökonomie

19

4. Überlegungen zur Fehleinschätzung der Kosten von Unwirtschaftlichkeit

20

III. Herausforderungen an die Finanzkontrolle (Sind neue Wege nötig?)

22

Literatur

23

Jan Fasswald / Frank Scherwa: Digitalisierung der Verwaltung – Auswirkungen auf die Prüfung

25

I. Einleitung

25

II. Digitalisierung in der Bundesverwaltung / Inflation der E-Projekte

25

III. Unmittelbare Folgen der Digitalisierung

26

IV. Herausforderungen der Digitalisierung

26

V. Neue Erwartungshaltung

27

1. Holistische Betrachtung des staatlichen Handelns

27

2. Instant-Prüfungsergebnisse

27

a) Rechtlicher Rahmen

27

b) Spezialfälle vs. Standardfälle

27

c) Verlässlichkeit der Datenanalysen

28

d) Quellenverzeichnis

28

e) Datenzugang

28

f) Datenmenge

29

g) Personal

29

h) Kosten

29

VI. Chancen der Digitalisierung für die externe Finanzkontrolle

29

1. Effizienzsteigerung

29

2. Instant-Stellungnahmen

30

3. Vorhersagen statt Rügen

30

VII. Ziele des Bundesrechnungshofes

30

VIII. Wissensentdeckung in Datenbanken

31

IX. Acht Schritte zum Ziel

32

X. Pilotprojekt Data Analytics für IT-Prüfungen

33

1. Strukturierte Analyse für IT-Prüfungen

33

2. Textmining für IT-Prüfungen

33

XI. Fazit

34

Andreas Utsch: Vergleichende Prüfung bei Kommunen in Rheinland-Pfalz "Leichter gesagt als getan"

35

I. Allgemeines

35

II. Rechtlicher Rahmen

35

III. Anwendungsbereich

36

1. Prüfung der Recht- und Ordnungsmäßigkeit

36

2. Wirtschaftlichkeitsprüfung

36

a) Konzeptionierung

37

b) Bewertung von Prüfungssachverhalten

37

c) Empfehlungen

37

IV. Probleme

38

1. Datenverfügbarkeit

38

a) Eigenerhebung

38

b) Fremddaten

39

aa) Amtliche Statistik

39

bb) Verbandsstatistiken

40

cc) Sonstige

40

2. Datenvergleichbarkeit

41

V. Beispiele aus der Prüfungspraxis

42

1. Kommunale Bauhöfe

42

2. IT-Einsatz

43

3. Musikschulen

44

4. Kommunale Unternehmen

45

a) Aufsichtsräte

45

b) Geschäftsführervergütung

46

Ulrich Keilmann / Felix Volk: Vergleichende überörtliche Prüfung in Hessen

49

I. Die überörtliche Prüfung

49

1. Aufgaben

49

2. Organisation

50

3. Prüfungsablauf

50

4. Sieben zentrale Vorteile unserer Vergleichenden Prüfungen

52

II. Ausgewählte Prüfungserkenntnisse

53

1. Erfolgsfaktoren Haushaltsausgleich (177. Vergleichende Prüfung)

53

2. Abwasserverbände (190. Vergleichende Prüfung)

54

3. Kinderbetreuung (191. Vergleichende Prüfung)

56

4. Straßenunterhalt (192. Vergleichende Prüfung)

57

5. Kurorte (198. Vergleichende Prüfung)

58

III. Fazit

61

Literatur

61

Karl-Heinz Binus: Peer Review als Mittel zur Verbesserung von Effektivität und Effizienz der Finanzkontrolle

63

I. Einführende Anmerkungen

63

II. Problemstellungen im Jahr 2009

64

III. Lösungsvarianten

65

IV. Memorandum of Understanding

66

V. Wesentliche Zielstellungen des Peer Reviews

67

VI. Prüfungsdurchführung

68

VII. Peer Review-Bericht: 6 wesentliche Problembereichezur Entwicklung der Finanzkontrolle

69

VIII. Peer Review-Bericht: Wesentliche Feststellungen

69

IX. Wie setzten wir Ergebnisse um?

71

X. Was haben wir erreicht?

73

XI. Schwerpunkte der strategischen Prüfungsplanung

74

XII. Neue Herausforderung: Peer Review beim Stadtrechnungshof Wien

75

Brigitte Mandt: Die Finanzkontrolle in den Ländern durch Rechnungshöfe

77

I. Verfassungsrechtliche Stellung der Landesrechnungshöfe

78

II. Organisation der Landesrechnungshöfe

80

III. Die Aufgaben der Landesrechnungshöfe

82

1. Prüfungsfunktion

82

a) Prüfungsgegenstand

83

b) Prüfungsmaßstäbe

84

c) Behandlung der Prüfungsergebnisse

88

2. Beratungsfunktion

88

a) Die unselbstständige Beratung

88

b) Die selbstständige Beratung

89

c) Weitere Verfahren der Beratung

90

3. Berichtsfunktion

91

IV. Schlussbetrachtung

92

Literatur

93

Gunnar Schwarting: Risikomanagement und risikoorientierte Prüfung in Kommunen

95

I. Das Risikomanagement als Prüfungsobjekt

95

1. Risikomanagement im kommunalen Bereich

95

2. Prüfung des Risikomanagements

96

II. Risikoorientierte Prüfung als Geschäftsprozess

98

1. Zur Ausgestaltung einer risikoorientierten Prüfung

98

2. Beratende Prüfung angesichts der Neuausrichtung der Rechnungsprüfung?

100

III. Die Zukunft der Rechnungsprüfung

102

Hermann Hill: Prüfung situativ-experimentellen Verwaltungshandelns

105

I. Einführung

105

II. Neue Herausforderungen

107

III. Neue Ansätze für die Prüfung der Rechnungshöfe

113

Harald Ebner / Anna Rossoll / Liane Stangl: Neue Wege in die Finanzkontrolle: Prüfung wirkungsorientierten Verwaltungshandelns

119

I. Wirkungsorientierung in Österreich

119

1. Ausgangssituation

119

2. Haushaltsrechtsreform des Bundes

119

3. Zweck der Wirkungsorientierung

120

II. Wirkungsangaben im Budget und deren Evaluierung

121

1. Angaben zur Wirkungsorientierung

121

a) Allgemeines

121

b) Wirkungsziele, Maßnahmen und Indikatoren

121

c) Beispiel aus dem Bereich der inneren Sicherheit

122

2. Qualitätskriterien laut Bundeshaushaltsgesetz 2013

124

3. Evaluierung

124

III. Prüfen der Wirkungsorientierung und Gleichstellung

125

1. Prüfansätze

125

a) Methodische Ansätze

125

b) Praktizierte Ansätze im Rechnungshof

126

2. Prüffelder im Rahmen der Wirkungsorientierung

126

a) Leitfaden "Mögliche Fragestellungen beim Prüfen der Wirkungsorientierung und Gleichstellung (BHG 2013)"

126

b) Prüffragen zu den Wirkungszielen

127

IV. Beispiele aus der Prüfungspraxis

128

1. Allgemeines

128

2. Einführung der Wirkungsorientierung in ausgewählten Bundesministerien, Reihe Bund 2016/5

128

3. Umsetzung der Gleichstellung im Rahmen der Wirkungsorientierung im BKA, BMLFUW und BMVIT, Reihe Bund 2017/51

129

4. Gewährung von Ausgleichszulagen in der Pensionsversicherung, Reihe Bund 2015/9

132

5. Unterhaltsvorschüsse, Reihe Bund 2016/7

133

V. Wirkungsorientierte Steuerung

134

VI. Fünf Jahre wirkungsorientierte Haushaltsführung – ein Resümee

135

Verzeichnis der Autoren

137