Sport & the law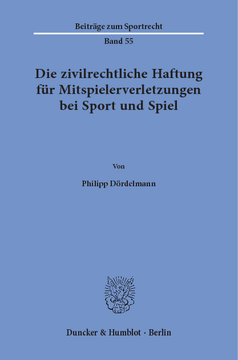 BOOK
Die zivilrechtliche Haftung für Mitspielerverletzungen bei Sport und Spiel
Beiträge zum Sportrecht, Vol. 55
(2018)
Additional Information
Book Details
ISBN

978-3-428-55586-4
978-3-428-15586-6 (print edition)

DOI

https://doi.org/10.3790/978-3-428-55586-4

Edition

1

Language

German

Pages

386

Collections

Subjects
Pricing
Institution

€ 116.00 (incl. local VAT if applicable)

Individual

€ 89.90 (incl. local VAT if applicable)
About The Author
Philipp Dördelmann studierte von 2007 bis 2012 Rechtswissenschaften an der Ruhr-Universität Bochum. 2012 legte er die Erste Juristische Prüfung vor dem Oberlandesgericht Hamm ab. Von 2012 bis 2017 war er als wissenschaftlicher Mitarbeiter und Lehrbeauftragter am Lehrstuhl für Bürgerliches Recht, Internationales Privatrecht und Rechtsvergleichung, Handels- und Wirtschaftsrecht an der Ruhr-Universität Bochum tätig. Seit 2016 ist er zudem Lehrbeauftragter an der BITS/UE Iserlohn. Seit 2017 absolviert der Autor sein Rechtsreferendariat am Landgericht Dortmund. Philipp Dördelmann wurde 2018 durch die Juristische Fakultät der Ruhr-Universität Bochum promoviert.
Philipp Dördelmann studied law at Ruhr-Universität Bochum from 2007 to 2012. He graduated with the first legal state exam in 2012. From 2012 to 2017 he worked as a research assistant at the faculty of law of Ruhr-Universität Bochum. Since 2016 he lectures at BITS/UE Iserlohn. Since 2017 he is an articled law clerk. In 2018 Philipp Dördelmann was awarded with the doctor's degree in law (Dr. iur.) by the faculty of law of Ruhr-Universität Bochum.
Abstract
Mitspielerverletzungen beim Sport sind ein omnipräsentes Alltagsphänomen. Gleichwohl sind bislang nicht alle wesentlichen Fragestellungen der zivilrechtlichen Sporthaftung durch Rechtsprechung und Literatur geklärt. Der Rechtsanwender trifft bei der Bewertung auf eine fast unüberschaubare Kasuistik. Von Rechtsklarheit kann teilweise nur schwerlich gesprochen werden. Einigkeit besteht lediglich, dass die Haftung für eine Mitspielerverletzung erst ab einem erheblichen Regelverstoß eintreten soll. Regelgerechtes Verhalten dagegen soll keinen Schadensersatzanspruch des Geschädigten auslösen. Die rechtliche Umsetzung hingegen ist umstritten. Der Autor untersucht in diesem Zusammenhang, wie eine Modifikation des Haftungsrechts bei der Sportausübung realisiert werden kann, und entwickelt auf Grundlage einer Verkehrspflichtkonzeption ein Bewertungsmodell, anhand dessen Mitspielerverletzungen bei jeglichen Sportarten oder Spielen einer abschließenden Lösung zugeführt werden können. »The Civil Liability of Athletes for Injuries of Opponents in Sports and Games«

The assessment of the civil liability of athletes for injuries of their opponents in sports is considered challenging among legal scholars. It is commonly agreed that not every injury of an opponent leads to liability of the injuring party. In this context the author examines how a limitation of liability in sports could be implemented and develops based on a concept of a respective duty of care a test to enable a more feasible legal assessment of injuries of opponents in all sports and play.
Table of Contents
Section Title
Page
Action
Price

Vorwort

7

Inhaltsverzeichnis

9

A. Einleitung

17

I. Ausgangslage

17

II. Ziel der Untersuchung

24

III. Gang der Darstellung und methodisches Vorgehen

26

B. Übergeordnete Frage- und Problemstellungen

29

I. Das Interesse der Sportler an einer Haftungsmodifikation

29

II. Phänomenologie und Typologie des Sports und der Sportverletzung

31

1. Definition des Sports

32

2. Sportverletzung und Mitspielerverletzung

37

3. Typizität des Sports und Reziprozität der Verletzungsgefahr

39

a) Typizität

39

b) Reziprozität

41

c) Das Zusammenspiel beider Kriterien

42

4. Das haftungsrechtlich besonders Missbilligte einer Mitspielerverletzung

43

a) Die Schwere der Verletzung

43

b) Die Vermeidbarkeit von Regelverstoß und Schädigung

45

c) Die individuelle Vorwerfbarkeit

46

d) Der Regelverstoß und dessen Intensität

49

III. Die Bedeutung des Regelwerkes und daraus resultierende Auswirkungen

51

1. Rechtsnatur der Sport- und Spielregeln

52

a) Spielregeln als rechtlich irrelevante Verhaltensgebote

52

b) Spielregeln als Rechtsnormen

53

c) Gewohnheitsrechtliche Anerkennung der Sportregeln

54

aa) Im Allgemeinen

55

bb) Andere Beurteilung bei FIS-Regeln?

57

d) Sportregeln als außergesetzliche Verhaltensstandards

59

2. Funktionen der Sport- und Spielregeln

60

3. Bestimmung der haftungsrechtlich relevanten Regeln

62

4. Die Einbeziehung der Sportler in den Geltungsbereich der Regeln

63

a) Allgemeingültigkeit der Regelwerke

63

b) Einbeziehung im organisierten Sport

64

aa) Satzungsmäßige Einbeziehung

65

bb) Rechtsgeschäftliche Einbeziehung

65

c) Einbeziehung beim nicht organisierten Freizeitsport

66

IV. Mögliche Anspruchsgrundlagen bei Mitspielerverletzungen

69

1. Vertragliche Ansprüche

69

2. Deliktische Ansprüche

72

V. Die Unterscheidung zwischen Kampfsport und Parallelsport

73

1. Herkömmliche Auffassung und Einteilung der Sportarten

73

2. Problematik dieser Differenzierung

75

3. Besondere Abgrenzungsprobleme

75

a) Parallel ausgeübte Sportarten mit Körperkontakt

76

b) Sport miteinander

77

c) Kampf- und Mannschaftssportarten ohne regelmäßige Körperberührungen

78

4. Übertragung der Haftungsprivilegierung auf Parallelsportarten

79

5. Neuordnung durch den Bundesgerichtshof im Jahre 2003

79

6. Beurteilung der Differenzierung

81

VI. Berücksichtigung von Spielen oder sportähnlichen Aktivitäten

83

VII. Zwischenfazit

85

C. Lösungsansätze bei regelgerecht verursachten Mitspielerverletzungen

86

I. Rechtsfreier Raum und tatbestandsausschließendes Einverständnis

87

1. Sport als rechtsfreier Raum

87

a) Die Idee eines rechtsfreien Raumes der Sportausübung

89

b) Ablehnung im zivilrechtlichen Sporthaftungsrecht

90

2. Tatbestandsausschließendes Einverständnis

93

II. Tatbestand

94

1. Handlung oder pflichtwidriges Unterlassen

94

2. Rechtsgutverletzung

95

3. Kausalität

97

4. Zurechnung

97

III. Rechtswidrigkeit

100

1. Mangelndes Rechtswidrigkeitsverdikt einer Mitspielerverletzung

100

a) Fehlen eines Verkehrspflichtverstoßes

101

b) Sozialadäquates Verhalten des Schädigers

102

c) Keine Verwirklichung eines erlaubten Risikos

107

2. Ausschluss der Rechtswidrigkeit aufgrund eines Rechtfertigungsgrundes

109

a) Rechtfertigende Einwilligung durch Teilnahme am Sport

110

aa) Potentielle Anknüpfungspunkte der Einwilligung

111

(1) Einwilligung in den Verletzungserfolg

111

(2) Einwilligung in die Verletzungshandlung

113

(3) Einwilligung in das Verletzungsrisiko

114

bb) Verbleibender Anwendungsbereich der Einwilligung

117

cc) Bewertung der Einwilligungslösungen

118

b) Mutmaßliche Einwilligung durch Teilnahme am Sport

121

c) Sportgerechtes Verhalten als Rechtfertigungsgrund

122

d) Gewohnheitsrechtliche Rechtfertigung

125

e) Weitere Rechtfertigungsgründe

125

aa) Staatliche Zulassung und Förderung des Sports als Rechtfertigung

125

bb) Rechtfertigung qua Berufsrecht

126

3. Fazit zur Problembewältigung auf der Ebene der Rechtswidrigkeit

127

IV. Verschulden

128

1. Sportgerechter Sorgfaltsmaßstab

130

2. Begrenzung der Vorwerfbarkeit auf die diligentia quam in suis

134

3. Anwendung einer "sport judgement rule"

136

4. Gleitende Fahrlässigkeit

139

5. Fazit zu den Verschuldenslösungen

143

V. Außertatbestandliche Lösungsansätze

144

1. § 254 BGB und das Handeln auf eigene Gefahr

144

2. § 242 BGB – venire contra factum proprium

149

3. Rechtsgeschäftlicher Haftungsverzicht

153

4. Nachträgliche Enthaftungsvereinbarung

156

5. Fazit zu außertatbestandlichen Lösungen

156

D. Eigener Lösungsansatz bei regelgerecht verursachten Schädigungen

158

I. Verbliebene Optionen

158

II. Der Einfluss weiterer Determinanten

159

1. Der Einfluss etwaiger Abwehrrechte des geschädigten Sportlers

159

a) Notwehr

162

b) Unterlassung

167

2. Auswirkungen der Rechtswidrigkeitsmodelle

170

3. Auswirkungen einer möglichen Teilnehmerhaftung

173

4. Der Einfluss eines bestehenden Versicherungsschutzes

175

5. Zwischenergebnis

180

III. Auflösung der verbliebenen dogmatischen Herausforderungen

180

1. Herausforderungen einer Verkehrspflichtkonzeption

180

a) Mitsportlerverletzungen im Lichte der Kombinationslehre

180

b) Der reduzierte "Tabubereich" bei der Sportausübung

182

c) Keine Eingriffsdifferenzierungen im Bereich der Sportausübung

184

d) Verkehrspflichten trotz unmittelbarer Schädigungen

186

e) Zwischenfazit

187

2. Herausforderung einer Verschuldensmodifikation

188

IV. Die verbliebenen Lösungsansätze im Vergleich

189

1. Gegenüberstellung der Lösungsoptionen

189

2. Das vorzuziehende Lösungsmodell

192

V. Die dogmatischen Auswirkungen einer verkehrspflichtbasierten Lösung

193

1. Der Standort der Verkehrspflichten im System des § 823 Abs. 1 BGB

193

2. Das Verhältnis der (sportspezifischen) Verkehrspflichten zu § 276 Abs. 2 BGB

197

3. Die unmittelbaren Folgen für die Verschuldensprüfung

204

4. Die Ermöglichung einer Rasterlösung

205

VI. Ergebnis: Das "Sporthaftungsprivileg" de lege lata

206

E. Die Beurteilung regelwidrig verursachter Mitspielerverletzungen

210

I. Die Privilegierungswürdigkeit regelwidrigen Verhaltens

210

1. Der Bereich der Kampfsportarten

210

2. Die Privilegierungswürdigkeit der Parallelsportarten

211

3. Der Einfluss von Typizität und Reziprozität bei Regelwidrigkeiten

214

II. Die Umsetzung dieser Maxime

215

1. Das vorhandene Meinungsspektrum

215

2. Ein Verkehrspflichtmodell als einzig zielführende Umsetzungsoption

216

F. Die Bestimmung der Verkehrspflichten bei der Sportausübung

221

I. Die "allgemeine" Verkehrspflichtformel als Ausgangspunkt

221

1. Kriterien der Verkehrspflichtformel

221

a) Die legitime Verkehrserwartung

222

b) Eigenvorsorge des gefährdeten Personenkreises

224

c) Möglichkeit und Zumutbarkeit von Sicherungsmaßnahmen

224

d) Ökonomische Aspekte

225

e) Erhöhtes Sorgfaltsniveau gegenüber begrenzt Verantwortungsfähigen

225

2. Rückschlüsse für den Bereich der Sportausübung

226

II. Die zentrale Bedeutung des Regelwerkes

229

1. Die Wechselwirkung zwischen Regelwerk und Verkehrspflicht

229

a) Der Einfluss der Regelwerke auf die Verkehrspflichten

229

aa) Regelwerke als Anhaltspunkte fixierter Verhaltensanforderungen

230

bb) Keine abschließende Festlegung des Pflichtenprogramms durch Sportregeln

231

cc) Das Regelwerk als zentraler Bewertungsparameter

235

b) Die unmittelbaren Folgen für die Haftung bei Mitspielerverletzungen

236

aa) Der Haftungsausschluss bei einem regelgerechten Verhalten

237

(1) Sportregeln als Verkehrspflichten

238

(2) Die Einheit der Rechtsordnung als argumentatorische Grundlage

238

(a) Der Ansatz von Looschelders

238

(b) Die Modifikation durch Götz

239

(c) Die Untauglichkeit beider Begründungen

240

(3) Keine missbilligte Gefährdung bei Regelkonformität

245

bb) Das Verhältnis zwischen Regelverstoß und Verkehrspflicht

246

c) Der praktische Unterschied zwischen Regelkonformität und Regelwidrigkeit

248

2. Schlussfolgerungen für die Verkehrspflichtkonkretisierung

248

III. Die Bestimmung weiterer Kriterien

249

1. Verbleibende Elemente der Typizität

249

2. Reziprozität der Schädigungsgefahr

250

a) Abstrakte Reziprozität

251

b) Konkrete Reziprozität

251

3. Weitere in der Literatur diskutierte Kriterien und ihr spezifischer Nutzen

252

a) Das Fairnessgebot

252

b) Die Wertung des § 1 StVO als Rücksichtnahmegebot im Sport

255

c) Der Maßstab des "reasonable sportsman"

256

d) Die Freiwilligkeit der Teilnahme als eigenständiges Bewertungskriterium

257

e) Die Erwartungshaltung der Sportler

258

f) Erfüllbarkeit der Verkehrspflichten beim Sport

259

4. Zwischenfazit

259

IV. Das Zusammenwirken der Kriterien

260

1. Der Vorrang des Regelwerkes bei der Bestimmung der Verkehrspflicht

260

2. Die gleichrangige Wirkung der weiteren Kriterien

261

3. Die flexible Bewertung in einem beweglichen System

261

G. Praktische Problemfelder der Verkehrspflichtkonkretisierung beim Sport

263

I. Besondere Herausforderungen aus dem Bereich der Regelwerke

263

1. Die Auslegungsbedürftigkeit mancher Regeln oder Regelkomplexe

263

2. Die Modifikation von Sportregeln

266

a) Die rechtliche Zulässigkeit der Regelmodifikation

267

b) Die Erscheinungsformen modifizierter Regeln

269

aa) Modifikation durch Sportverbände

269

bb) Modifikation durch die Sportler

270

c) Typische praktische Folgen einer Regelmodifikation

270

3. Die Grenzen der haftungsrechtlichen Anerkennung der Sportregeln

271

4. Der Einfluss von Schiedsrichterentscheidungen auf die Bewertung

276

a) Keine materiell-rechtliche Bindung an eine Schiedsrichterentscheidung

277

b) Der prozessuale Wert einer Schiedsrichterentscheidung

280

II. Das Schließen weiterer Bewertungslücken

282

III. Die Beurteilung einzelner typischer Problemfelder

283

1. Die personelle Dimension

284

a) Der privilegierte Personenkreis

285

aa) Gegenspieler

285

bb) Mitspieler

286

cc) Auswechselspieler

286

dd) Trainer und Mannschaftsbetreuer

287

ee) Schiedsrichter

287

b) Die Unterscheidung nach weiteren personell geprägten Aspekten

289

aa) Differenzierung nach Alters- und Leistungsklassen sowie Geschlecht

289

(1) Der Einfluss von Alters- und Leistungsklassen

289

(2) Der Einfluss des Geschlechts

292

bb) Divergierende Erfahrungsstufen

293

cc) Differenzierungen anhand des Spielstandes

294

dd) Auswirkungen eines fortgeschrittenen Lebensalters

295

2. Die temporale Dimension

296

a) Wettkampf

297

b) Training

299

c) Freizeitsport

299

d) Vorbereitung zur Sportausübung sowie Aufwärmphase

300

e) Zeitliche Sonderkonstellationen

301

3. Die sachliche Dimension

302

a) Intensität

302

b) Art

304

c) Ausübungsform

305

4. Die lokale Dimension

305

5. Fazit

307

H. Die Grenzziehung zwischen privilegierten und missbilligten Mitspielerverletzungen

309

I. Pragmatik versus Dogmatik

309

II. Die möglichen Abgrenzungskriterien

311

1. Vermeidbarkeit des Regelverstoßes

311

2. Vorhersehbarkeit des Regelverstoßes

312

3. Risikoübernahme durch den Geschädigten

313

4. Der Vergleich zwischen dem tatsächlichen und einem hypothetisch verkehrspflichtgerechten Verhalten

314

5. Die Abgrenzung anhand von Typizität und Reziprozität

315

III. Besondere Fallkonstellationen

319

1. Der Übergang von zulässiger Härte zur Unfairness

320

2. Regelverstöße aufgrund von Spieleifer, Übermüdung oder ähnlichen Gründen

322

3. Schädigungen aufgrund technischen Versagens oder spielerischen Unvermögens

324

4. Beiderseitige Regelverstöße

325

5. Vorsätzliche, aber gleichwohl geringfügige Regelverstöße

327

6. Haftung bei mangelnder Regelkenntnis

329

7. Weitere denkbare Konstellationen

330

IV. Privilegierung trotz schwereren Regelverstoßes

330

V. Fazit

332

I. Die Privilegierung sportähnlicher Tätigkeiten und Spiele

334

I. Das Dilemma der Rechtsprechung

336

1. Die Inkonsistenz der Entscheidungsparameter des Bundesgerichtshofs

337

2. Die Auswirkungen für die Instanzgerichte

339

II. Die Privilegierungswürdigkeit sportähnlicher Tätigkeiten

341

III. Die dogmatische Umsetzung dieser Maxime

343

1. Der Vergleich der Interessenlagen bei Sport und Spiel

343

2. Die Nähe zum Sport

345

3. Die Reziprozität der Schädigungsgefahr

346

4. Die Bewertung anhand der sportspezifischen Verkehrspflichtformel

347

IV. Fazit

348

J. Zusammenfassung der Untersuchungsergebnisse

350

K. Ausblick

357

Literaturverzeichnis

359

Sachverzeichnis

379