Religious law & concordats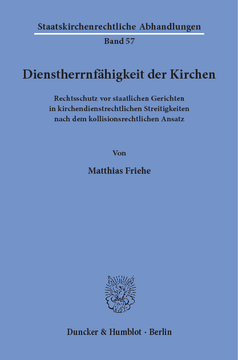 BOOK
Dienstherrnfähigkeit der Kirchen
Rechtsschutz vor staatlichen Gerichten in kirchendienstrechtlichen Streitigkeiten nach dem kollisionsrechtlichen Ansatz
Staatskirchenrechtliche Abhandlungen, Vol. 57
(2019)
Additional Information
Book Details
ISBN

978-3-428-55545-1
978-3-428-15545-3 (print edition)

DOI

https://doi.org/10.3790/978-3-428-55545-1

Edition

1

Language

German

Pages

341

Collections

Subjects
Pricing
Institution

€ 104.00 (incl. local VAT if applicable)

Individual

€ 79.90 (incl. local VAT if applicable)
About The Author
Matthias Friehe studierte Rechtswissenschaft und Philosophie in Marburg und Poitiers. Sein Studium schloss er 2014 als Hessischer Landesbester mit der Ersten Juristischen Prüfung ab. Anschließend war er in Marburg als Wissenschaftlicher Mitarbeiter am Lehrstuhl von Professor Dr. Steffen Detterbeck tätig. Seine Promotion wurde von der Studienstiftung des deutschen Volkes gefördert. Seit 2017 absolviert Friehe den Vorbereitungsdienst im Bereich des OLG Frankfurt a. M. In seiner Freizeit ist er begeisterter nebenamtlicher Kirchenmusiker.
Matthias Friehe studied Law and Philosophy in Marburg and Poitiers. He completed his studies in 2014 with the First State Examination in Law, graduating as the best student in Hesse. His studies were followed by his work as a research assistant at the Chair of Prof. Dr. Steffen Detterbeck in Marburg. Friehe's doctorate was sponsored by the German Academic Scholarship Foundation (Studienstiftung des deutschen Volkes). He commenced his preparatory legal service in 2017 at Frankfurt a.M. Higher Regional Court, and is an enthusiastic hobby church musician.
Abstract
Die Untersuchung stellt einen zentralen Aspekt des Körperschaftsstatus der Religionsgesellschaften in den Vordergrund: ihre Fähigkeit, jenseits des staatlichen Arbeits- und Sozialrechts kirchenrechtlich geregelte Dienstverhältnisse für Geistliche und »Kirchenbeamte« zu begründen. Seit jeher wird darüber gestritten, ob und inwieweit Betroffene bezüglich solcher Dienstverhältnisse Rechtsschutz vor staatlichen Gerichten erlangen können. Dazu entwickelt diese Arbeit einen neuen, in der Literatur bisher nur ansatzweise verfolgten Ansatz, indem sie eine Parallele zum internationalen Privatrecht zieht. Danach wird die Dienstherrnfähigkeit als Kollisionsnorm aufgefasst, welche die jeweilige kirchliche Rechtsordnung als fremdes Recht zur Anwendung beruft. Kirchliche Bestimmungen können danach das zwingende staatliche Recht bis zur Grenze des ordre public verdrängen. Staatliche Gerichte haben im Ergebnis einen Rechtsschutz zu leisten, dessen Rechtsfolgen stark eingeschränkt sind. »The ›Dienstherrnfähigkeit‹ (Ability to Act as a Public Service Employer) of the Churches«

This study develops a new approach to the controversial question of whether clergymen and »church officials« are able to obtain legal protection in the state courts regarding their employment relationship. The »Dienstherrnfähigkeit« (ability to act as a public service employer) that is guaranteed by the Basic Law (Grundgesetz), i.e. the German Constitution, is regarded as a conflict-of-laws provision here, so that the respective ecclesiastical legal order comes to apply, and can therefore substitute the binding state law up to the boundary of ordre public. The state courts must provide legal protection that is very much limited.
Table of Contents
Section Title
Page
Action
Price

Vorwort

7

Inhaltsverzeichnis

11

Abkürzungsverzeichnis

20

Erstes Kapitel: Einleitung

23

A. Problemaufriss

23

B. Begriffliche Vereinfachungen

25

C. Begriff der Dienstherrnfähigkeit

28

D. Gang der Untersuchung

30

Zweites Kapitel: Existenz des Kirchenrechts als Faktum

32

A. Das kanonische Recht

33

I. Geschichtliche Entwicklung des kanonischen Rechts

33

II. Bleibender Letztverbindlichkeitsanspruch der römischen Kirche

35

III. Heutige soziale Relevanz des kanonischen Rechts

36

IV. Dienstrecht der römisch-katholischen Kirche

37

1. Kirchenrechtliche Dienstverhältnisse

37

a) Inhalt des Inkardinationsverhältnisses

37

b) Innerkirchlicher Rechtsschutz

40

2. Arbeitsvertragliche Dienstverhältnisse

40

B. Das evangelische Kirchenrecht

41

I. Innere Legitimation des evangelischen Kirchenrechts

41

II. Emanzipation des evangelischen Kirchenrechts vom Staat

43

III. Gemeinsamkeiten und Unterschiede zum kanonischen Recht

45

IV. Dienstrecht der evangelischen Kirche

46

1. Kirchenrechtliche Dienstverhältnisse

46

a) Rechtsnatur des Pfarrerdienstverhältnisses

47

b) Rechte und Pflichten aus dem Pfarrerdienstverhältnis

47

c) Innerkirchlicher Rechtsschutz

48

2. Arbeitsvertragliche Dienstverhältnisse

48

C. Jüdisches Recht

49

I. Grundzüge des jüdischen Rechts

49

II. Jüdisches Recht als Organisationsrecht der jüdischen Gemeinden

50

D. Islamisches Recht

51

I. Grundsätze des islamischen Rechts

52

II. Organisation der Moscheegemeinden und Dienstrecht der Imame

54

Drittes Kapitel: Staatlicher Justizgewährungsanspruch für kirchenrechtlich geregelte Sachverhalte

57

A. Frühere Rechtsprechung des Bundesverwaltungsgerichts

57

I. Inhalt der früheren Rechtsprechung des Bundesverwaltungsgerichts

57

II. Kritik der früheren Rechtsprechung des Bundesverwaltungsgerichts

60

B. Aktuelle Rechtsprechung des Bundesverwaltungsgerichts

66

I. Inhalt der neuen Rechtsprechung

66

II. Kritik der neueren Rechtsprechung

68

C. Stellungnahme zur Bedeutung des Justizgewährungsanspruchs

72

I. Abgrenzung zwischen Art. 19 Abs. 4 GG und dem allgemeinen Justizgewährungsanspruch

72

II. Formeller und materieller Gehalt des Justizgewährungsanspruchs

73

1. Formeller Gehalt des Justizgewährungsanspruchs

74

2. Materieller Gehalt des Justizgewährungsanspruchs

75

Viertes Kapitel: Historische Spurensuche: Religionsgesellschaften als Körperschaften des öffentlichen Rechts

80

A. Regressus ad infinitum?

83

B. Kirchen als Körperschaften des öffentlichen Rechts am Vorabend der Weimarer Nationalversammlung?

85

I. Begriff der juristischen Person

85

II. Der verwaltungsrechtliche Begriff der Körperschaft des öffentlichen Rechts

87

III. Der staatskirchenrechtliche Begriff der öffentlichen Korporation

90

IV. Religionsgesellschaften in der Frankfurter Nationalversammlung

94

V. Zeit der unklaren Begriffe

95

C. Beratungen in der Weimarer Nationalversammlung

96

I. Von der wilden Kirchentrennungspolitik Adolph Hoffmanns zur ersten Lesung in der Weimarer Nationalversammlung

97

1. Wortbeiträge von Spahn, v. Delbrück, Heinze und Düringer in der Ersten Lesung der Weimarer Reichsverfassung

98

2. Bedeutung der Vorgeschichte: Kirchentrennungspolitik Adolph Hoffmanns

99

3. Hoffmanns Gegenspieler Wilhelm Kahl

102

4. Schlussfolgerungen: Körperschaft des öffentlichen Rechts als Propagandabegriff

105

II. Bedeutung der Definition Wilhelm Kahls (DVP) im Verfassungsausschuss der Nationalversammlung für die historische Auslegung

106

1. Einordnung von Kahls Definition

108

2. Unmittelbare Reaktionen im Verfassungsausschuss am 2.4.1919

108

3. Zur Haltung des Zentrums

110

4. Zweite Lesung im Verfassungsausschuss

112

5. Beratungen im Plenum

113

6. Schlussfolgerungen für die historische Auslegung

115

III. Positiver Inhalt des Begriffs Körperschaft des öffentlichen Rechts?

116

1. Dilatorischer Formelkompromiss?

116

a) Vieldeutigkeit des Weimarer Kompromisses

117

b) Bedeutungssubstrat des Weimarer Kompromisses

118

2. Körperschaftsstatus als Institutsgarantie

120

3. Insbesondere: Dienstherrnfähigkeit

123

IV. Schlussfolgerungen aus den Weimarer Verhandlungen: Eine falsa demonstratio

127

D. Rezeption in der Weimarer Republik

127

I. Suggestivkraft der falsa demonstratio: Von Privilegien zu obrigkeitlichen Rechten

128

II. Inhalt des Danaergeschenkes: Besondere Staatsaufsicht über die Kirchen

130

III. Gegenposition von Godehard Ebers

132

IV. Bewertung der Weimarer Rechtsprechung und Lehre

134

E. Beratungen im Parlamentarischen Rat

136

F. Zwischenergebnis zum vierten Kapitel

138

Fünftes Kapitel: Bisherige Konzeptionen der Dienstherrnfähigkeit

142

A. Lehre vom Typenzwang

142

I. Ausgangspunkt: Sozialversicherung der Geistlichen und Kirchenbeamten

143

II. Inhalt der Lehre vom Typenzwang

145

1. Begrifflicher Begründungsansatz

145

2. Kompensatorischer Begründungsansatz

146

III. Kritik

146

1. Protestantische Perspektive der Lehre vom Typenzwang

146

2. Begrifflicher Begründungsansatz als petitio principii

149

3. Grundsätze des Berufsbeamtentums mehr als soziale Mindestabsicherung

150

a) Lebenszeitprinzip und beamtenmäßige Altersversorgung

150

b) Amtsangemessene Besoldung

151

c) Regelung durch Gesetz

152

4. Inkonsequente Umsetzung der Lehre vom Typenzwang

153

IV. Typenzwang im Geltungsbereich der "Öffentlicher-Dienst-Klausel"?

154

V. Zwischenergebnis zur Lehre vom Typenzwang

159

B. Lehre von der Dienstgemeinschaft

160

I. Theologischer Ausgangspunkt: Dienstgemeinschaft in der Nachfolge Christi

160

II. Juristische Folgerungen: Entwicklung eines kirchlichen Arbeitsrechts

161

III. Rezeption durch das Bundesverfassungsgericht

162

1. Vertragliche oder kirchengesetzliche Grundlage kirchlicher Arbeitsverhältnisse?

163

2. Maßstab richterlicher Inhaltskontrolle

165

IV. Verhältnis zur Lehre vom Typenzwang

166

V. Kritik

167

C. Lehre vom Doppelrechtsverhältnis

167

Sechtes Kapitel: Kirchenrechtliche Dienstverhältnisse als materielle und bürgerlich-rechtliche Rechtsverhältnisse

170

A. Kirchen(dienst)recht als materielles Recht

170

I. Existenz des Kirchenrechts als empirische Tatsache

170

II. Kirchenrecht als geordneter "rechtsfreier Raum"

171

III. Bürgerliche Wirksamkeit des Kirchenrechts

173

B. Legitimation der bürgerlichen Wirkung des Kirchenrechts

174

I. Rechtsanwendungsbefehl für das kirchliche Recht als Grundlage seiner bürgerlich-rechtlichen Wirksamkeit

175

II. Privatautonomie als Grundlage der bürgerlich-rechtlichen Wirkung des Kirchenrechts

177

1. Vereinsautonomie als Erscheinungsform der Privatautonomie

177

2. Vereinsautonomie und kirchliche Rechtsetzungsbefugnis

179

a) Delegation vs. Rechtsanerkennung

180

b) Prinzip der Freiwilligkeit im kirchlichen Mitgliedschaftsrecht

181

c) Zur Qualifikation des Kirchenrechts als "Privatrecht" bzw. "öffentliches Recht"

183

d) Keine Grundrechtsbindung des Kirchenrechts

188

III. Dienstherrnfähigkeit und Privatautonomie

191

1. Inkonsequenz der Gegenauffassung

191

2. Materielle Gründe für eine Zuordnung der Kirchendienstverhältnisse zum Privatrecht

194

C. Das Kirchen(dienst)recht als materielles Recht

196

I. Abgrenzung bürgerlich wirksamer Kirchenrechtsnormen von bloß sozial wirksamen Kirchenrechtsnormen

196

II. Kirchendienstrecht als materielles Recht

198

1. Objektiver Erklärungsgehalt auf Seiten des Bediensteten

198

2. Objektiver Erklärungsgehalt auf Seiten der Kirche

198

3. Arbeitsrechtliche Korrektur

200

D. Zwischenfazit zur bürgerlichen Wirksamkeit von Kirchenrecht

202

Siebentes Kapitel: Die religionsgesellschaftliche Dienstherrnfähigkeit als Kollisionsnorm

203

A. Begriff der religionsverfassungsrechtlichen Dienstherrnfähigkeit

203

I. Befreiung vom zwingenden staatlichen Arbeits- und Sozialrecht als religionsverfassungsrechtliches "Plus" gegenüber der allgemeinen Privatautonomie

204

II. Kollisionsrechtliche Normstruktur

205

1. Dienstherrnfähigkeit der Religionsgesellschaften keine Sachnorm

207

2. Dogmatische Parallelität zu international-privatrechtlichen Kollisionsnormen

208

3. Dienstherrnfähigkeit als kollisionsrechtliche Parteiautonomie im Unterschied zu sachrechtlicher Privatautonomie

209

B. Verfassungsrechtliche Garantie und einfachgesetzlicher Normenbestand

210

I. Garantiefunktion der religionsgesellschaftlichen Dienstherrnfähigkeit

210

II. Überblick über den einfachgesetzlichen Regelungsbestand

211

1. Sozialrechtliche Befreiungstatbestände

211

a) Überblick über die sozialrechtlichen Befreiungstatbestände

211

b) Würdigung der verschiedenen sozialrechtlichen Befreiungstatbestände

213

c) Rechtliche Zulässigkeit der vorgesehenen Beschränkungen

214

aa) Gesetzgebungskompetenz

214

bb) Materielle Rechtfertigung

215

2. Keine arbeitsrechtliche Kollisionsnorm

215

a) Allgemeines Kollisionsrecht

215

aa) Keine entsprechende Gestaltungsfreiheit durch Rom-I-Verordnung

216

bb) Fehlende Schiedsfähigkeit

218

b) Spezifisch religionsrechtliches Kollisionsrecht

219

aa) Art. 80 Abs. 1 EGBGB

219

bb) Landesrecht

219

cc) Staatskirchenverträge

220

C. Voraussetzungen der verfassungsunmittelbaren Kollisionsnorm

220

I. Normative Grundlage

221

II. Tatbestandsmerkmale der kollisionsrechtlichen Verdrängung des staatlichen Arbeits- und Sozialrechts im Rahmen der religionsgesellschaftlichen Dienstherrnfähigkeit

222

1. Korporierte Religionsgesellschaft als Dienstgeberin

223

2. Rechtsformvereinbarung

223

3. Keine materiellen Anforderungen

225

4. Keine Beschränkungen auf ein "eigenes" Dienstrecht

225

5. Formulierung des Tatbestands der religionsverfassungsrechtlichen Kollisionsnorm "Dienstherrnfähigkeit"

226

D. Rechtsfolgen der religionsverfassungsrechtlichen Kollisionsnorm

226

E. Europarechtskonformität des religionsverfassungsrechtlichen Sonderkollisionsrechts

229

F. Zwischenfazit zum Religionsverfassungsrecht als Kollisionsrecht

230

Achtes Kapitel: Grenzen der kollisionsrechtlichen Verdrängung des staatlichen Arbeits- und Sozialrechts

231

A. Der ordre public im internationalen Privatrecht

231

I. Die negative Funktion des ordre public in Form der Vorbehaltsklausel

232

II. Die positive Funktion des ordre public in Form der Eingriffsnormen

234

III. Verfassungsrechtliche Verankerung des Prinzips vom ordre public

236

1. Verfassungsrechtlicher Schutz der negativen Funktion des ordre public

236

2. Verfassungsrechtlicher Schutz der positiven Funktion des ordre public

239

B. Analoge Anwendung des Prinzips vom ordre public auf das religionsrechtliche Kollisionsrecht

240

I. Grundrechtsbindung des deutschen staatlichen Richters in religionsrechtlichen Streitigkeiten

240

II. Der Schutz des negativen ordre public im Religionskollisionsrecht

242

1. Grundrechtliche Gefährdungslage durch "Sprung ins Dunkle"

242

2. Inlandssachverhalte

243

3. Grundrechtlicher Schutz der kollisionsrechtlichen Wirkung

244

4. Keine Geltung des ordre public jenseits von Grundrechtsverstößen

244

5. Einzelfallbezogenheit

245

6. Rechtsfolgen des ordre-public-Vorbehalts im Religionskollisionsrecht

245

III. Der Schutz des positiven ordre public im Religionskollisionsrecht

248

C. Behandlung typischer Fallkonstellationen nach dem kollisionsrechtlichen Ansatz

249

I. Beendigung des Dienstverhältnisses

249

1. Anwendbares Recht

249

2. Ordre-public-Kontrolle kirchlicher Kündigungs- bzw. Beendigungstatbestände

250

3. Bildung des hypothetischen Ersatzrechts im Falle eines ordre-public-Verstoßes

252

II. Änderung des Dienstverhältnisses

253

III. Kein Einstellungsanspruch

254

IV. Einzelfragen

255

1. Verstoß gegen den Pflichtzölibat

255

2. Verstoß gegen Lebensführungspflichten im Bereich Ehe und Familie

256

3. Lehrbeanstandung

260

4. Nichtgedeihliches Zusammenwirken mit der Gemeinde

261

D. Zwischenfazit zum Rechtsschutz der Geistlichen nach dem international-privatrechtlichen Ansatz

263

Neuntes Kapitel: Prozessuale Durchsetzung kirchenrechtlicher Ansprüche im Bereich des kirchlichen Dienstrechts

265

A. Einschlägiger Fachrechtsweg

265

I. Frühere Rechtsprechung: § 135 BRRG als ausschließliche Zuweisung an die Verwaltungsgerichte

266

1. Inhalt der früheren Rechtsprechung

266

2. Kritik

267

II. "Glockenläuten"-Rechtsprechung

268

1. Inhalt der "Glockenläuten"-Rechtsprechung

268

2. Kritik

270

III. Eigener Ansatz

272

1. Das staatliche Angebot: Verwaltungsrechtsweg

272

2. Keine Anwendung der verwaltungsgerichtlichen Generalklausel

273

3. Zuständigkeit der Zivilgerichte

274

a) Frühere Rechtsprechung des Bundesarbeitsgerichts im Einklang mit der früheren bundesverwaltungsgerichtlichen Rechtsprechung

274

b) Kirchenrechtlich Beschäftigte keine Beamte im Sinne von § 5 Abs. 2 ArbGG

275

c) Privatvertragliche Beschäftigung

275

d) Vorliegen der typischen Merkmale eines Arbeitsverhältnisses

278

4. Ergebnis zum einschlägigen Rechtsweg

278

B. Verhältnis des staatlichen Rechtswegs zu einem kirchenrechtlich vorgesehenen Rechtsweg

279

I. Kein Ersatz staatlicher Gerichte durch kirchliche Gerichte

279

II. Übertragung der Grundsätze über die Vereinsgerichtsbarkeit

281

1. Kirchliche Gerichtsbarkeit als Verbandsgerichtsbarkeit

282

2. Keine Einschränkung der Justiziabilität kirchendienstrechtlicher Maßnahmen

282

3. Kein staatlicher Rechtsweg vor Erschöpfung des innerkirchlichen Rechtswegs

284

III. Kirchliche Gerichte als "echte" Schiedsgerichte

285

1. Konsequenzen einer Qualifikation als "echte" Schiedsgerichte

285

2. Voraussetzungen für die Anerkennung kirchlicher Gerichte als "echte" Schiedsgerichte

286

a) Schiedsvereinbarung

286

b) Satzungsbestimmung

287

c) Materielle Anforderungen an das Schiedsgericht

288

d) Schiedsfähigkeit des Anspruchs

290

3. Ergebnis zur Einrichtung kirchlicher Schiedsgerichte

291

IV. Nachkontrolle kirchengerichtlicher Entscheidungen

292

Zehntes Kapitel: Zusammenfassung in Thesen

295

Elftes Kapitel: Zusammenfassendes Prüfprogramm für den staatlichen Richter in kirchendienstrechtlichen Angelegenheiten

298

Quellen- und Literaturverzeichnis

300

Sachwortverzeichnis

335

Personenverzeichnis

340