Methods, theory & philosophy of law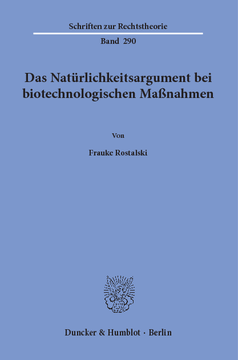 Additional Information
Book Details
ISBN

978-3-428-55462-1
978-3-428-15462-3 (print edition)

DOI

https://doi.org/10.3790/978-3-428-55462-1

Edition

1

Language

German

Pages

220

Collections

Subjects
Pricing
Institution

€ 92.00 (incl. local VAT if applicable)

Individual

€ 71.90 (incl. local VAT if applicable)
About The Author
Frauke Rostalski ist Inhaberin eines Lehrstuhls für Strafrecht, Strafprozessrecht, Rechtsphilosophie und Rechtsvergleichung an der Universität zu Köln. Nach ihrer u.a. durch Stipendien der Deutschen Forschungsgemeinschaft, des DAAD, des Marie-Curie-Programms der Europäischen Union sowie der Volkswagenstiftung geförderten Promotions- und Habilitationsphase am Kriminalwissenschaftlichen Institut der Philipps-Universität Marburg verbrachte sie einen einjährigen Forschungsaufenthalt an der State University of New York, Buffalo, NY.
Frauke Rostalski holds a chair in criminal law, criminal procedural law, philosophy of law and comparative law at the University of Cologne. Following her doctorate and habilitation process at the Institute for Criminal Sciences of the Philipps University Marburg, funded by, inter alia, scholarships by the German Research Foundation (Deutsche Forschungsgemeinschaft), the German Academic Exchange Service (Deutscher Akademischer Austauschdienst, DAAD), the Marie Curie Programme of the European Union and the Volkswagen Foundation, she spent one research year at the State University of New York, Buffalo, NY.
Abstract
Die Arbeit untersucht die Validität von Natürlichkeitsargumenten in der Diskussion um die Legitimität biotechnologischer Maßnahmen. Sie nähert sich dieser Aufgabe im Wege einer kritischen Überprüfung des Natürlichkeitsbegriffs, der in diesem Zusammenhang herangezogen wird. Dieser geht in aller Regel auf die aristotelische Trennung von Kunst und Natur zurück und setzt sich dabei einer ersten Kritik aus. Im Anschluss daran erfolgt eine ausführliche Prüfung der Validität von Natürlichkeitsargumenten zur Legitimation rechtlicher Verhaltensnormen im Bereich der Biomedizin. Im Ergebnis können in einer rechtlichen Diskussion allein jene Argumente überzeugen, die die besseren Gründe für eine bestimmte Position angeben. Natürlichkeitsargumente erweisen sich in der Debatte um neue biotechnologische Verfahren als hinderlich. This paper examines the validity of naturalistic arguments in the discussion on the legitimacy of biotechnological measures. This objective is approached through critical evaluation of the concept of naturalness used in that context. In general, the concept is based on the Aristotelian separation of art and nature and thus meets first criticism. This is followed by an in-depth examination of the validity of naturalistic arguments being used as legitimation for legal standards of conduct in the field of biomedicine. Ultimately, only the arguments providing the better reasons for a specific position are able to convince in legal discussions. Naturalistic arguments prove to be obstructive in the debate on new biotechnological procedures.
Table of Contents
Section Title
Page
Action
Price

Vorwort

7

Inhaltsverzeichnis

9

A. Einleitung und thematische Eingrenzung

13

B. Rechtsphilosophie als Reflexionstheorie des Rechts

27

I. Rechtsethischer Nihilismus

28

II. Rechtspositivistische Trennungsthese Hans Kelsens

29

III. Weiterer Gang der Untersuchung

34

C. Zum Natürlichkeitsbegriff in der Debatte um biotechnologische Verfahren

35

I. Bestandsaufnahme zur Debatte um biotechnologische Verfahren: Begriff des Natürlichen in Anlehnung an das Aristotelische Naturverständnis

36

II. Kritik am Natürlichkeitsbegriff in der Debatte um biotechnologische Verfahren

43

1. Kritik an dem Differenzierungskriterium von Bewegung und Ruhe in sich selbst

44

2. Aristotelisches Verständnis der menschlichen Natur als Stütze der Kritik an einem an Aristoteles angelehnten Natürlichkeitsbegriff

50

a) Aus dem ergon-Argument folgt kein innerer Widerspruch der Aristotelischen Lehre im Verhältnis zum Unterscheidungskriterium von Selbstbewegung und -ruhe.

58

b) Dem ergon-Argument kann nicht die Aufforderung zur Selbsttranszendierung entnommen werden.

64

c) Zwischenergebnis

68

3. Undurchführbarkeit einer Trennung von Natürlichem und Künstlichem in Bezug auf die "menschliche Natur"

68

III. Ergebnis zum Natürlichkeitsbegriff in der Debatte um biotechnologische Verfahren

76

D. Validität von Natürlichkeitsargumenten zur Legitimation rechtlicher Verhaltensnormen im Bereich der Biomedizin

78

I. Allgemeine Legitimationsanforderungen rechtlicher Verhaltensnormen

78

1. Grundsatz der Verhältnismäßigkeit

81

2. Maßgeblichkeit der Adressatenperspektive

83

II. Exkurs: Aufgabe und Legitimation von Strafe im Rechtsstaat

85

1. Normentheoretische Trennung von Verhaltens- und Sanktionsnormen

85

2. Ablehnung präventiver Strafzwecklehren

87

3. Straftheorie der ausgleichenden Ahndung des konkreten begangenen Verhaltensnormverstoßes

91

III. Legitimität rechtlicher Verhaltensnormen zum Schutz des Natürlichen im Bereich der Biomedizin

95

1. (Vordergründige) argumentative Vorteile des Berufens auf die Natürlichkeit

100

a) Fehlende Sachlichkeit von originären Natürlichkeitsargumenten

101

b) Universalität und Egalität ersetzen nicht die allgemeinen Bedingungen rechtlicher Verhaltensnormlegitimation

107

c) Kritik der verbreiteten ausschließlich positiven Besetzung des Natürlichen

110

2. Fehlende Bindungswirkung eines etwaigen "natürlichen Normensystems" für den Menschen

112

3. Vorwurf des naturalistischen Fehlschlusses

115

4. Validität originärer Natürlichkeitsargumente

122

a) Die Wahrung von Natürlichkeit im Bereich der Biomedizin dient nicht der Erhaltung der "natürlichen Lebensgrundlage" des Menschen

126

b) Unantastbarkeit der leiblichen Kontingenz des Menschen in der christlichen Lehre

130

c) Fehlende Schutzwürdigkeit des Natürlichen als "Kulturerbe"

132

d) Fehlende Schutzwürdigkeit des Natürlichen zur Wahrung der Gattungsidentität

136

e) Verbreitete Intuition als Begründung der Schutzwürdigkeit der menschlichen Natur?

138

f) Zwischenergebnis zu originären Natürlichkeitsargumenten

139

5. Validität vermeintlicher Natürlichkeitsargumente

141

a) Wahrung des Natürlichen zum Schutz der Menschenwürde

142

aa) Verletzung der Würde des Klons

146

bb) Verletzung der Würde der geklonten Person

149

cc) Verletzung der Würde der sonstigen am Vorgang des reproduktiven Klonens Beteiligten

152

dd) Verletzung der Gattungswürde

153

ee) Zwischenergebnis

155

b) Wahrung des Natürlichen zum Schutz vor unabsehbaren Gefahren für den Betreffenden und Dritte

155

c) Wahrung der menschlichen Natur zum Schutz personaler Autonomie

157

aa) Gefährdung menschlicher Autonomie angesichts des Verlustes von "Reziprozität zwischen Ebenbürtigen" durch eugenische Maßnahmen – zur Auffassung Jürgen Habermas'

158

bb) Gefährdung der Autonomie durch gesellschaftlichen Zwang zur Optimierung des Selbst

167

(1) Ungeeignetheit paternalistischer Verbotsnormen zum Schutz des Selbstbestimmungsrechts

169

(2) Dennoch: Legitimation von Verbotsnormen unter Bezugnahme auf das Selbstbestimmungsrecht Dritter

172

cc) Zwischenergebnis

174

d) Wahrung des Natürlichen zum Schutz vor sozialer Ungleichheit

175

e) Wahrung des Natürlichen zum Schutz von Authentizität

177

f) Wahrung des Natürlichen zum Schutz vor der Erschütterung fundamentaler (Wert-)‌Orientierungen

180

g) Wahrung der menschlichen Natur zur Erhaltung von Empathie

184

h) Wahrung der menschlichen Natur zur Erhaltung genetischer Vielfalt

185

i) Wahrung der menschlichen Natur zur Gewährleistung von Zuneigung gegenüber dem gezeugten Kind

187

j) Wahrung der menschlichen Natur zur Förderung von (kulturellen) Leistungen

190

k) Ergebnis zu vermeintlichen Natürlichkeitsargumenten

192

6. Ergebnis zur Legitimität rechtlicher Verhaltensnormen zum Schutz des Natürlichen im biomedizinischen Bereich

193

E. Schluss

196

Literaturverzeichnis

198

Stichwortverzeichnis

217