State liability & compensation law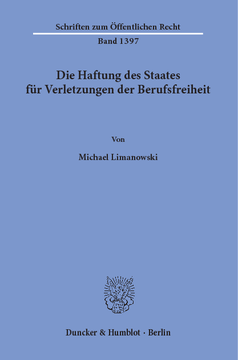 Additional Information
Book Details
ISBN

978-3-428-55480-5
978-3-428-15480-7 (print edition)

DOI

https://doi.org/10.3790/978-3-428-55480-5

Edition

1

Language

German

Pages

406

Collections

Subjects
Pricing
Institution

€ 116.00 (incl. local VAT if applicable)

Individual

€ 89.90 (incl. local VAT if applicable)
About The Author
Michael Limanowski studierte Rechtswissenschaften in Heidelberg und am King's College in London mit Schwerpunkt im Völkerrecht. Unterdessen arbeitete er unter anderem am Max-Planck-Institut für internationales öffentliches Recht. Nach dem ersten Staatsexamen war er während der Promotion als wissenschaftlicher Mitarbeiter am Lehrstuhl von Prof. Grzeszick für öffentliches und internationales öffentliches Recht beschäftigt. In seinem Referendariat am OLG Karlsruhe absolvierte er unter anderem Stationen in einer internationalen Wirtschaftskanzlei, der Universität für Verwaltungswissenschaften Speyer und dem Bundesministerium der Justiz und für Verbraucherschutz.
Michael Limanowski studied law in Heidelberg and at King's College in London with a focus on international law. Meanwhile, he also worked at the Max Planck Institute for Public International Law. After the first state examination during his doctorate he was a research assistant at the chair of Prof. Grzeszick for Public and Public International Law. In his legal traineeship at the Higher Regional Court of Karlsruhe he completed stations at an international law firm, the University of Administrative Sciences Speyer and the Federal Ministry of Justice and Consumer Protection.
Abstract
Die Reformbedürftigkeit des Staatshaftungsrechts lässt sich an keinem Grundrecht so eindrücklich verdeutlichen wie an der Berufsfreiheit. Während der Staat immer stärker reguliert und agiert, kann der Bürger nur durch die defizitäre Amtshaftung Kompensation für rechtswidrige Eingriffe erlangen. Der Autor zeichnet die Lücke im Haftungssystem nach und untersucht mit Hilfe einer Rechtsprechungsanalyse ihre weiten praktischen Auswirkungen. Anhand dieser Erkenntnisse überprüft er hergebrachte Lösungsansätze und arbeitet die bisher unterrepräsentierte Idee einer originären Grundrechtshaftung als dogmatisch und praktisch tragfähiges Fundament heraus, auf dem weiter aufgebaut wird. Mit einer Rückbeziehung auf die praktischen Problemfälle entkräftet der Autor unter Zuhilfenahme der allgemeinen Kausalitäts- und Eingriffsdogmatik und einer genauen Schadensberechnung die Befürchtungen einer grenzenlosen Haftung, um abschließend die mögliche Umsetzung des Konzepts durch Gesetz oder Richterrecht zu beleuchten. »The Liability of the State for Violations of Occupational Freedom«

Based on a case law analysis, the author identifies systematic gaps of state liability in the field of occupational freedom. The idea of a state liability derived directly from fundamental rights serves as a dogmatically and practically sustainable foundation to close these gaps. Fears of unlimited liability can be refuted by using the requirements of causality of the state act as well as the precise calculation of damages. Both Parliament and the courts might implement this concept.
Table of Contents
Section Title
Page
Action
Price

Vorwort

5

Inhaltsverzeichnis

7

Abkürzungsverzeichnis

13

Erster Teil: Einleitung und Problemhinführung

15

§ 1 Der ambivalente Schutz der Berufsfreiheit

15

§ 2 Der gegenwärtige Stand der staatlichen Einstandspflichten als Problemexposition

17

§ 3 Fallanalytische Herausarbeitung einer Reformnotwendigkeit

20

§ 4 Praktische Erwägungen als Prüfstein theoretischer Lösungskonzepte

24

§ 5 Umsetzungsoptionen im Wechselspiel zwischen Judikative und Legislative

28

§ 6 Gang der Untersuchung

29

Zweiter Teil: Unzureichender Schutz für Verletzungen von Art. 12 GG?

31

§ 1 Gegenwärtiger Schutz der Berufsfreiheit

31

A. Das Grundrecht der Berufsfreiheit – Abgrenzung des Untersuchungsgegenstandes

31

I. Bedeutung und Herkunft der Berufsfreiheit

31

II. Schutzbereich und Verletzungsszenarien

35

III. Die "Schadensneigung" des Art. 12 GG

38

B. Untersuchung des gegenwärtigen Rechtsschutzes als Voraussetzung für die Feststellung von Schutzlücken

41

I. Begründungslinien der Einstandspflicht des Staates als theoretischer Rahmen der Untersuchung

41

II. Unterscheidung zwischen Primärrechtsschutz und Sekundärrechtsschutz

46

1. Der Primärrechtsschutz

49

a) Der allgemeine Unterlassungsanspruch

49

b) Der Folgenbeseitigungsanspruch als Sonderkonstrukt zwischen Primärrechtsschutz und Sekundärrechtsschutz

51

(1) Herkunft und Begründung

52

(a) Das Rechtsstaatsprinzip

53

(b) Analogieschluss zum Zivilrecht

53

(c) Statusverletzung und Grundrechte

54

(d) Rechtsprechung

55

(2) Tatbestand

56

(3) Begrenzte Rechtsfolge

58

(a) Wiederherstellung des Status quo ante – zwischen Restitution und Kompensation

59

(b) Beschränkung auf "unmittelbare" Folgen

61

c) Die Folgenbeseitigungslast

63

d) Der Folgenentschädigungsanspruch – eine "Weiterentwicklung" des Folgenbeseitigungsanspruchs

65

(1) Berücksichtigung des Mitverschuldens im Rahmen des Folgenbeseitigungsanspruchs

65

(2) Der Rechtsgedanke aus §§ 254, 251 BGB als Entwicklungskriterium

66

e) Exkurs: Der sozialrechtliche Herstellungsanspruch

67

f) Ausgleichspflichten für die Indienstnahme Privater

69

2. Zwischenergebnis: Effektiver Schutz der Berufsfreiheit auf Primärebene

71

III. Bestehender sekundärrechtlicher Schutz – eine Entwicklung jenseits des Status negativus

72

1. Die Amtshaftung: Zwischen tradiertem Verständnis und Erweiterungsdruck

73

a) Das Erbe der Unrechtsunfähigkeit des Monarchen

73

b) Tatbestand der mittelbaren Staatshaftung

76

(1) Das Problem des Verschuldens

78

(2) Restriktionen des Amtshaftungsanspruches

81

2. Spezialgesetzliche Ausgleichsregelungen

83

a) Ansprüche aus Polizeigesetzen und dem VwVfG

83

b) Fortgeltendes DDR-Staatshaftungsrecht in den Ländern

84

3. Haftung für Verletzungen von Unionsrecht

85

a) Herleitung des unionsrechtlichen Staatshaftungsanspruchs

86

b) Weiterreichender Schutz auf europäischer Ebene

87

C. Zwischenergebnis

91

§ 2 Haftungslücken in der Praxis – das "Bermudadreieck" des Sekundärrechtsschutzes

92

A. Analyse der Rechtsprechung zum Nachweis der Praxisrelevanz der theoretischen Schutzlücke

92

I. Widerrechtliche Verzögerungen und Restriktionen der Berufstätigkeit

93

1. Unberechtigte Einberufung zum Wehr(ersatz)dienst

94

2. Prüfungsentscheidungen

95

3. Verweigerte Berufszulassung und Ausübungsrestriktionen

97

4. Zwischenergebnis

99

II. Der Grenzbereich zur Eigentumsfreiheit

100

1. Das Recht am eingerichteten und ausgeübten Gewerbebetrieb

101

2. Grenzfälle und Grenzziehungen in der Rechtsprechung

102

a) Betriebsgründungen

102

b) Betriebserweiterungen und -modernisierungen

104

c) Substanz und Rahmenbedingungen des Betriebs

109

3. Das Fehlen eindeutiger und klar begründbarer Abgrenzungskriterien

113

4. Zwischenergebnis

118

B. Ergebnis: Aufgezeigte Praxisrelevanz als Aufgabe an Gesetzgeber und Rechtsprechung

118

Dritter Teil: Vorschläge zur Schließung der Rechtslücke

121

§ 1 Die Ausweitung der Aufopferungshaftung

121

A. Der enteignungsgleiche Eingriff als Ausgangspunkt

122

I. Historische Entwicklung

122

II. Zwitterstellung zwischen Staatsunrechtshaftung und Aufopferung

126

B. Aufopferungsgleicher Eingriff als Parallelinstitut – Erweiterungstendenzen des BGH?

127

C. Topoi einer möglichen Erweiterung auf Verletzungen von Art. 12 Abs. 1 GG

128

I. Vergleichbarkeit von Art. 12 und Art. 14 GG – ein hinreichender Grund für eine Erweiterung?

128

1. Gegenprobe: Die "gesicherte Rechtsposition" als taugliches Eingrenzungskriterium?

129

2. Existenzsicherung als Ziel der Wirtschaftsgrundrechte

133

3. Das Recht am eingerichteten und ausgeübten Gewerbebetrieb – Sekundärrechtsschutz für den Erwerb und das "Gebot der Methodenehrlichkeit"

135

II. Verfassungskonforme Auslegung der "Rechtsgrundlage" der §§ 74, 75 EinlALR

137

III. Verbleibende Einwände gegen eine Erweiterung

143

D. Kritik und Zwischenergebnis

146

I. Beschränkung der Erweiterung auf Art. 12 Abs. 1 GG

147

II. Fehlende Tauglichkeit der Rechtgrundlage – Zur Unvereinbarkeit des Aufopferungsgedankens mit einer Rechtswidrigkeitshaftung

150

E. Die Gesamtanalogie aus dem einfachen Recht als Hilfsüberlegung?

156

§ 2 Der Folgenentschädigungsanspruch

158

A. Die "Einwendungen" des Folgenbeseitigungsanspruchs als Ausgangspunkt

158

I. Berücksichtigung des Mitverschuldens des Betroffenen

158

II. Erweiterung des Konzepts auf die übrigen Einwendungen

159

1. Tatsächliche Unmöglichkeit und rechtliche Unzulässigkeit

159

2. Unzumutbarkeit

160

III. Übertragung des Grundgedankens aus BVerwGE 82, 24

160

B. Ein umfassender Folgenentschädigungsanspruch? Kritik einer axiomatischen Lückenfüllung

162

I. Die "Einwendungssystematik" des Folgenbeseitigungsanspruchs

162

1. Die Unzumutbarkeit als umgekehrter Verhältnismäßigkeitsgrundsatz?

163

2. Der Mitverschuldensgrundsatz als Ausschlussgrund eines verschuldensunabhängigen Instituts

166

II. Die Anwendbarkeit des § 251 BGB? Zur Wandlungsfähigkeit eines Restitutionsanspruches

172

C. Kritik und Zwischenergebnis

175

§ 3 Europarechtlicher Impetus für die Fortentwicklung der Staatshaftung

179

A. Unionaler Anstoß für eine Fortentwicklung der deutschen Staatshaftung?

181

I. Übertragbarkeit der Geltungsgründe und des Haftungszwecks auf das nationale Recht

182

1. Effet utile, Unionstreue und mitgliedsstaatliche Grundsätze

182

2. Rechtsschutz als letzter Haftungszweck

183

II. Einheitsdogmatik und Tatbestand des unionsrechtlichen Haftungsanspruchs

184

B. Kritik und Zwischenergebnis

185

§ 4 Die Haftung aus Grundrechten

188

A. Die Freiheitsrechte als Ausgangspunkt

189

I. Verfassungsrechtliche Vorgaben

190

II. Grundrechtliche Fundierung der Abwehransprüche

192

III. Die Reichweite des grundrechtlichen Schutzes

195

1. Unterlassen und Folgenbeseitigung

196

a) Transformationstheorien

197

b) Parallelität der Ansprüche

199

2. Kompensationsrechtlicher Charakter der Freiheitsrechte? Bestandsschutz und Werterhalt als allgemeiner Grundsatz

209

a) Rechtsfolgenmonismus der Grundrechte – keine Leistungsrechte auf Schadensersatz?

210

b) Eingriffszurechnung als maßgebliches Haftungskriterium

216

c) Partielle Anerkennung der Grundsätze auch durch die Gegenauffassung

218

IV. Volle Kompensation als grundsätzliche Rechtsfolge

221

V. Grenzen der Grundrechtshaftung

222

1. Unmöglichkeit

222

2. Zumutbarkeitserwägungen und Mitverantwortlichkeit des Betroffenen

224

3. Vorrang des Primärrechtsschutzes als Rangprinzip?

225

4. Ausgestaltungs- und Einschränkungsmöglichkeiten des Gesetzgebers

233

B. (Hilfs-)Begründungen aus dem Rechtsstaatsprinzip

236

C. Kritik

239

I. Die Abgrenzung zur Theorie der allgemeinen öffentlich-rechtlichen Wiedergutmachungsnorm

239

II. Negative Präjudizierung durch die höchstrichterliche Rechtsprechung

241

III. Keine soziale Entdifferenzierung durch Abwehrrechte

245

D. Zwischenergebnis

246

Vierter Teil: Rückbeziehung der Lösungsvorschläge auf die Problemfelder des Art. 12 GG

248

§ 1 Zur Problematik der Rechtswegspaltung

249

§ 2 Lösungspotential für die Fallgruppen der Berufsfreiheit

255

A. Erweiterung der Aufopferungshaftung

255

I. Die Modi des staatlichen Eingriffshandelns

256

II. Sonderopfer und Kausalität

258

III. Entschädigung als adäquate Rechtsfolge rechtswidriger Grundrechtseingriffe?

263

IV. Zwischenergebnis

265

B. Der Folgenentschädigungsanspruch

269

I. Einschlägigkeit des Folgenbeseitigungsanspruchs als Grundvoraussetzung

269

II. Unterlassen als tauglicher Eingriffsmodus?

271

III. Wertungsspielräume durch das Unmittelbarkeitskriterium

272

IV. Zwischenergebnis

274

C. Europarechtlich überformter Amtshaftungsanspruch

275

I. Voller Schadensersatz als Rechtsfolge

275

II. Der qualifizierte Verstoß – Wesensmerkmal und Crux

276

III. Zwischenergebnis

279

D. Grundrechtshaftung

280

I. Die Abwesenheit künstlicher Haftungseinschränkungskriterien

280

II. Haftungsbegrenzung durch Kausalitätserwägungen und die Schadensberechnung

281

1. Haftung für gesetzgeberisches Unterlassen

282

2. Haftung für gesetzgeberisches Tun

286

a) Zur Relevanz hypothetischer Handlungsverläufe

286

b) Der Gedanke der Vorteilsausgleichung als Korrektiv

296

3. Potenziale einer genauen Schadensermittlung

297

III. Zwischenergebnis

299

§ 3 Ergebnis: Die Fortsetzung dogmatischer Probleme in der praktischen Anwendung

300

Fünfter Teil: Die Umsetzungsoptionen einer Staatshaftungsreform

301

§ 1 Reformbedarf und Untätigkeit des Gesetzgebers

303

A. Das Staatshaftungsgesetz von 1981

303

B. Bestrebungen seit Klärung der Kompetenzfrage

305

C. Fortbestehende kompetenzielle Probleme eines umfassenden Staatshaftungsgesetzes

306

I. Umfang der Regelungsbefugnis

306

II. Das Erfordernis des Art. 72 Abs. 2 GG

307

D. Verbleibende Handlungsoptionen

311

§ 2 Judikative Umsetzung der Konzepte – Zu den Problemen einer Fixierung auf das Umsetzungssubjekt

311

A. Zur Rolle des Richters bei der Entwicklung des Rechts

316

B. Die spezifischen Voraussetzungen des Richterrechts im Bereich der Staatshaftung

326

I. Das Bestehen einer ausfüllungsbedürftigen Lücke

326

1. Einflüsse des Staatshaftungsgesetzes von 1981

328

2. Die Aussagekraft von Art. 34 GG

329

3. Die Grundrechte als verfassungsrechtliche Garantie

331

II. Grenzen einer richterlichen Fortbildung des Staatshaftungsrechts

332

1. Geltendes Gewohnheitsrecht als Limitierung – die praktische Anschlussfähigkeit als legitimitätsstiftender Maßstab?

332

2. Unterlaufen des bestehenden verschuldensabhängigen Amtshaftungsanspruchs

335

3. Parlamentarisches Budgetrecht

338

4. Finanzvorbehalt für Grundrechtsverletzungen

339

§ 3 Ergebnis: Deutliche Regelungsvorgaben an Legislative und Judikative

348

Sechster Teil: Zusammenfassung und Schlussbetrachtung

353

§ 1 Einleitung

353

§ 2 Der gegenwärtige Schutz der Berufsfreiheit

354

§ 3 Überprüfung der Lösungsansätze

356

§ 4 Praktische Rückbeziehung

363

§ 5 Umsetzungsoptionen von Legislative und Judikative

367

Literaturverzeichnis

371

Sachwortregister

402