Public international law: international organisations & institutions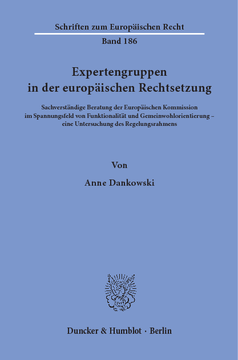 BOOK
Expertengruppen in der europäischen Rechtsetzung
Sachverständige Beratung der Europäischen Kommission im Spannungsfeld von Funktionalität und Gemeinwohlorientierung – eine Untersuchung des Regelungsrahmens
Schriften zum Europäischen Recht, Vol. 186
(2019)
Additional Information
Book Details
ISBN

978-3-428-55516-1
978-3-428-15516-3 (print edition)

DOI

https://doi.org/10.3790/978-3-428-55516-1

Edition

1

Language

German

Pages

464

Collections

Subjects
Pricing
Institution

€ 126.00 (incl. local VAT if applicable)

Individual

€ 98.90 (incl. local VAT if applicable)
About The Author
Anne Dankowski studierte Rechtswissenschaften an der Ludwig-Maximilians-Universität München. Begleitend zur Erstellung ihrer Dissertation am Lehrstuhl von Prof. Dr. Matthias Rossi für Staats- und Verwaltungsrecht, Europarecht sowie Gesetzgebungslehre war sie als wissenschaftliche Mitarbeiterin in einer internationalen Kanzlei tätig. Nach dem Referendariat am Landgericht München I und der Wahlstation bei der Europäischen Kommission in Brüssel folgte im Jahr 2018 das zweite juristische Staatsexamen.
Anne Dankowski studied law at the Ludwig-Maximilians-University in Munich. She worked as a research associate for an international law firm while writing her doctoral dissertation at the chair of Prof. Dr. Matthias Rossi for Constitutional and Administrative Law, European Law and Lawmaking. The legal clerkship at the Higher Regional Court of Munich and a stage at the European Commission in Brussels was followed by the completion of the second legal state examination in 2018.
Abstract
Die Europäische Kommission bindet ein System von circa 1000 Expertengruppen beratend in die europäische Rechtsetzung ein. Expertengruppen bedienen den Informationsbedarf der Kommission und vernetzen sie mit dem Regelungsumfeld. Ihre Mitwirkung ist jedoch höchst ambivalent zu beurteilen. Einerseits bieten Expertengruppen privilegierte Einflussnahmemöglichkeiten, die Risiken bergen für die Gemeinwohlverpflichtung der unabhängigen Kommission, den Transparenzgrundsatz sowie das Demokratieprinzip. Zum anderen rücken die Bestimmungen des Art. 11 Abs. 1–3 EUV das demokratische Potenzial der Einbeziehung von Expertengruppen für die Rechtsetzung in das Interesse einer rechtlichen Würdigung.

Die Arbeit geht diesen rechtlichen Risiken und Chancen nach, indem sie die Rolle der Kommission in der europäischen Rechtsetzung präzisiert und die unionsrechtlichen Rahmenbedingungen rechtsetzungsvorbereitender Kooperation herausarbeitet. Die Autorin bewertet den Regelungsrahmen der Expertengruppen vor diesem Hintergrund und begründet einen rechtlichen Strukturierungsauftrag. »Expert Groups in European lawmaking. Expert advice of the European Commission in an area of conflict between functionality and public interest orientation – a study of the regulatory framework«

The European Commission includes about 1000 expert groups in the European lawmaking processes. This study intends to disclose risks and potential of this system of advisory committees for the European legal order. It therefore assesses the legal framework of external cooperation in the early stages of lawmaking in the light of the principles of democracy, transparency and the EC's obligations to serve the general interest. Hereupon the author evaluates the regulation of expert groups in the context of the different regulatory structures of the knowledge regime of public policy.
Table of Contents
Section Title
Page
Action
Price

Vorwort

5

Inhaltsverzeichnis

7

Einleitung

19

I. Anlass der Untersuchung und Forschungsbedarf

19

II. Erkenntnisinteresse

23

III. Gang der Darstellung

25

1. Kapitel: Grundlegung: Gestaltungsmacht und Informationsbedarf der Kommission in der europäischen Rechtsetzung

28

A. Europäische Rechtsetzung

29

B. Die Rolle der Kommission bei der europäischen Rechtsetzung

32

I. Organaufgaben und Befugnisse in der Rechtsetzung

32

II. Das Vorschlagsrecht der Kommission

34

1. Das Initiativrecht der Kommission im institutionellen Gefüge

34

2. Reichweite und Ausnahmen

36

3. Zum Inhalt eines Vorschlags

38

4. Änderung und Rücknahme

39

5. Bedeutung des Vorschlagsrechts

40

III. Die eigenen Rechtsetzungsbefugnisse der Kommission

41

IV. Die abgeleiteten Rechtsetzungsbefugnisse

41

1. Delegierte Rechtsetzungsbefugnisse

43

2. Befugnisse zur Durchführungsrechtsetzung

46

3. Abgrenzung

48

4. Bedeutung der abgeleiteten Rechtsetzungsbefugnisse

51

V. Fazit

52

C. Die "Kommissionsverfahren" zur Ausübung der rechtsetzenden Befugnisse der Kommission

53

I. Ausübung des Initiativrechts

54

1. Die Phase der Rechtsetzungsplanung: Agenda Setting und Informationssammlung

54

2. Die Phase der Entwurfsausarbeitung

58

3. Die Phase der Koordination und Entscheidung

59

II. Ausübung abgeleiteter Rechtsetzungsbefugnisse

65

D. Informationsbedarf der Kommission als zentrale Herausforderung

66

I. Limitierte personelle Ressourcen der Kommission

66

II. Fehlende politische Ein- und Rückbindung der Kommission

70

E. Wege der Informationsgewinnung

72

I. Interinstitutionelle Zusammenarbeit und institutionalisierte Beratung

72

1. Organe

72

2. Wirtschafts- und Sozialausschuss und Ausschuss der Regionen

74

3. Agenturen

76

II. Einbeziehung externer Quellen

77

1. Ausschreibung von Studien und Gutachten

78

2. Sonderberater

78

3. Konsultationen

79

a) Konsultationsdokumente

80

b) Öffentliche Online-Konsultationen

81

c) SINAPSE Konsultationen über ein Netzwerk

82

d) Ad hoc-Konsultationen und Anhörungen

82

4. Ausschüsse

83

a) Komitologieausschüsse

83

b) Expertengruppen

84

III. Fazit

84

2. Kapitel: Die Expertengruppen der Europäischen Kommission

86

A. Begriff und erste Abgrenzungen

86

B. Zeitliche Entwicklung und organisatorische Einordnung in das institutionelle Gefüge der EU

91

I. Expertengruppen als Begleiter der Kommission durch den Integrationsprozess

91

II. Expertengruppen in der Organisationsstruktur der EU

95

III. Allgemeine organisationsrechtliche Zulässigkeit

96

C. Zahlen

98

D. Regulierung

102

I. Stufe 1: Erfassung

102

II. Stufe 2: Einzelregelungen verschiedener Aspekte

102

1. Sitzungsort, Auslagenerstattung, Einsetzung und Geschlechterausgewogenheit

102

2. Weißbuch "Europäisches Regieren" vom 25.07.2001

103

a) Inhalt

103

b) Regulierungswirkung

104

3. Mitteilungen: Expertenwissen und Konsultationen

104

a) Mitteilung "Hin zu einer verstärkten Kultur der Konsultation und des Dialogs – Allgemeine Grundsätze und Mindeststandards für die Konsultationen betroffener Parteien durch die Kommission" vom 11.12.2002

105

aa) Ziel und Funktion

105

bb) Anwendungsbereich

105

cc) Allgemeine Grundsätze

106

dd) Mindeststandards

106

b) Mitteilung "Über die Einholung und Nutzung von Expertenwissen durch die Kommission: Grundsätze und Leitlinien – Eine bessere Wissensgrundlage für eine bessere Politik" vom 11.12.2002

107

aa) Ziel und Hintergrund

107

bb) Anwendungsbereich

108

(1) Expertenwissen

108

(2) Phasenübergreifende Anwendbarkeit

109

(3) Abgrenzung und Überschneidungen zum Geltungsbereich der Grundsätze und Mindeststandards für Konsultationen

109

cc) Inhalt

110

c) Regulierungswirkung der beiden Mitteilungen

111

aa) Mitteilung als Handlungsform

111

bb) Rechtswirkung der Mitteilungen

113

4. Interinstitutionelle Vereinbarungen

116

III. Stufe 3: Sonderregelungen spezifischer Expertengruppen

117

IV. Stufe 4: Rahmenregelungen: Horizontale Bestimmungen 2005, 2010 und 2016

120

1. Übersicht

120

2. Genese der Horizontalen Bestimmungen 2016

122

3. Anwendungsbereich

124

4. Regulierungswirkung

125

a) Horizontale Bestimmungen 2010

125

aa) Mitteilung des Präsidenten an die Kommission als Handlungsform

125

bb) Rechtswirkung der Mitteilung

126

b) Horizontale Bestimmungen 2016

127

aa) Beschluss als Handlungsform

127

bb) Rechtswirkung des Beschlusses

128

V. Kompetenz

131

VI. Zusammenführung und Verhältnis

133

E. Einrichtung und Auflösung

135

F. Zugang, Mitglieder und Zusammensetzung

138

I. Arten und Anzahl der Mitglieder

138

II. Zugang und Auswahl

140

1. Auswahlverfahren

140

2. Vorbeugung von Interessenkonflikten

141

3. Auswahlkriterien

143

4. Ungeschriebene Zugangsfaktoren

145

III. Zusammensetzung

147

IV. Formale Beziehung zur Kommission

151

G. Aufgabe der Gruppen und Gegenstände der Beratung

152

I. Beratung

152

II. Bereitstellung von Sachverstand als Mittel der Beratung

156

III. Bereiche der Beratung

158

H. Arbeitsweise

160

I. Allgemeines

160

II. Zum Beratungsverfahren

161

I. Gruppenarten

165

J. Transparenz

169

I. Expertengruppenregister und allgemeiner Dokumentenzugang

169

II. Internetseiten der Gruppen und öffentliche Ausschreibungen

175

III. Transparenzregister

176

IV. "Legislative footprints"

178

V. Zusammenführung

180

K. Aufsicht und Kontrolle

181

I. Binnenadministrative Aufsicht und Kontrolle

181

II. Parlamentarische Aufsicht und Kontrolle

183

III. Kontrolle durch die Öffentlichkeit

184

L. Die wissenschaftlichen Expertengruppen im Bereich der Risikoregulierung

184

I. Relevanz der Expertengruppen in der Risikoregulierung

185

1. Expertengruppen in der BSE-Krise

186

2. Regelfallverbindlichkeit, Konsultationspflichten und beschränkte gerichtliche Kontrolldichte

188

II. Vorgaben des EuG für die rechtsetzungsvorbereitende Sachverhaltsermittlung unter Einbeziehung von wissenschaftlichem Sachverstand

191

1. Anforderungen an wissenschaftliche Gutachten

191

2. Anforderungen an den Umgang mit wissenschaftlichen Gutachten

192

III. Regulative Umsetzung der Anforderungen an die Beratung

193

1. Fachkompetenz

194

2. Unabhängigkeit

195

3. Transparenz

197

4. Flankierung und Kontrolle der Beratung

198

5. Fazit

198

3. Kapitel: Expertengruppen in der europäischen Rechtsetzung

200

A. Funktionen und Wirkweise der Expertengruppen in der Rechtsetzung

200

I. Einleitend: Motive

201

1. Motivation der Kommission für die Einbeziehung der Expertengruppen

201

a) Bessere Problemlösungsfähigkeit und höhere Qualität der Rechtsetzung

201

b) Akzeptanz- und Konsenssicherung der Rechtsetzung

201

c) "Demokratisierung" unter Steigerung der Funktionsfähigkeit der Rechtsetzung im Sinne der Governance Strategie der Kommission

202

2. Motivation der Mitglieder der Expertengruppen

205

II. Wissensvermittelnde Beratung

206

III. Depolitisierende Beratung

209

IV. Interessen artikulierende und integrierende Beratung

210

1. Transmissionsfunktion

211

2. Beteiligende Beratung

212

3. Interessenvertretung (Lobbying)

215

V. Verständigende, konsens- und kompromissorientierte Beratung

218

VI. Legitimationsgenerierende und -stärkende Beratung

221

1. Technokratische Absicherung

222

2. Politische Abstimmung und Absicherung

223

VII. Kontrollierende Beratung

225

VIII. Vernetzende Beratung

227

IX. Europäisierende Beratung

229

1. Sozialisierungseffekte der Gruppenarbeit

229

2. Etablierung von Leitideen zur Ausweitung europäischer Rechtsetzungskompetenzen

230

X. Zum Einfluss der Expertengruppen

231

1. Herrschende Annahme: großer Einfluss

231

2. Keine empirisch gesicherten Erkenntnisse

233

3. Überlegungen

234

a) Aspekt: Motivation der Mitglieder

234

b) Aspekt: Wissensasymmetrie

235

c) Aspekt: Politische Bindungswirkungen

236

d) Aspekt: Beraten mit der Kommission

236

e) Aspekt: Größe und Verfestigung des Expertengruppensystems

237

f) Fazit

238

XI. Bedeutung der Expertengruppen für die europäische Rechtsetzung

239

1. Handlungsfähigkeit der Kommission

240

2. Leistungssteigerung des unionalen Entscheidungssystems durch Effektivitäts- und Effizienzgewinne

240

a) Effektivität

241

b) Effizienz

242

3. Qualitätssteigerung der Rechtsetzung durch Verbesserung der Entscheidungsgrundlagen

243

a) Gesetzestechnische Qualität

243

b) Inhaltliche Qualität

244

4. Fazit

245

B. Phänomenologische Einordnung, Vergleichbarkeiten und Spezifika

246

I. Zum "Standort" der Beratung in den Rechtsetzungsverfahren der Kommission

246

II. Zum Maß rechtlicher Einhegung der Beratung: das Regelungsmodell

248

III. Expertengruppen zwischen wissenschaftlicher Beratung und Interessenvertretung

252

IV. Expertengruppenberatung als kooperative Entscheidungsvorbereitung

256

V. Expertengruppenberatung als Beteiligung an hoheitlichen Prozessen in Form der Mitwirkung

258

VI. Expertengruppen als funktionale Einrichtung zwischen technokratischer und partizipatorischer Aufgabenwahrnehmung der Kommission

260

VII. Expertengruppen als Teil des europäischen Ausschusswesens

261

VIII. Expertengruppenberatung als Element von European Governance

265

4. Kapitel: Unionsrechtliche Rahmenbedingungen

270

A. Unionsrechtliche Verankerung der Öffnung und Vernetzung in der Rechtsetzungsvorbereitung

270

I. Ausgangspunkt: Kooperative Ausrichtung des politischen Systems der EU

270

II. Verfestigung als politische Maxime der Entscheidungsfindung

274

III. Verankerung im Primärrecht

275

1. Gesamtschau

275

2. Das Kooperationsprinzip der föderalen Ebene

276

3. Der Grundsatz der Bürgernähe als Kooperationsaspekt

278

4. Der Grundsatz der Offenheit in der Entscheidungsfindung

280

5. Anerkennung demokratischer Mitwirkungsmöglichkeiten an der Entscheidungsfindung – Art. 11 Abs. 1–3 EUV

281

a) Eröffnung eines Kommunikationsraums

282

b) Dialog mit der Zivilgesellschaft und Verbänden

283

c) Betroffenenkonsultationen der Kommission

285

d) Zusammenführung und Bewertung

287

aa) Interpretationsspielräume und -grenzen des Normgehalts

288

bb) Drei zentrale Aussagen mit Relevanz für die rechtsetzungsvorbereitende Kooperation

291

6. Konsultationsverpflichtung des Subsidiaritätsprotokolls

293

7. Wissensbasierung des unionalen Handelns als Forderung nach Kooperationsstrukturen mit wissenschaftlichen Experten

295

8. Fazit

297

B. Unionsrechtliche Risiken und Chancen der Expertengruppenberatung: Anforderungen an die Ausgestaltung kooperativer Rechtsetzungsvorbereitung

298

I. Allgemeine Überlegungen als Ausgangspunkt der rechtlichen Würdigung

298

1. Weiter Gestaltungsspielraum der Kommission

298

2. Allgemeine Rechtmäßigkeitsgrenze

300

3. Relevanz der Rechtsetzungsvorbereitung

301

4. Weiteres Untersuchungsprogramm

303

II. Gemeinwohl- und Unabhängigkeitsverpflichtung der Kommission

304

1. Anfangsverdacht

304

2. Die vertraglichen Grundpflichten der Kommission

305

a) Wahrung und Förderung des Gemeinwohls

305

b) Unabhängigkeit

305

3. Öffnung und Kooperation als Voraussetzung und Stärkung der Grundpflichten

307

a) Funktionale Unvermeidbarkeit

307

b) Unionsrechtliche Gebotenheit

308

4. Grenzbereiche

308

5. Prüfung des Regelungsrahmens

309

a) Gewährleistung eines pluralistischen und ausgewogenen Informations- und Interesseneintrags

310

aa) Keine unmittelbare Gewährleistung durch den Regelungsrahmen

310

(1) Zugang

310

(2) Besetzungsregeln

311

bb) Ausgleich durch andere Faktoren?

312

(1) Fehlende Gemeinwohlrelevanz der Beratungsgegenstände?

312

(2) Neutralisierung durch die Präsenz öffentlicher Stellen?

313

(3) Kompensation durch ergänzende Mechanismen der Informationsgenerierung?

314

b) Gewährleistung von Distanz und eines hinreichenden Maßes an materieller Entscheidungshoheit

315

aa) Interessentransparenz

316

bb) Vorhaltung internen Sachverstands

317

cc) Offenlegungs- und Begründungspflichten

318

dd) Nachvollziehbarkeit und Offenlegung von Handlungsoptionen

319

ee) Aufsichts- und Kontrollstruktur zur Distanzsicherung

320

c) Fazit

320

III. Prinzipien der Organordnung

321

1. Bedenken im Lichte der Organordnung

321

2. Institutionelles Gleichgewicht und Organtreue

322

3. Beeinträchtigung der Organstellung von Rat und Parlament?

324

a) Rat

324

b) Parlament

325

aa) Prinzipielle Unbedenklichkeit unter dem Gesichtspunkt des "gestaltenden" Parlaments

326

bb) Beeinträchtigung des Parlaments in seiner Kontrollfunktion?

328

cc) Sicherung einer effektiven Kontrolle durch Information

329

dd) Fazit

332

IV. Grundsatz der Offenheit

333

1. Transparenzgewinn der Rechtsetzung durch die Expertengruppen?

333

2. Transparenzbedenken

334

3. Transparenzanforderungen aus dem Gebot der Verfahrenstransparenz

335

4. Sicherstellung einer möglichst offenen Entscheidungsfindung durch die Mechanismen der Regelungsstrukturen

336

a) Vertraulichkeit der Beratungen als Transparenzproblem?

336

b) Verfahrenstransparenz durch Informationsverfügbarkeit

339

aa) Einsetzung, Auswahl und Zusammensetzung

339

bb) Tätigkeit

341

(1) Veröffentlichung von relevanten Dokumenten

341

(a) Zurückhaltung nach Art. 4 Abs. 1 VO (EG) Nr. 1049/2001

341

(b) Zurückhaltung nach Art. 4 Abs. 3 VO (EG) Nr. 1049/2001

343

(c) Fazit

345

(2) Veröffentlichung von Minderheitenvoten

345

(3) Keine Offenlegung individueller Positionen in den Sitzungsberichten

345

cc) Umgang mit den Ergebnissen der Beratung

346

5. Fazit

347

V. Demokratieprinzip

347

1. Demokratische Gleichheit

349

a) Art. 9 S. 1 EUV

349

b) Konkretisierung im Hinblick auf die Mitwirkung an der Entscheidungsfindung: Gleichheit in der Möglichkeit

350

c) Sicherstellung von Chancengleichheit durch den Regelungsrahmen

351

aa) Begrenztheit des Zugangs und Selektionsbedarf

351

bb) Regelung des Auswahlverfahrens und der Besetzungskriterien

352

cc) Fazit

354

2. Demokratische Legitimation der Rechtsakte

355

a) Legitimationsbedürftigkeit der Expertengruppenberatung

356

aa) Dezisionistisches Modell

357

bb) Pragmatisches Modell

359

cc) Entscheidungsvorbereitende Mitwirkung als originärer Anknüpfungspunkt von Legitimationsüberlegungen

362

b) Legitimatorische Relevanz der Mitwirkung an der Entscheidungsfindung

364

aa) Grundsätzliches zum Legitimationskonzept europäischer Rechtsetzung

364

bb) Repräsentativ-demokratische Legitimationsstrukturen

365

(1) Legitimationsleistung für die Sekundärrechtsetzung

366

(a) Allgemeine Schwächen

367

(aa) Unionaler Legitimationsstrang

367

(bb) Nationaler Legitimationsstrang

369

(b) Besondere Herausforderung des repräsentativen Legitimationskonzepts: die Gestaltungsmacht der Kommission in der Rechtsetzung

371

(2) Legitimationsleistung für die Tertiärrechtsetzung der Kommission

372

(3) Fazit

374

cc) Ergänzende Legitimationsstrukturen

375

(1) Transparenz und effektivierte Verantwortlichkeit

376

(2) Legitimation durch Partizipation und Assoziation

379

(a) Beteiligung interessierter und betroffener Bürger als Verwirklichungsform von Demokratie

379

(b) Legitimationsleistung der Expertengruppenberatung als Partizipationsmechanismus?

383

(3) Legitimation durch Deliberation

383

(a) Voraussetzungen und Problemlagen der Theorien deliberativer Demokratie

383

(b) Expertengruppenberatung als deliberatives Legitimationsverfahren?

385

(4) Output-Legitimität

388

(a) Zur Leistungsdimension von Herrschaft als Legitimitätsfaktor

388

(b) Legitimitätsstiftende Ergebnisorientierung der Entscheidungsstrukturen in der Rechtsetzung durch die Expertengruppenberatung?

391

c) Fazit

393

5. Kapitel: Einbindung der Expertengruppenberatung in die unionsrechtliche Ordnung der Rechtsetzung – Zur Rolle des Rechts

395

A. Rechtlicher Strukturierungsauftrag

395

I. Keine rechtswidrigen Abweichungen als Rechtsgrund

397

II. Die Gemeinwohlverantwortung der Kommission und der primärrechtliche Auftrag zu kooperativer Normgenese als Rechtsgrund

397

1. Gefährdungspotential der Öffnung in der Entscheidungsfindung: Sicherung der Gemeinwohlverträglichkeit der Beratung

398

2. Leistungspotential der Öffnung in der Entscheidungsfindung: Sicherung der Gemeinwohlzuträglichkeit der Beratung

399

3. Fazit

400

B. Umsetzung des Regulierungsauftrags durch den Regelungsrahmen der Expertengruppen

401

I. Zusammenfassende Bewertung der geltenden Regelungsstruktur anhand von Kernforderungen

402

1. Unabhängigkeit und Distanz

403

2. Transparenz

403

3. Pluralität und Ausgewogenheit

404

4. Aufsicht und Kontrolle

405

5. Fazit

405

II. Optionen für weitere Sicherungselemente

407

1. Allgemeine Überlegungen

407

2. Regelungsform

409

a) Zu den Vorteilen und Nachteilen einer Regelung durch den Gesetzgeber

410

b) Zu Notwendigkeit und Möglichkeit einer gesetzlichen Regelung

411

c) Fazit

414

3. Regelungsinhalt

415

a) Pluralität und Ausgewogenheit

415

aa) Gruppenspezifisches Ausgewogenheitskonzept

415

bb) Erweiterung der Regelung über Sondervergütungen

418

cc) Ausgleich unausgewogener Besetzung im Verfahren

418

dd) Beschwerdemechanismus

418

b) Transparenz

419

aa) Öffentlichkeit der Beratungen als Regel

419

bb) Wiedergabe individueller Positionen im Sitzungsprotokoll

419

cc) Begründung und Dokumentation im Vorschlag bzw. Rechtsakt ("legislative footprints")

420

c) Unabhängigkeit

420

d) Distanz, Aufsicht und Kontrolle

421

aa) Begründungs- und Erläuterungspflichten

421

bb) Binnenadministrative Aufsichts- und Verantwortlichkeitsstrukturen

422

(1) Festlegung einheitlicher dezentraler Verantwortlichkeiten

422

(2) Stärkung des Generalsekretariats in der zentralen Verwaltung

423

(3) Zuständigkeitsregeln für wichtige Entscheidungen

423

cc) Parlamentarische Aufsichts- und Verantwortlichkeitsstrukturen

424

(1) Jährliche Berichtspflicht

424

(2) Erweiterung der Möglichkeit zur Sitzungsteilnahme

424

Zusammenfassung der Ergebnisse

426

I. Die Expertengruppen als Untersuchungsgegenstand

426

II. Rechtliche Ergebnisse

428

Literaturverzeichnis

432

Sachverzeichnis

461